This is a sponsored post written by me on behalf of IKEA Canada for IZEA. All opinions are 100% mine.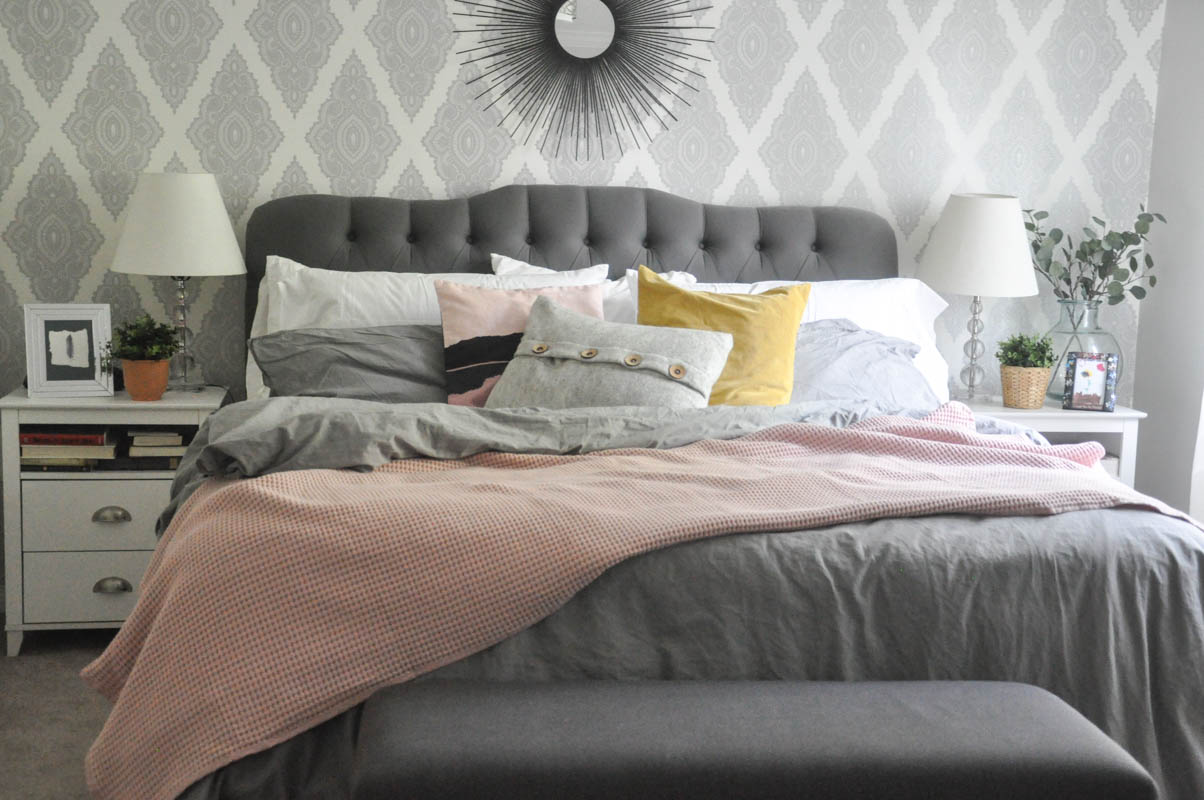 They say that your bedroom should be a sanctuary; it should be a place for rest and recuperation. And I will wholeheartedly admit that for a while now, my bedroom would more accurately be described as a laundry room.
Or a dumping ground.
Have you ever opened a door, chucked something inside the room, and quickly shut the door as if you'd never been there?
I know it sounds awful, but it's a pretty great short-term solution for clutter that needs to disappear in a hurry.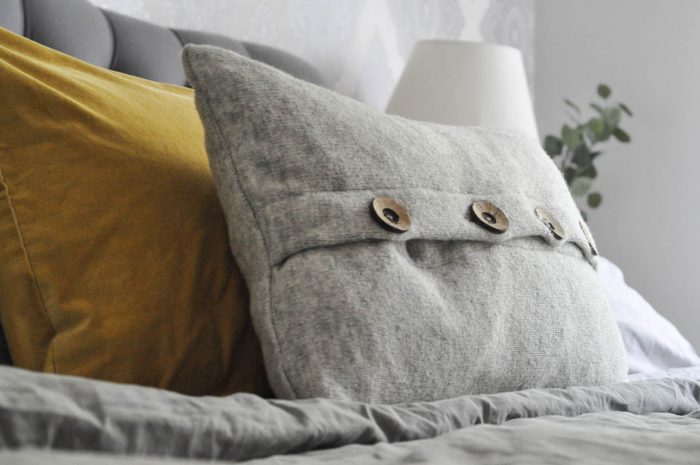 For Mr. Suburble and I, our room was really more of a place to keep laundry baskets and to sleep than it was a place of rest and harmony. We had tired old bedding, side tables that were laden with books and magazines, and the occasional pile of "What do we do with this junk? Guests will be here in five minutes!" lurking in a corner.
And then the girls and I hit IKEA.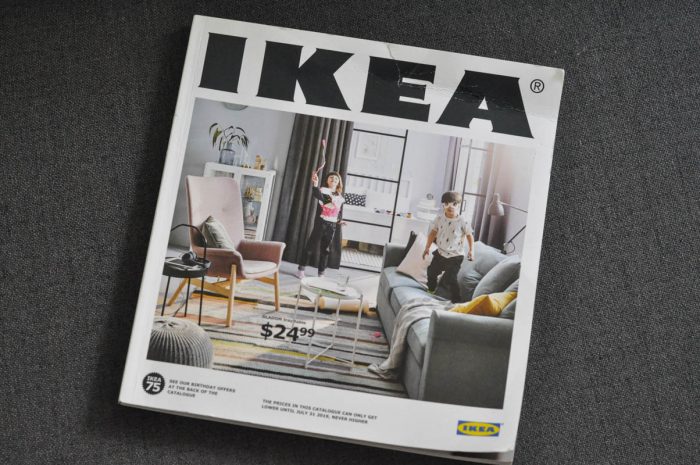 When I got the opportunity to get my hot little hands on the new 2019 IKEA catalogue, I immediately noticed the focus on natural fibres and textures. While last year was an homage to jewel tones, this year's catalogue has definitely found a more relaxed, organic vibe.
And this is something I would love to embrace. August is a crazy month full of to-dos and to-buys and to-organizes. I need something that is the antithesis of that.
I need calm.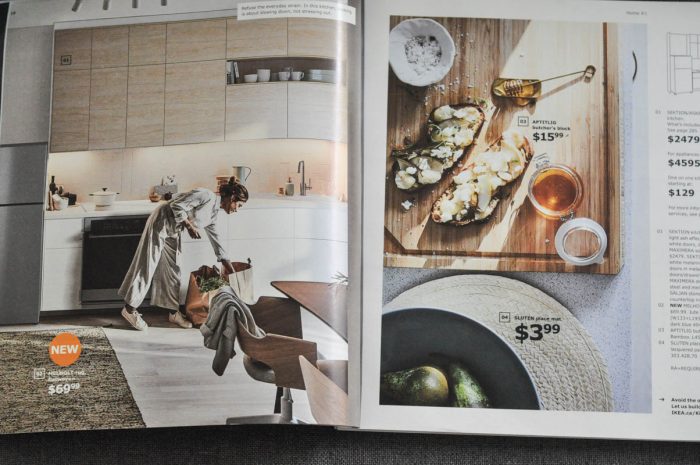 The pages of the catalogue feel even more Scandinavian than IKEA typically does. Clean, bright and "woody", the pictures show braided placemats, sisal rugs, bamboo cutting boards, and even a women doing laundry in linen pants.
It's a Zen-festival.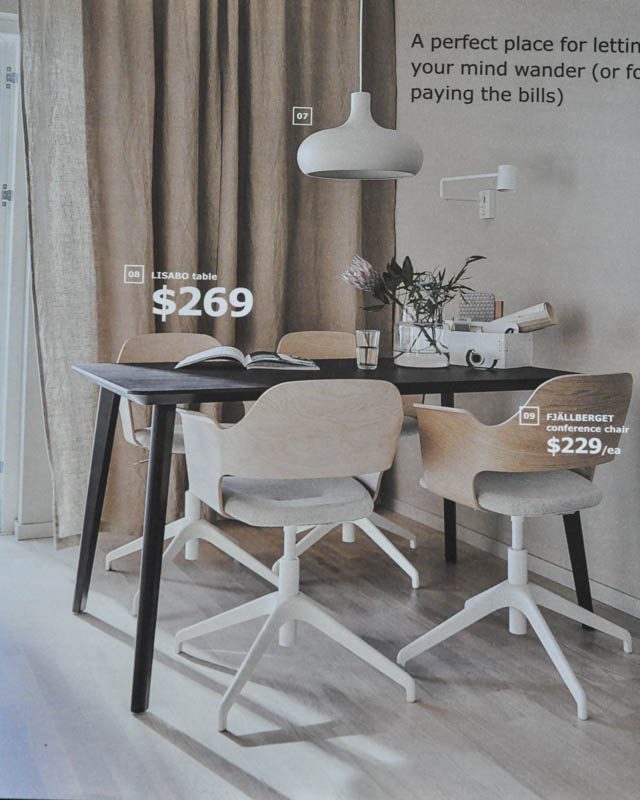 Wooden finishes are lighter – not quite the honey oak of the 90s, but a lighter beech-look – paired with more linen curtains.
Crinkly fabrics made of natural fibres are paired with terracotta plant pots and wicker-style baskets – it's a very earthy, textured look.
And I ran with it.
The girls and I got swept up in the bedding section of IKEA. Lila was adamant that we needed the waffle VARELDnofollowthrow at the end of the bed, while Lucy was ignoring the both of us and was loudly telling us what duvet cover SHE needed.
(Spoiler: somehow the girls walked out of there with a new duvet cover each. How did THAT happen?)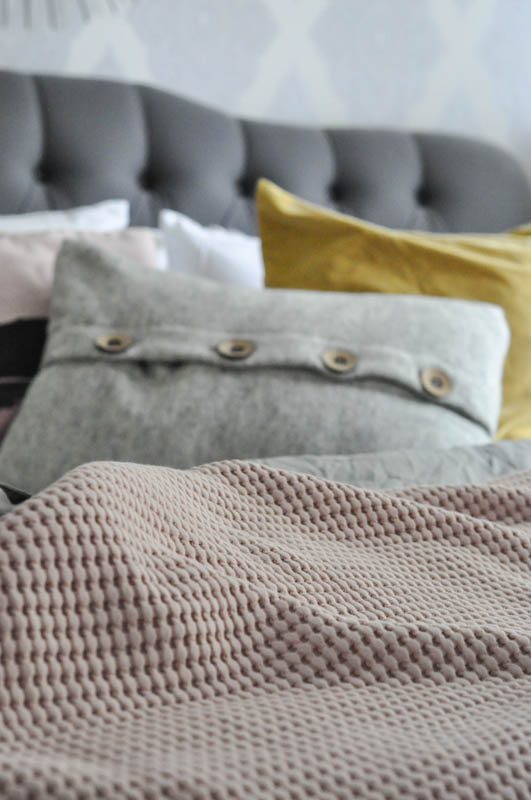 The pink waffle throw found a home at the end of our bed, laying across a simple cotton ANGSLILJAnofollogrey duvet cover. The cover is 100% cotton, which means that yes, it does get a bit wrinkly with use, but it also is more eco-friendly than a synthetic blend (that whole micro-plastic/synthetic fabrics shedding in the wash thing). It's also got a new lower price ($50 for a king-sized set!).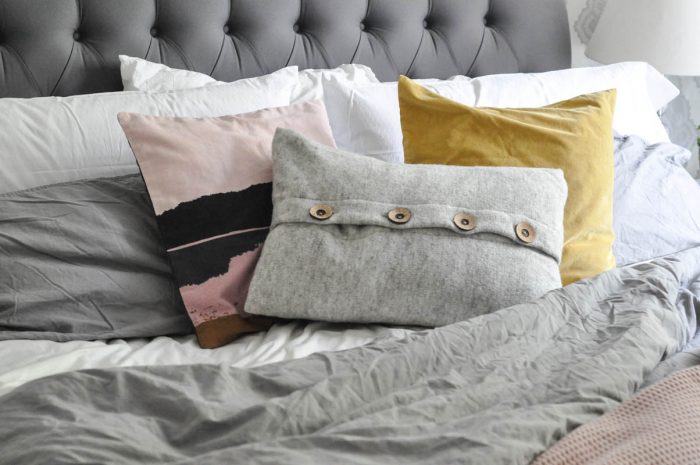 And since linen is so very trendy, these wrinkles will fit right in!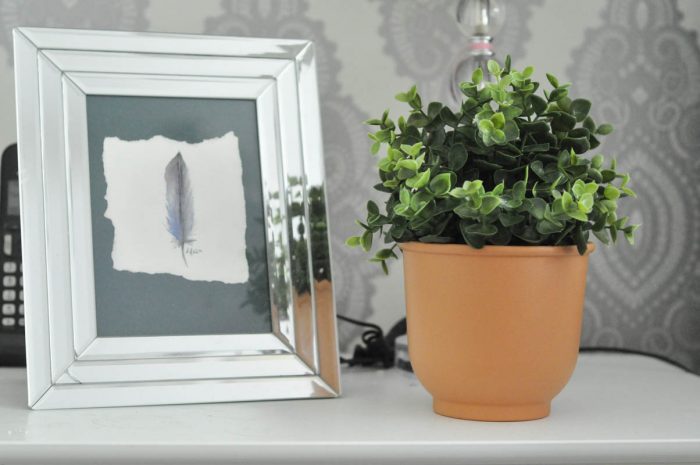 I am a big fan of the houseplant, and have many on my windowsills and in my bathroom. I hummed and hahhed over adding more live plants to the bedroom before I stopped.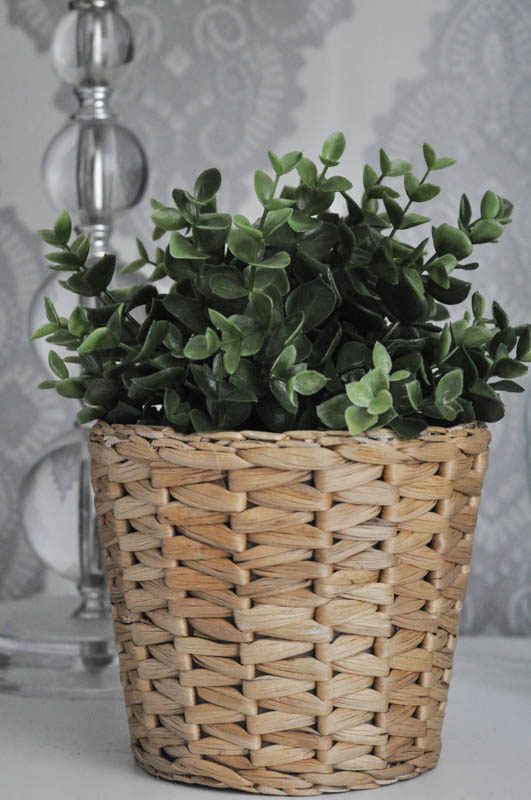 Let's get real. Am I REALLY going to water plants that are right next to my bed? Will they get enough light?
For some, a live plant is a must-have in their bedroom. For me, a faux-plant does just fine. The FEJKA nofollowadds a bit of happy green in each pot (the BRYTARTnofollow and the FRIDFULLnofollow).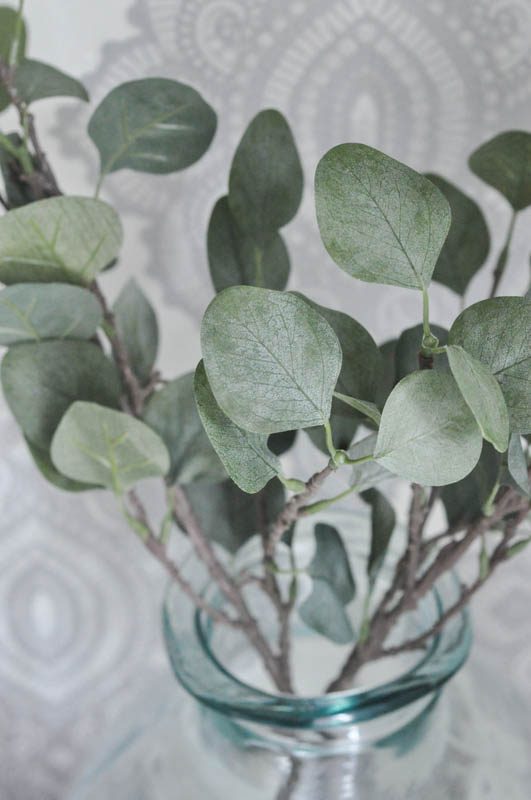 I also stumbled across these faux eucalyptus branches (SMYCKAnofollow). While I do like to grab a bunch of real eucalyptus from the florist, it's nice that the fake ones won't need water, won't dry out, and won't inevitably drop crunchy leaves all over the carpet.
Fake for the win!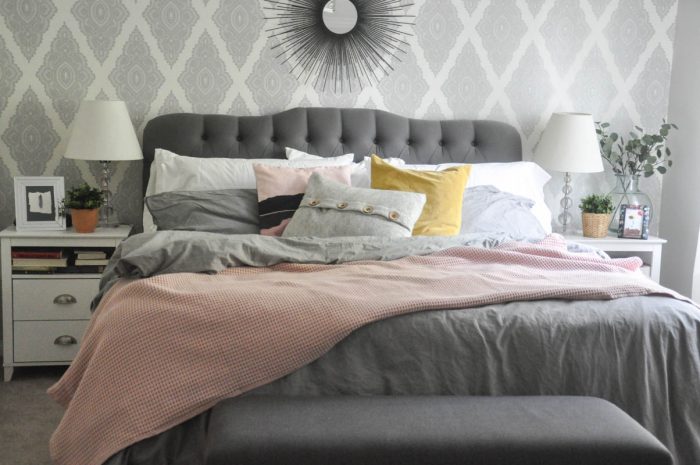 Lila was so drawn to the throw's colour that she noticed the pink and navy blue throw cushion cover (ELDTORELnofollow). Suddenly, a "pillowscape" was born at the hands of my two children. The TVLEBLADnofollow was the perfect centrepiece with its wooden buttons and variegated grey wool fabric.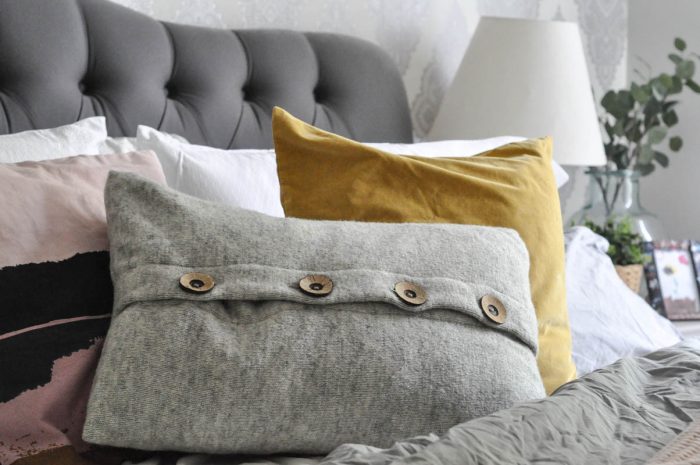 I'm a huge fan of having heaps of pillows, so I didn't mind. There are seven pillows on this bed, not including the decorative ones. And I could easily use about four of them when I sleep.
I don't understand single-pillow people. How do you do it?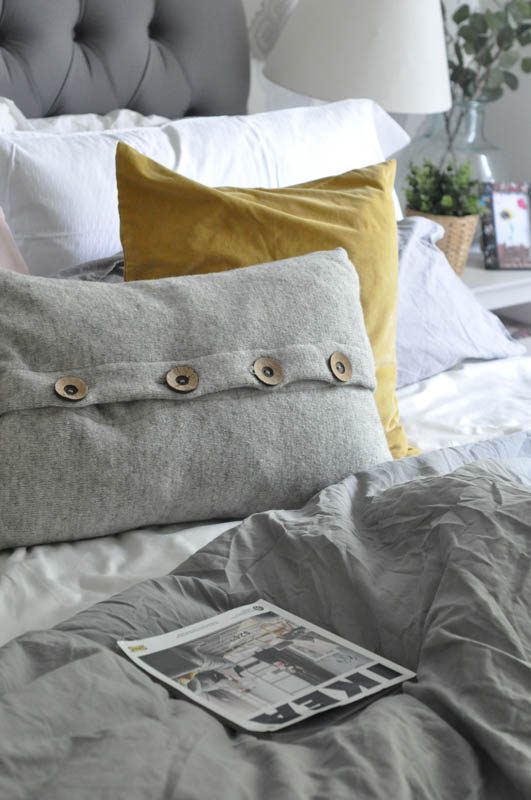 I love the mixture of textures and colours in the room now. I do feel like I could crawl into this bed and feel relaxed, rather than feel guilty about not folding the basket full of laundry staring at me from across the room. Mr. Suburble gave his nod of approval before curling up under the duvet, and I sit here, upon this mixture of greys, pinks, wrinkles and waffles, happy that our bedroom is no longer a room to which we have to hurriedly shut the door.
I'll have to find another place to store my baskets of laundry.
The 2019 IKEA Canada catalogue will be showing up in mailboxes on August 15th-30th. Order a printed copy online starting September 1 2018. Don't miss the back pages of the catalogue, which celebrate IKEA's 75th anniversary with some retro styles and amazing deals!
nofollowwill be showing up in mailboxes on August 15th-30th. Order a printed copy online starting September 1 2018. Don't miss the back pages of the catalogue, which celebrate IKEA's 75th anniversary with some retro styles and amazing deals!