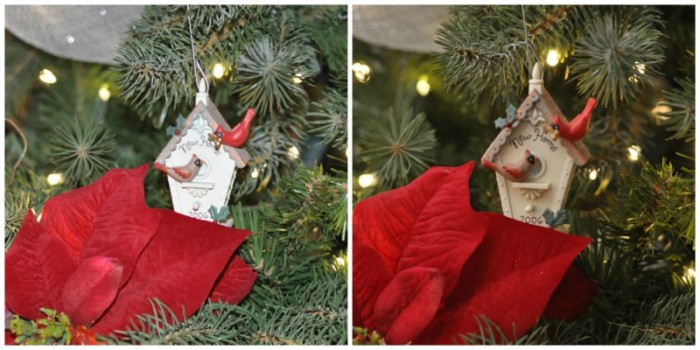 Happy Monday, people. How many of you decorated over the weekend?
All of you? Really?
Of course not all of you did, but December 1st (or around that date) seems to be the time when people dust off the glass balls and twinkle lights and deck their merry little halls.
Today I bring you some potentially early Christmas presents. I've joined up with a gang of elves bloggers to present our favourite things – and then we're going to give them away! At the end of this post, you'll find links to 9 other giveaways that you'll want to enter. They'll only run for the week – so don't wait!
Okay- back to decorating. Obviously I love decorating for Christmas. It's the spring in my step, the Bailey's in my coffee.
But sometimes, the low light, early sunsets and – let's face it – non-stop artificial light blinking everywhere can really compromise your indoor photos. Incandescents are NOT your friend. They're yellow. SO yellow.
The sun is slipping below the horizon at 4:30 these days. This means that natural light is at a premium, and many photos – especially those after work and school – are going to be taken inside, sans sunlight.
I've teamed up with the people at Lightscoop to offer not one, but TWO, readers the chance to make their holiday photos better. I love the Lightscoop – I wrote about it way back here. It's a mirror that attaches to most cameras, that will bounce your flash away from the subject, but still light the room enough to avoid the dark and dreary winter photo.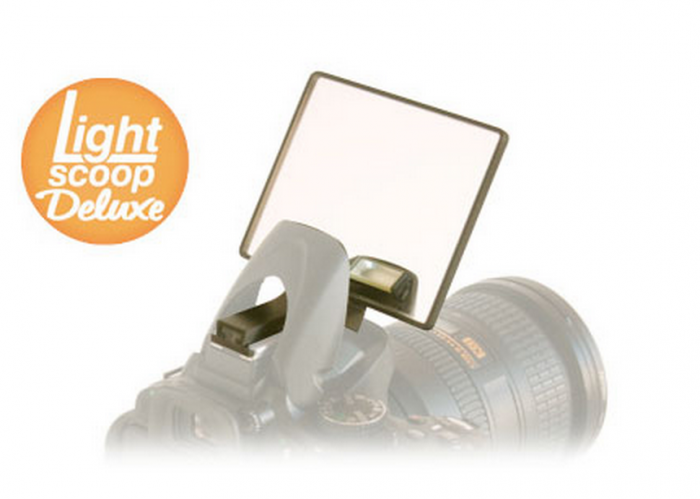 I borrowed this image from the Lightscoop website to show how the two different "light bounces" work when shooting indoors.


I'm sure that you recognize the look of the left-hand picture. It's common of any nighttime indoor shot. But with the Lightscoop, you can work with what you've got and still get great photos.
While the light was dim, I grabbed my Lightscoop and slipped it onto the hot shoe of my camera. I quickly took a few snaps of my Christmas decor to illustrate how easy it is to improve your photos, just with this little guy.
I will note: none of these photos are edited at all. They're SOOC and even though that makes me cringe a bit, it's better this way.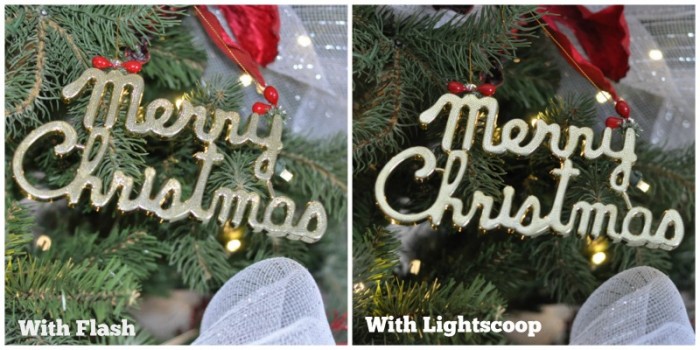 First, the Christmas tree: you can see that with the flash, everything is glaring. The Lightscoop bounces the flash away and makes everything that much more… realistic.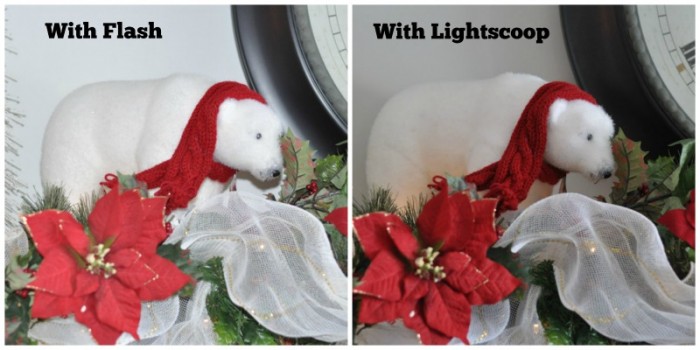 And then the polar bear: his white fur is bleached right out by the flash. There really isn't any dimension to the photo. On the right, there are just enough shadows to make the photo warm, and not so stark.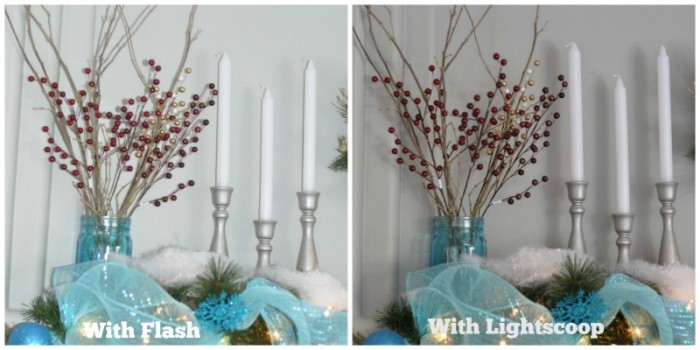 The mantel in the family room. The flash really doesn't do this mantel-scape any favours, does it? I feel like even the candlesticks look shocked.
The right side is much nicer, don't you think?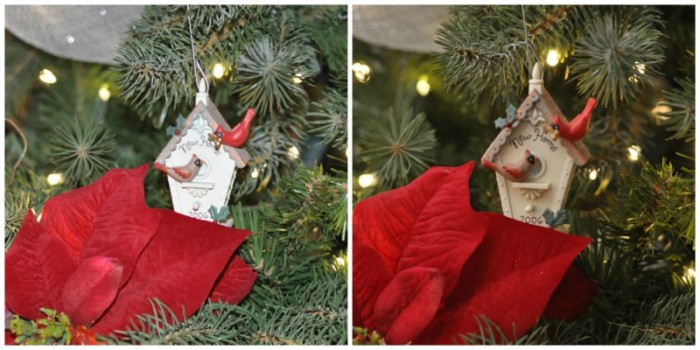 The light was really fading when I took a picture of the birdhouse on the tree. Notice the difference!
If you like your photos to be crisp and not scarily blanched by a flash, you can use the promo code – SUBURBLE – to get 15% off your order!
Get one for you, or one for the photo buff in your life!
Lightscoop has generously offered up TWO chances for you to win one of these little babies. There is the Deluxe and the Jr. – you can choose which one is best for you. The Deluxe is for DSLR cameras, and the Jr. is for compact cameras.
Keep it for yourself for your Christmas snaps, or gift it to a friend or family member who loves to take photos.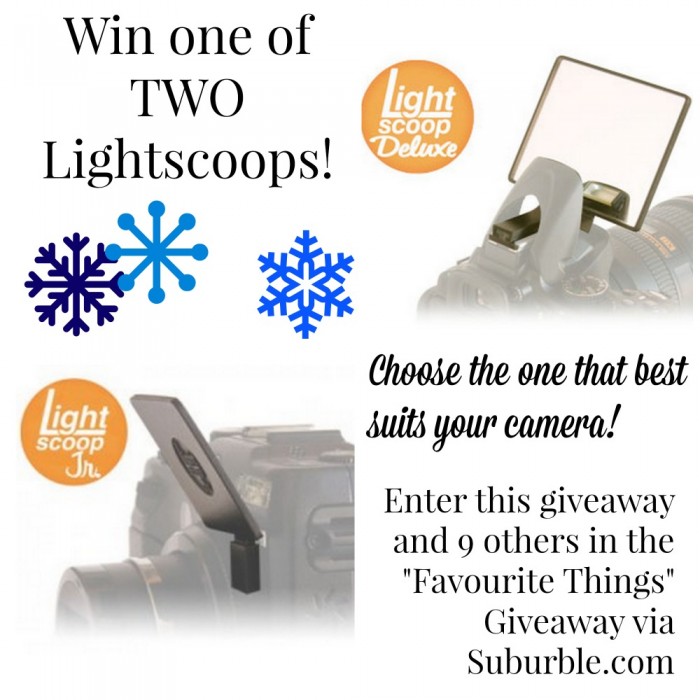 Giveaway is open to residents of Canada and the United States. Giveaway will run from December 1st to 11:59pm December 7th. Void where prohibited. Fulfillment of prizes is the responsibility of Lightscoop.
Enter the 9 other giveaways hosted by some of my favourite bloggers!
It's a celebration of our favourite things!

Reader's Afternoon Escape Giveaway from Satori Design for Living
Juxtaposition Antlers from The Happy Housie
Cozy Day in with Suede Moccasins from The Sweet Escape
Silhouette Prize Pack from Fynes Designs
Light Scoop Deluxe from Suburble
Taylor Linens Waikoloa Embroidered Pillow from The DIY Mommy
Favourite Things by Ontario Artisans from The Sweetest Digs
Cozy Winter Afternoon Reading Basket Giveaway from Echoes of Laughter
Merry & Bright Favorite Items from City Farmhouse