This post is a part of a Christmas Craft Hop involving some incredibly talented Canadian bloggers. At the bottom of this post, you will find crafts that will inspire you. Please visit these creative ladies!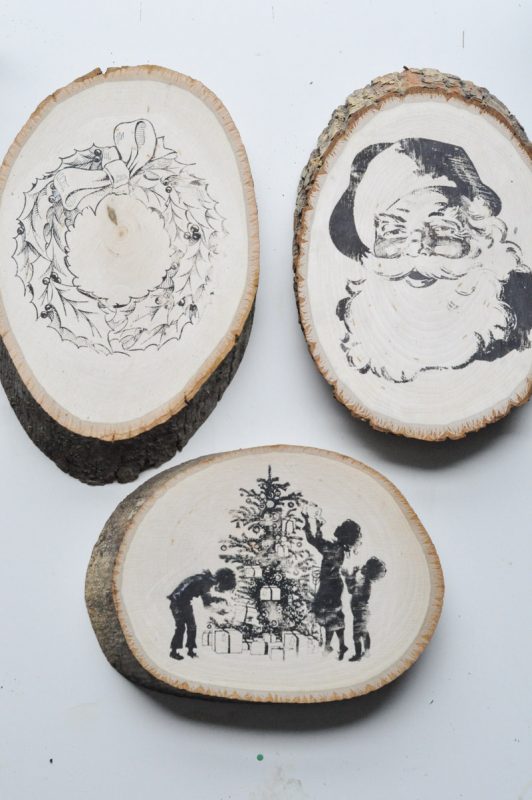 When I showed it to him, this craft was one that made Mr. Suburble stop and say, "Should you make a bunch of those as Christmas gifts?"
Now, dear readers, this is something that actually NEVER HAPPENS in our house. Mr. Sububle is desensitized to crafts. He is so used to me blowing on my burned fingertips (#gluegunsforlife!), dragging around boxes of ribbon, and muttering to myself about paint colours, that he is completely unfazed by my creative spurts.
And then sometimes, something works out better than even I anticipated and Mr. Suburble stops and takes notice. This is a once-a-year-thing, so gather 'round, children.
I used a heat tool to transfer a laser printed image onto a wood slice. And it was AMAZING!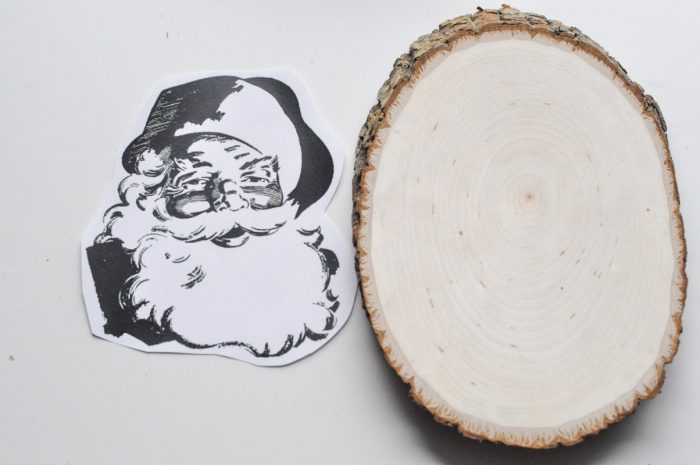 Laser printed images require a fancy-pants printer. My regular printer is just a good ol' fashioned cheaper-than-the-ink-it-uses inkjet printer. It is useless for heat transfer.
You need to photocopy your image or print it out using a laser printer prior to the heat transfer. Heavy duty printers in a workplace are often laser printers, or you can just pop into your copy shop and try not to feel weird as you print out single copies of Santa's head… and a wreath…. and maybe some mirror-imaged sayings that you're trying out…
These images are from the invaluable resource that is The Graphics Fairy website. They're royalty-free images that have a delicious vintage feel to them. You can find the Santa, the mirthful children, and the wreath for your own use. I encourage you to do some searching. You'll get lost in the beautiful collections.
Remember that you'll be left with the mirror-image of your print-out on whatever surface you're transferring to. If there are words involved, you'll want to reverse your image on the computer and then print it out that way.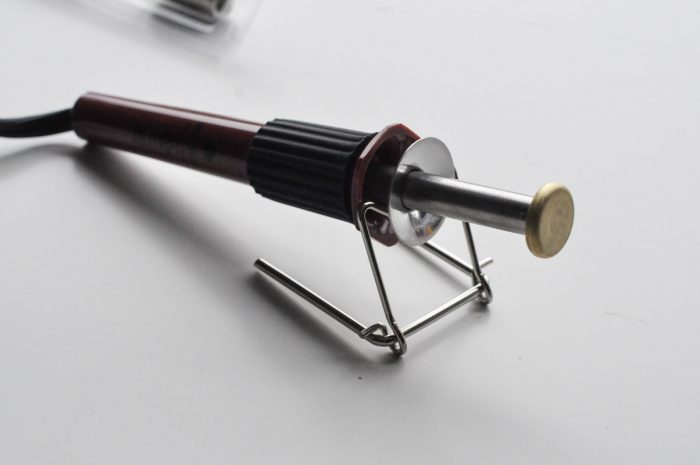 For this project, I used the Versa-Tool from Walnut Hollow. I have owned an inexpensive wood burning tool that I've used before, but this one takes the cake. It comes with every attachment you could need – one of them being this transfer tool – and has a temperature gauge built into the cord. It's a good 'un!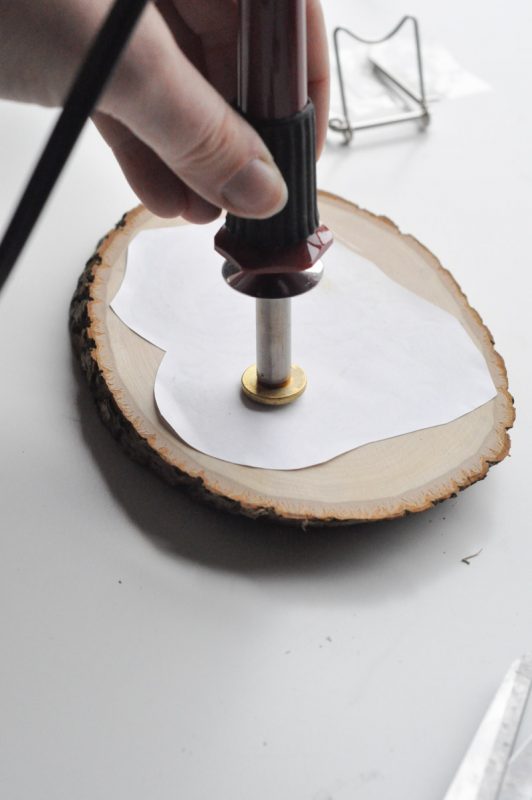 The image is laid ink-side-down onto the surface and then heat is applied to the back of the paper with slow, consistent movements. Be careful not to stay in the same place for too long – you'll burn the paper! (And the house down, so be aware of what you're doing!) I moved the transfer tool around and was sure to spend time over the entire image.
I was used sanded wood slices for this project, and they took the transfer beautifully. Rough or uneven surfaces don't work as well – trust me, I tried. As I worked, I peeled up the paper every once in a while to make sure that the ink was transferring nicely. Any spots where the ink wasn't adhering, I just spent extra time on that area. In some places, paper ended up getting stuck to the ink – and on the wood. Don't panic like I did – let it cool a bit and gently rub off the paper.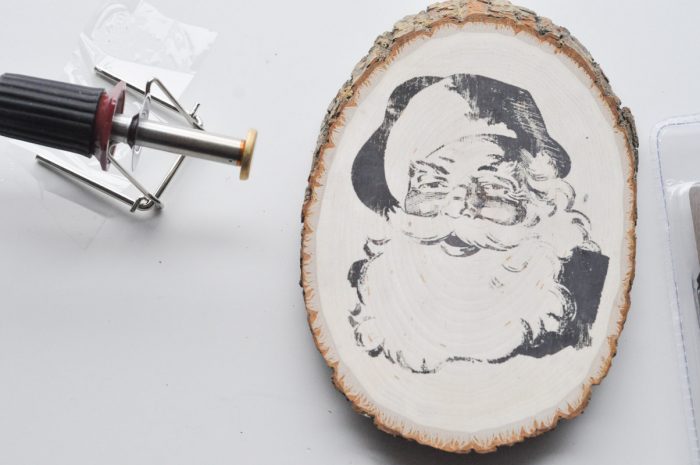 The potential of this is just too much. Christmas ornaments, signs, wall hangings…. gah!
No wonder Mr. Suburble was brainstorming the minute he saw this.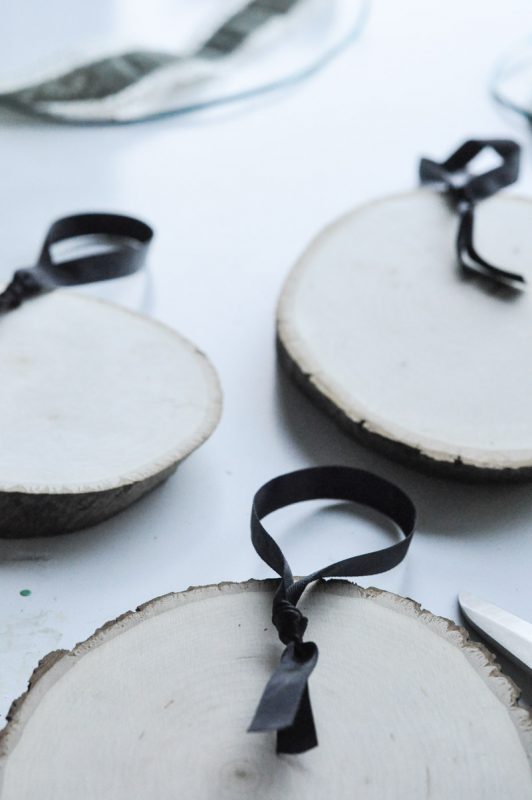 I opted to hang these on the wall using black satin ribbon. Because my glue gun is my best crafting friend, I hot glued the ribbon to the back of the slices. I thought about drilling a hole or screwing in an eye, but I was worried about the wood cracking.
Plus, hot glue holds everything. It's like duct tape, but less hideous.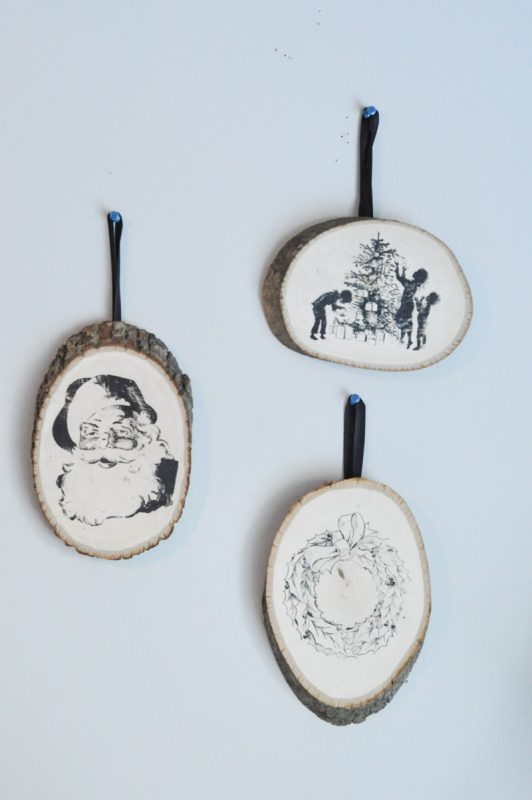 And speaking of hideous…. I put these on the wall and thought, "Okay. This looks like thumbtacked ornaments on a wall. This will not do…."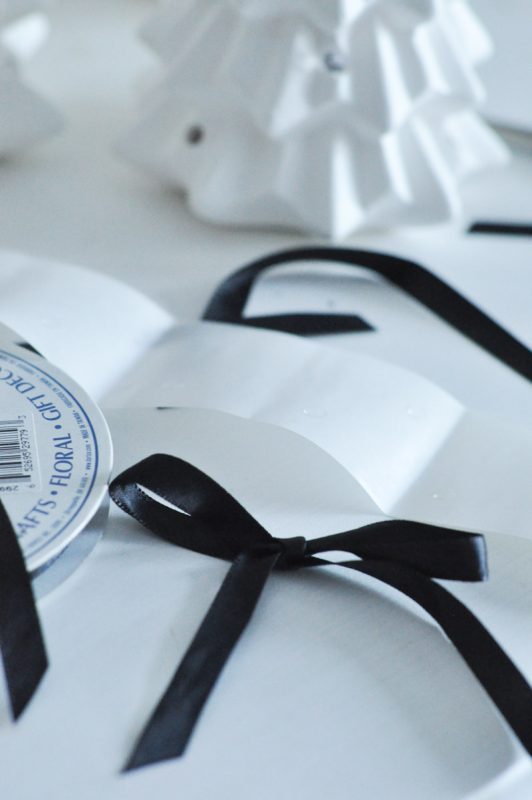 Glue dots and bows to the rescue!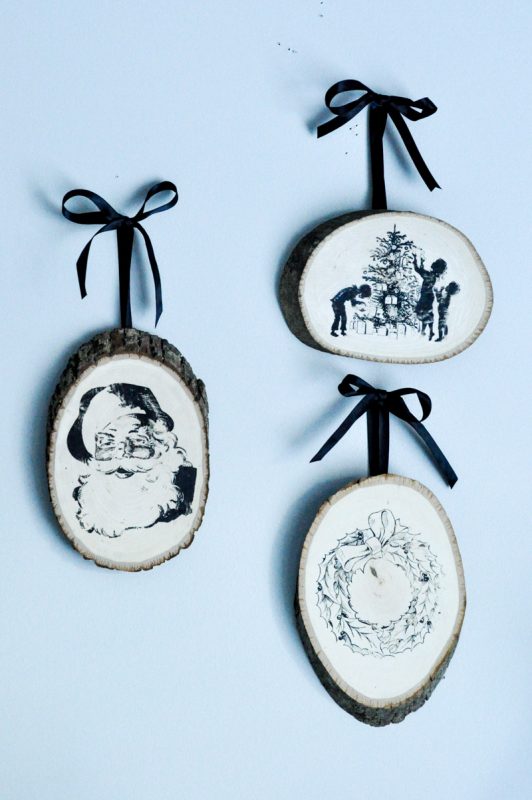 I attached a glue dot to each bow and then adhered it to the thumbtack's head. Suddenly, my wall hangings look so much cuter!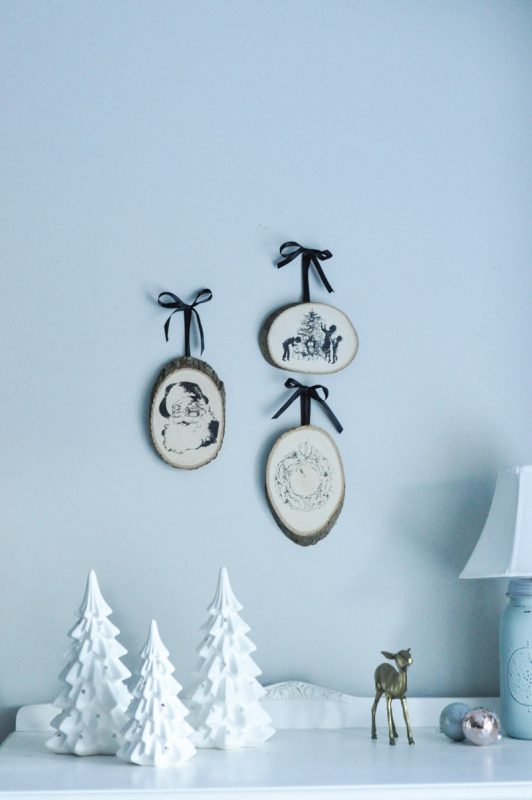 I'm in love with them! This little trio is fitting in quite nicely with my living room Christmas decor.
I can't wait to head back to The Graphics Fairy site to see what other images need to be put on wood slices.
Mr. Suburble's mind reels at the potential!
Check out the incredible projects created by my fellow Canadian bloggers! You'll be thinking of all sorts of gifts to make – for others or for yourself!
From left to right, top to bottom:
AKA Design | Vinyet Etc. | The DIY Mommy | A Pretty Life
Sustain My Craft Habit | A Pretty Fix | Making it in the Mountains | The Learner Observer
BrooklynBerryDesigns | Country Parent | Craftberry Bush | Amidst the Chaos
northstory | Life is a Party | Pink Little Notebook | hodge:podge
This Mamas Dance | Rambling Renovators | Suburble | PMQ for two (not shown)