I will admit: I don't love the taste of eggs. I know that they're a staple in many of my friends' diets. A fried egg and toast is heaven for Mr. Suburble. And for me? I'd have to drown the thing in ketchup in order to get through a plate of eggs.
However, after a delicious omelette in California – one that was full of peppers, jalapenos, cheese, and topped with salsa and guacamole – I realized that egg dishes don't always have to taste… you know… "eggy". Instead, eggs can be a beautiful complement to stronger, more-Tara-friendly flavours.
When Jo-Anna of A Pretty Life put together this Christmas Morning Breakfast hop, my brain immediately travelled away from the traditional. Instead, I thought, "Why not make it a Mexican-inspired egg dish?"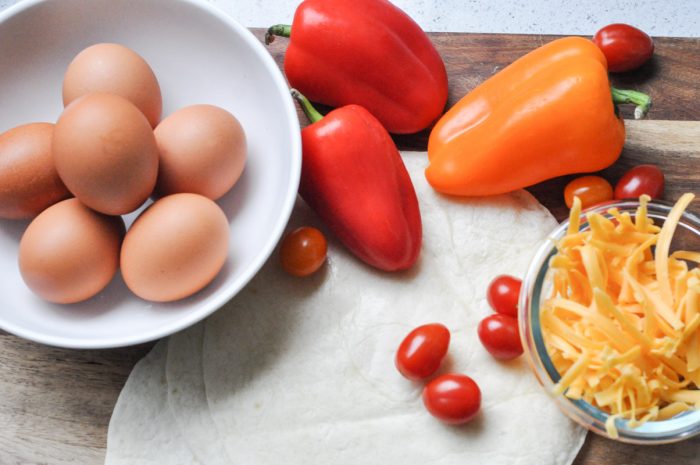 Breakfast enchiladas are ridiculously easy. I made them with egg as the main protein, though Mr. Suburble told me that this breakfast would be even better if I had cooked up some sausage meat and sprinkled it throughout (duly noted, Mr. S.).
Ingredients
6 large eggs, scrambled (cooked) and put aside
6 small tortillas
2 bell peppers, seeded and diced
2 jalepeno peppers, seeded and diced
2 cups of shredded cheddar cheese
1 can of refried beans
2 medium sized tomatoes, diced
1 can of red enchilada sauce
1 green onion, diced
Instructions
Preheat oven to 375 degrees
Coat the bottom of a 9X9 casserole dish with a thin coat of enchilada sauce
Put aside one cup of cheese for the topping of the enchiladas
On a separate work surface, layer egg, beans, peppers, tomatoes, and cheese onto a tortilla. Roll up tortilla and place in dish on top of enchilada sauce
Continue until all enchiladas have been assembled.
Cover enchiladas with sauce and sprinkle with remaining cheddar cheese
Bake in oven for 20 minutes or until bubbling
Sprinkle green onion on top and serve!
(Optional - serve with sour cream or guacamole)
https://www.suburble.com/2017/12/enchiladas-for-breakfast.html
First, I scrambled the eggs and put them aside while I prepped the remaining ingredients. When I scramble my eggs, I start by beating my eggs in a bowl with a tablespoon of water. I heat up a pan and add 2 tbsp of butter – stirring occasionally until melted. The eggs are then poured into the hot pan. I do my best to leave the eggs alone – I try my best to fold them over only a few times while they're cooking. This way, they stay fluffy and light, instead of being scrambled to bits.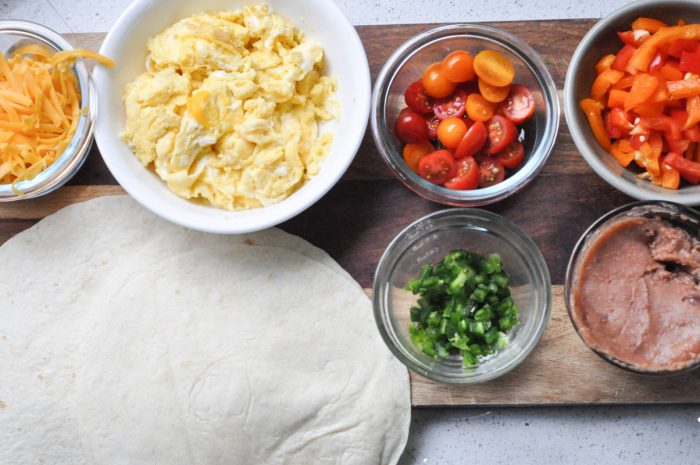 Once the eggs were put to the side, I started preparing the enchiladas. This is the fun part!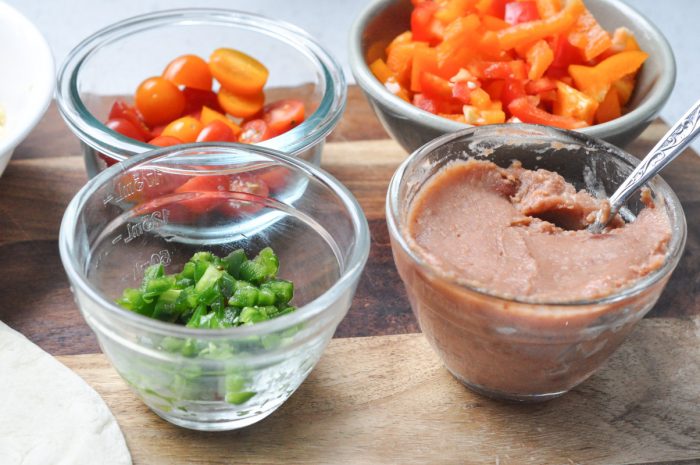 Because I was looking for lots of big flavour in the enchilada (to make things less…. eggtastic), I diced jalapeno peppers to sprinkle among the other ingredients. I also included a healthy dollop of refried beans in each wrap. I love me some refried beans.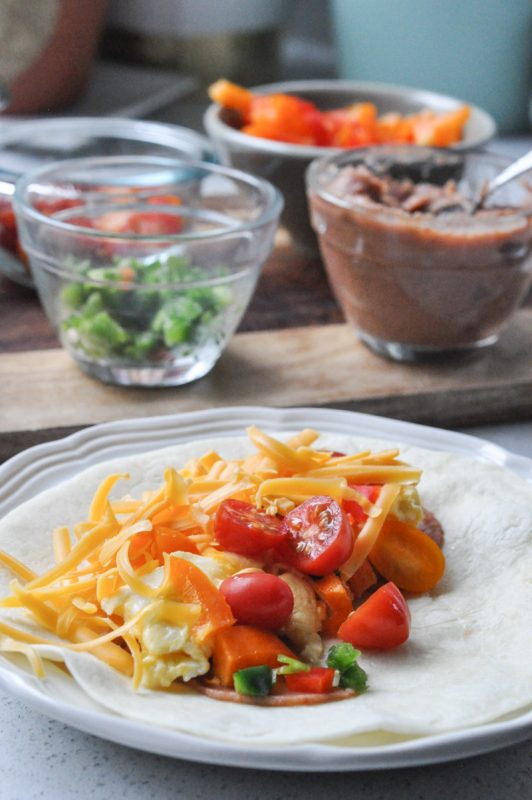 Assembly takes no time at all. I rolled up each wrap and placed them into a ceramic baking dish.
I poured enchilada sauce over the wraps and covered them with grated cheese. 20 minutes in the oven later…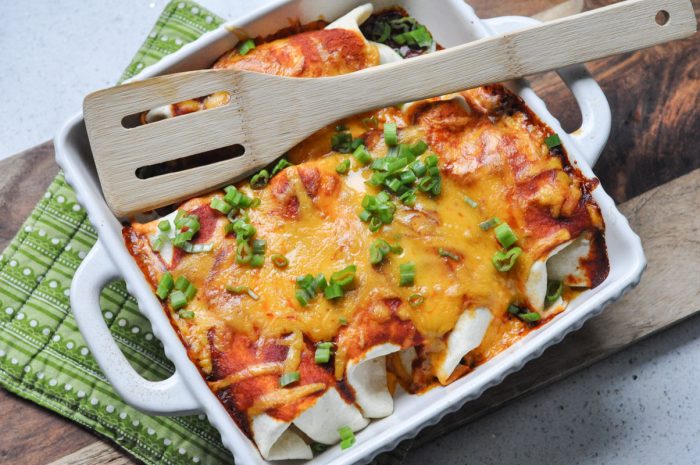 Hello…. it's breakfast!
The cheesy goodness, the spicy notes of the jalapeno…. the delicious crunch of the peppers… I'm starting to get hungry now just thinking about it. I was sold on this meal.
You can take it to the next level with a big dollop of sour cream or a spoonful of guacamole too. And what's nice is that this meal can be made a day before without baking it. Take it out of the fridge in the morning, pop it into the oven and you've got a breakfast to set before guests!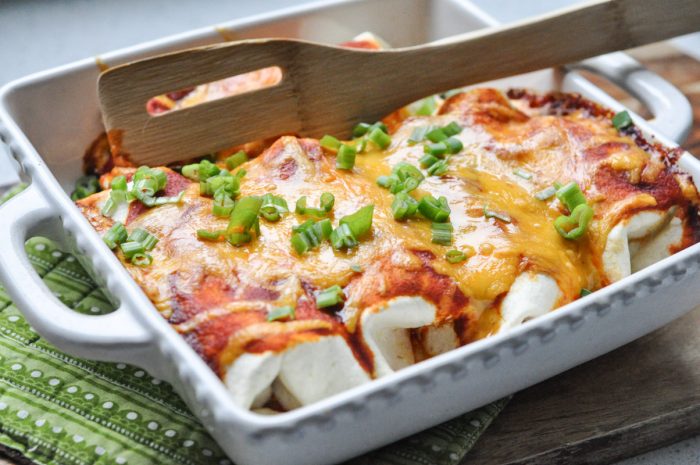 And like Mr. Suburble says… if you're feeling like you need more protein, add it! Some cooked sausage or ham would be a lovely addition. Or you could go the other way, and leave the eggs out to make this a vegetarian dish. Either or, it's a great foundation for a delicious breakfast.
Get inspired by this collection of Christmas Morning Breakfast Ideas from some amazing Canadian bloggers. From smoothies to casseroles to pastries – there is a dish for everyone!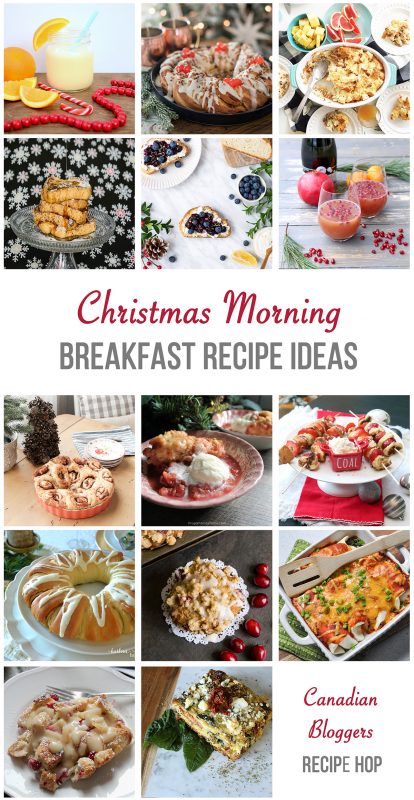 Christmas Morning Smoothie by Alex of Northstory
Cinnamon Christmas Breakfast Wreath by Christina of The DIY Mommy
Overnight Sausage and Egg Breakfast Casserole by Jo-Anna of A Pretty Life
Eggnog Brioche French Toast Bake Recipe by Janella of Ma Belle Vie
Breakfast Toast Bar by Brittany of My Daily Randomness
Pomegranate Cranberry Mimosas by Krista of Happy Housie
Christmas Morning Cinnamon Buns by Ashlea of This Mamas Dance
Christmas Apple Cranberry Cobbler by Robin of Frugal Family Times
Candy Cane French Toast Kabobs by Jenn of Clean & Scentsible
Swedish Tea Ring by Rita of Harbour Breeze Home
Cranberry Banana Muffins by Shannon of AKA Design
Breakfast Enchiladas by Tara of Suburble
Cranberry Pear French Toast with Vanilla Cream Sauce by Kendra of Joy In Our Home
Christmas Morning Breakfast Quiche by Sara of The Project Pile
Attachments area