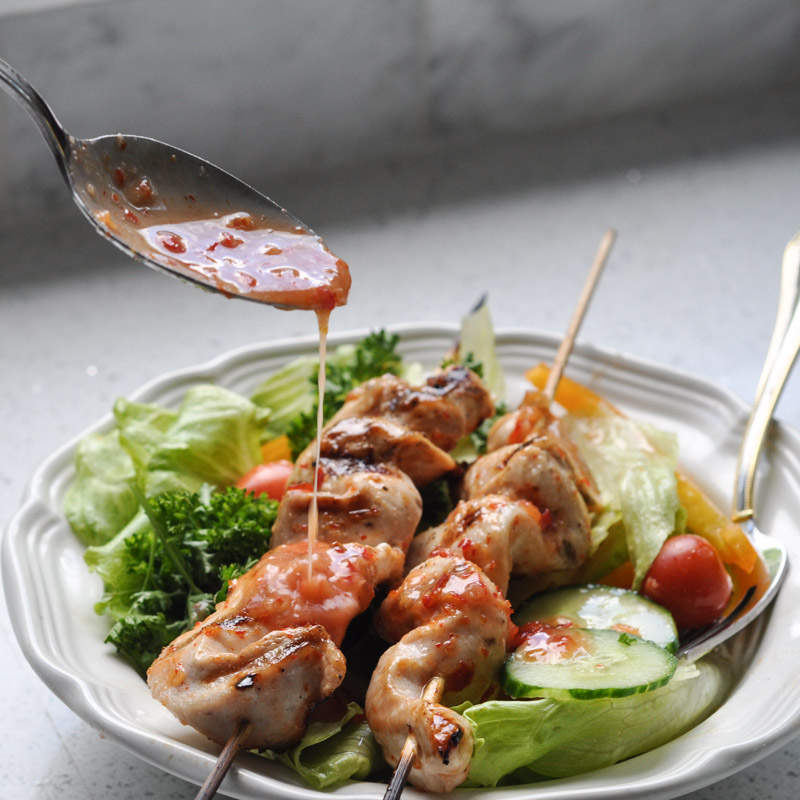 I love Thai Sweet Chilli Sauce. It is my go-to in the pantry whenever I need to add a kick to any recipe – especially recipes involving chicken.
Strangely, I haven't done all that much experimentation with Blue Dragon's Sweet Thai Chilli Sauce and salads. I may have whipped up a quick vinaigrette in the past, but this recipe – a hybrid of vinaigrette and a cream-based dressing – is one that I will be making again and again this summer.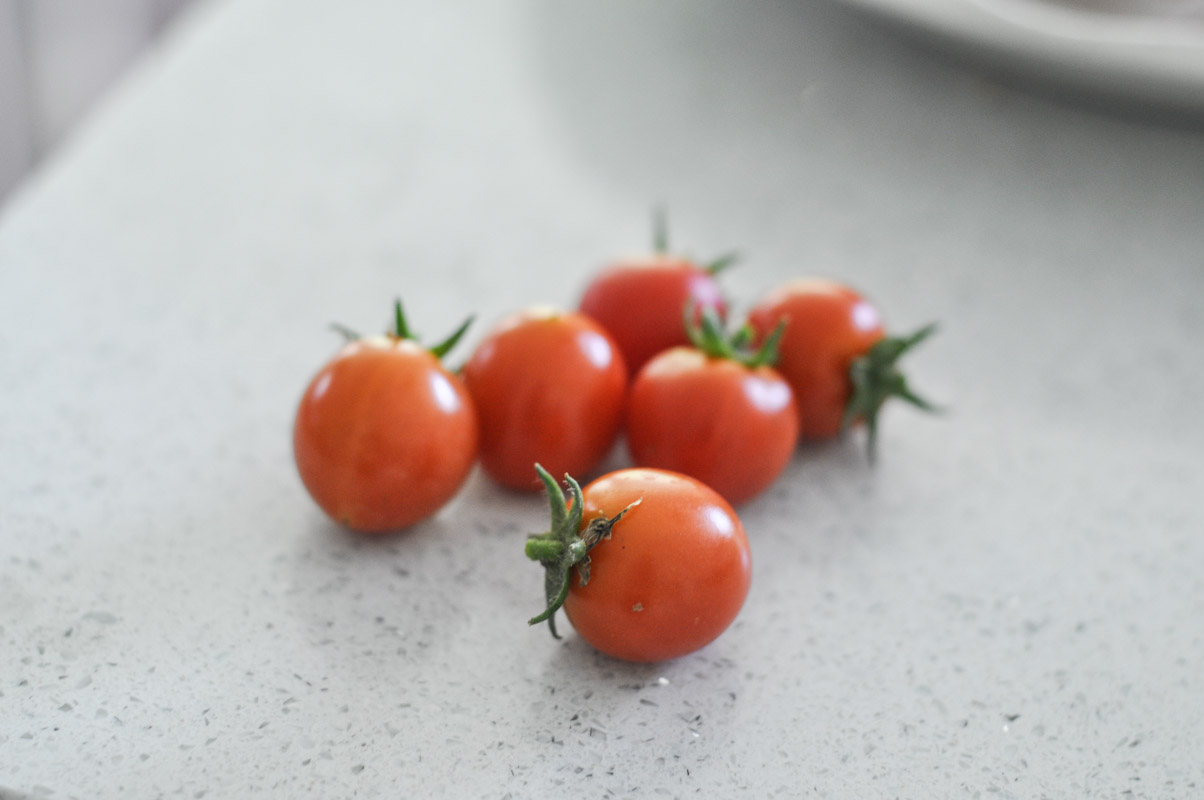 And a few things from the garden will be joining me. I grabbed some of these happy red tomatoes from the tumbling vines in the greenhouse today. Fresh tomatoes can make a salad, don't you think?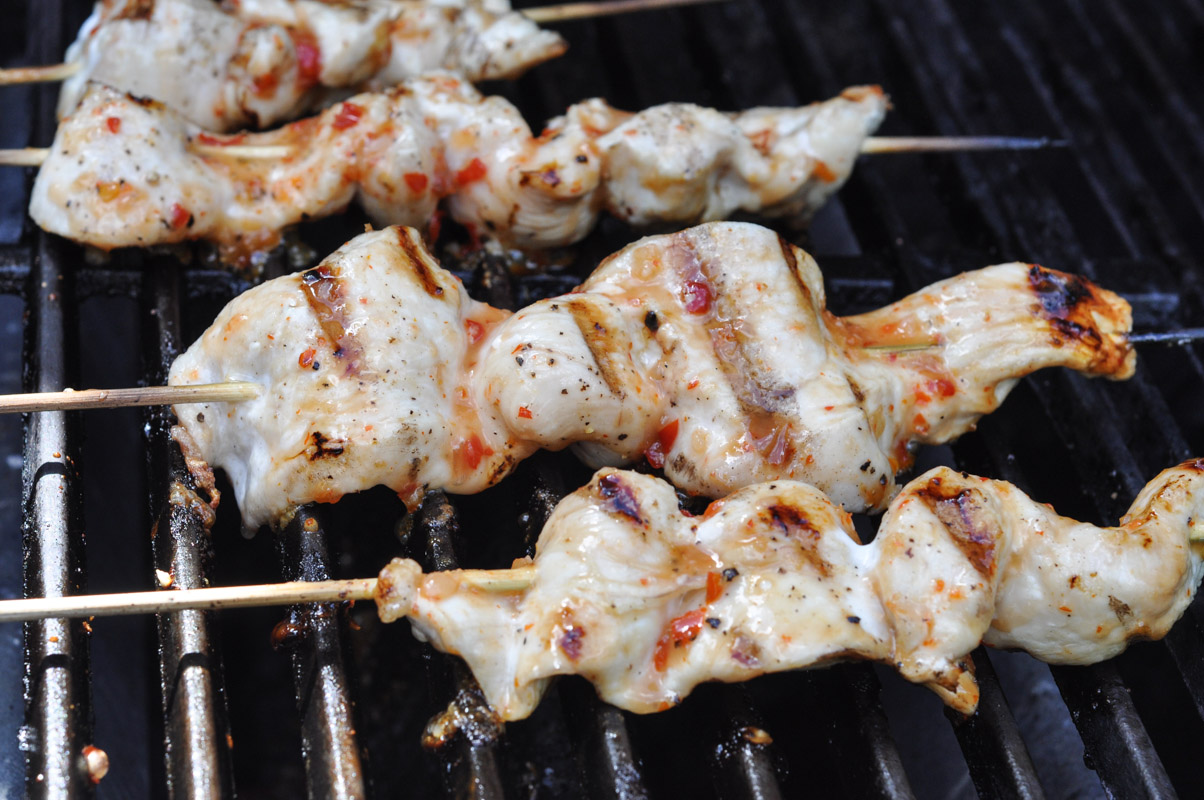 I decided to make this salad a meal by adding some chicken breast skewers to the plate. Their prep is incredibly simple. I soaked the skewers in water for an hour, and then sliced the chicken breast in long and thin strips. Then, I threaded the chicken onto the skewers and seasoned with salt and pepper.
I divided the salad dressing recipe into two bowls and used one half of it to baste onto the chicken skewers as they cooked. Because the chicken is cut into thin strips, it cooks really quickly, which means that you have to watch it lest it dry out.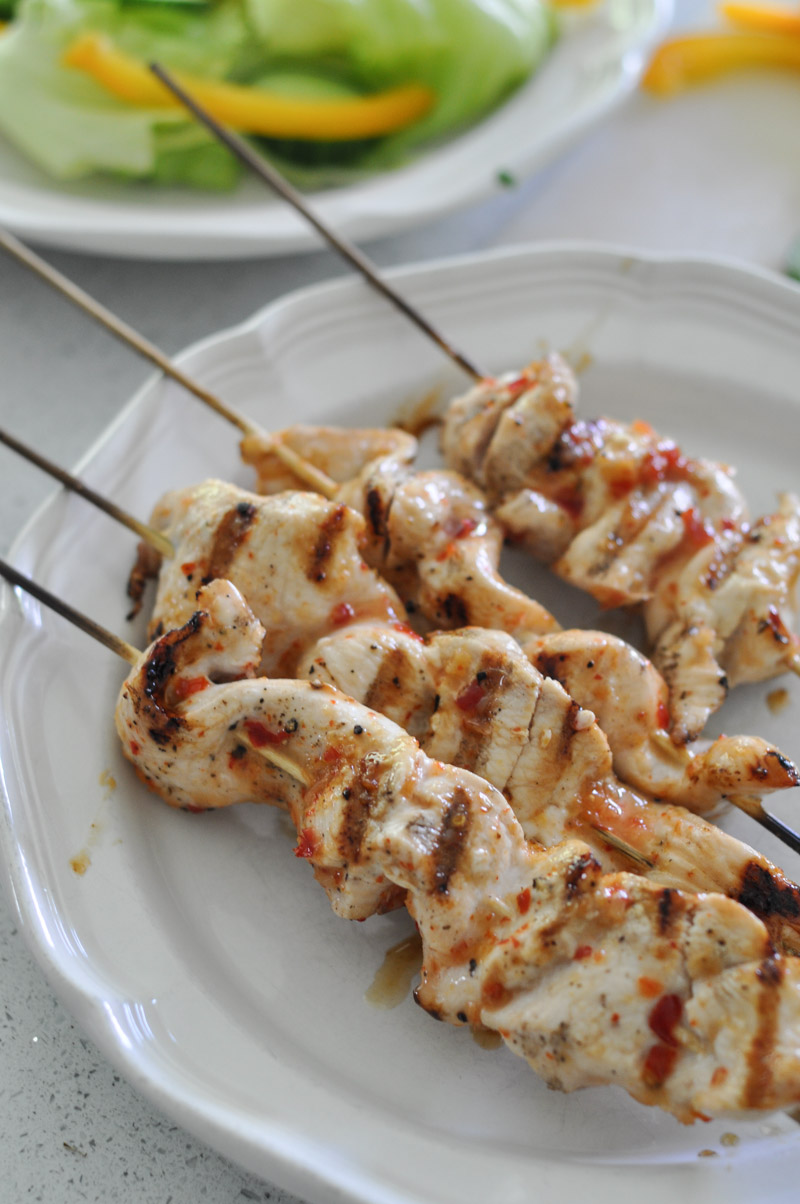 I gave the skewers another quick brush with the salad dressing after they came off the grill, and then I popped them on top of the waiting salad.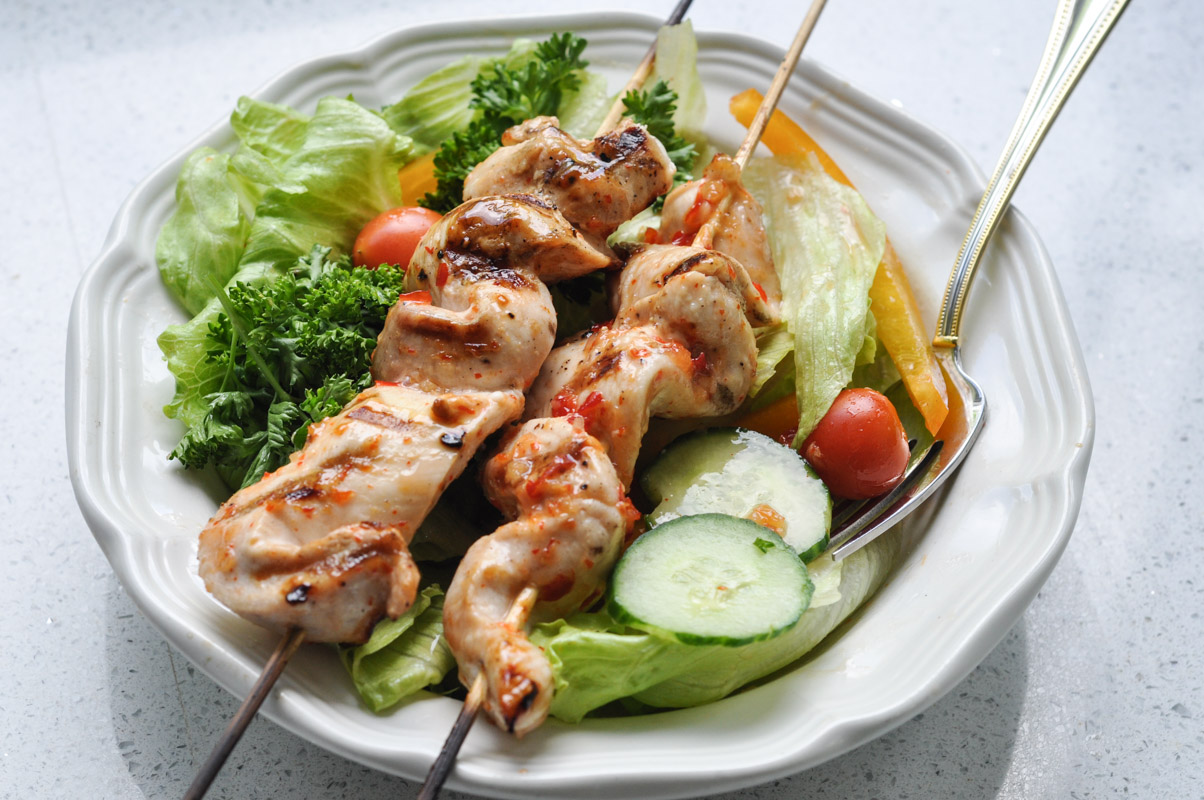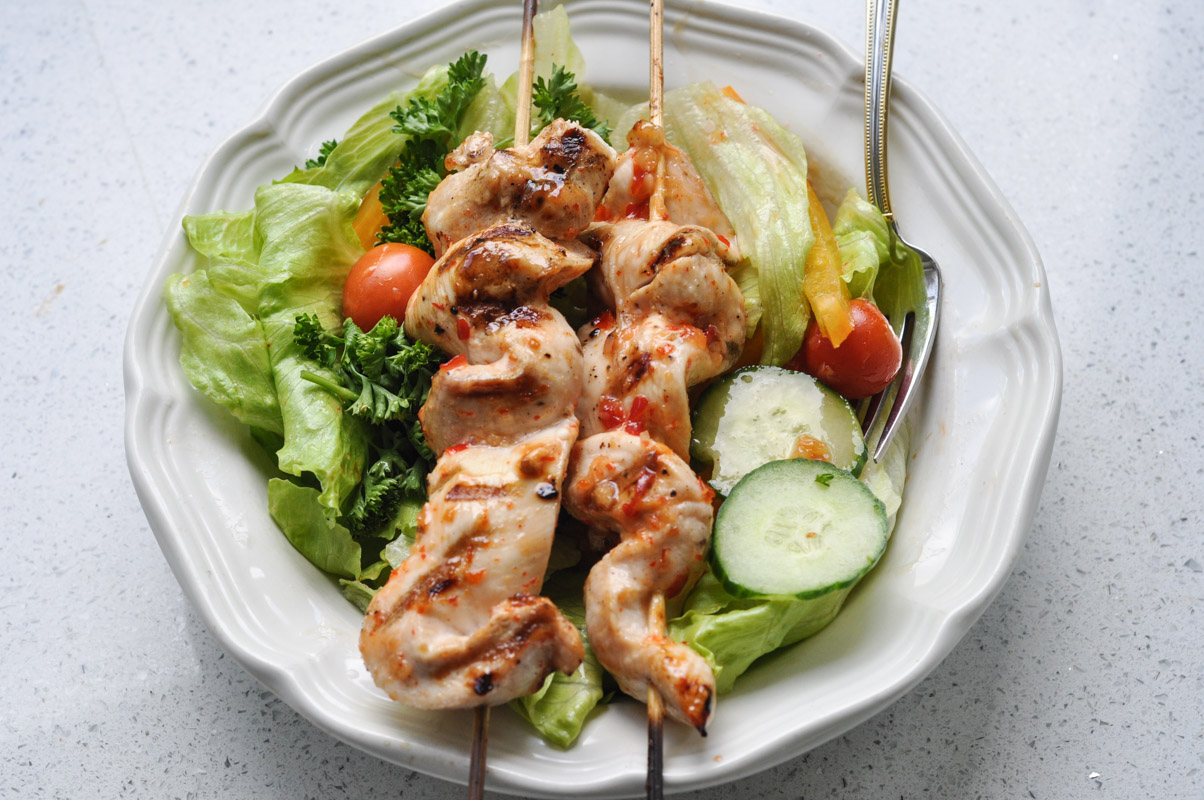 Mr. Suburble snacked on these skewers as I photographed them – that's always a good sign.
I opted to make a simple green salad and then drizzled it with the dressing.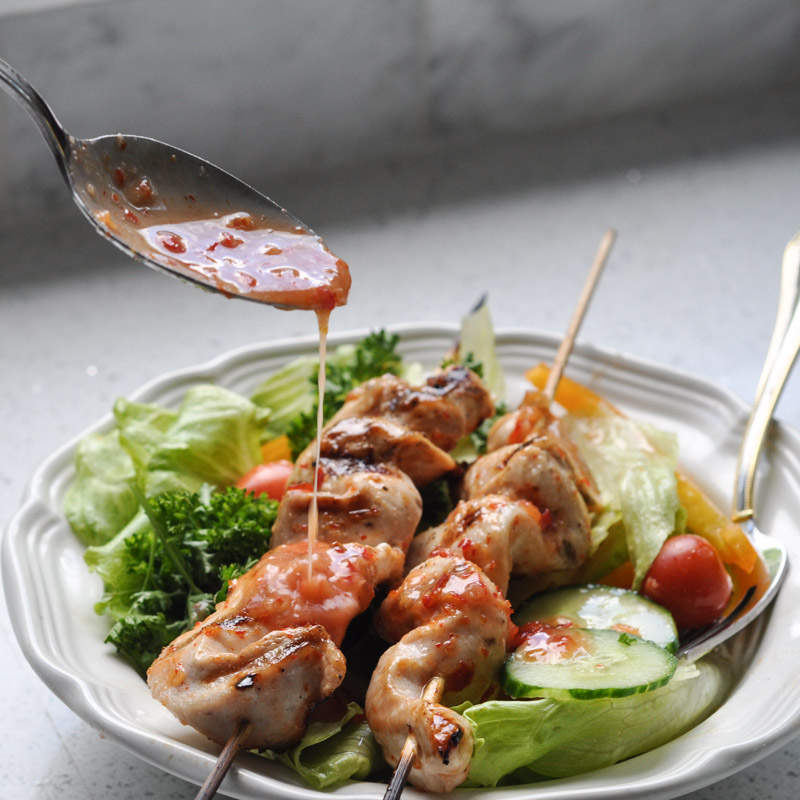 The skewers enjoyed a little bit of extra dressing as well. In my books, you can't ever get enough Sweet Thai Chilli sauce!
**I would garnish this dish with cilantro, but Mr. Suburble got befuddled in the grocery store and brought home parsley. It appears in the dish and looks nice, but it's not my favourite. Garnish as you please! **
Looking for more spicy recipes? Visit Blue Dragon on their website, their Facebook page, or on Twitter!
I am part of the Blue Dragon Canada ambassador program and I receive special perks as part of my affiliation with this group. The opinions on this blog are my own.