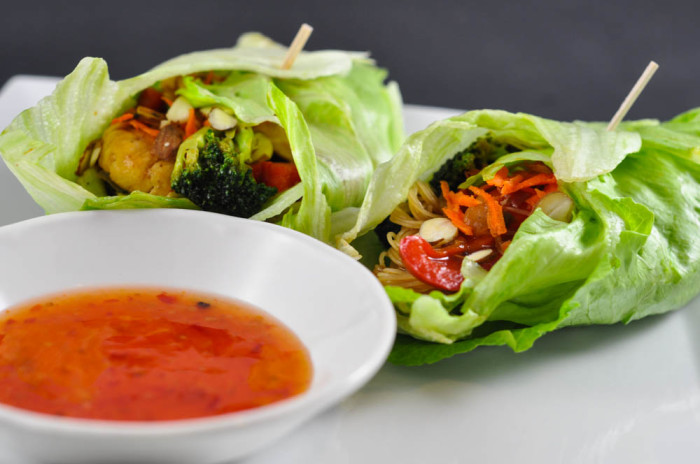 Just recently, I was chatting with my girlfriend about easy dinners. She said something about how she was making lettuce wraps that week, and I stopped.
Lettuce wraps. Why had I not ever made them?
Better yet – why hadn't I ever TRIED one!??
(Oh man…. I'm admitting some serious food-ignorance here…)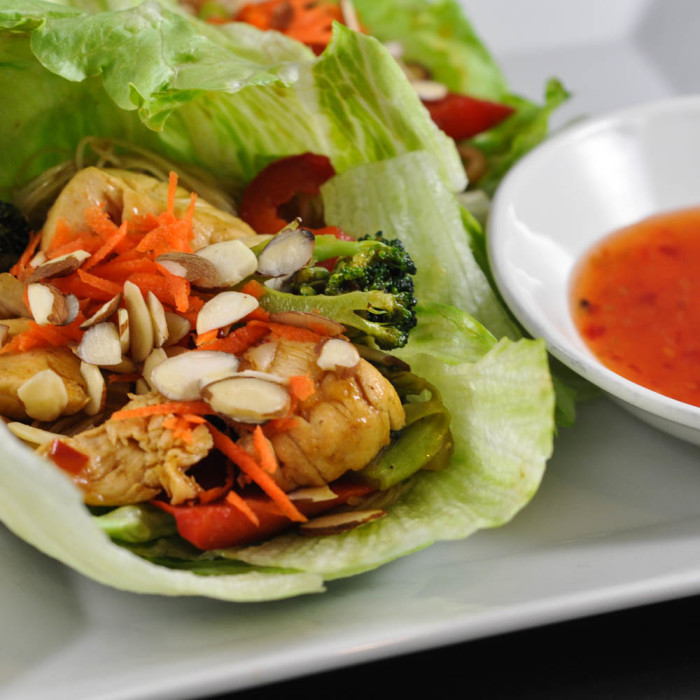 The "stuffing" of our lettuce wraps was really just a collection of things I had found in the crisper of our fridge. And I was starting to like this recipe. Veggies, chicken, slivered almonds… all tossed in a delicious Honey Teriyaki Stirfry sauce?
Yes, please.
Quick and Easy Lettuce Wraps
2014-06-12 01:11:15
Ingredients
6-7 large butter lettuce leaves - cleaned and dried
Boneless skinless chicken breast, chopped
1 tsp olive oil
1 pkg of Blue Dragon Honey Teriyaki Stir Fry Sauce
1 bottle of Blue Dragon Sweet Chilli Dipping Sauce
1 pkg Blue Dragon Rice Noodles
Chopped Onion
Chopped Broccoli
Chopped sweet peppers
Sliced Almonds
Grated Carrot
Instructions
Heat olive oil in frying pan
Once hot, cook chicken until no longer pink in center
At the same time, boil water on the stove
Cook rice noodles according to directions and then put aside
Add broccoli, peppers and onions to the frying pan and cook until desired softness
Add rice noodles and toss with Honey Teriyaki Stir Fry Sauce
Cook on medium-low until vegetables and noodles are fully coated and warm
Place spoonful of stuffing on a large butter lettuce leaf
Sprinkle grated carrot and almonds on top of stuffing
Wrap up lettuce leaf and serve with Sweet Chilli dipping sauce
Suburble https://www.suburble.com/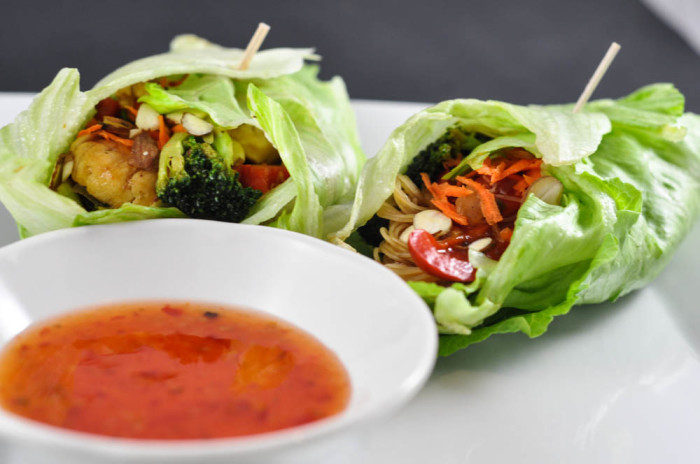 Mr. Suburble and I are in agreement that the Sweet Chilli dipping sauce is where it's at. In fact, he drizzled the entire contents of his wrap with the sauce before he ate it.
The noodles are hearty enough to make these delicious wraps a filling meal.
And I can confidently say, "Oh yeah… I LOVE lettuce wraps!"
Try these for your next summer meal. It's a light, but delicious, dish!
Blue Dragon is hosting a giveaway on its Facebook Page!
Click over to win 1 of 5 prize pack of great Blue Dragon products!
Disclosure: I am part of the Blue Dragon Ambassador program with Mom Central Canada and I receive special perks as part of my affiliation with this group. The opinions on this blog are my own.