I'm going to let the kids lead the way through this post today. Of course, after my hilarious mama-drama from yesterday, I thought it would be fitting to talk about more book-learnin'.
But this is the "Tell me a story" kind of stuff. The before-bed, nestled-under-covers, giggling-because-"It's-so-funny!" books that we have added to our library and cherish.
I am letting Lila and Lucy's tastes guide the selection of books in this post. These books are some of the most requested books right now. I'd like to make a habit of letting the girls run the show around here every now and again, and this is the first post of (hopefully) many!
Without further adieu, five books you should check out/pick up if you've got book-hungry preschoolers: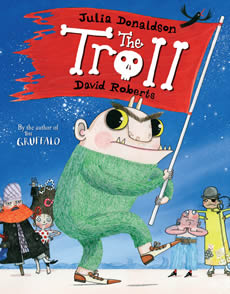 First up: The Troll by Julia Donaldson (whom you may know as the author of The Gruffalo)
Why Lila and Lucy love it: The Troll has great eyebrows and is in search of a goat dinner. But then there are pirates! Lucy's heart sings with glee whenever pirates are involved. There is hijinx, terrible cooking, pirates throwing up over the side of a boat… and somebody walks the plank. How can you not love this!?!?
Why I like it: The writing is great. It's easy to read aloud and has SO much personality within the words. I find myself "becoming" the troll and the pirates…. even on those nights when I've already read four books and I'm thinking, "Seriously… ANOTHER book!?!?"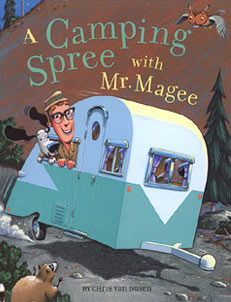 #2: A Camping Spree With Mr. Magee by Chris Van Dusen
Why Lila and Lucy love it: 'Tis camping season right now, and this book always travels with us on our excursions. It was a gift from dear friends (who are also the girls' camping buddies), and that makes it even more precious. The synopsis? A half-blind bear goes in search of leftover s'mores and ends up sending Mr. Magee "and his little dog, Dee," on a wild adventure in their trailer sans car.
Why I love it: The book is written in a rhyme scheme, which makes it very easy to read. And the illustrations are amazing. My girls immediately recognized the crumpled logo of the Jet-Puffed marshmallows left next to the campfire. So fabulous.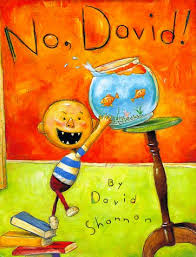 #3 – No, David! by David Shannon
Why Lila and Lucy love it: I'll be honest: it's because there's a scene where wild and reckless David runs down the road naked, his bare bum scurrying down the road. They HOWL at this. Every. Single. Night.
Why I love it: David Shannon has captured the chaos of being a kid. Every page features his mother yelling, "No, David!" And David, with his weirdly-spaced fangs and his crazily-cluttered world, is a perfect example of a typical kid who is testing boundaries. One read-through, and your kids can read it back to you. That's a powerful thing.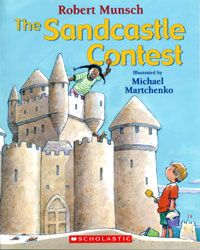 #4: The Sandcastle Contest by Robert Munsch
Why Lila and Lucy love it: Because imagination is king is the world of Munsch, and this story is no different. Now that summer is near, we talk about building amazing sandcastles… and sand fridges, and sand TVs, and sand dogs!!…. after we read this book. Lucy always mutters a little something about how SHE is going to built herself a sand house the next time we go to the beach.
Why I love it: I grew up with Munsch. He is bizarre and brilliant all at the same time. And these stories that take imagination to new levels will always be welcome in our house. Why NOT try to build a sand dog?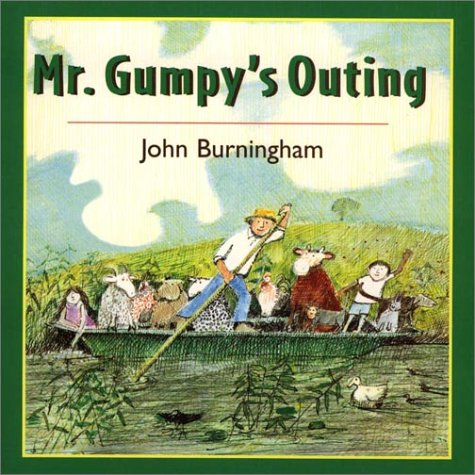 #5: Mr. Gumpy's Outing by John Burningham
Why Lila and Lucy love it: They have this book memorized. It's one of those books where the illustrations and the rhythm of the book are predictable. And the fact that everyone eventually disobeys Mr. Gumpy and the whole boat ends up in the creek always makes them smile. They love mischief.
Why I love it: I debated putting this book on the list, only because it is already a classic book choice for this age. This is like "Goodnight, Moon" – it doesn't need to be sold. But this book has been a solid favourite for my girls for almost a year. Lucy can read it cover-to-cover (memorized, of course), so I felt that I had to show Mr. Gumpy some love. You're a generous man… letting all of those ornery animals and those squabbling kids on your boat.
I think that kids are a good judge of books. They know what's good and what's not. They know what's worth a chuckle, and what is a grown-up desperately trying to get a smile out of a kid. We have a large library of books, but the girls always go back for what they love.
And I'm happy to share it.
Are there books that your kids love/loved to read over and over again? Please, let me know! It would be wonderful to be able to share them here once Lila and Lucy have discovered them.