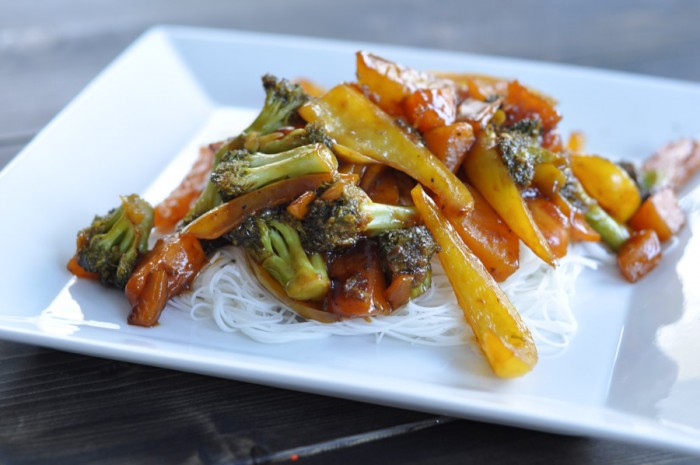 It wasn't until a few years ago that I actually appreciated the butternut squash.
Unlike his friends, Pumpkin and Spaghetti Squash, Butternut Squash has quite a nice, sweet taste… and is so versatile.
We were eating roasted butternut squash at my mother-in-law's house this past week when I realized, "This could go in a stir fry!"
And so it did.
Butternut Squash Stir Fry
2014-11-29 22:48:51
Ingredients
1/3 of a large butternut squash, peeled, seeded and cubed
1 head of broccoli, broken into little florets
Two sweet peppers, sliced
1 pkg Blue Dragon Honey Teriyaki Stir Fry Sauce
Blue Dragon Rice Noodles
1 tbsp olive oil
Salt and Pepper to taste
Instructions
In a large frying pan, heat oil
Saute squash until just starting to get soft
Add remaining vegetables and saute for approximately 5-7 minutes more
Add Honey Teriyaki sauce and toss to coat - cook for 2 more minutes
While cooking vegetables, place rice noodles in a bowl
Boil water (I do this with a kettle) - and then pour it over the noodles
Let sit for three minutes then drain and rinse in cold water.
Plate by putting a scoop of noodles on the plate, then top with vegetables and sauce
Enjoy!
Suburble https://www.suburble.com/
I decided that the Blue Dragon Honey Teriyaki Sauce was the perfect sauce to mix with the squash and peppers. The ginger and honey in the sauce was a perfect pair with the sweetness of the vegetables. The noodles are easy to cook (I boil water in my kettle and then pour it on top of the raw noodles in a bowl), and pair with any vegetables.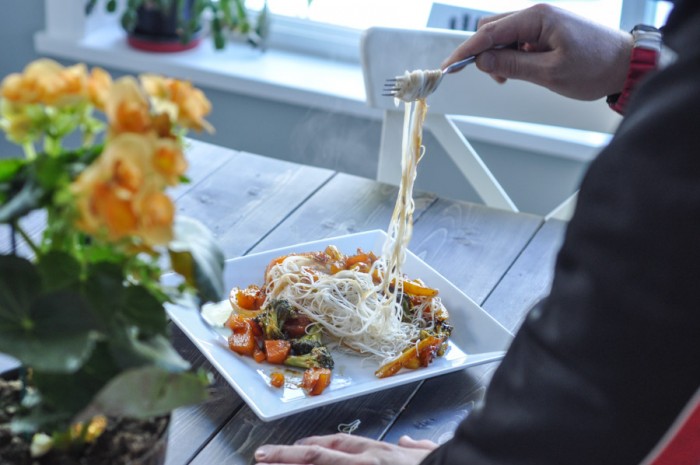 In fact, Mr. Suburble waited anxiously for me to finish taking these photos before he could dig in.
I asked him if it was missing anything, and the T-Rex in him responded, "Yeah… some meat."
I'm not quite the carnivore he is, so I think that it stands alone as a nice lunch or dinner. But if you also have a hungry dinosaur at the table, you can add protein to this dish.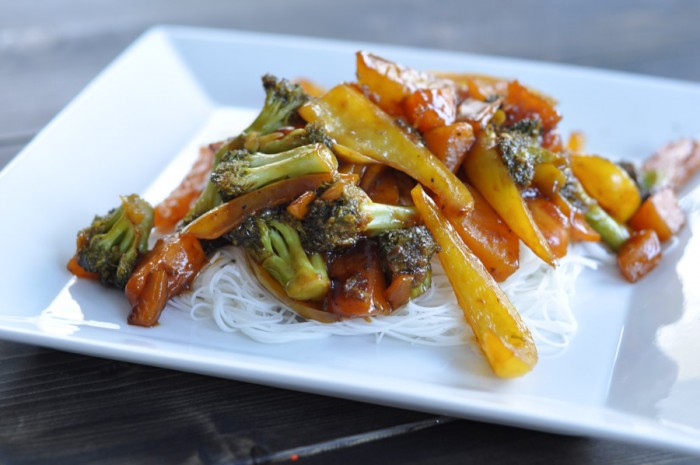 But in my humble opinion, I think that the addition of the squash adds enough body.
Tell me, are you a lover of squash?
What dishes do you add it to?
Disclosure: I am part of the Blue Dragon Canada ambassador program and I receive special perks as part of my affiliation with this group. The opinions on this blog are my own.