Huge thanks to Delta for sending this flashy little guy to come live in our kitchen. He's one of Mr. Suburble's favourite things to show to our guests.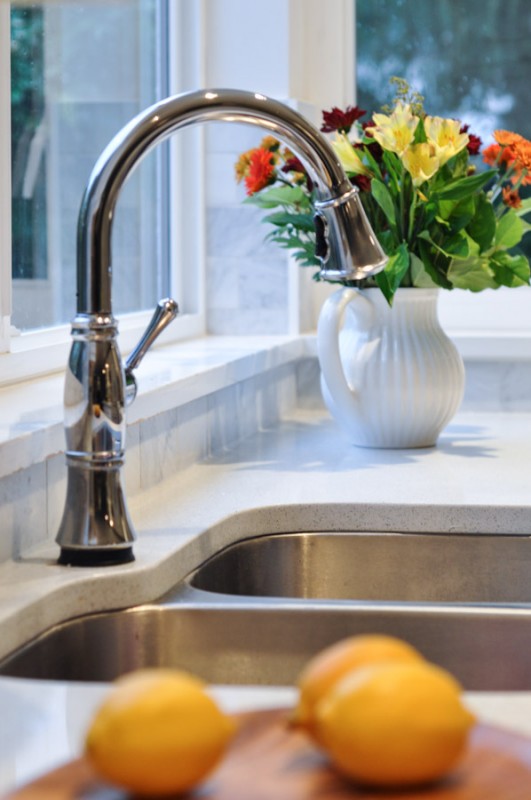 I know it's been a while since I've shown some changes in the house. The basement is looking so good these days, guys, but it's not quite done… so I'm going to head upstairs and chat about the kitchen.
The kitchen was a weird project right from the start.
I wanted to gut it, but also – I didn't. In my heart of hearts, I really just wanted to slap a bit of lipstick on it and call it a day.
Gutting a kitchen is not a small job. It's expensive. It's messy. And it has the potential for the most disruption in our lives.
So, we thought we'd just replace the countertops…. and then the backsplash… and maybe some new appliances?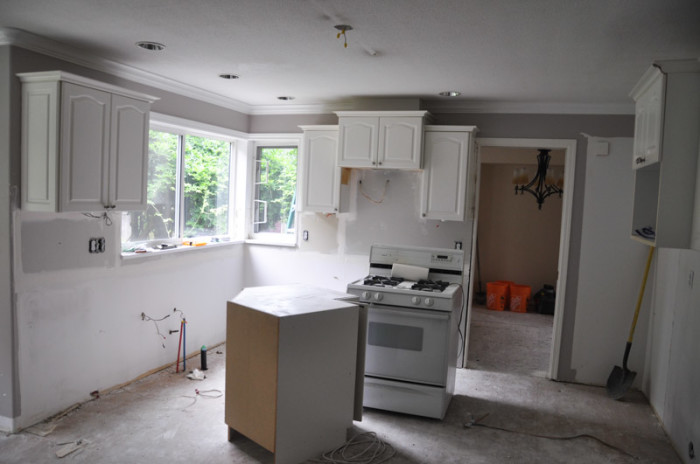 And poof! The Renovation Fairy came swooping in with her Demolition Wand and ripped everything out of there. Lipstick? No. This was a whole face of make-up.
But the Renovation Fairy visited a LOT of different rooms in the house. She was a nutbar with her wand (and crowbar). And this meant that replacing the cabinetry was not in our budget.
So we kept it.
Instead, we thought we'd rely on careful finishings and bits of "bling" (as I like to call it) to dress up the space. We had white melamine cabinetry (or maybe it's Thermo-Foil, how do I tell?) from the 90s. It was fine. It would work.

Do I share the whole "nearly finished picture" yet? I can't. It's not entirely done.
I feel like I need to lead up to that. So today, I'm going to talk about just a part of the kitchen.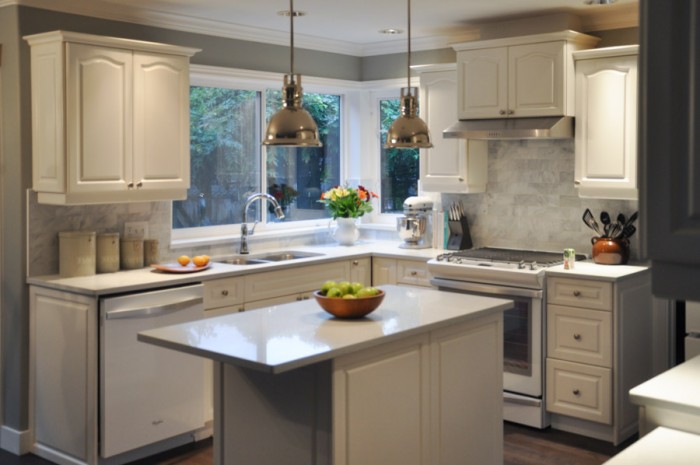 Okay… maybe a little sneak peek! We have a few more things to change and/or add, but that will come soon enough!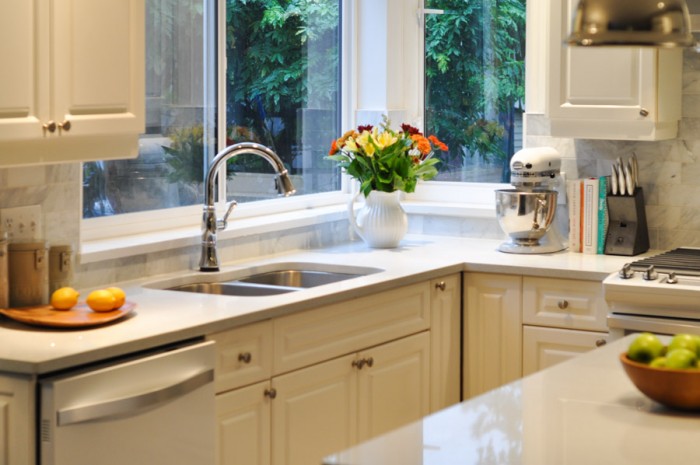 When we were choosing fixtures and finishings for the kitchen, I knew that I wanted a chrome faucet with a bit of presence. I like a nice long neck on a faucet.
One of the best features of our kitchen came with the house: the two large windows that open up to our backyard. I can't tell you how fantastic it is to be at the sink (either drinking tea or washing dishes) and be able to see the entire expanse of our grass and patio space. The light that streams into the kitchen in the morning is wonderful, too. It bounces off of the white surfaces and create a really lovely and bright space.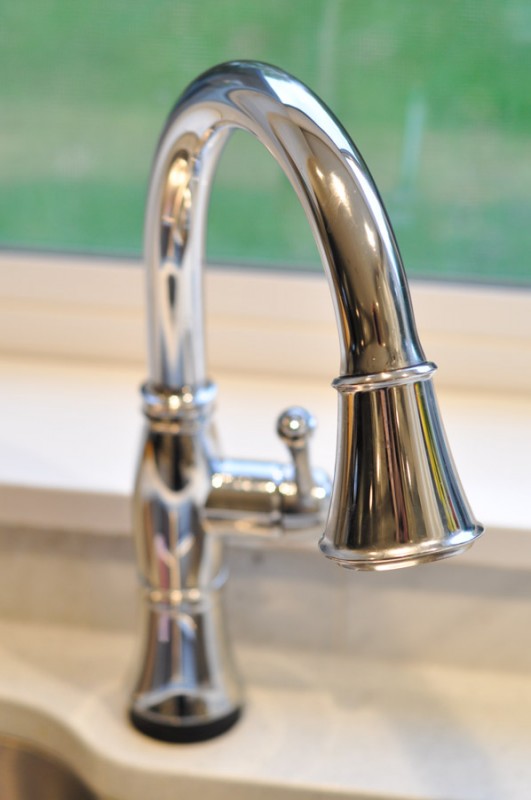 Whatever faucet lived over the sink was going to be a focal point. It was going to be in the view from the kitchen to outside. The light was going to come from behind it and illuminate it. So, we had better choose the right one.
I had my heart set on the Delta Touch 20 faucet in the Cassidy style. It was just so simple, and lovely, and it turned on with the touch of our hand (or back of the hand, as it is most of the time).
We opted for a pull down spray nozzle as opposed to a separate spray on the side of the sink. I liked that there was less clutter around the sink (in the form of another spray nozzle) and I think it gives the faucet more impact when you look at the entire picture.
Now… the Touch 20 part. This is the part that Mr. Suburble LOVES (and I do too, but I don't bring it out as a party trick like a certain man who lives in this house).
The faucet's touch technology runs on double A batteries. When you touch any part of its neck or handle – it turns on. When you touch it again, it turns off. This has already proved invaluable when I've been working in the kitchen. Pumpkin goo didn't have to be smeared all over the handle. Muddy hands from the garden managed to get clean without leaving fingerprints everywhere. And chicken-hands!?!?
Chicken hands is the one that comes up most often when I'm showing the faucet to friends.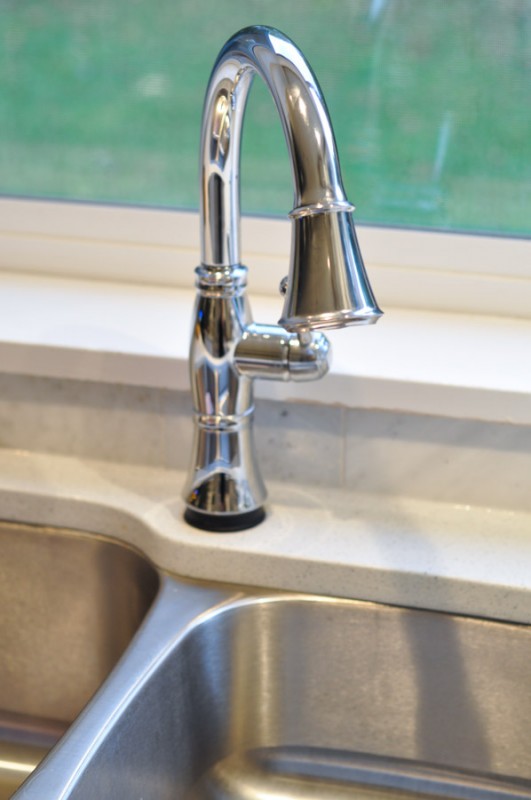 I love that a bit of bling around the sink can add so much to a room. I'm thrilled with our faucet, and have become addicted to the touch feature. The pull down nozzle snaps back into its holster (what else would you call it?) and stays there. We've had less-than-awesome faucets before where the nozzle just hangs there like a bit of a noodle from the neck.
Not this guy. My plumber remarked that the weight (which hangs below the sink to hold the pull-down nozzle in place) was skookum, and that this was a "good quality faucet".
I knew that I had a keeper right then and there.
If you too, hate chicken-hands and don't want to deal with cleaning the entire faucet after preparing dinner, check out Delta's entire Touch 20 line. Trust me, you'll never go back.
Missed The First Part of the Renovation?
Check Out What We've Done: