Every once in a while, I'll complete a craft — like my Scented Hot Pad from a little while back — and I'll think, "Man… my sewing machine and I are doing great! We could even start thinking about our goal of a pair of pyjama bottoms! How talented are we?!?!"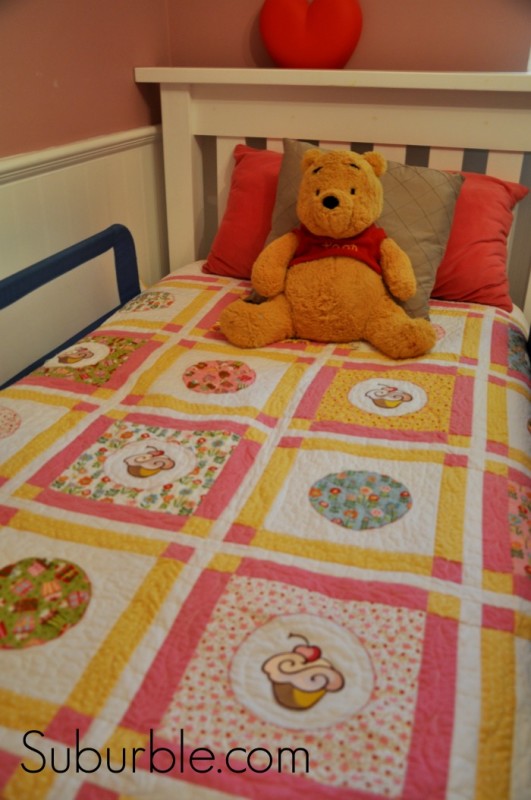 Then we'll visit my mom and she'll hand us a bag that contains two gorgeous handmade quilts. With appliques and embroidery.
And I realize that my entry-level Brother machine and I are still playing on the farm team.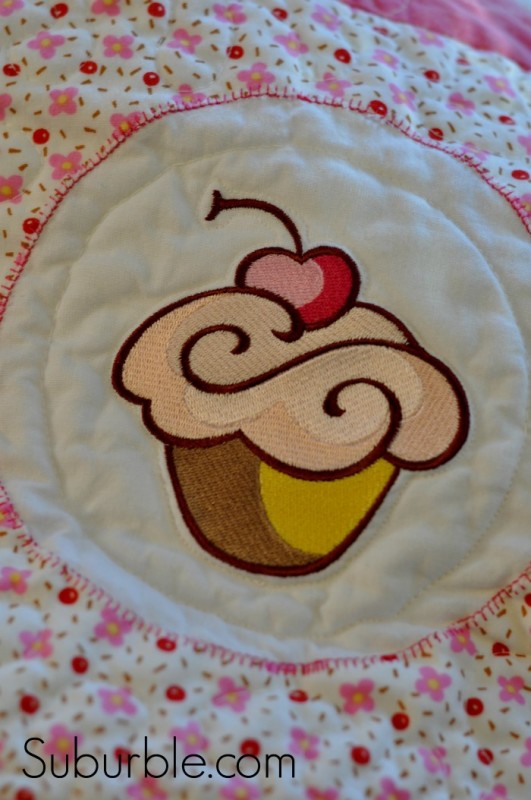 My mom has a creative streak running through her. She takes up hobbies and runs with them.
She dabbled in quilting when I was a teenager. And now, she's taken it up again. But this time, she's cranking out the quilts. And doing a pretty incredible job of it.
(that cupcake was created using her embroidering machine)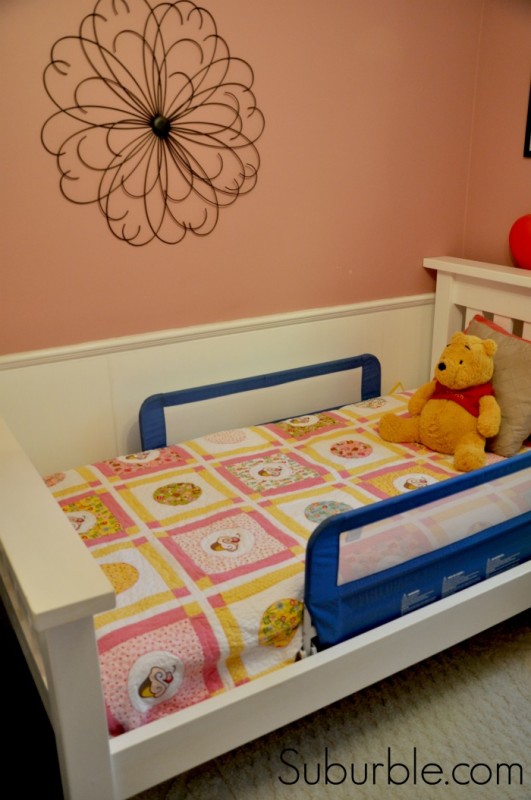 The reason I don't often do pictures in the girls' rooms? Mostly because we still have awkward preschool stuff happening in there.
Like bright blue bed rails.
And if you think, "Oh, Lila is four. She can probably get rid of those."
Well, then, you've never had a sleepover at someone else's house with her. It's quite the scene, opening the door and seeing her head trapped between the bed and the bedside table. Once you've seen your child's limbs flailing from a body that seems to be suspended in mid-air, and her muffled voice calling, "I fell off the bed!"…. then you let your kid have bed rails far longer than the average Joe.
Can you hear the whirrring sound of the Helicopter mother?
Also, that bed? That was another creative streak of my mother's. She build that bed using Ana White's plans. I know… maybe she should have a blog, and I should be reading it.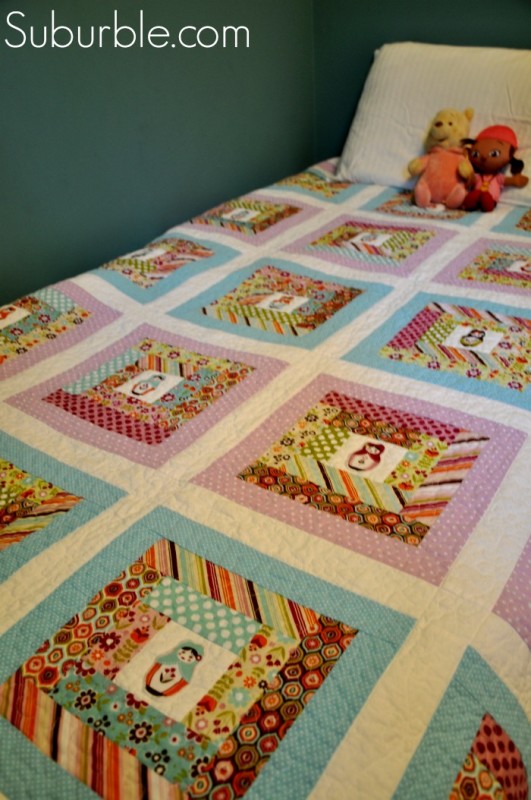 Lucy's quilt is a Matryoshka doll theme. Each little doll was cut out of the fabric and appliqued to the fabric.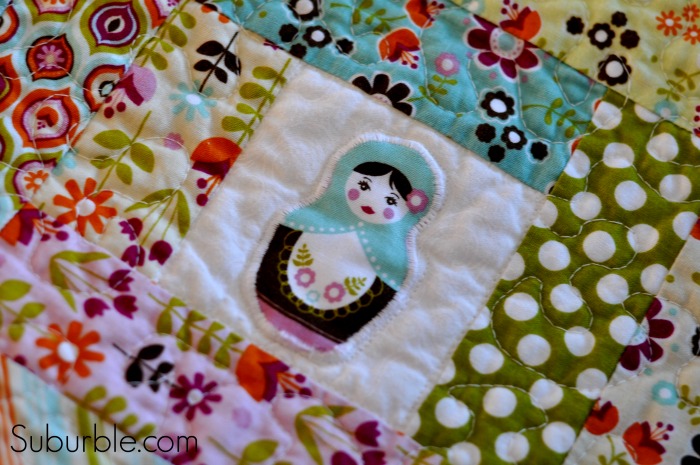 So sweet.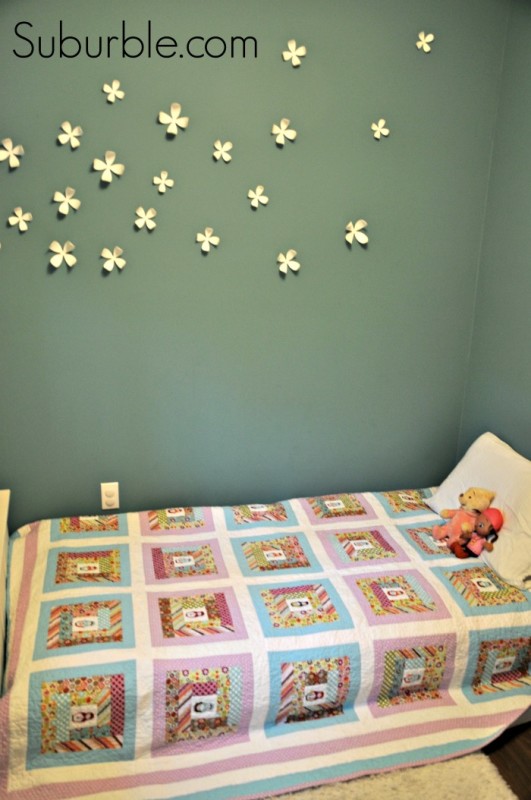 This is why you haven't seen Lucy's room before. Her mattress is on the floor.
It's college-student style for this 3 year old. Though I am currently working on her bed right now. It's a side-of-the-road freebie that I'm transforming with paint and a bit of patience.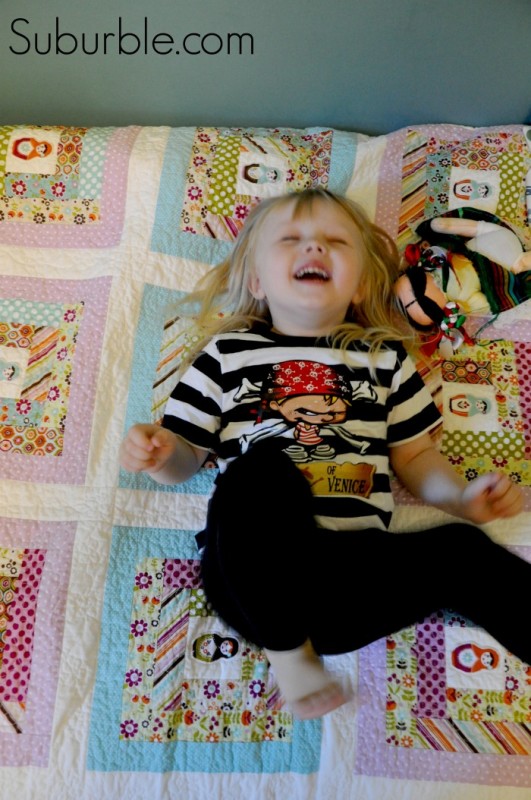 And while I love-love-love these quilts – they will hopefully be heirlooms that the girls will have for years – they make me nervous.
There's so much white.
There's so much effort.
These kids are nuts.
And filthy.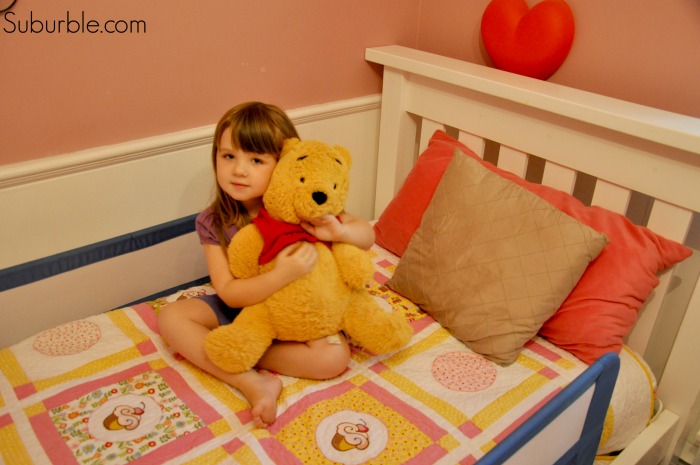 Ignore how harmless this one looks. She's the one who would probably have paint on her arms or glitter glue on her face (which would then become a permanent part of the quilt).
My mom – Grandma Gardener to you guys – said, "Who cares!?!? I made it for them! They'll get stained. It happens."
But not yet. These quilts will be coverlets for a while (and removed at bedtime). I don't want to be the one who hollers, "This is why we can't have nice things!"
Especially when these things also have nice words on them:

Grandma Gardener calls the grandkids, "Pickle-Pickle" and "Porcupine" – and my girls have always thought that hilarious. And now these quilts will be sure to remind them, that wherever they are, and whatever dreams they may be dreaming, they are very loved.
Did you have a special quilt or crafted "something" when you were growing up?
Or did you inherit your crafty streak from someone?
I'm still waiting for mine to fully develop.