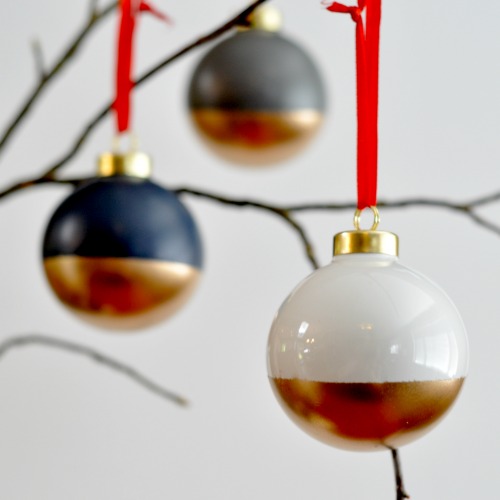 Yeah. I'm going there.
I'm going to start talking about Christmas.
And you won't be able to shut me up about it. See… I get a bit giddy about Christmas. And there is just so. much. craft. potential.
Plus, Thanksgiving has already happened in Canada, so there are now twinkling lights of Christmas trees in most of the storefronts. It's hard not to get caught up in all that twinkle.
Because I'm also a shameless spray-paint addict, I thought I'd share the first of many ornament tutorials – this one being a flashy gold one.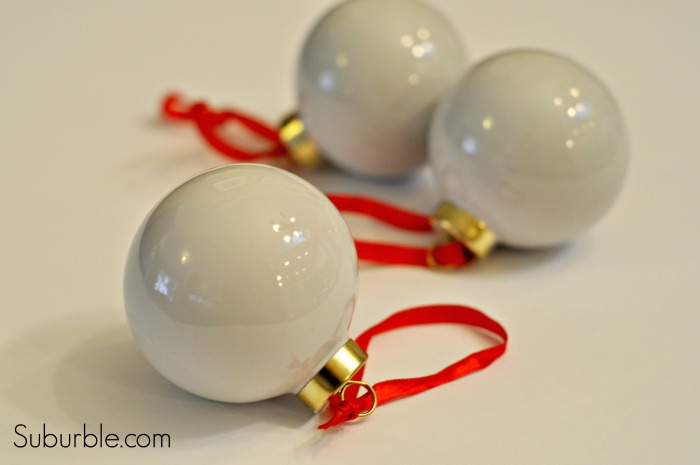 These porcelain balls are available at most craft stores – I got mine at Michaels. They even came with gold accessories! How perfect!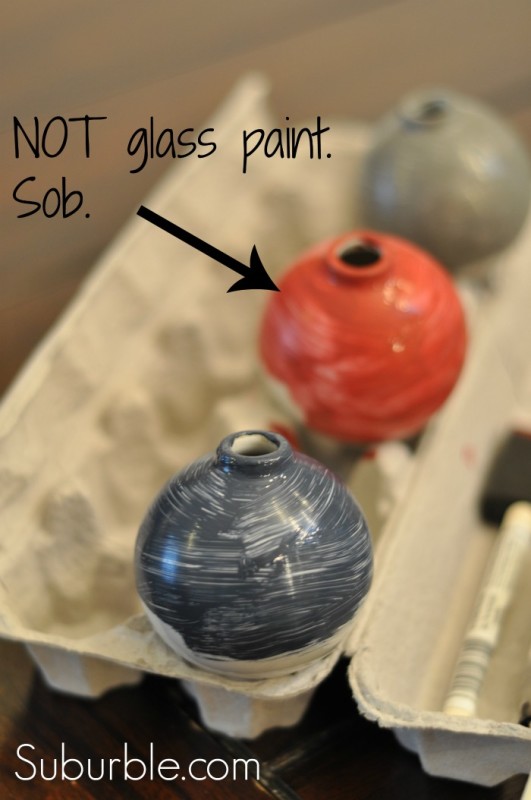 I removed the hangy-bit (what is that called?) and painted the top 3/4 section of each ball in acrylic paint.
Here's where the craft fail happened. I grabbed some paints based on the colour and really didn't consider what type of paint I was using. Two of these paints are multi-surface paint, which means that it adheres to glass. One of these paints is a traitor and gave up on trying to participate in my Christmas craft.
It was the red one. The paint slid right off of it, in horrible elastic-like peels.
So I swore. I stomped my feet. I debated whether I was going to paint it again.
Then I decided that I quite liked the white finish of the original porcelain.
After you have completed at least two even coats (because it's going to go on splodgy and streaky the first time), you can use a matte sealer – like Mod Podge – to ensure that the paint will stay put. Or, you can bake the acrylic paint – here's a little how-to – if you'd like to try that route.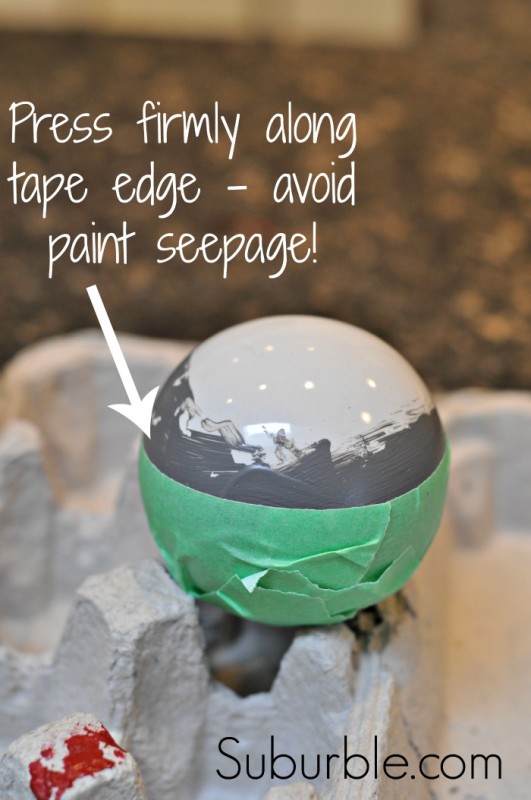 After the paint has dried and sealed, then you can use painter's tape to create a straight line across the bottom 1/4 of the ball. Cover the painted part of the ball with tape, and be sure to press firmly along its edge. You don't want the gold spray paint to seep under the tape – it's not pretty.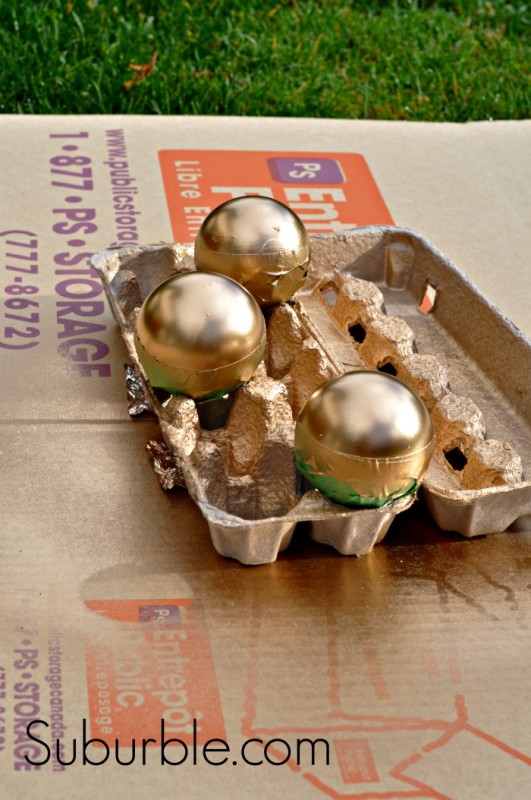 I used an egg-carton as my "ornament holder" – and it worked like a charm!
The ornaments got two even coats of Rustoleum Metallic Gold. The best. stuff. evarrrrr……
And once they had dried, I very carefully removed the tape and revealed these beauties: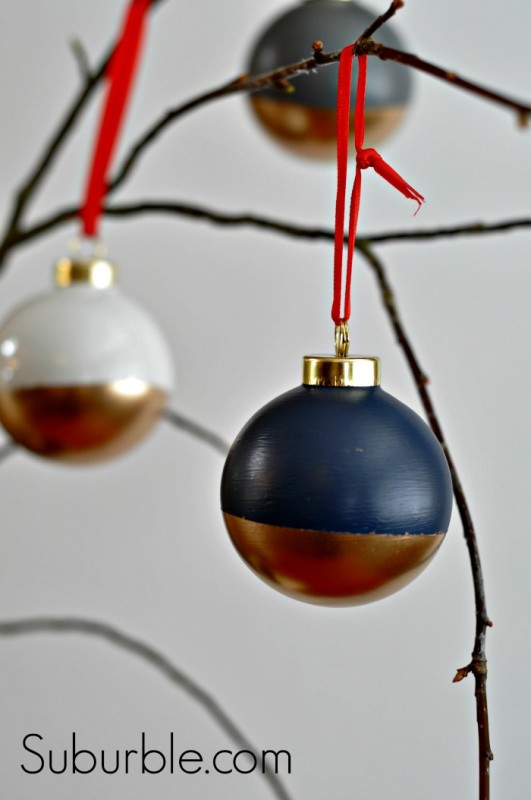 So pretty! And so golden!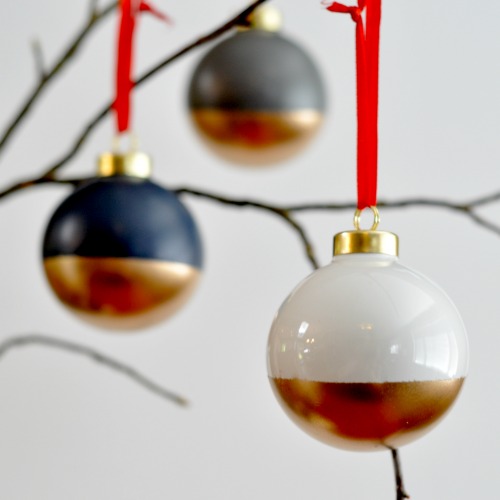 I love how the ornaments aren't the traditional colours of Christmas (red, green, etc), but are still festive with the touches of gold.
And you know that I'll be breaking out the gold this Christmas. It's going to be like King Midas came to stay.
Or Queen Midas. With her spray-paint in her holster.
Talk to me about Christmas colours – are you a traditionalist?
Red and Green are the only way to go?
Or do you stray from convention – what colours do you choose?
Don't forget to check out some of these other Christmas posts!