Well, here is where I admit a bit of weakness, people. Get your popcorn and your sodas.
I am currently a competitor in the fabulous One Artsy Mama's One Crafty Contest.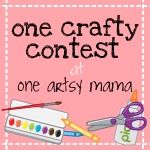 It's a competition where bloggers create pieces based on the prompts that Amy gives us. Each week, we have four days to create a piece, and then for a day and a half, there is a voting round (which results in some eliminations from the contest). Pretty cool, isn't it? I created the piece below based on the category of "Paint".
Sadly, I was voted out of that round. I didn't earn enough votes.
Whomp whommmmmmp.
But then something crazy happened – a contestant had to drop out of the race – and I was offered another chance to take part in the competition! I humbly accepted the offer, and thus, I'm still a competitor! I ask that you visit Amy's blog and check out the next round of projects (the category is washi tape), and vote next Monday and Tuesday ('til noon). Maybe I'll move onto the next round, and maybe I won't. But I'm excited to compete, nonetheless.
And aside from my dabblings in competitive crafting, I'm still very proud of what I created! Using paint, some Ikea frames that just hadn't yet reached their potential, and some other bits and bobs from the craft room, I created two snazzy little jewellery organizers to sit upon my dresser.
Here's how I did it: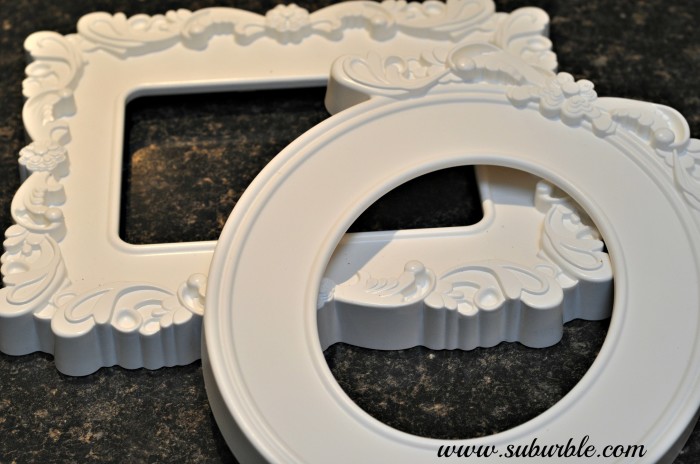 Some of you will recognize these frames. These are plastic Ikea frames that are cheapy-cheapy-cheap. I bought them a while back, and they've collected dust ever since. They're just so plasticky with their original finishes. It's as if they were meant for a child's room. I knew that they could be fabulous, but it would take a bit of spray paint-love.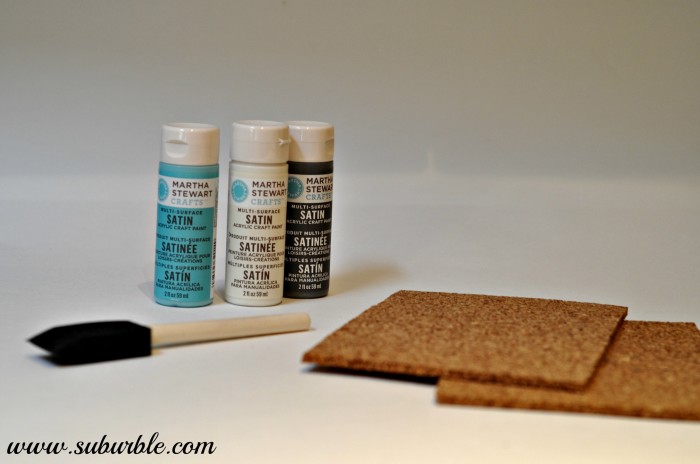 I gathered my materials: some acrylic paint, corkboard cut to 5X7 dimensions, and a foam brush. I also used some burlap, but I didn't take a picture of that, because it was actually just a sandbag that I had sitting in a pile. Don't ever underestimate the sandbag. It's incredibly handy (aside from preventing huge bodies of water from rushing into homes and doing thousands of dollars of damage… if you consider that useful).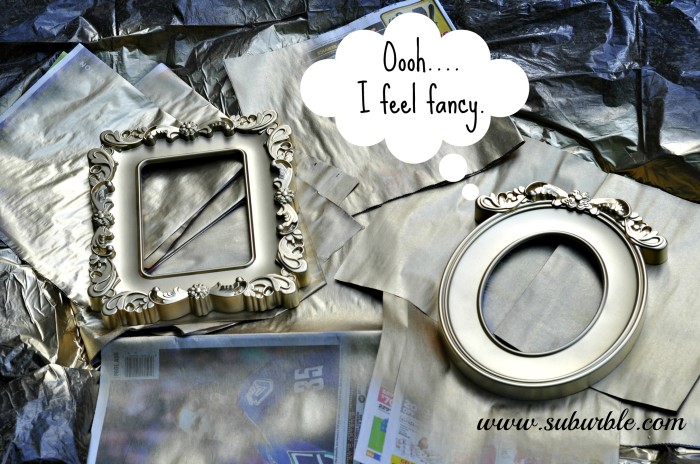 Hooray for spray paint! The frames were now glitzy and ready for their close-ups.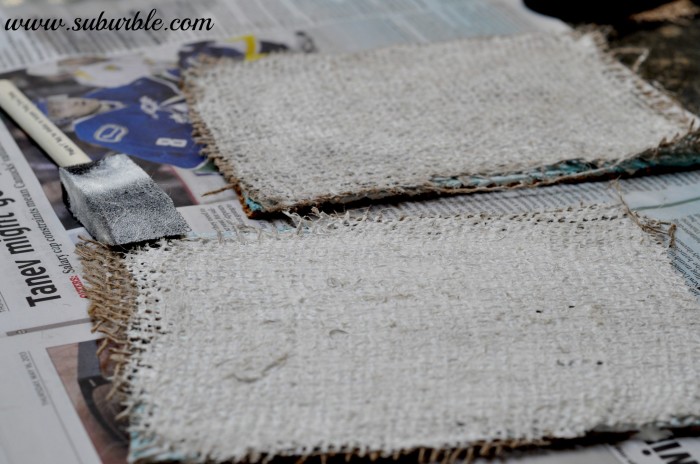 I mixed Martha Stewart's acrylic paint (Summer Linen) with Mod Podge to dilute it and to make it super sticky. I then used this gloopy mixture to affix the burlap onto the corkboard. It worked like a charm. I'm remembering this technique for future projects.
I then used another paint (Martha's "Arrowhead") to stencil on an image of a vintage woman's silhouette and of The Graphics Fairy's Queen Bee. I loved how both of these images turned out. The lines aren't entirely crisp, but I think that's true to the project – it's supposed to be a bit rough around the edges!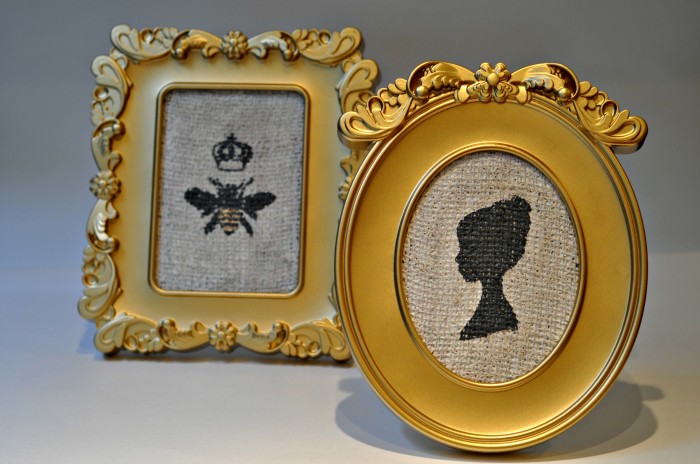 These pieces could stand alone as art (and I have considered that), but there was a reason why I stuck that burlap onto the corkboard. I wanted jewellery to be able to slip into the textured surface; this art also had a purpose.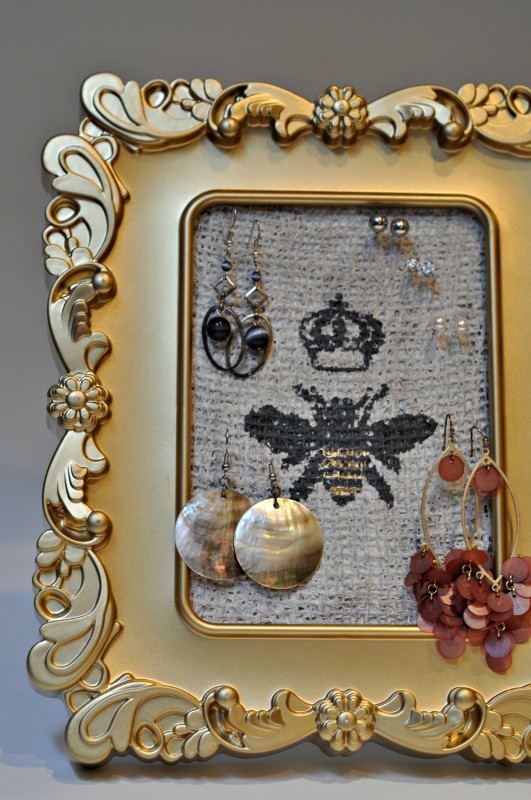 And it works like a charm.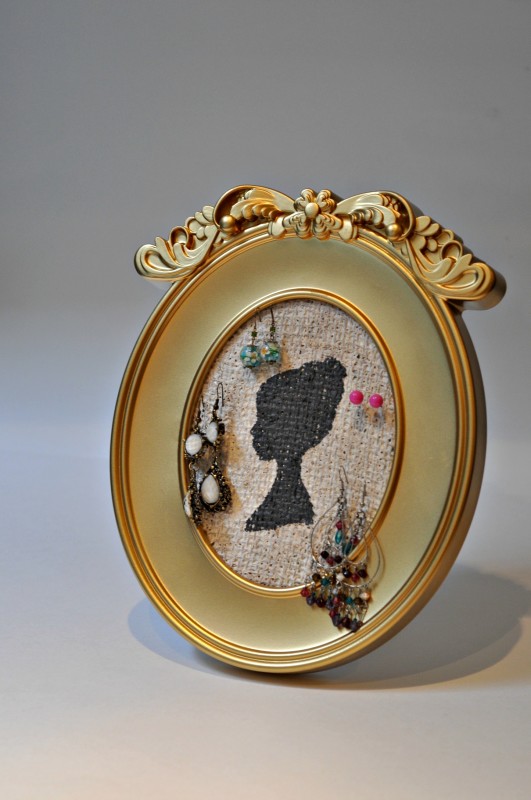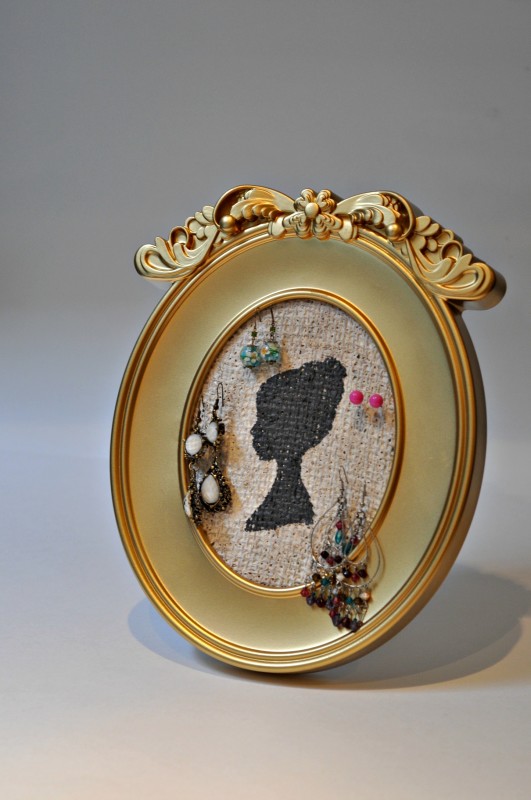 This cameo is my favourite, I think. So sweet.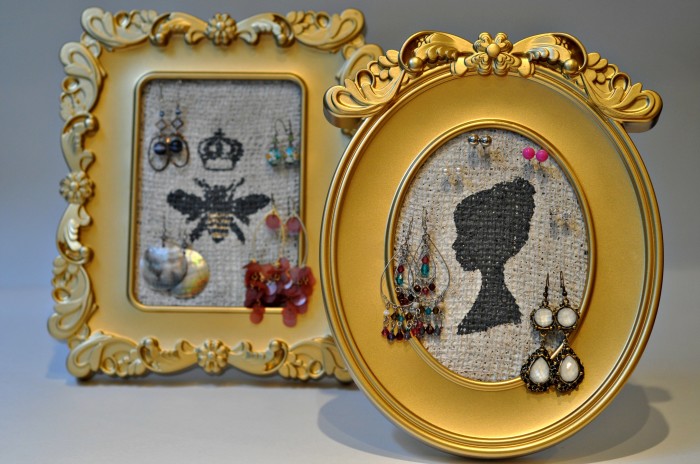 Both pieces now sit atop my dresser in my bedroom. I love how they've turned out, and I also love how I've managed to organize and display my jewellery in a way that isn't utilitarian and boring. There's nothing wrong with a little bit of fabulousness when it comes to organizing your stuff.
Plus, I got to use spray paint. I love spray paint.
 I share my stuff at these glamourous places.
Follow Along!
Don't Miss Another Post! Subscribe Via Email!