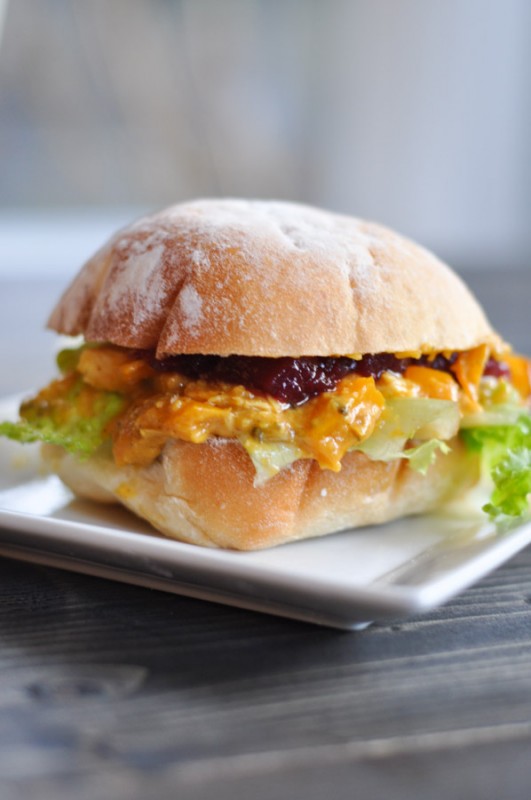 If you're a chick-flick fan like me, you'll know how Bridget Jones met her stone-faced-but-charming Mark Darcy: over a buffet of turkey curry.
And because that movie is a staple in the holiday (or any day) line-up, turkey curry is nearly always running through my mind while I'm making the holiday bird. What a great way to use up leftovers that isn't soup.
Not that I don't love soup… but sometimes it's nice to change things up.
Christmas festivities can leave you wanting to just veg out on the couch, so this recipe is so incredibly easy. And if you're wanting to try something different, I've come up with two ways of serving your insanely easy turkey curry: on rice, or as a sandwich!
Leftovers don't have to be boring.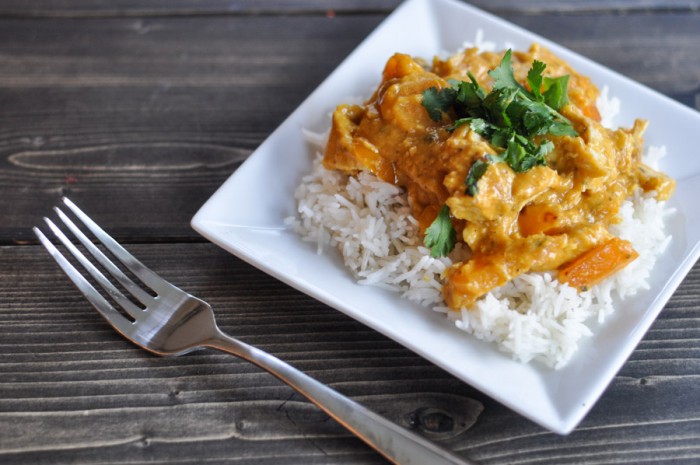 For this dish, I simply sauteed peppers in olive oil, and then added chopped up turkey meat (already cooked, of course) and a jar of Patak's Korma cooking sauce. Korma is a sweet coconut sauce and is one of my go-tos for a quick and easy dinner. I thought it would work nicely with the light taste of turkey.
I also think that the Spicy Butter Chicken cooking sauce would be a winner as well – this is mostly because it's my most favourite sauce evarrrr… and really, you could can use it for any meal-in-a-pinch.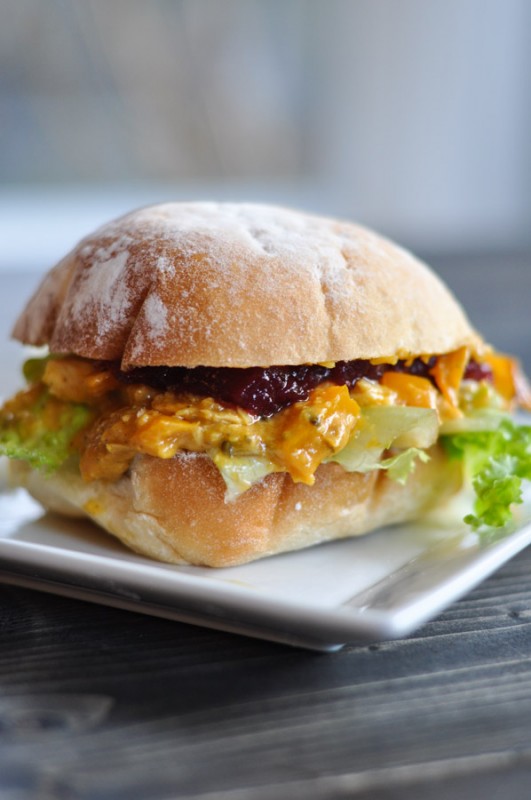 When I made up my turkey curry sandwich, I simply added a heaping spoonful of curry atop a bed of lettuce and topped it with a healthy dollop of cranberry sauce. You can also use a chutney if you'd like to keep the dish more authentic (Major Grey is a nice one), but I wanted to use up the leftovers in the fridge – cranberry sauce worked well with the sweetness of the Korma.
My dad introduced us to Scotch Baps this year (his new favourite dinner bun) and was perfect for this sandwich. Tray buns would also be nice.
Who doesn't love a buttery soft tray bun?
Oh, I'm hungry now.
How do you use up your turkey leftovers? Have you ever met your future lover/ex/husband/awkward-love-triangle-person over a turkey curry buffet?
If so, spill. I want to hear everything.
Looking for more great ideas for your dinners that mix in a little India? Head to Patak's blog, Good Korma, for great tips and ideas for adding spice to your life.
I am part of the Patak's Canada ambassador program and I receive special perks as part of my affiliation with this group. The opinions are this blog are my own.