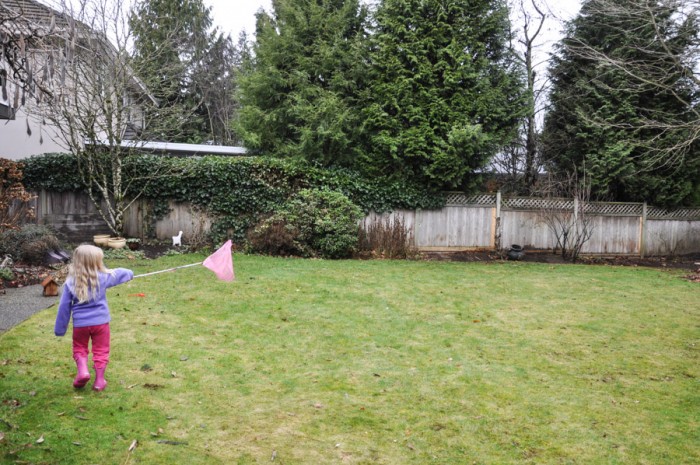 Lucy is my new backyard helper. She has decided that she and nature are new BFFs. See that little birdfeeder/birdhouse thing-a-ma-jig on the path on the left hand side of the photo?
That's her new project.
She's decided that we need more birds. She dragged that sad wooden bird feeder out of the shed and left it on the path. And every time we walked past it she would say, "Can we get some bird seed, Mom?"
But first, we had to finish the yard work.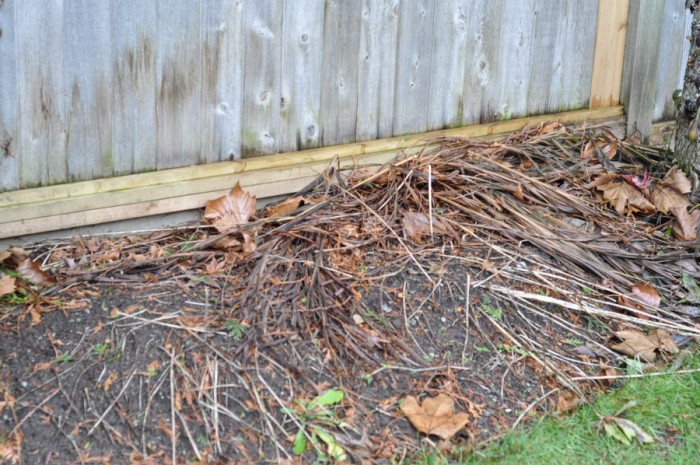 Today I was going to tackle the more depressing parts of the yard.
Like this grass. It defines sadness.
It desperately needed a haircut.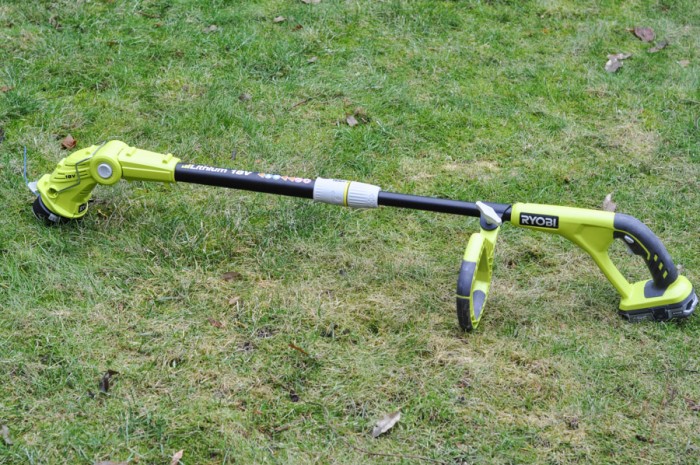 I broke out this baby. Ryobi was kind enough to send me their 18V cordless hybrid string trimmer/edger. And holy moly, this baby can work!
Not only does it have an pivot-able head, but it also has an adjustable handle (so that you can set yourself up for a comfortable – and not awkward – weed-whack-a-pa-looza around the yard).
And even better?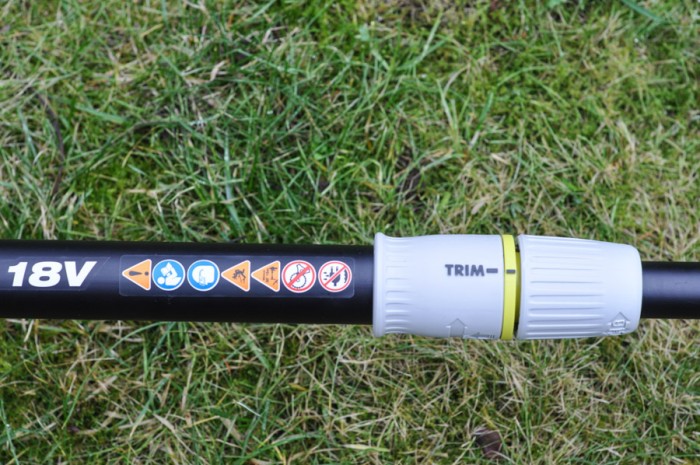 Set it to "Trim" when you want to whack the weeds traditionally – meaning, with a flat, forward facing head.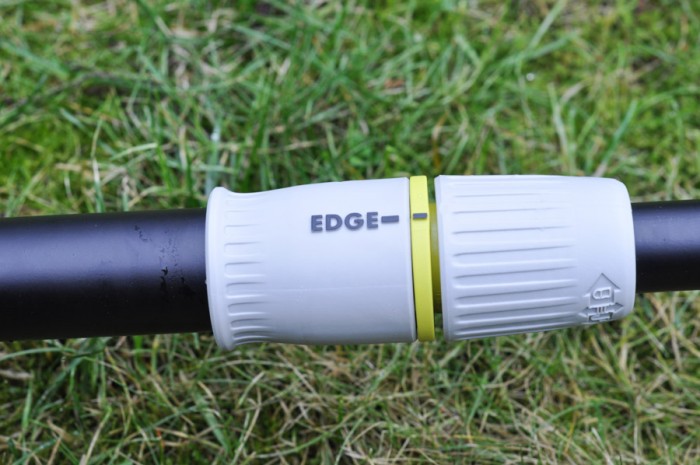 Set it to "Edge" when you want the head to be vertical, making it easy to get really nice close trims around fence posts or along patios.
Or, if you're trying to save time and whack some grass away.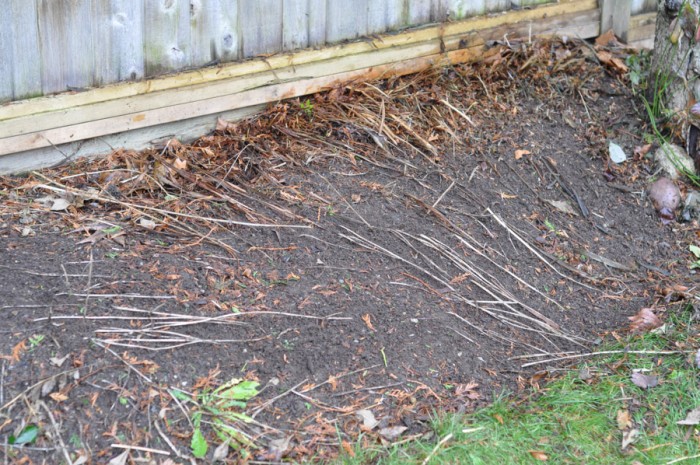 This was a quick once-over with the edger before I grabbed the handful of grass and chucked it into the leaf bag. It was ridiculously simple.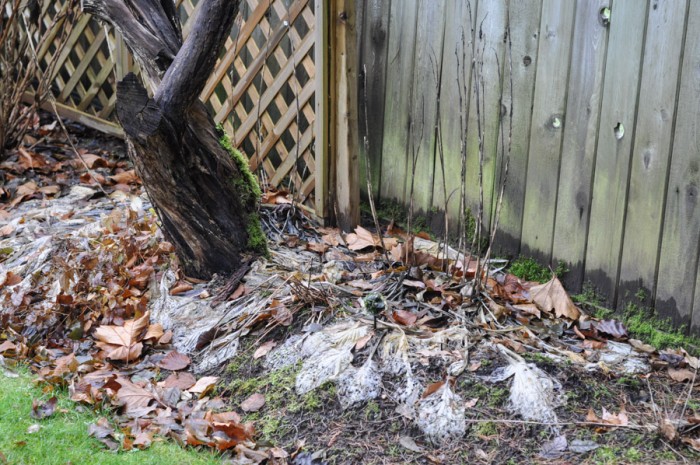 Here is the "Winter Look" for a hosta.
Hostas wilt and turn in such unbecoming ways. I love hostas in the spring and summer. I even love their blooms (although my mother snips 'em off – I can't understand why).
But their depressing winter sprawl is too much for me.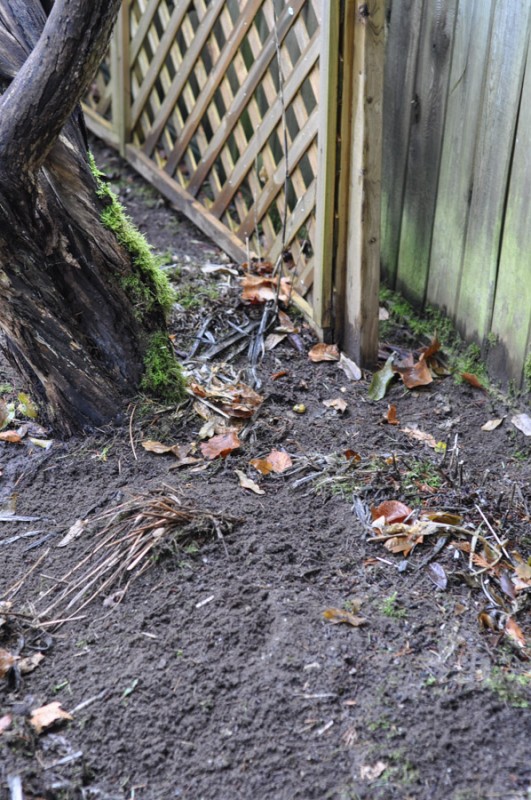 A quick pass of the trimmer/edger and sha-zam! See ya next year, Hosta.
Do I dare say, "Hosta" la vista!?!?
No, I don't.
Erase that from your mind.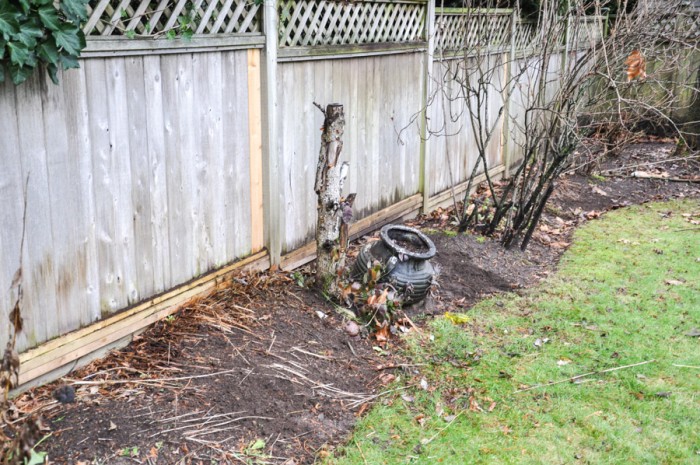 Lucy daydreamed of birds while I quickly ran my trimmer over the garden beds and whacked down the offending grasses and hostas.
Then, we did more winter-prep.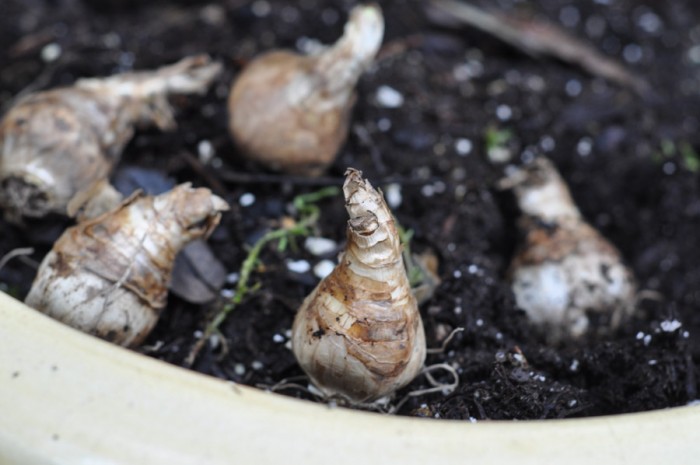 We planted daffodils and tulips all around the yard and in pots.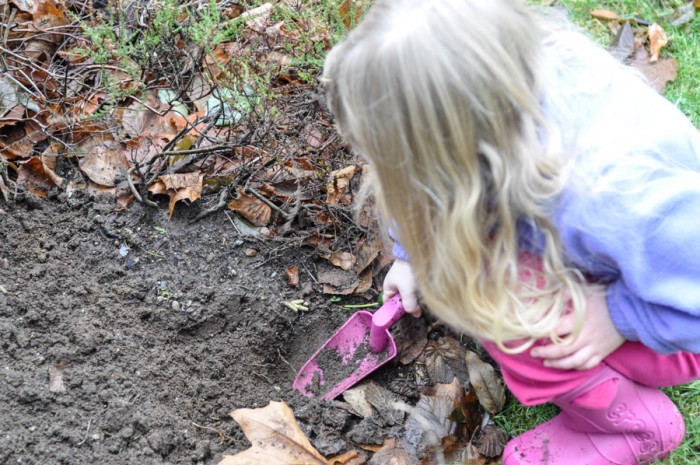 Lucy dug up parts of the beds and asked for "big seeds, mom".
So I gave them to her.
Yes, we may have some willy-nilly blooms in the Spring, but I don't mind. I'm just learning about gardening, too.
You'll notice that there are still lots of leaves in the garden beds. I figure I'm going to leave some to mulch over the winter. To those who know better: is this a good idea? I can still pluck 'em off, but so far, the beds look cozy with their little leaf blankets..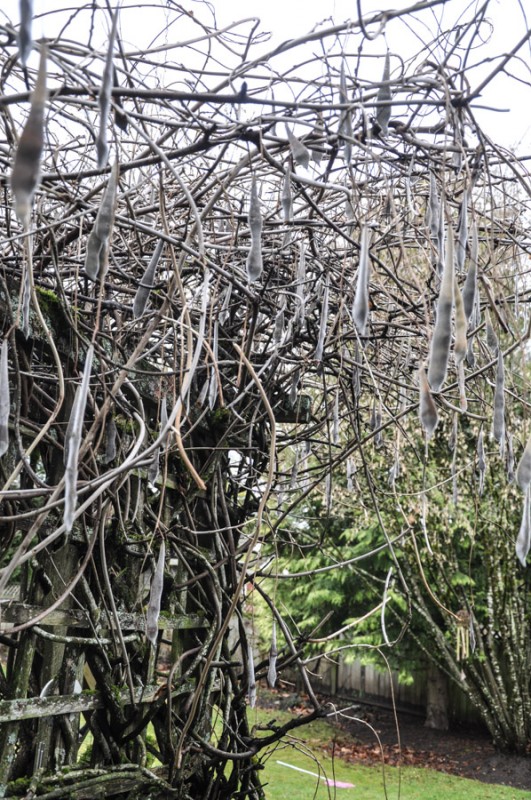 And our wisteria is almost ghostly. The seed pods (unlike anything I've ever seen before) are furry and gray, while the skeleton of the bush is woven throughout every nook and cranny of our arbour.
I've never had a wisteria before. I hear that it's a hardy not-so-little fella and that I could hack him back quite a bit and still have a gigantic beauty in the Spring. I'm afraid to, though. Maybe Google and I will need to cozy up one of these nights and find out for sure.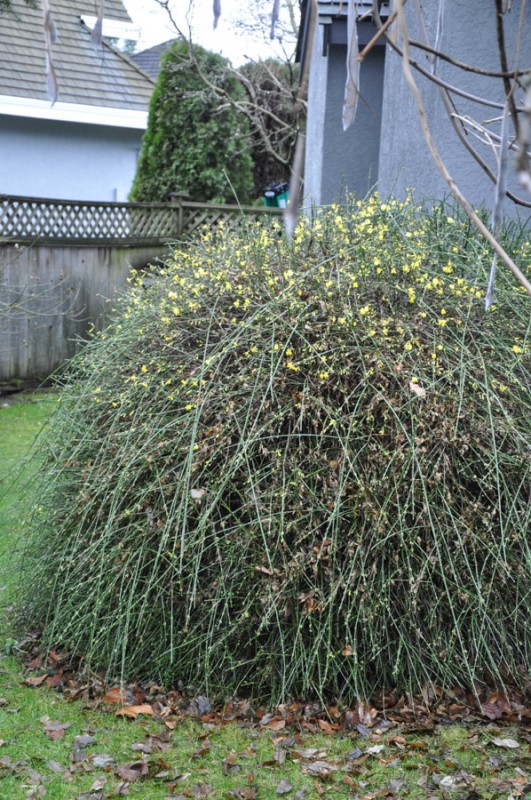 Speaking of "hacking back", check out what Jabba the Hutt has been up to. Yellow flowers all over his crown!
In Part 1, Heather told me in the comments that this was a kerria japonica plentiflora. The interwebs tell me that "plentiflora" means, grows like stink. And that is very true. Jabba is large and in charge.
Also…. he's kind of perplexing me. The directions are to "take greenwood in the summer, and divide in the fall."
What does THAT mean?
Does that mean I hack away at him until he's of a moderate size? And why is he blooming? He's not supposed to do that 'til Spring.
Gah. Plants with all of your rule-breaking. You're stressing me out.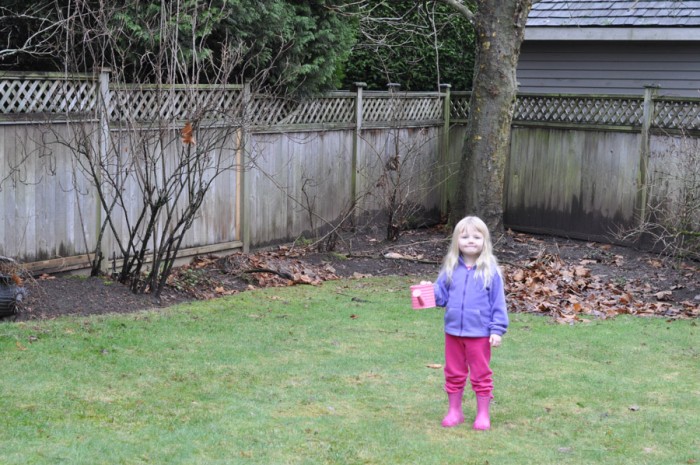 But Lucy wasn't worried. She had her watering can. She was filled with the promises of going to the shop to pick up bird seed (and suet! I hopped on the bird-loving bandwagon and sprung for a suet cage thing too). Is that face not SO proud?!?!
Gah. Even though it's out of focus, I could frame this. This is Lucy in her element. Puttering, helping her mom, and tending to plants.
She'll water them until they learn to swim.
We're working on that part of plant management.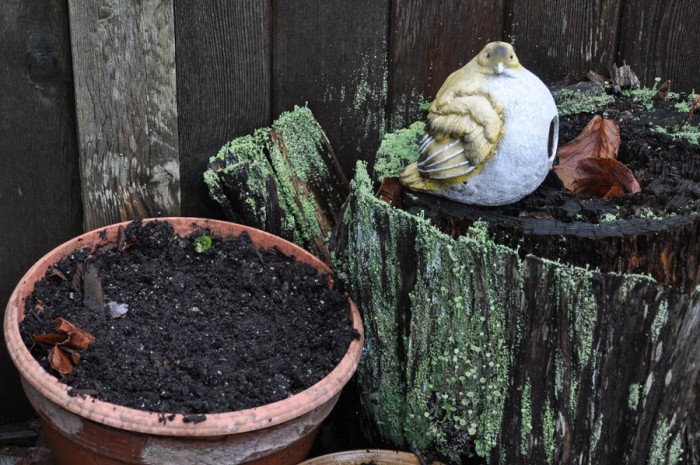 And there are other parts of yard management that I need to work on. See that green stuff that's adding so much character and texture to the photo?
Well, it's also on various parts of my fence. That cannot be good for it. Ideas!?!?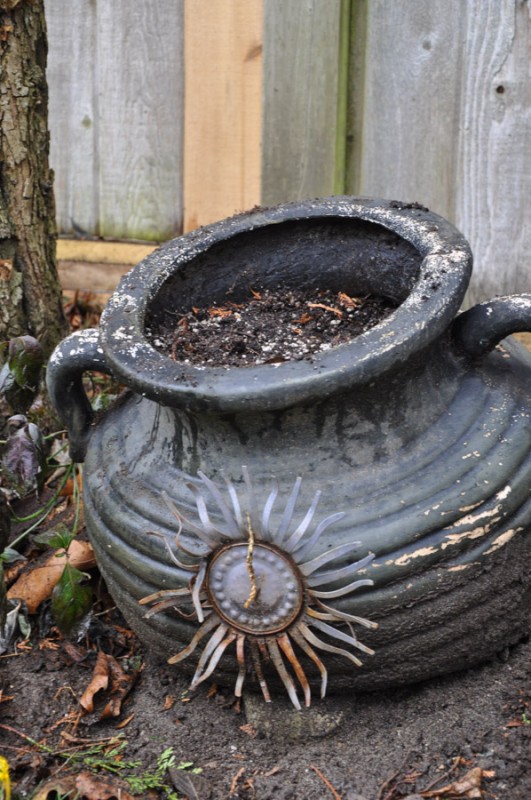 The previous owner of our home really loved her backyard. She left us all sorts of little pots and bird houses and garden art throughout the garden beds.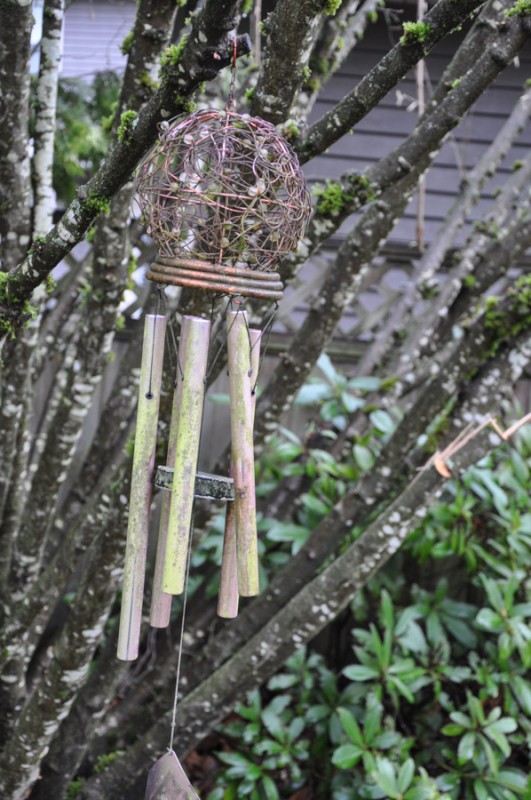 But some of it needs a bit of attention. I'll be cleaning this little guy up and putting him away 'til spring.
I still have so much to learn. But with the kidlets – and help from you fabulous readers – I'll get there.
But if you want to tell me that there are still mystery plants in your backyard, and maybe you have a cure for that weird green stuff on my fence…
I'm all ears.
Huge thanks go out to Ryobi Outdoor Products for outfitting us with some fabulous cordless tools to get our yard spiffied up. As always, all opinions, questions, puzzled looks and proud children are my own.