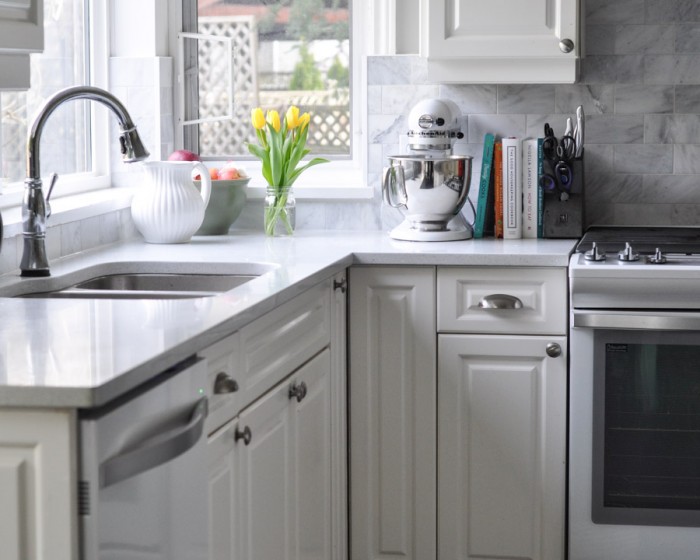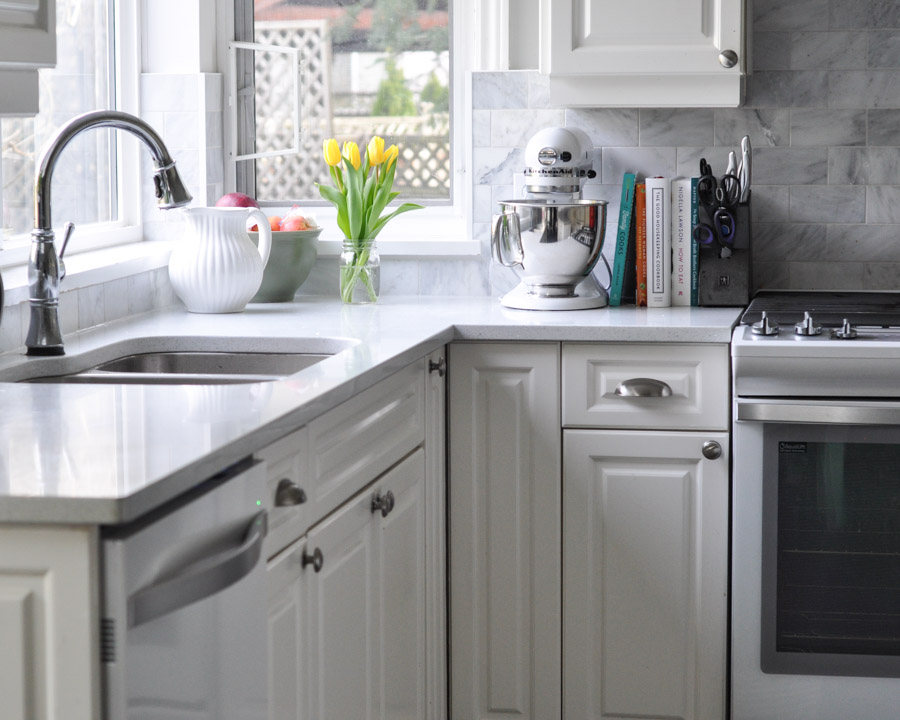 Last summer, I attended the Haven blog conference in Atlanta. I met some really amazing people there – both bloggy and business-y alike – but there were a few who stood out.
I met Derrick Lawless at his booth – D. Lawless Hardware – where he was showcasing some absolutely beautiful cabinet hardware. From chrome to crystal to faux-jadeite, he had it all.
I was walking through the booths with Kadie and ChiWei when we came across this array of cabinet-candy. The gravitational pull of bling drew us to the table. Derrick was just lovely – he, too, appreciated the way just a little bit of shine (or colour) can completely change a finished piece. I also think he might have laughed at one of my jokes. In my world, that's the ultimate compliment.
After the conference was over, Derrick and I connected via email, and we talked about gussying up my cabinets. Because Mr. Suburble and I were keeping the original white cabinetry (in order to keep our budget moderately intact), I wanted to update the doors and drawers with new hardware. Nothing crazy-like, but perhaps something a bit more substantial with a classic-feel.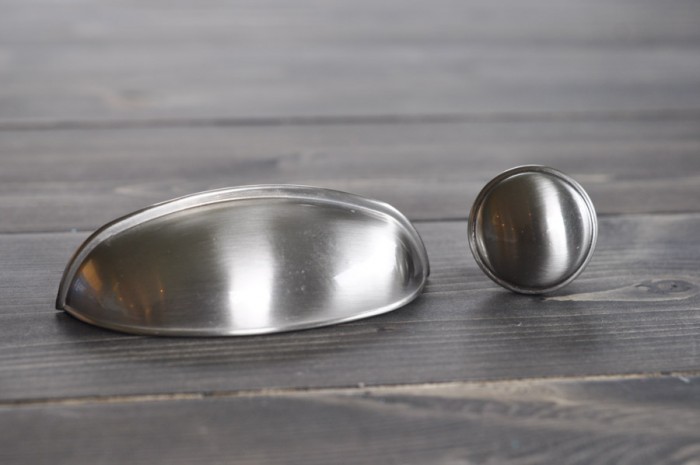 With Derrick's help, I chose these.
The cup pull is the Satin Nickel Cup Pull paired with the Satin Nickel Knob. Hello, gorgeous. You're looking all sorts of shiny and fabulous today.
I was thrilled when the box of these shiny beauties showed up at my door.
But then I looked at my cabinets and realized, "Oh. Who is going to drill the holes into these cabinets?"
After surveying the room – two baskets of unfolded laundry and a barefoot four-year-old wearing a pirate hat – I knew the answer.
Me.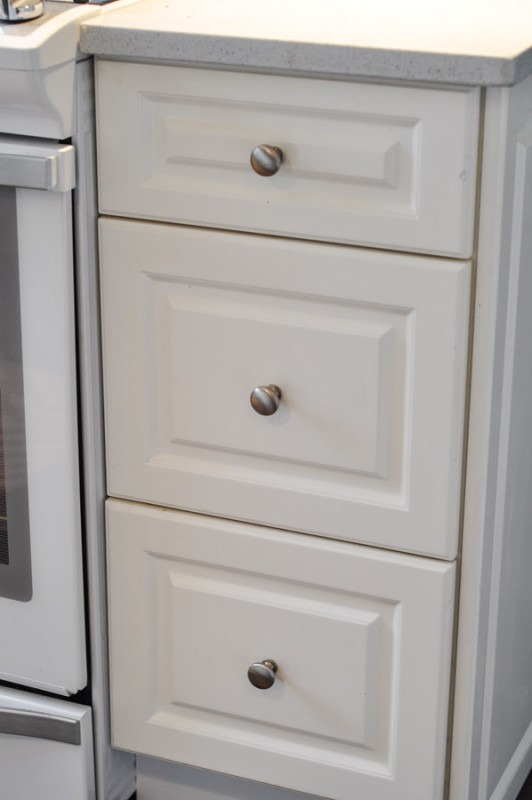 The original cabinetry was already sporting the "single knob look". It was fine, but a bit sparse. You may recognize these knobs from contractor packs at the local big box. They're alright… but they don't lend a lot of personality.
I decided to tackle the hardware installation in the middle of Mr. Suburble's work day. I figured this would buy me enough time to get the job done before he got home. I didn't want him hanging over my shoulder while I drilled through our 20 year old cabinet fronts. I could only imagine the comments. "What if you measure incorrectly? We don't have another front to slap onto that drawer!"
And yeah – fair enough. I felt like I might pee my pants when I thought about it for too long. But I had a plan.
I headed to the art cart for supplies.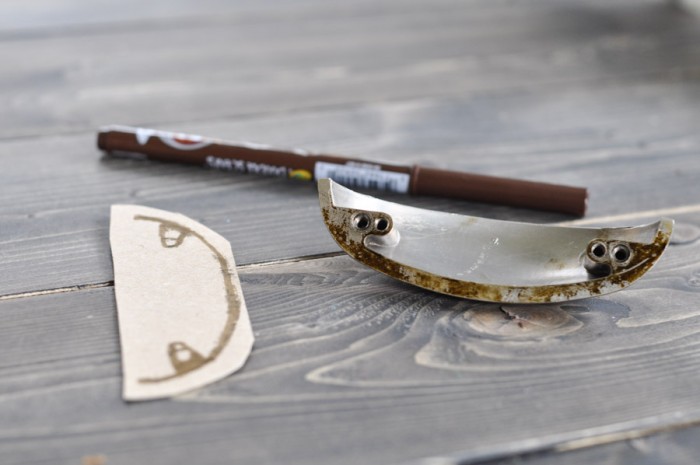 This may be an unorthodox way of creating a cup pull template, but this is how I did it. I grabbed a Crayola marker (because it's non-permanent and can be wiped right off of the pull. Plus, they're everywhere in my house) and coloured – heavily – on the back side of the pull.
Then, I "stamped" it onto cardboard. Voila! I have the imprint of the cup pull! I hole punched where the drill holes would be and got to work!
I found the center point in each of the drawer fronts and matched it with a center point I had found on the template. I painter's tape to secure it while I drilled.
And after I sweat a little bit, measured again, and then finally pressed the trigger on my cordless drill…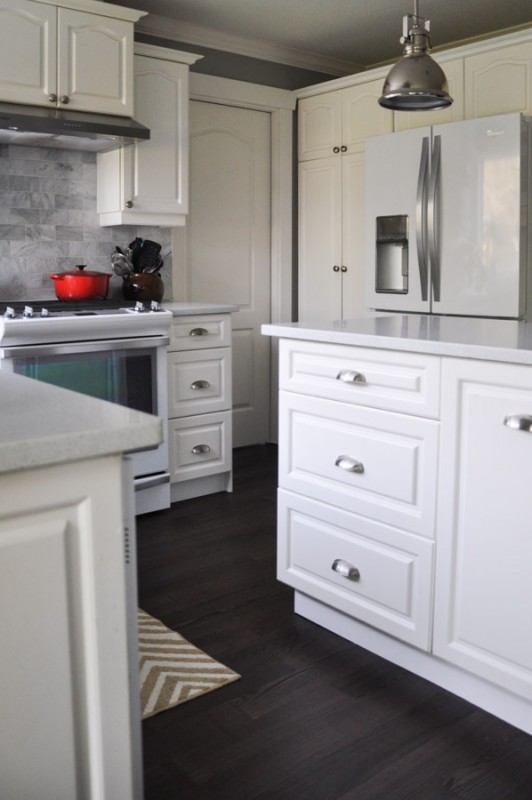 It was a runaway train of knobs and pulls!
In fact, I was done within the hour.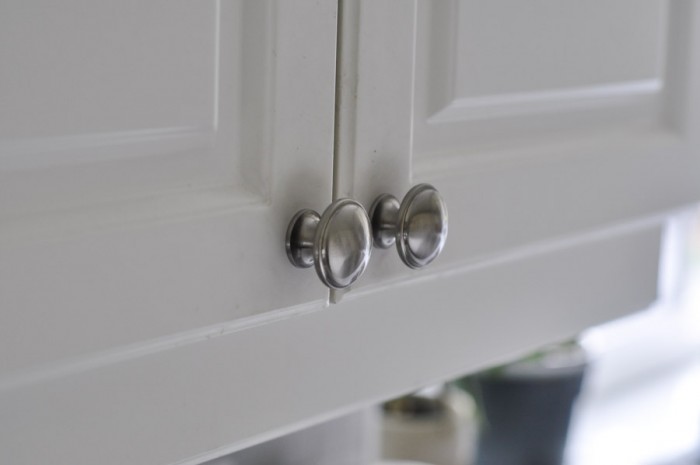 The new knobs are larger, and have a border to add a bit of detail. They look much more proportionate to the cabinets, and have a nice feel. I'm quite smitten with them.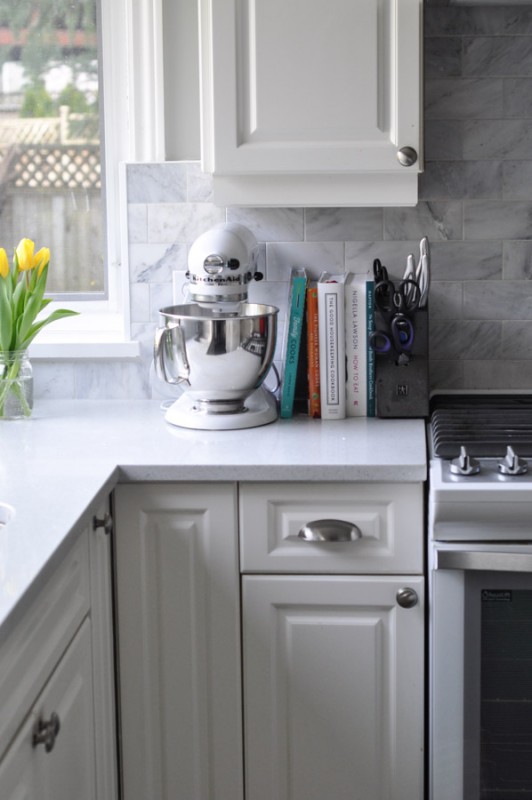 But ohhh…. the cup pulls. They are my favourite.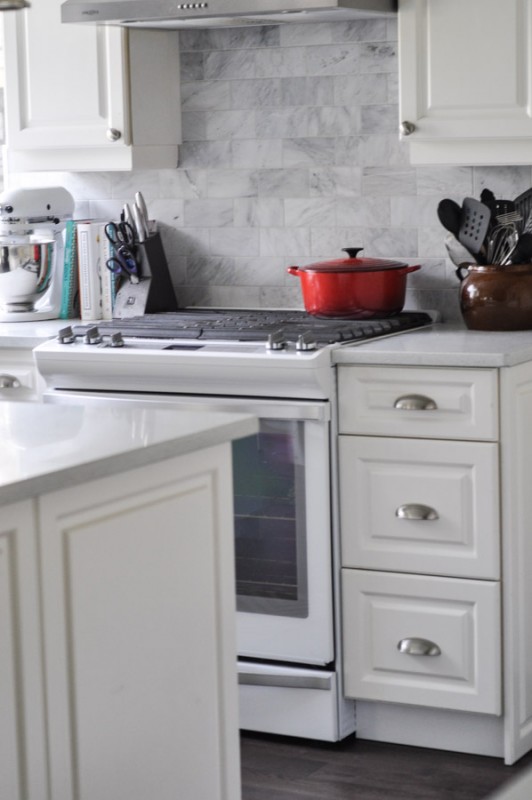 They are perfect.
Remember what our kitchen looked like before?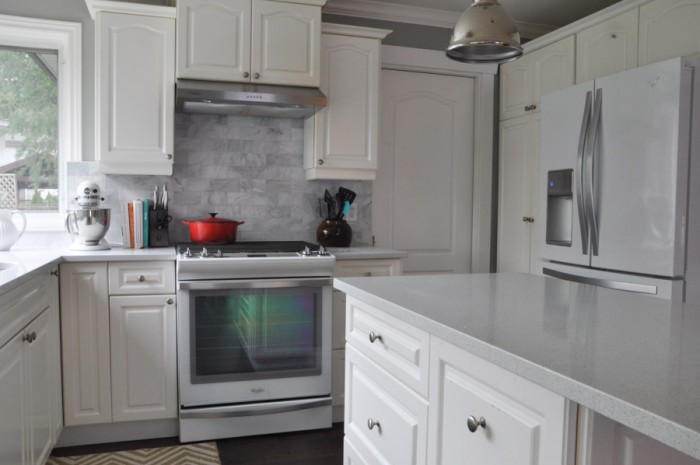 And here it is now: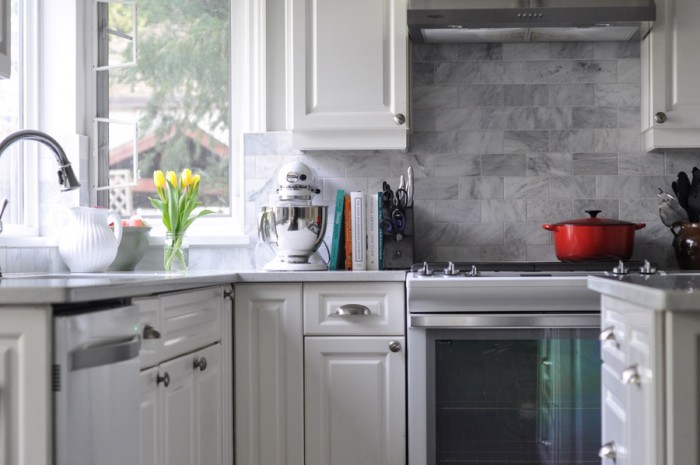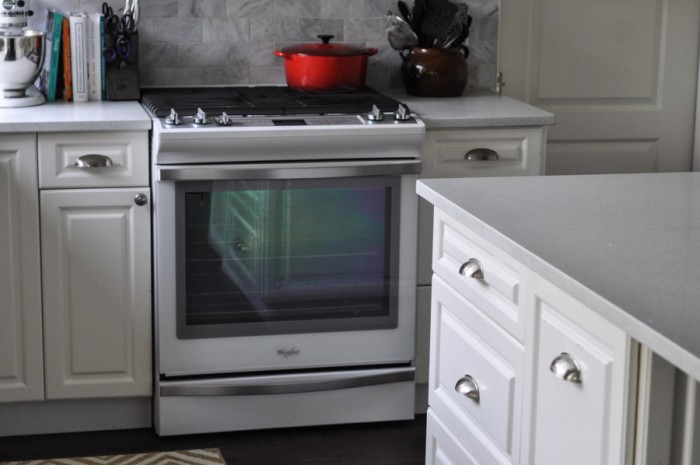 Underneath those pulls is the existing hole from those single knobs. They're hidden perfectly.
In my mind, I patted the back of that sweaty, self-doubting girl who was muttering, "I CAN drill through my cabinets… Yes, I CAN!"
The Little Engine That Instantly Upgraded Her Cabinets.
Or something like that.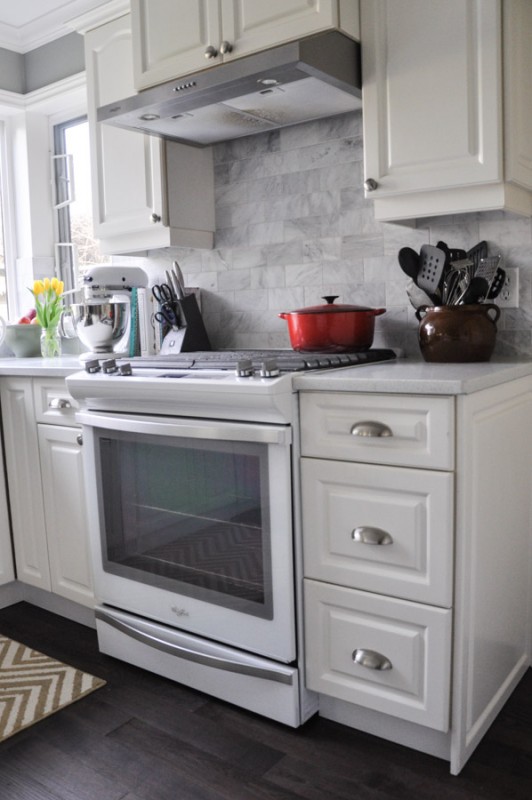 I think that the important thing that I learned from this (aside from the kicking-ass-at-template-design thing), is that the details really do count.
They make such a difference.
And really, in the scheme of renovations and furniture refinishing, hardware is cheap. It can completely change the feel of a piece (or of a kitchen) for an hour's worth of work and a vacuum to clean up the sawdust.
I'm so glad that I pressed the trigger.
If you're looking to instantly update your kitchen (or any furniture pieces in your home), head to D. Lawless Hardware and peruse their huge inventory of bling and glitz.
My current favourite? These little guys: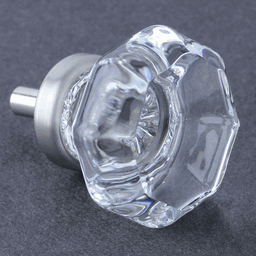 I can think of at least three furniture pieces in my home that fall in love at first sight.