So, I have some exciting news! I'm one of the newest members of the Sizzix Design team! I'll be posting on their blog twice a month, but I'll also have some great projects to share here too. This machine is a bit addicting – I have to warn you – so get ready for some die-cutting, embossing, and eager six-year olds photobombing my crafts!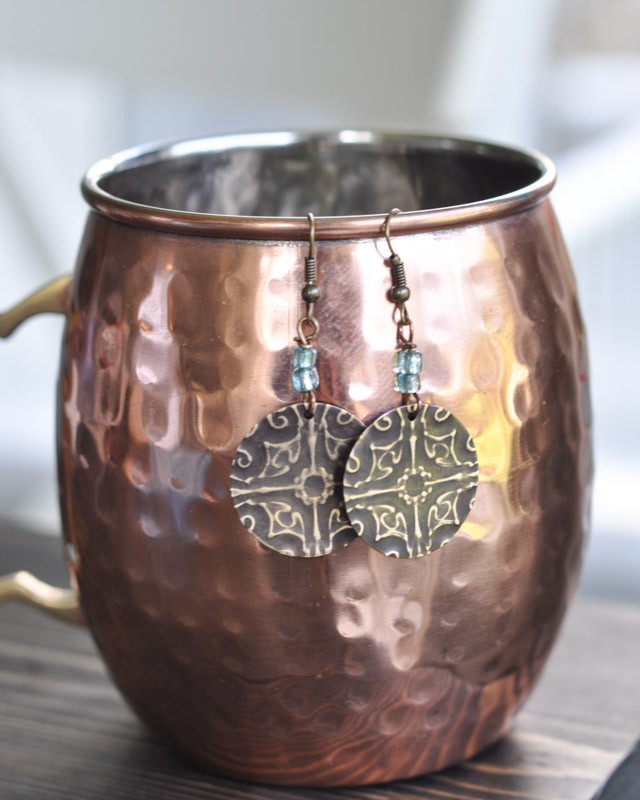 This past weekend, our family was hit with the stomach bug. It was a germ that quickly ran around, evilly snickering all the way, infecting each one of us. Only Mr. Suburble has been left untouched.
So on a quiet, home-from-school-day, Lila and I broke out my Sizzix BIGkick machine and some jewelry making supplies. And together, we made these brass earrings in minutes.
To make your own filigreed medallion earrings, you will need:
Sizzix BIGkick or BIGshot machine, with solo platform/multipurpose platform and cutting pads
Vintaj DecoEtch Die in Baroque Filigree
2 Vintaj Round Brass Blanks
2 Vintaj eye pins
2 French Earring hooks
4 turquoise beads
Vintaj Reliefing Block
Round nosed pliers
2 pairs of flat nosed pliers.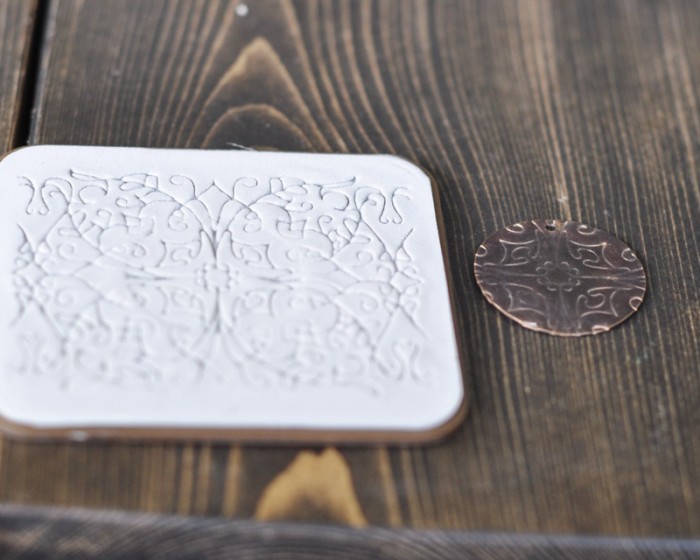 I used these round Vintaj brass blanks on the Baroque Filigree DecoEtch die. There are two kinds of dies that work with the Vintaj brass blanks – the DecoEmboss and the DecoEtch (I wrote about this before when I was showing off the necklaces we made a month ago). The DecoEtch leaves thin etched lines in the brass, while the DecoEmboss actually raises (and depresses, on the reverse of the blank) the image.
For earrings, I wanted subtlety. We decided to go with etching.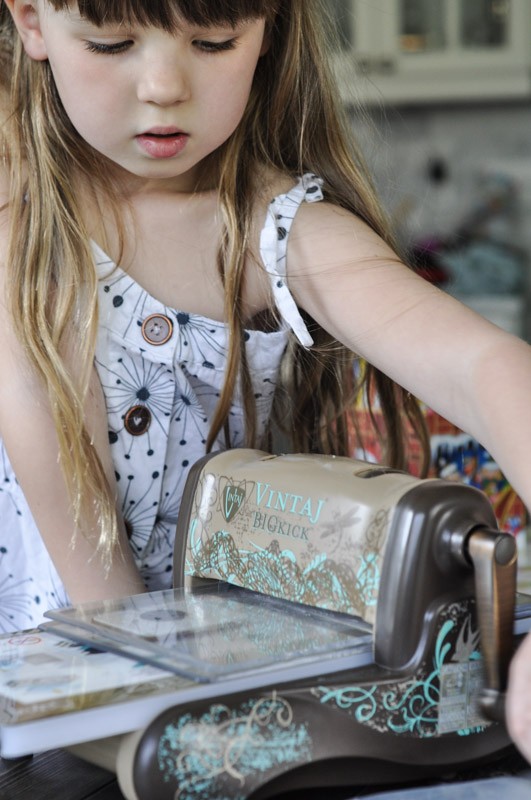 Lila did the heavy lifting here. We slipped the DecoEtch die and the blank in between the Sizzix sandwich of two cutting pads and ran it through the BIGkick machine. It takes a bit of muscle, but Lila's six year old pipes were able to do it.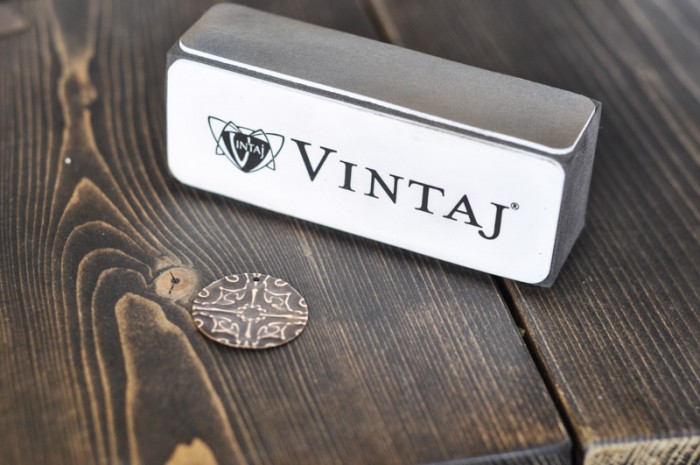 The blank may not look like much when it first comes out of the cutting pads, but after a once over with the Metal Reliefing block, the bright brass highlights shine through.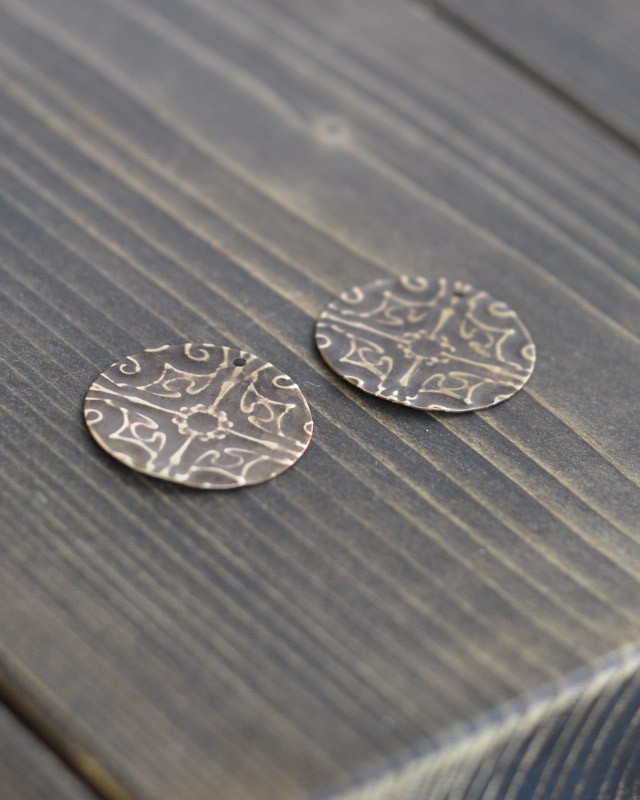 We created a pair of medallions, and then got to work accessorizing them.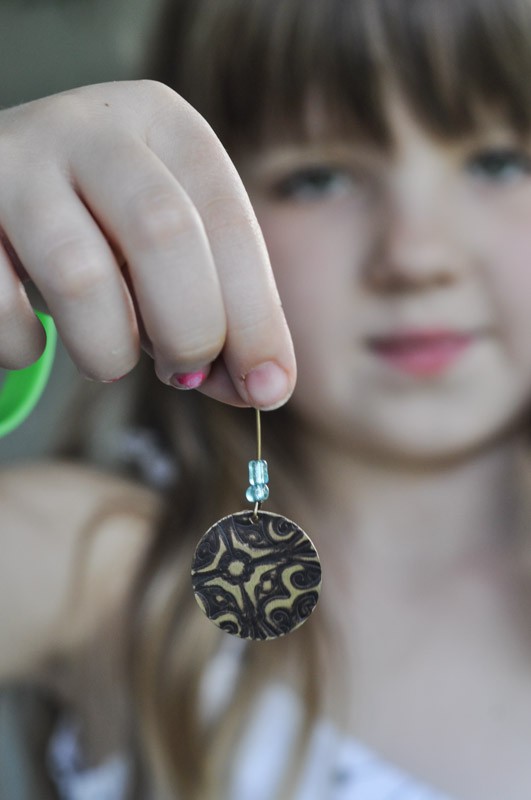 This is the reverse of the etched surface. You can choose whichever look suits you best. There are no rules!
Using round-nosed pliers, I opened the eye pin and slipped the round blank onto it. Once closed, Lila chose two turquoise beads as embellishment for the earrings.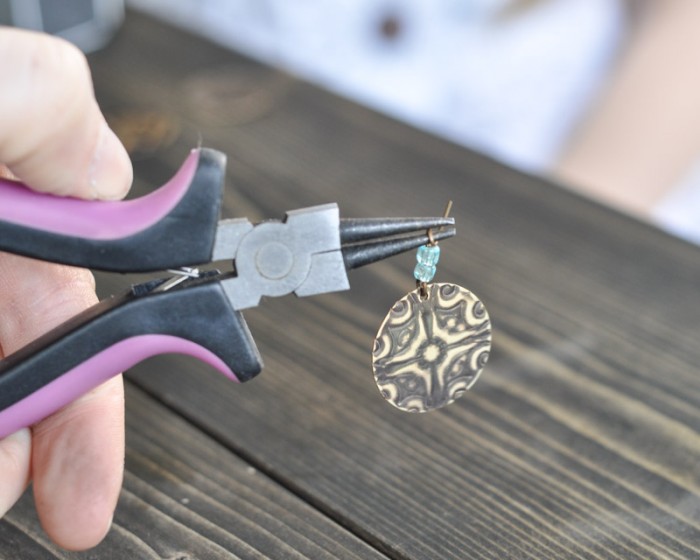 Using round nosed pliers, I created a new eye with the remaining wire, and then wrapped the tail around itself.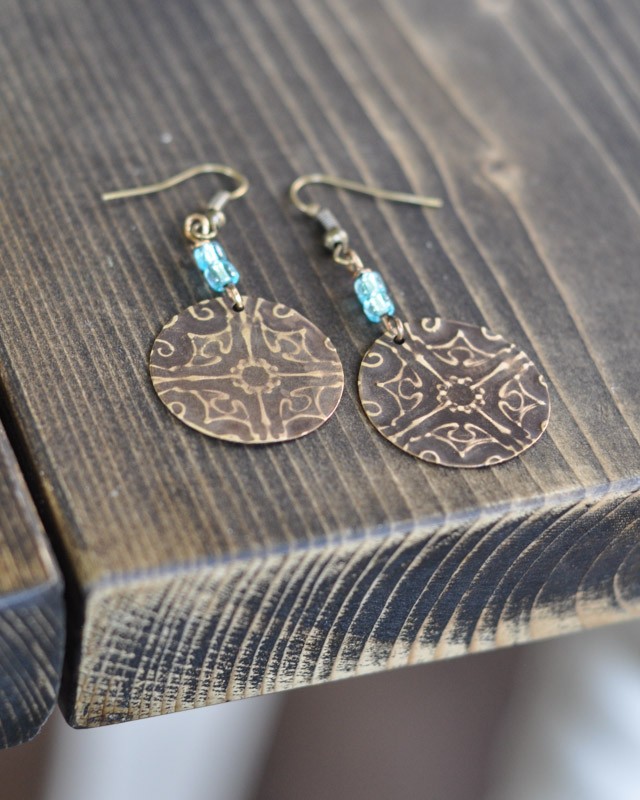 Using the two pairs of flat nosed pliers to open the eye at the bottom of the earring wires, I attached the medallions.
And voila!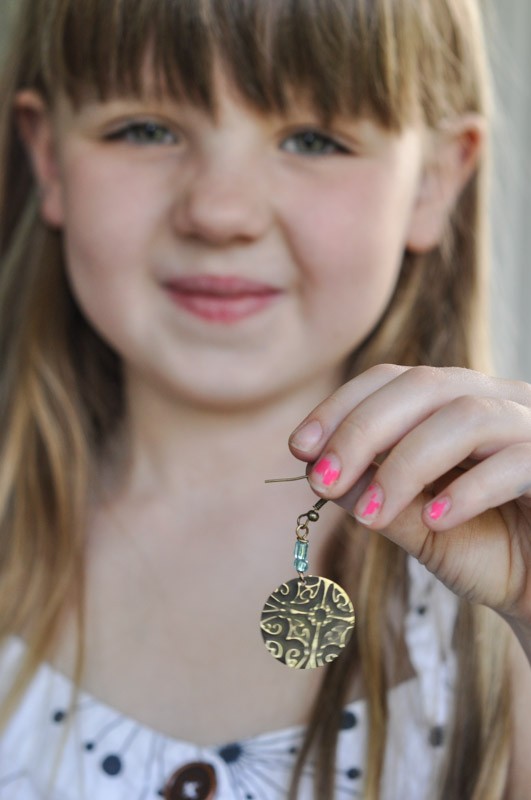 After watching me create the pair of earrings (and being my assistant), Lila wanted to try her hand at the earrings by herself.
This is her creation. Aside from some round-nosed work, this is all her.
Just another reason why I love my Sizzix machine so much – even my six year old can create impressive projects with it.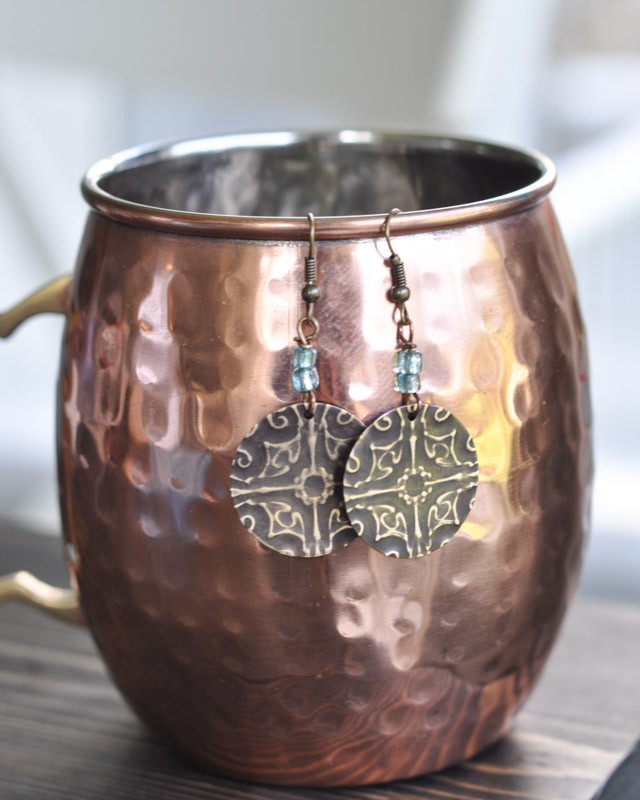 In upcoming posts, I'm going to talk about how to paint the natural brass blanks, but for this pair, I love the natural look.
Lila is already talking about the presents she's going to be making.
Tell me – do you prefer the natural brass, or would you like some bold colour? I'm debating whether I want to try some wildly painted earrings as well.