Thank you, Plaid Crafts, for providing some of the materials I used in this Valentine's Day post. It was a lot of fun!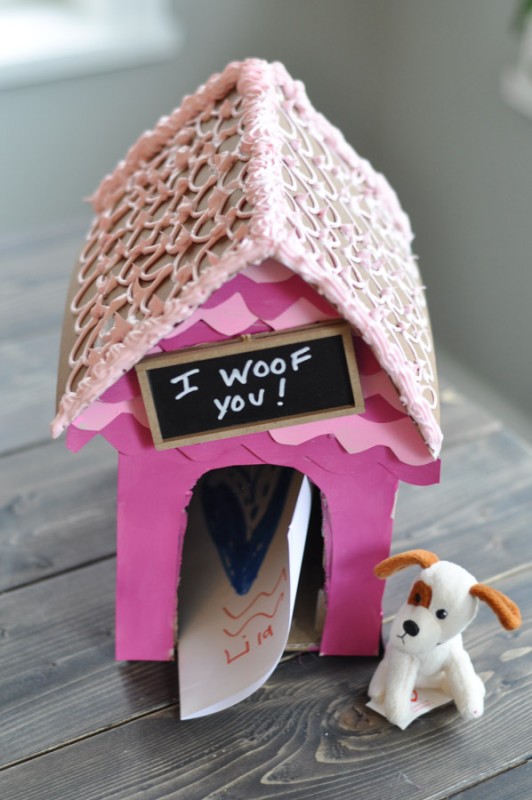 Once upon a decade ago, Mr. Suburble and I were dating. We were in that time in a relationship where things were getting moderately serious. However, we were still young and awkward – although I'm thinking that awkward part doesn't ever truly go away – and we liked to make little gestures that said, "Hey. I love you. And I think I want to keep you."
One Valentine's Day, I bought Mr. Suburble a Swiss Chalet gift certificate. Now that speaks volumes about my sweet man, but I don't have enough time to talk about that. And he… he bought me a stuffed dog holding a heart. On the heart it read, "I woof you."
I laughed when I opened it. It was the epitome of Corny McCheese. I remember thinking, "Oh seriously? Was this the last thing on the shelf at the drug store?"
But I slipped it into my suitcase and took it home with me.
And I still have it.
It lives in Lucy's room now. And when she's done tossing it around, it's going to come back to our room. The years have made it a part of our lives. And sometimes, Mr. Suburble will say to me, "I woof you."
And we'll both laugh and have those weird eyes that people make when they're getting nostalgic.
Okay, you can barf now.
When I was challenged by Plaid Crafts to create a Valentine's Day card box, I immediately thought of that little dog. A little doghouse to collect notes and sweets and messages… with a sign that said, "I woof you".
To create your own "I Woof You" doghouse, you will need:
An empty cardboard box (about 6″ X 8″ in size)
Neutral cardstock -2 pieces of 12″ X 12″
1 piece of brown cardstock (8″x10″)
Hot glue gun and glue sticks
Scissors
Apple Barrel Paint in Pink Parfait and Bright Magenta
Mod Podge Collage Clay in Strawberry
1 miniature chalkboard
Chalkboard Pen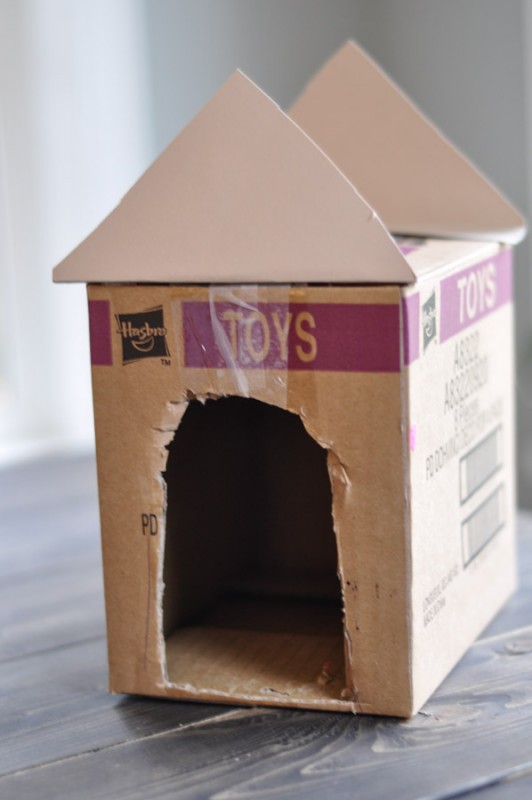 I started by cutting out the hole in the dog house – if scissors are a bit tricky, a craft knife would work well, too.
Then, I started fashioning up the roof. I measured triangles from the cardstock, leaving enough for a flap to glue onto the top of the box. I liked the way the hot glue was instant – I didn't have time to mess about with white glue.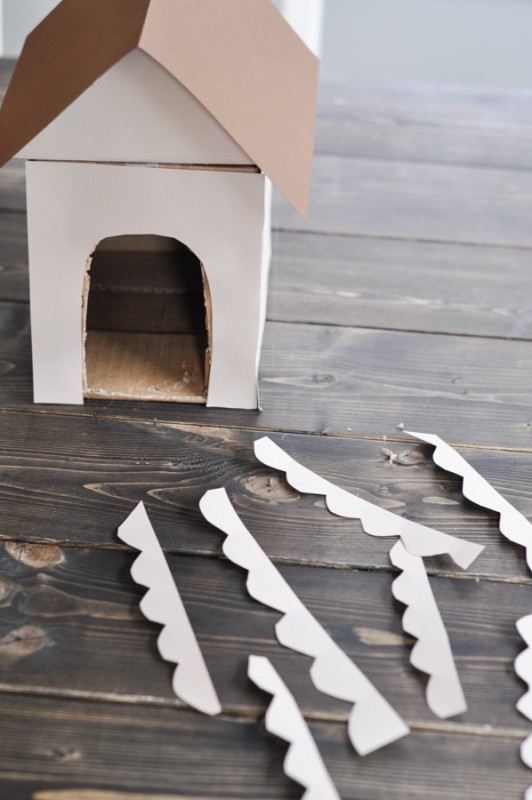 I then measured and cut out neutral cardstock and adhered it to the sides of the dog house. I bent a piece of brown cardstock into a peak, and then glued it onto the two triangles sitting on the top of the box.
At the same time, I cut out a bunch of scalloped trim from the cardstock.
Now it was time for paint…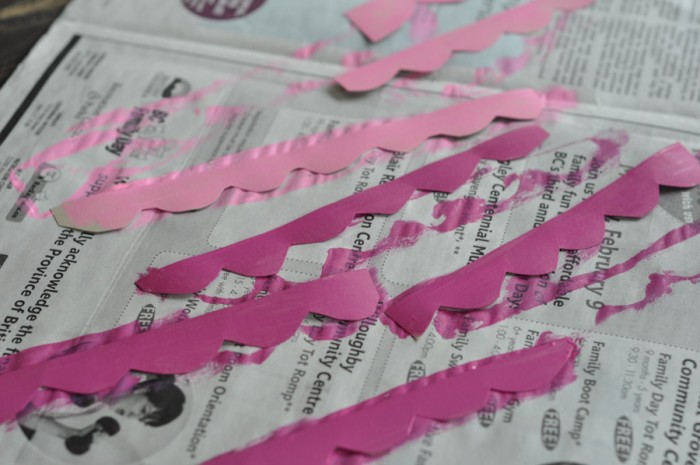 Using Pink Parfait and Bright Magenta, I painted an equal amount of the trim.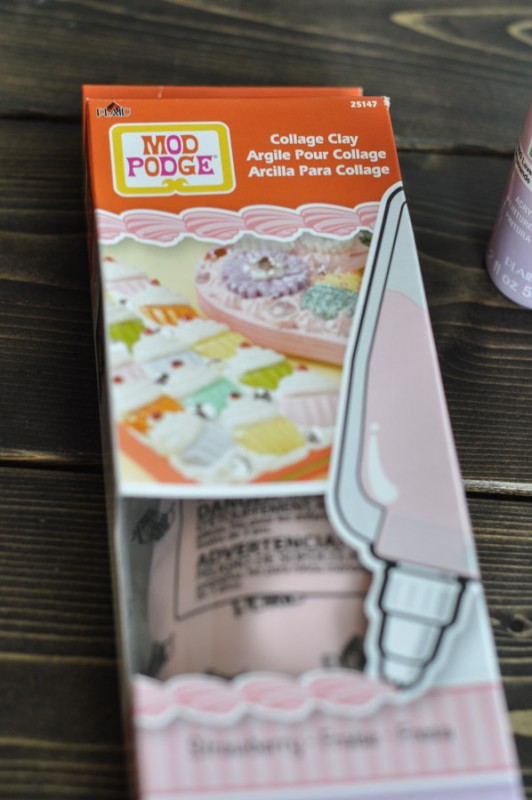 While the paint dried, I opened this stuff.
This is Mod Podge Collage Clay. It's basically icing that hardens into clay.
And it's fabulous.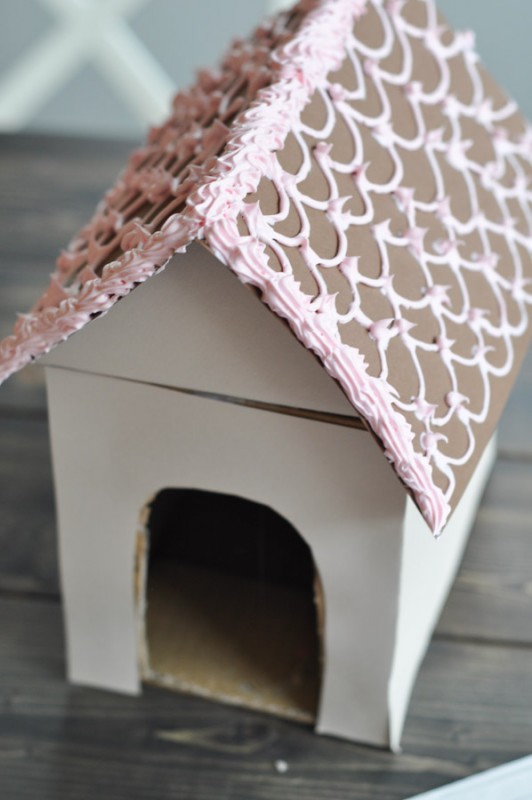 Lila came into the room at this time and she exclaimed, "Mom, are you making a gingerbread house?"
I stopped and said, "I guess I am!"
And why not? Valentine's Day is a perfect time for a bit of fussiness and decorating.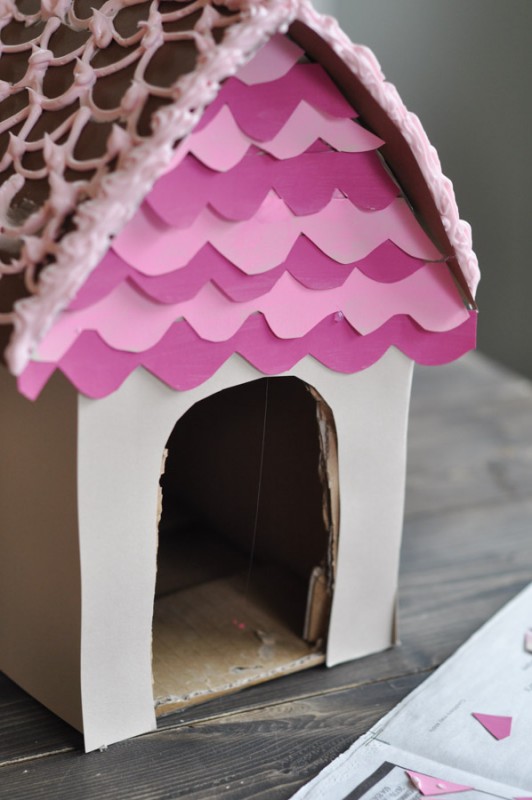 I glued on the scalloped edges, and then realized that I still needed to paint the rest of the dog house. I'd advise anybody else to paint AFTER you've glued scallops onto your house.
Whoopsie doo.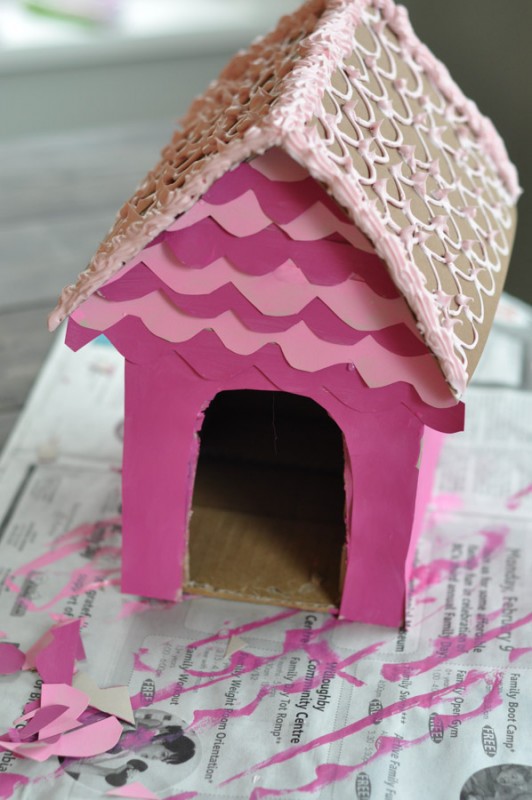 There. Much better.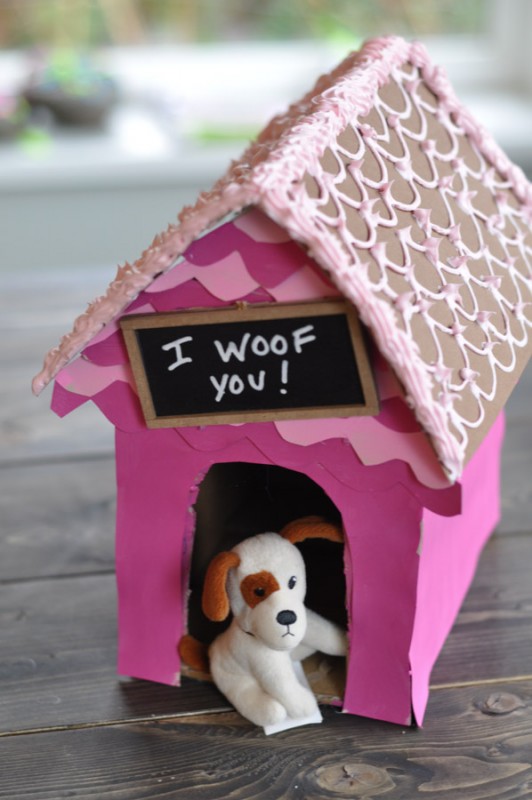 And with the addition of the sign (and one of Lila's little pups), the dog house card box is ready for any deliveries.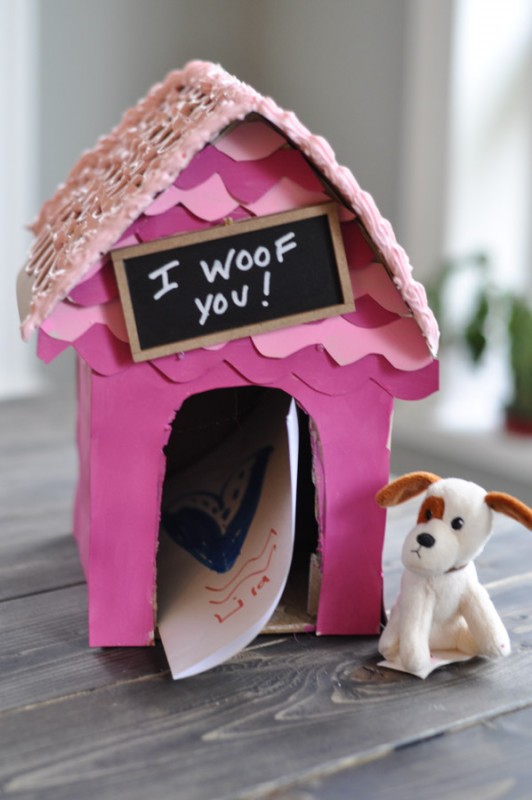 And if it's something corny…. you know I'll love it.
If you've got little ones who'd love to play Valentine's Post Office in the house, try a dog house. Lila is SO excited to leave her own handwritten notes for us!
And in celebration of the pinkest day of the year, Plaid wants to offer a little love your way. Save $10 off of all orders greater than $35 with the code: LOVE2015
Save on Plaid brands like Apple Barrel, Mod Podge, FolkArt®, Martha Stewart Crafts® and more. The code is valid through 3/31/15. See site for details.
And follow Plaid Crafts for more amazing Valentine's Day ideas!
– Pinterest – Facebook – Instagram – Apple Barrel – Mod Podge
Check out the other Valentine's Boxes created by some fabulous and crafty bloggers: