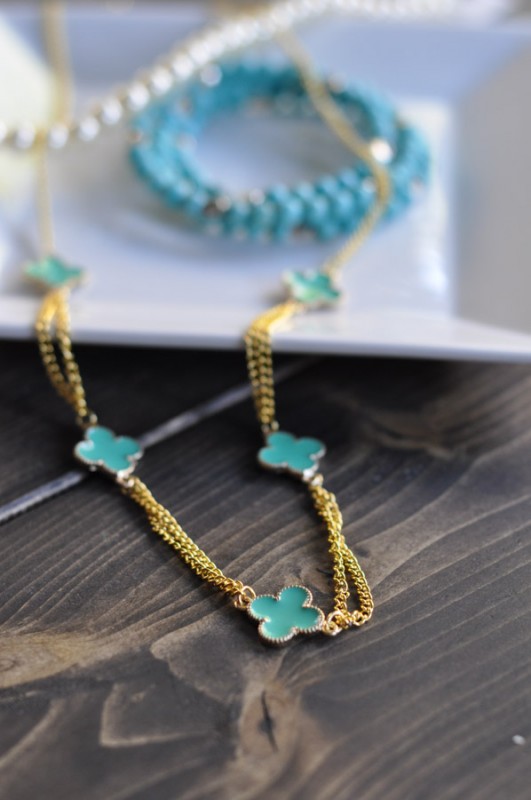 Okay guys, it's getting real around here.
We're about a month out from Christmas and I've got this Handmade/Upcycled Christmas thing looming over my head inspiring me every second, it's time to start talking about making presents.
Today, it is the necklace. If I've said it once, I've said it twenty times on the blog, learn to make your own jewelry.
It's so easy. And so CHEAP!
This recent necklace is one that I love. The clover shape is something I've been gravitating to lately – and the colour of these connectors – the light green – is a perfect match for the gold chain I has put aside for it.
To make your own clover-connector necklace, you will need:
Jewelry Pliers (two sets of flat-nosed pliers and one set of wire cutters)
Gold Chain (approximately 20 inches)
5 connectors
12 gold jump rings
A clasp (I chose a toggle clasp)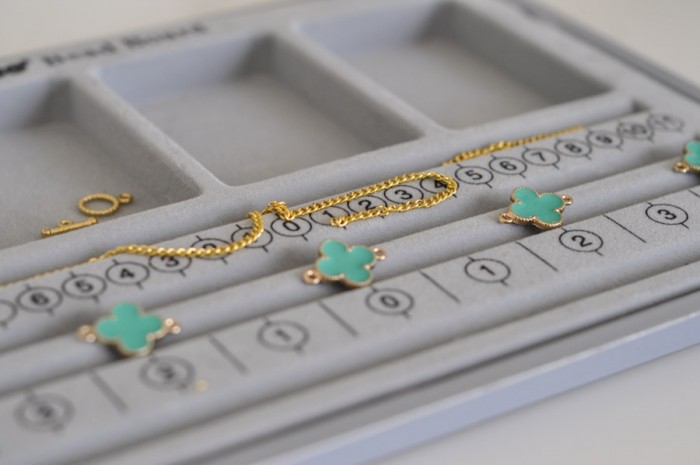 Adrianne (you guys probably know her from all of the gabbing I do about her, but she's at Happy Hour Projects, if you aren't already acquainted) turned me onto this bead tray. She's a jewelry designer extraordinaire, and naturally organized (whereas I am naturally chaos in a tornado). Now that I have this built-in-ruler-bead-catcher-thingy, I'm much better at making symmetrical pieces.
I spaced out my connectors, and then using my wire cutters, I cut pieces of chain to sit between them. Rather than have a single strand of chain between each connector, I doubled back on the chain so that I could have two strands.
I know. I'm getting wild here.
But the double-chains would add visual interest. I knew it would look good.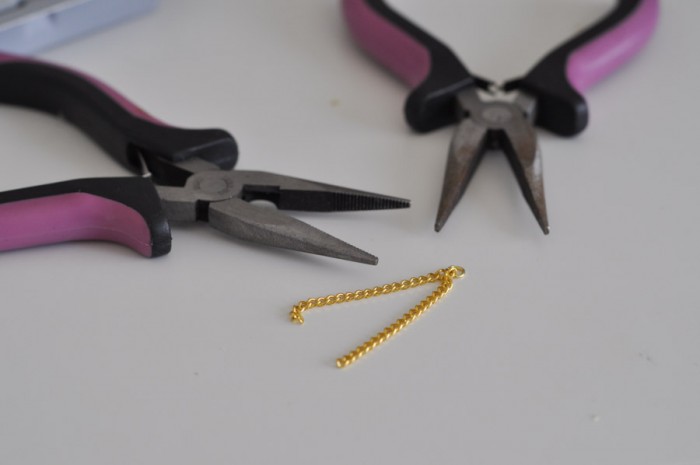 I used two sets of flat nosed pliers to open (and close) the jump rings. I slipped on in the middle of the "doubled" chain, and then another joining the two ends.
It's important to use the pliers to close the jump rings, rather than your fingers. The pliers ensure that you get a snug fit that won't be easily snagged open (thus causing your necklace to slip from your neck).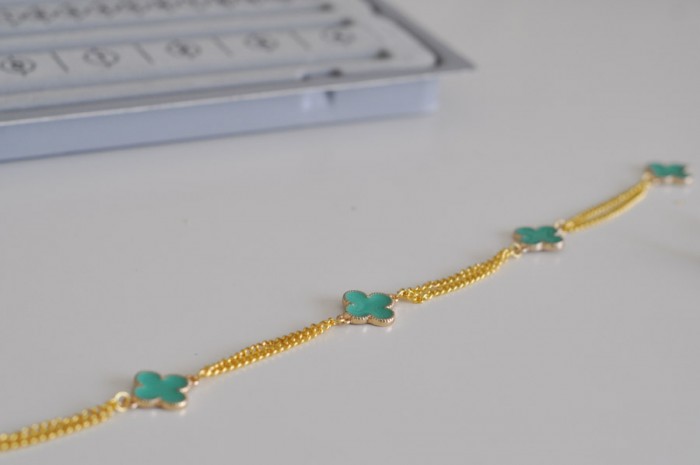 While the jump rings were opened, I attached them to the clover connectors. A quick close of the ring, and the necklace quickly came together.
I added two lengths of single chain to the ends of the 1st and 5th connector. Each was about 6 inches long.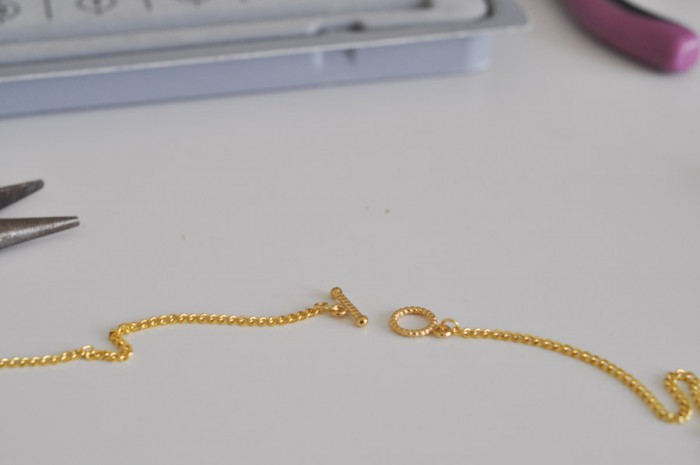 The necklace was finished with a toggle clasp. It's such a classic and gorgeous look.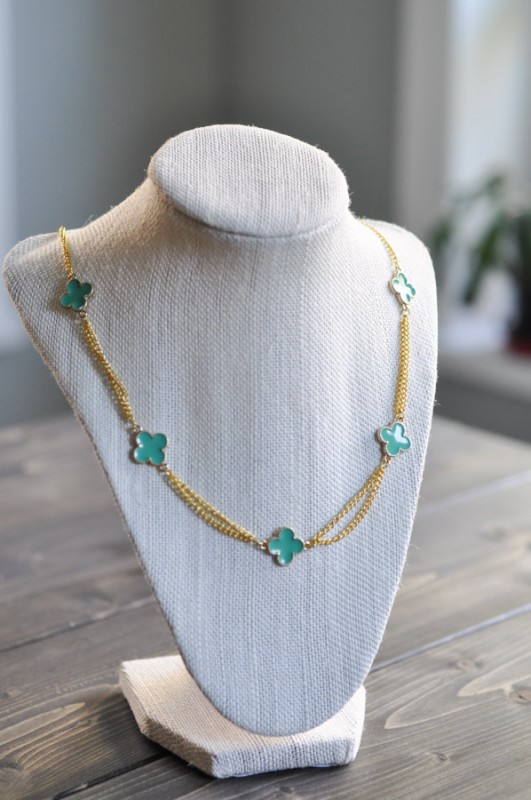 And before I knew it, the necklace was done!
Jewelry comes together so quickly; it's perfect for a girl who loves instant gratification! (Like this girl!)
And when you've got a list of things that need to be handmade/upcycled/get yer ass on Craigslist and start shopping for… then "quick" is sometimes a nice feature of a project.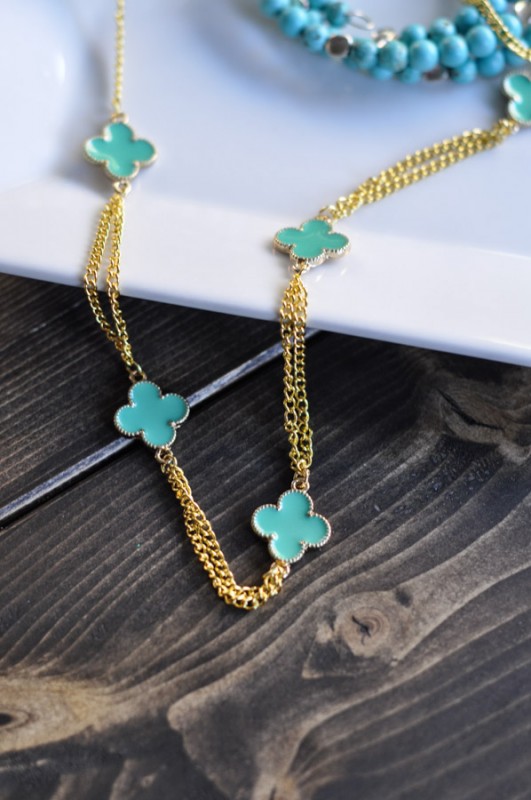 This necklace might find its way into a little box this Christmas, or it might just end up walking out the door with me – I haven't decided yet!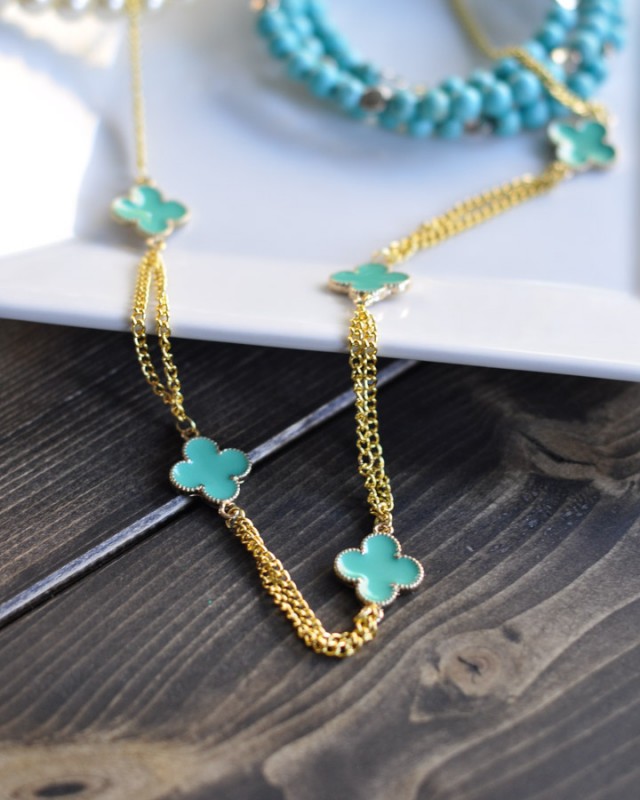 But regardless of its fate, I love it.
It's so nice to know that this little fella came from an afternoon of puttering around and playing with bits and bobs in my crafty space.
Handmade Gift-Givers – have you stumbled into the land of jewelry making yet?
I really think you should.