When we last left the Playhouse Project (part deux), we had come up with a way to make the railing happen.
Mr. Suburble said, "Lattice!"
And I said, "Let's not."
So we didn't. We whipped up a porch with these fancy-pants cedar balusters from the aisles of Home Depot. It was fantastic.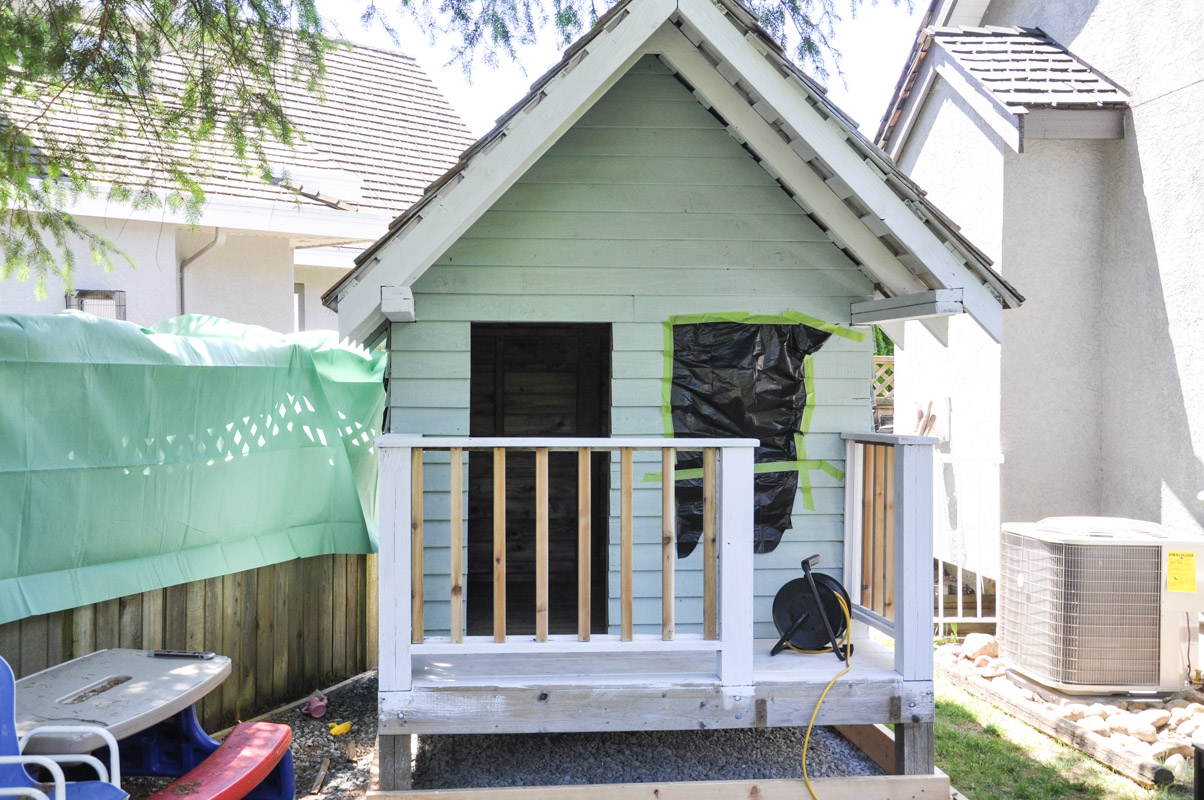 But I was left with a rather large job in front of me. We had unstained balusters, a half-stained deck, and a completely dark and dreary interior of the playhouse – and they were all staring me in the face.
I had originally brush-painted the exterior of the playhouse during a kid-free day. It took me four and a half hours to get to this stage. I had started to lose my attention to detail.
In fact, if you look at the half-arsed swipes of stain across the front of the playhouse, you'll see that I was basically slapping stain on and praying that it stuck.
A little while ago, I connected with the DIY savvy peeps at HomeRight and got the opportunity to try out one of their Finish Max sprayers. Staring at the walls of unfinished cedar, I heard my mother's voice, "Sarah Richardson wouldn't leave the interior unpainted."
I imagined Sarah and Tommy tsk-tsking me as I left the play space dark and dreary. After all, this was where the girls would be playing. The exterior was for my enjoyment and the inside was for theirs.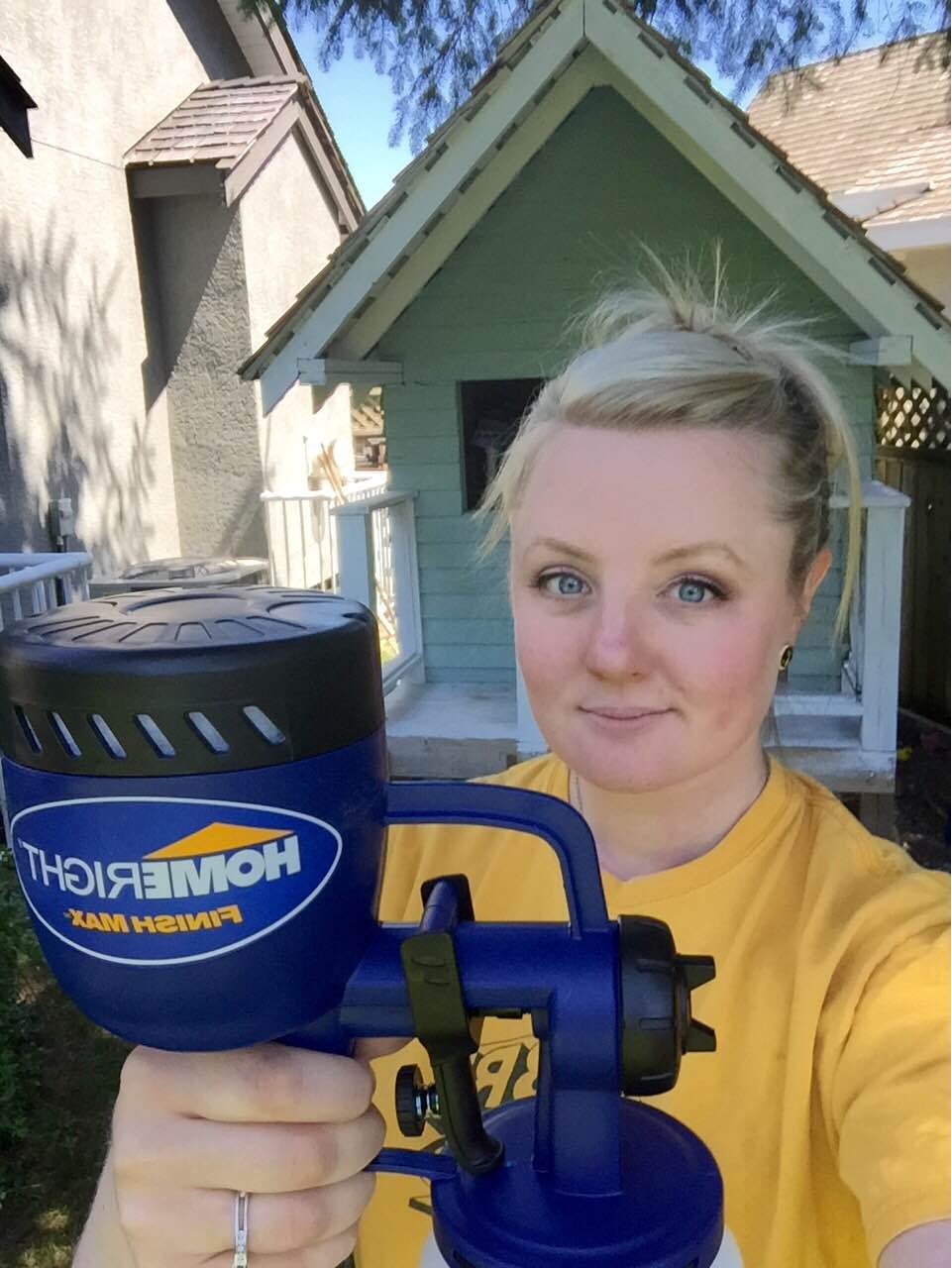 I grabbed the Finish Max and headed into the yard.
I selfied myself in my gorgeous paint clothes and the same hairstyle I wore in 11th grade. Also, gold anchor earrings.
Because, you know… fancy attracts fancy.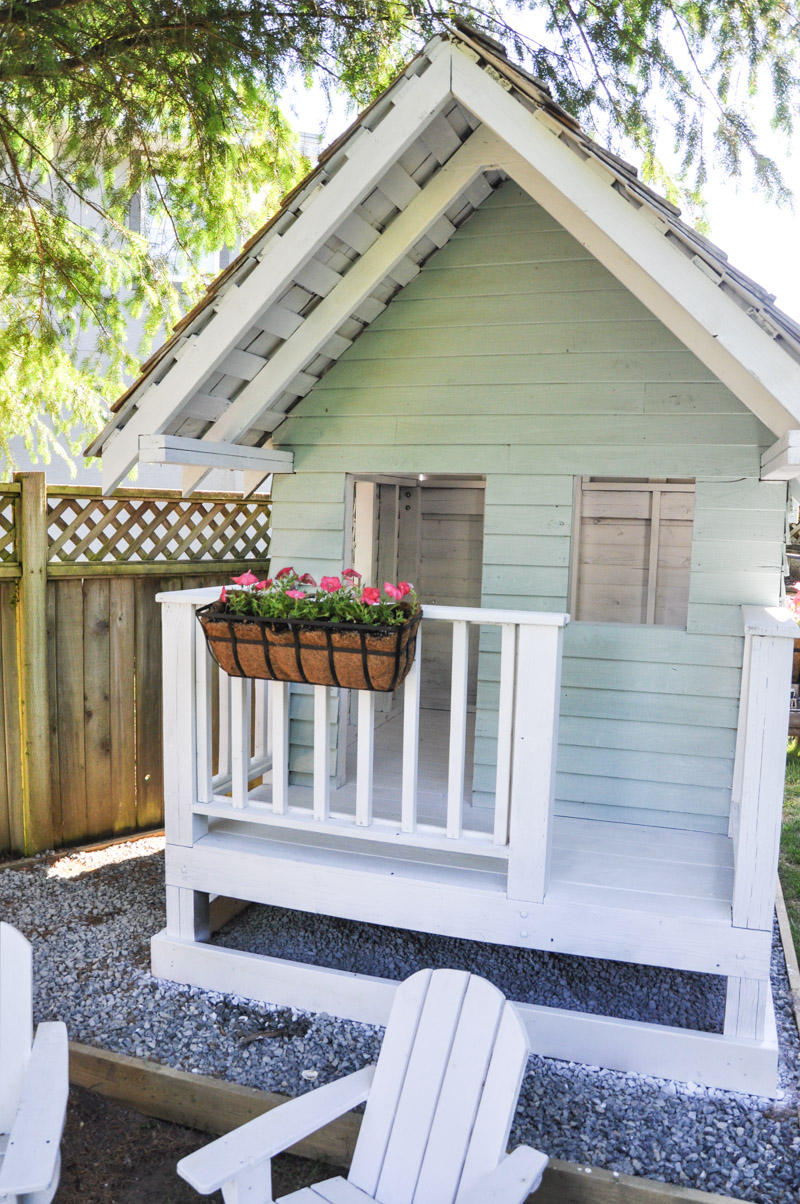 In less than two hours, I had painted the entire interior of the playhouse, the porch, the balusters, the trim – and some gravel – and then gave a quick second coat to the roof of the porch.
I was amazed. Why had I been sweating and getting wrist cramps with the paint brush!?!? Why hadn't I realized the sheer genius that is a paint sprayer?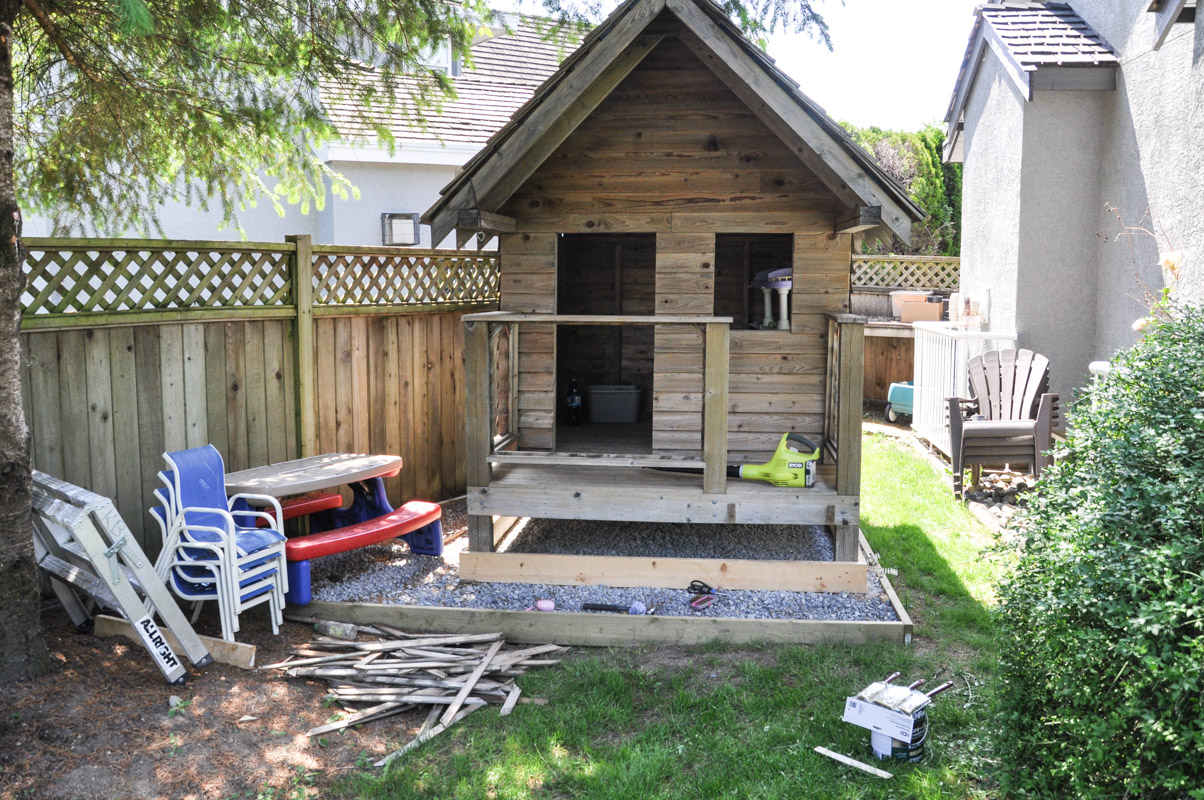 To refresh your memory – this was the playhouse is all its raw cedar glory. Can you see how dark the interior was?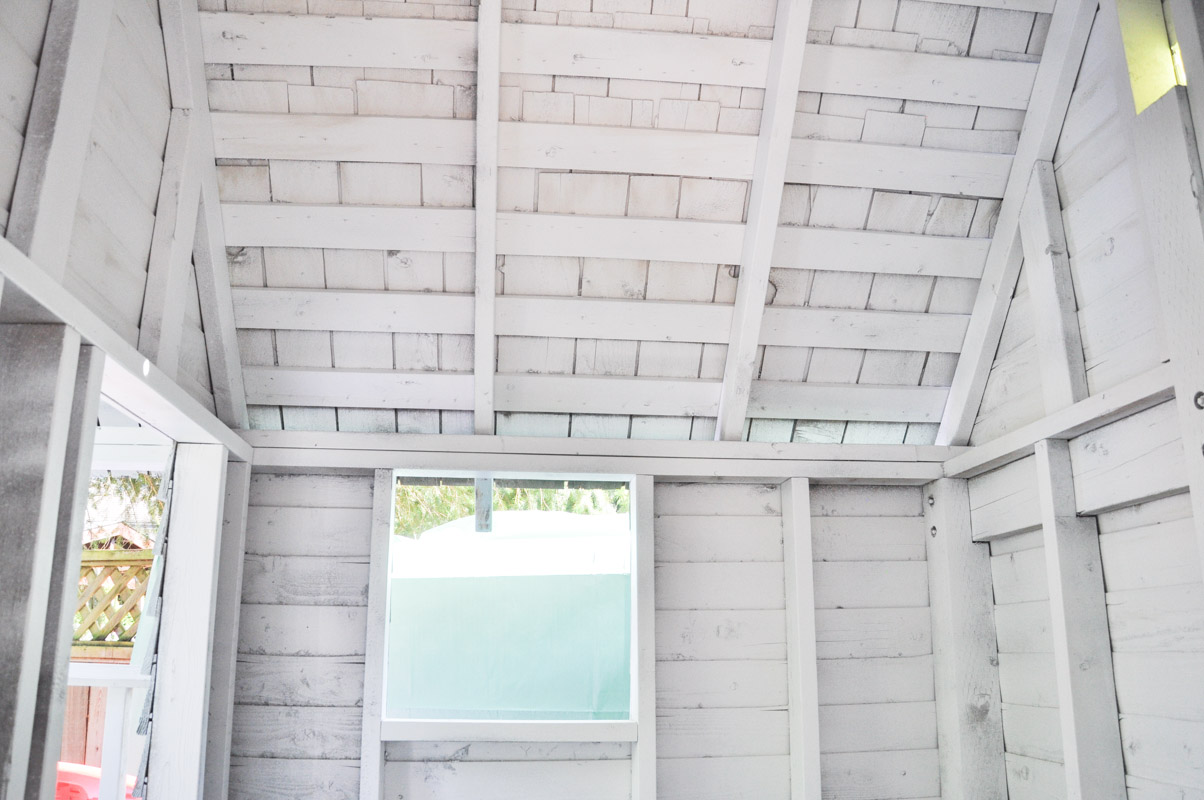 And this is the effect that the paint sprayer had on the interior after only a quick 45 minutes of spraying. Instantly, the space was brighter and more welcoming.
It felt rustic and cottage-y. And that's exactly what I was going for.
In order to get the best coverage from your paint sprayer, you should be mindful of how you spray and what you use. Because I was using a solid stain, I didn't have to dilute my product. The sprayer comes with a handy set of tools that will help you determine the dilution of paint you will need, as well as a guide for each product that can be used.
I used even strokes that overlapped each other. If you've successfully used spray paint, you can use a paint sprayer. It's better to use a few light coats over one area than to try and get it done in one pass. The beauty of a paint sprayer is that you don't get drips and dribbles – you're left with a smooth finished product that dries quickly.
My advice: take your time, and while you're figuring it out: less is more. If you're feeling nervous, try it out on a piece of cardboard before you stain or paint your projet.
The Finish Max is great in that it has a very limited overspray. I was able to paint the balusters and the porch floor with minimal prep. You will notice in the top photo – the Eyepatch Playhouse shot – that we hung a drop cloth on the fence just in case any overspray made its way into the neighbour's yard.
But it didn't. The drop cloth is now waiting for the next project, as he was completely unused in this one.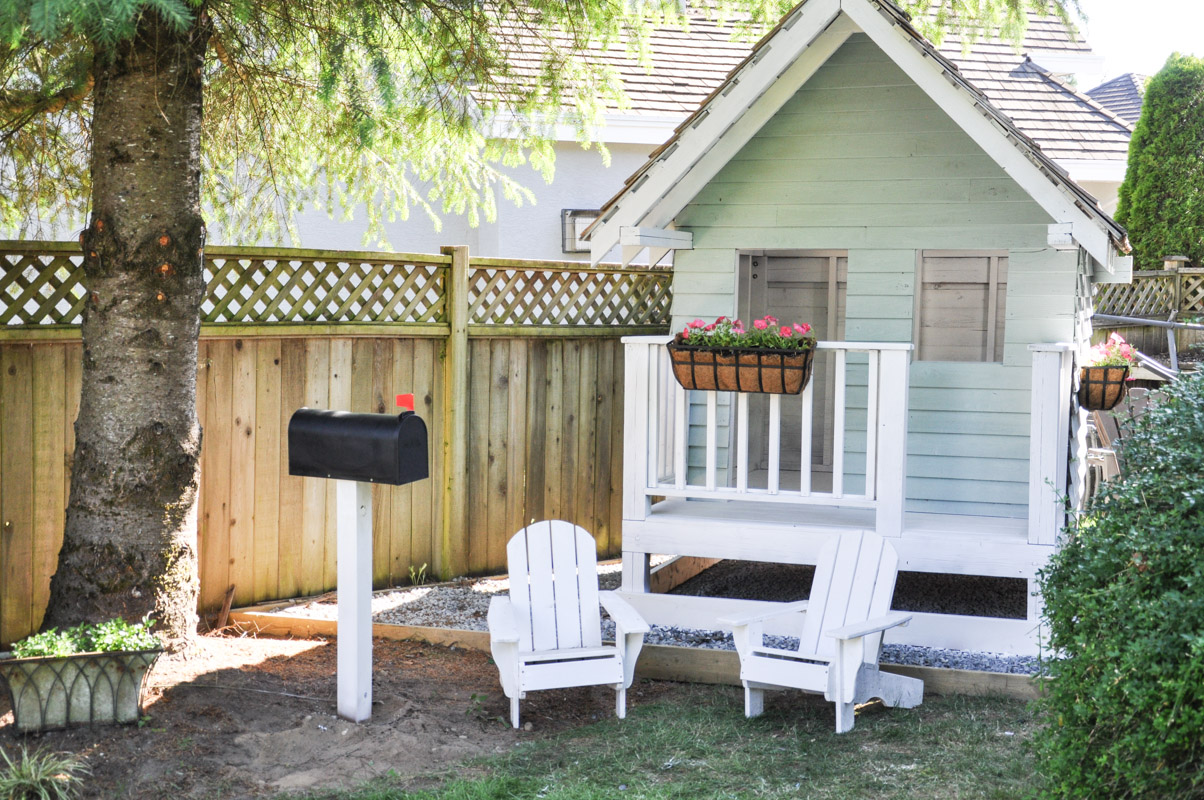 I'll be chatting about the mailbox and flower boxes in a later post, but I had to share how a quick spray of stain instantly created cohesion among all of the furniture and accessories. The adirondack chairs got a fresh coat to gussy themselves up, and the 4X4 post beneath the mailbox was only 10 minutes of attention.
The ease with which everything was transformed became a bit of an addiction. "Paint all the things!" I called.
"Let's have dinner!" Mr. Suburble responded.
But the most important part of the job – aside from the quick and easy coverage – was yet to come: cleaning.
Paint sprayers are notorious for getting clogs from dried up paint and stain. It's important to run clean water through the body and the nozzle of the sprayer to avoid dried up bits of sadness.
There is a new way to clean the HomeRight Finish Max, and it's so simple that Lila helped me do it.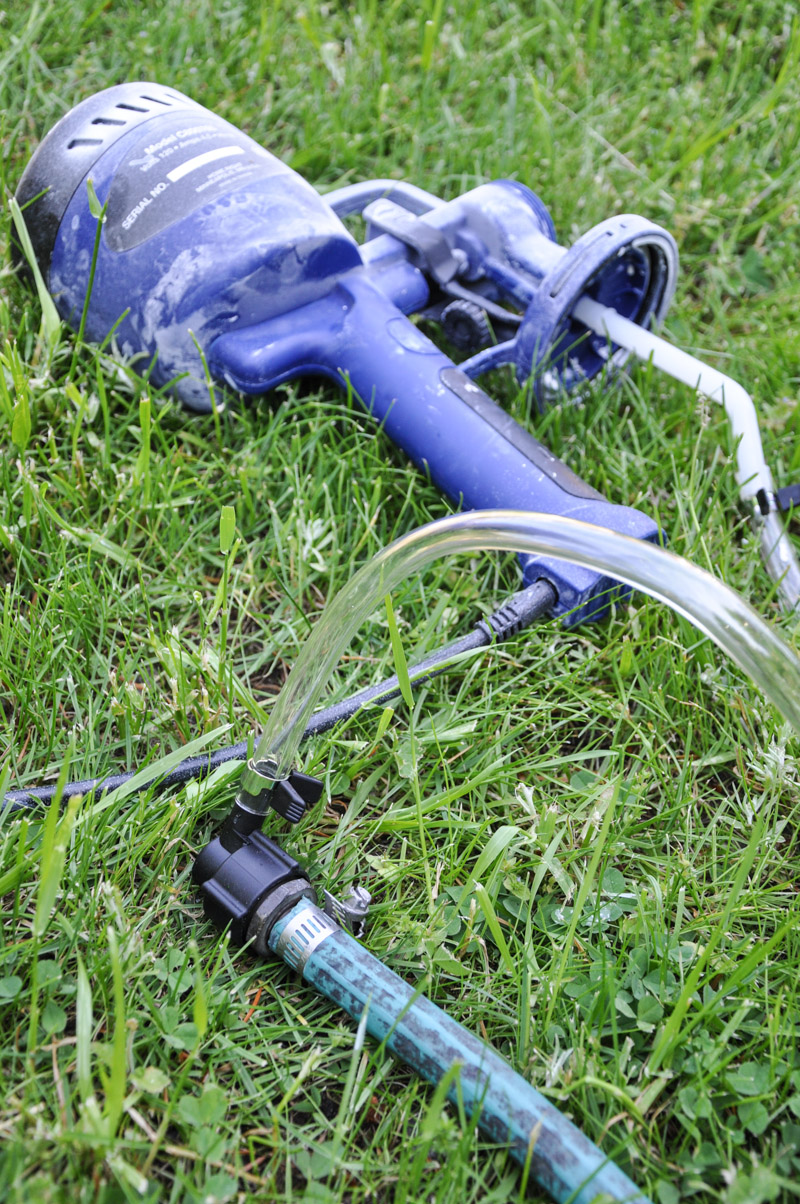 This Rapid Clean bypass kit attaches to the garden hose (or your laundry tub) and runs clean water through the paint sprayer.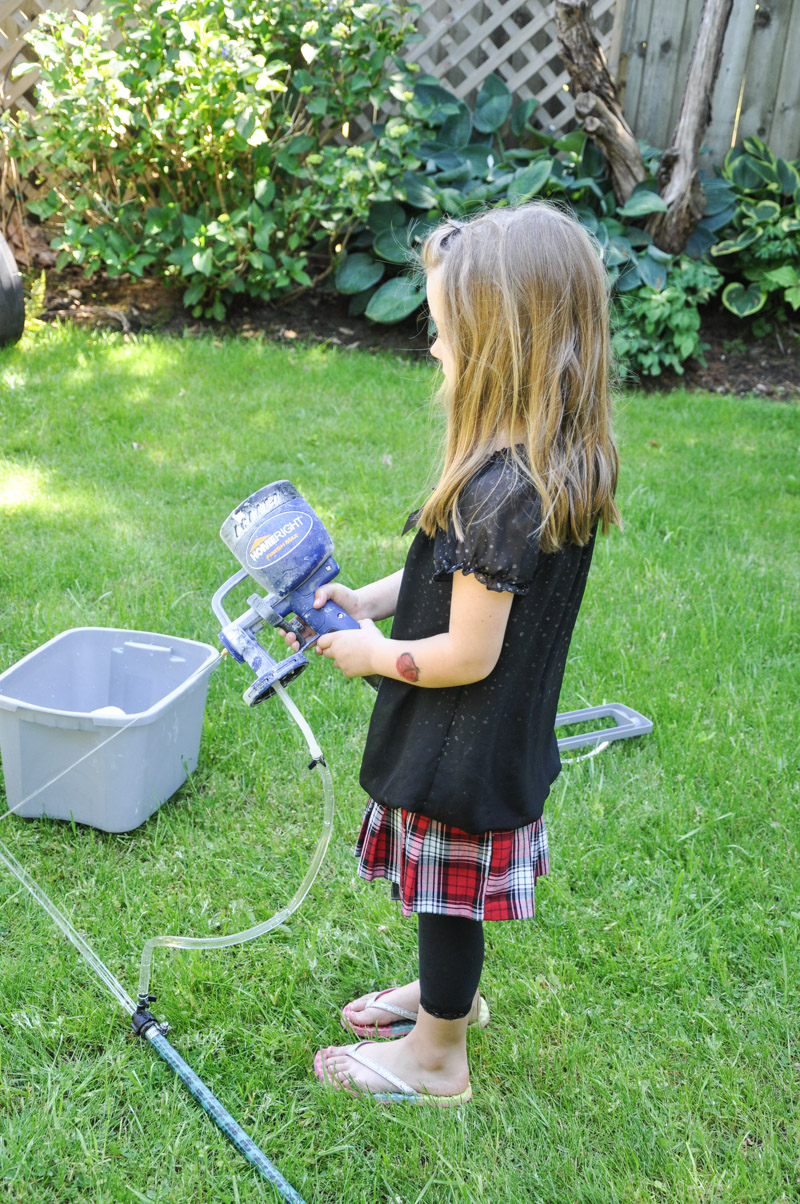 After having watched me gleefully paint everything with this spray gun, Lila was very contented to clean the gun for me. Once we were sure that the lines were clear, I took apart the nozzles and the paint reservoir and gave them a good scrub in the laundry tub.
I feel confident that we can start another painting project with this gun and not worry about a big glob of stain getting in our way. The cleaning kit made short work of the job.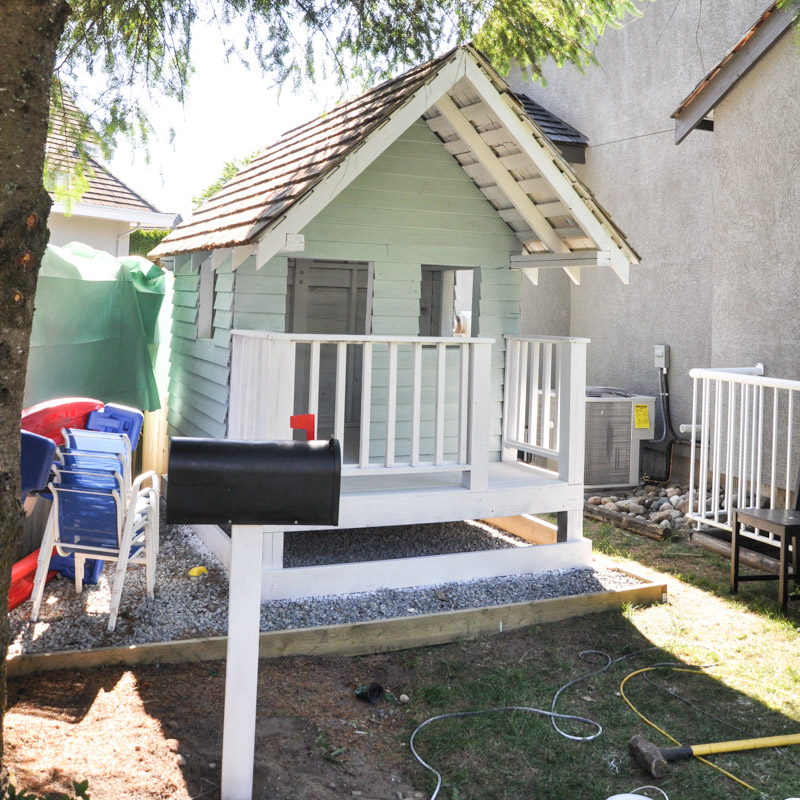 Guys, it's coming along! What do you think?
Finishing the stain was similar to reaching the summit of this project.
It's all downhill from here. Next, accessories!
The fabulous people at HomeRight provided me with a Finish Max paint/stain sprayer and a Rapid Clean kit. They saved me hours of work and have kindled a new addiction in paint spraying. Thanks, guys!