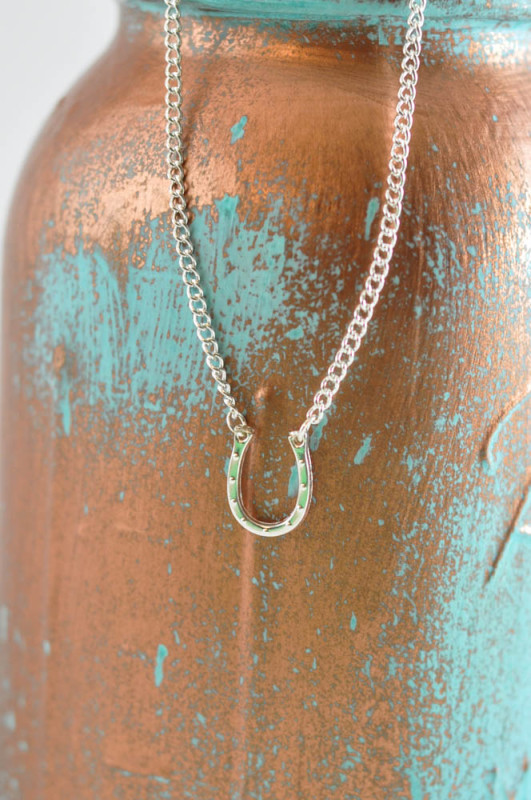 When I was a girl, I was nuts for horses.
My friend, Leona, and I would spend a huge chunk of our adolescence at barns, riding horses, cleaning stalls, and sighing over cowboys.
So the horseshoe – also a symbol for luck – holds some pretty powerful memories for me. I think back to those days and remember the velvety feeling of a horse's muzzle, the smells of hay and sawdust and leather, and the long conversations between friends while mucking stalls.
It's pretty fantastic.
And while not everyone found joy in shovelling horse poop out of barns, we are also coming up onto the Chinese New Year – and it's the year of the horse!
I was born in the year of the dog. Save your jokes for the end of this post, thanks.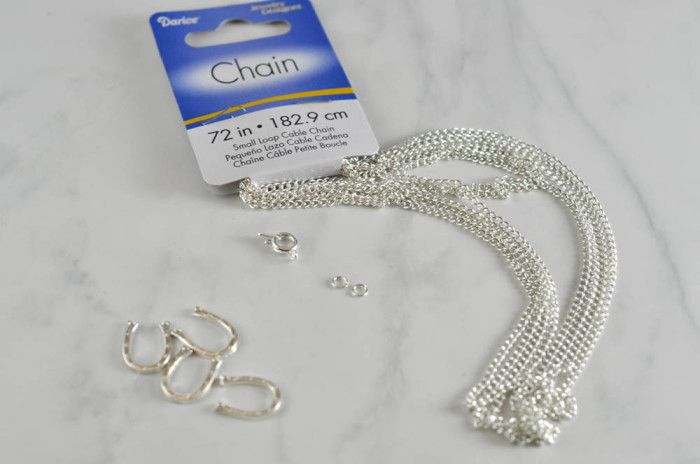 This necklace is SO simple. You will need:
One horseshoe charm (I got mine at Consumer Crafts, if you're wanting to hunt it down)
Two lengths of 8″ small loop chain
4 jump rings
1 clasp
2 sets of Flat-nosed pliers
1 set of wire cutters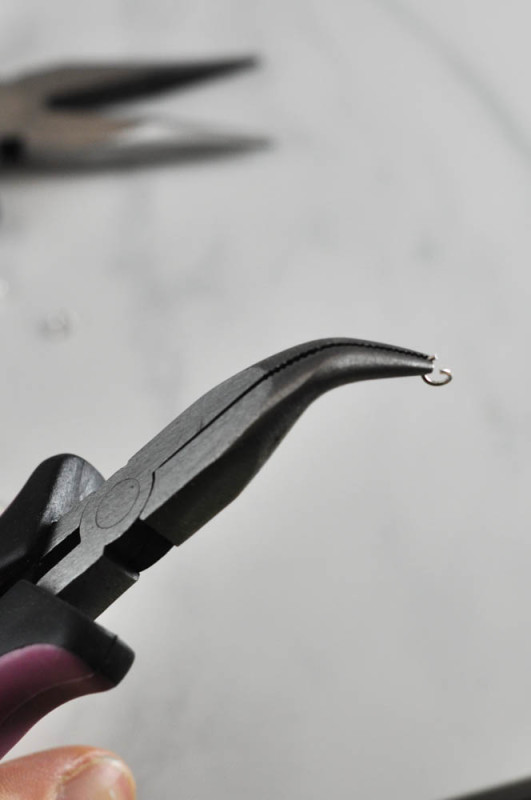 Using two sets of pliers, open the jump rings and slip them through the horseshoe charm at the end of one length of chain. Use the pliers to close the jump rings in order to ensure that they're tightly closed.
Repeat the same for the other side of the horseshoe.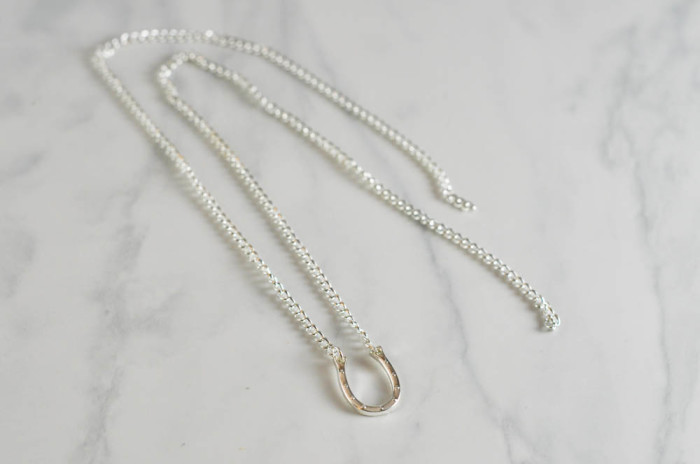 I chose 8″ lengths of chain for each side of the horseshoe. I quite like this length; however, if you are of smaller build and want it to sit in your clavicle, measure out the chain and clip the chain as needed!
However, be sure that you shorten BOTH lengths of chain. You want the horseshoe to sit in the center of the necklace.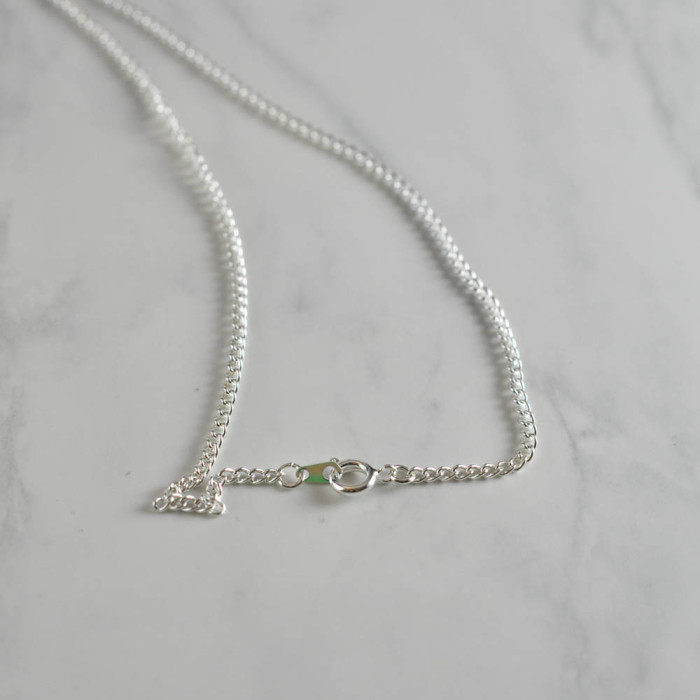 Add a jump ring to the end of each length of chain and attach the clasp.
You're done! Your lucky little horseshoe is ready to sit on your neck.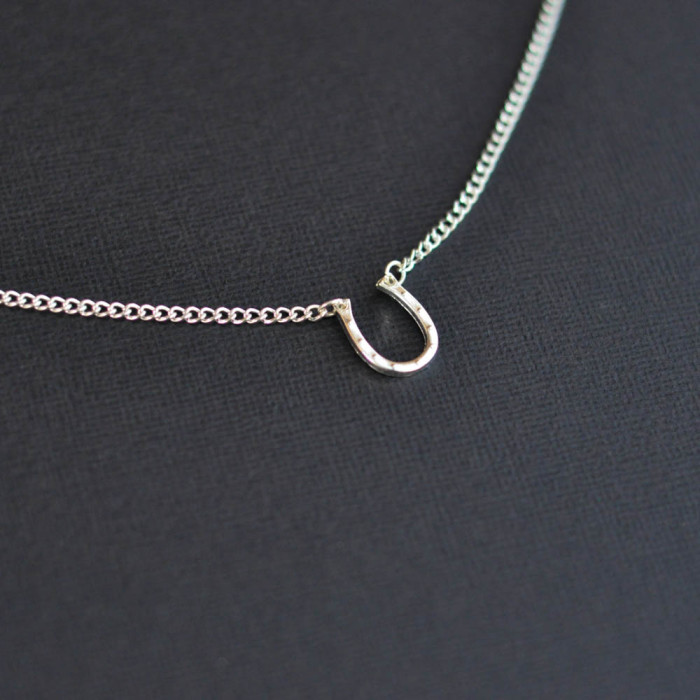 Prepare for overwhelming luck and compliments.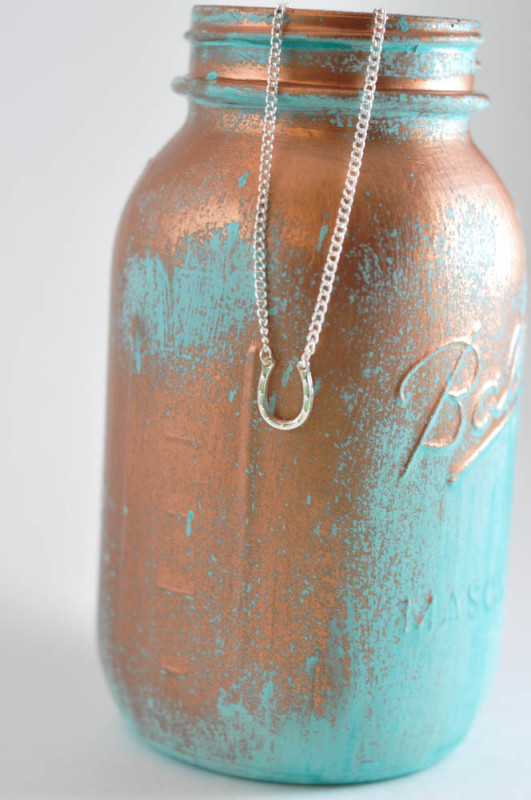 I love this necklace, and because it is such an inexpensive and simple one to make, I'm going to be gifting a few of these to some of my most precious friends.
We can all use a bit of luck sometimes.
And if you're liking the look of that mason jar, come back on Thursday and I'll tell you how I made it so fancy-like.