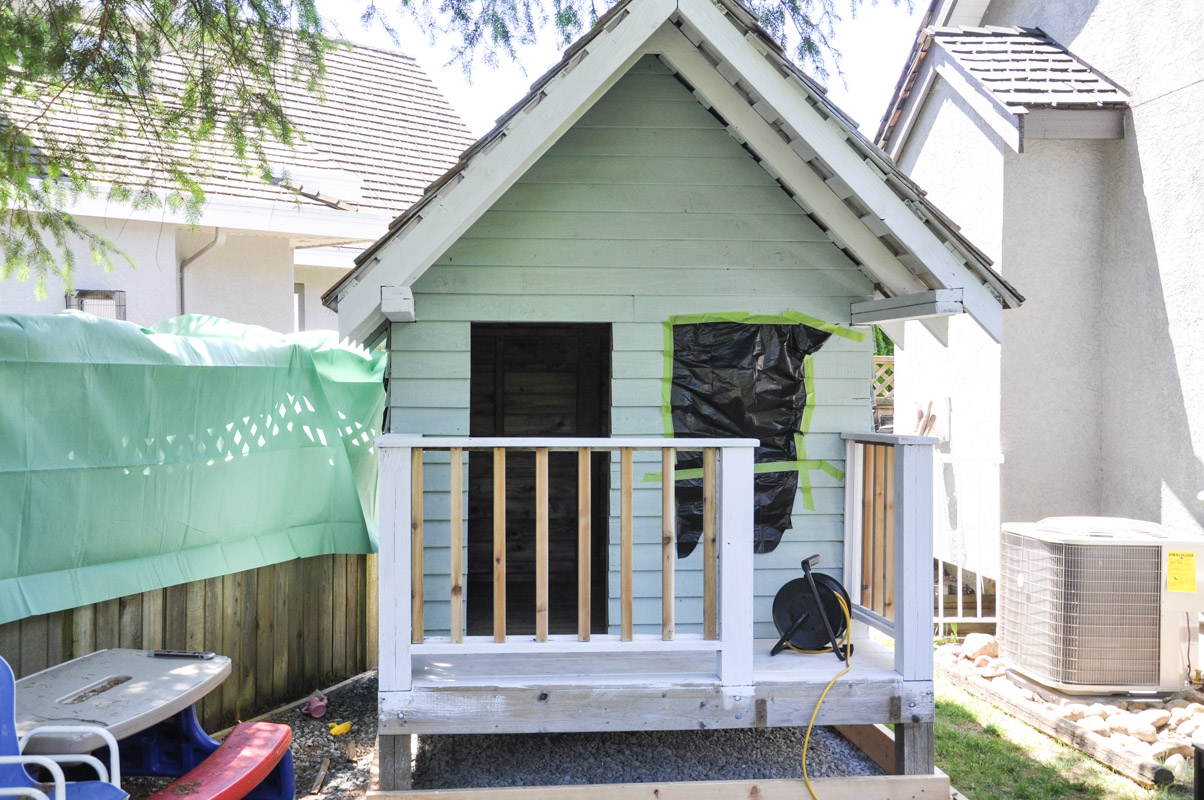 This photo isn't the most gorgeous one I've posted, I know. Garbage bags make for some seriously ugly window coverings, but they're very handy when you're in the midst of a staining spree on your playhouse project.
And speaking of stain – do you love the colour like I do? We went with a water-based product – Behr Waterproofing solid stain – in Quiet Teal. The girls and I chose it while standing in the Home Depot paint department aisle.
I held up two colours in front of them, "Do you like the dark blue or the light turquoise?"
They looked at me, unsure of the weight of this decision. With impeccable timing, a man holding a fan of paint chips leaned over my shoulder and said, "Girl, it's always turquoise."
Of course it is. How silly of me to forget that.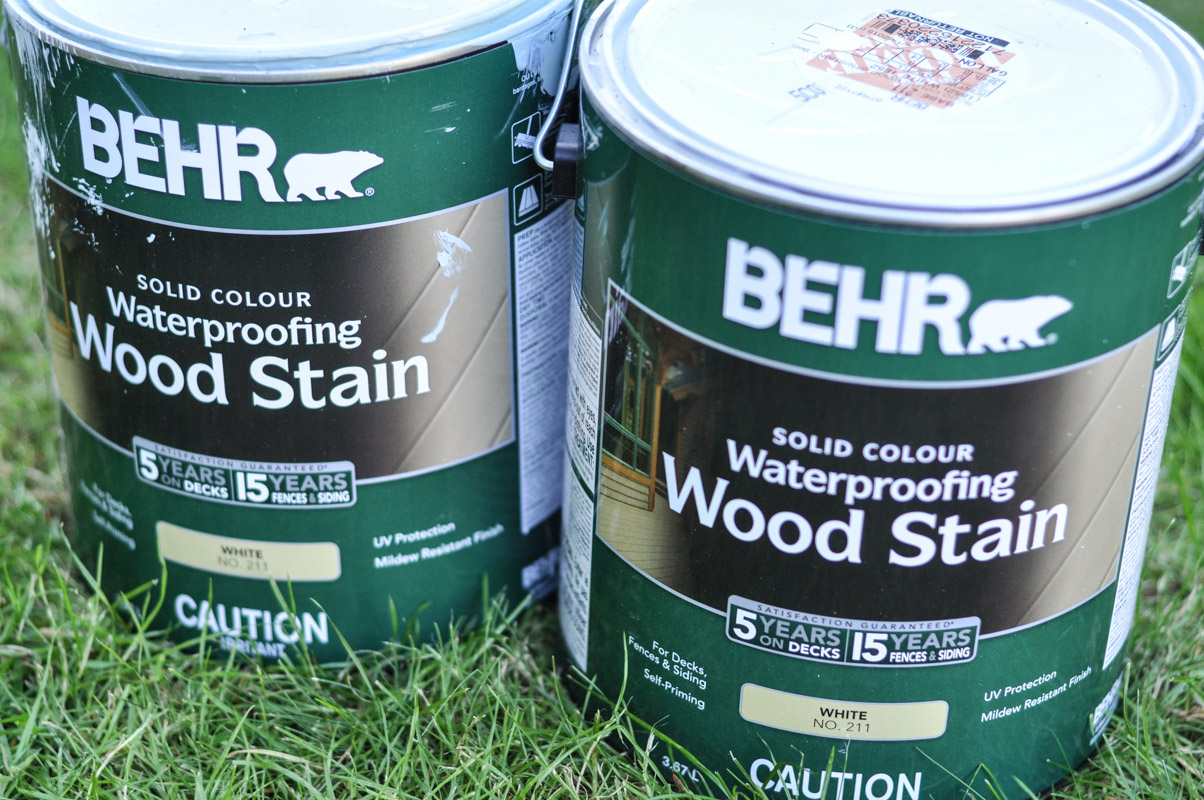 The colour of the trim is "White". I kid you not. I can't even remember if the paint mixtress added tint, or if she just shook the can that was grabbed off the shelf. Either or, it's exactly what I wanted.
I brushed the stain onto the exterior of the playhouse. It took some time, so when my hand started to cramp and my technique went from "conscientious" to "slap-dash-and-ugh-let's-just-finish-this-already", I stopped.
This is why the playhouse is half-stained in these photos.
I got tired.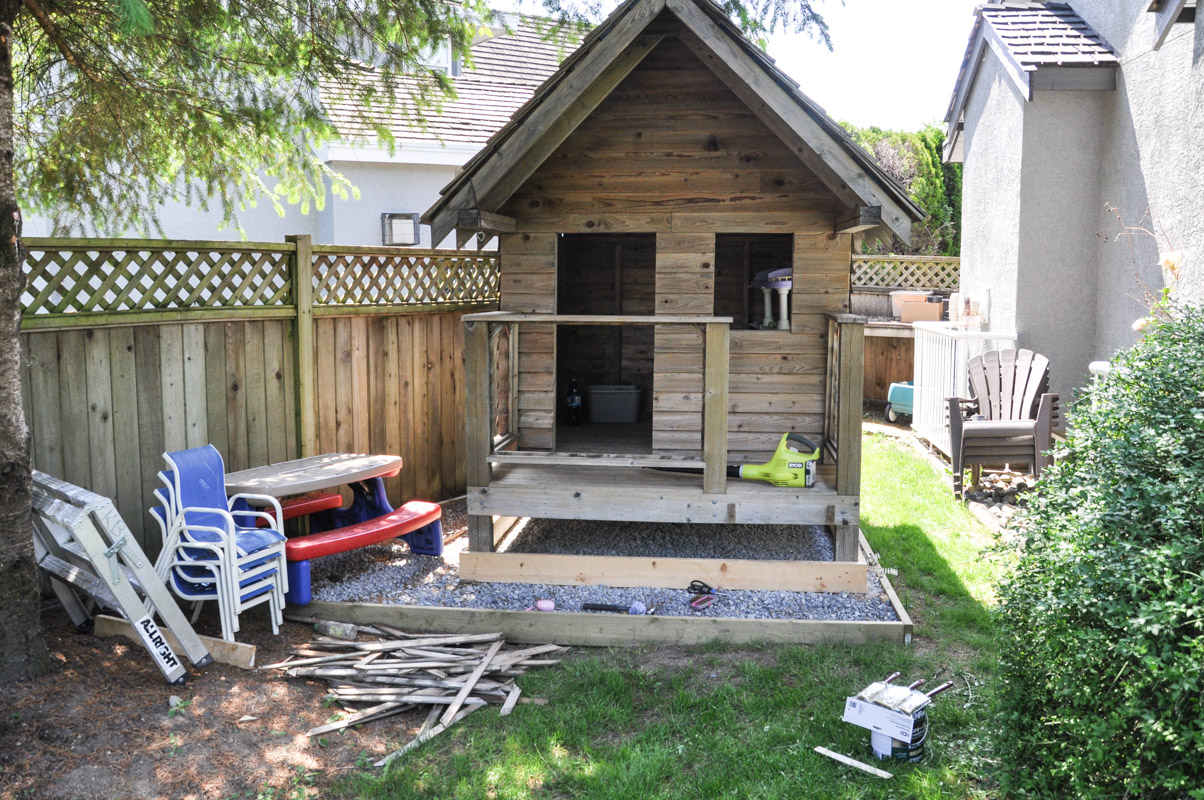 When we last left the playhouse on the blog, I was agonizing over the porch. Did I want to replace the snaggle-toothed lattice of its former life with new, not-so-broken lattice?
Or did I want to install balusters?
Probably the biggest reason why I was hesitant to choose balusters was the price. Metal balusters are around $8-10 a piece, and I wasn't sure that I wanted to invest that into the playhouse. Mr. Suburble was sure he didn't.
As he and I pushed our car cart o' kids down the lumber aisle, he immediately directed us to the lattice.
"This is easier," he said.
I grimaced. Upon seeing the diamond-shaped pattern, I knew that I didn't want lattice, despite its already-put-together awesomeness. I wanted the classic look of railings.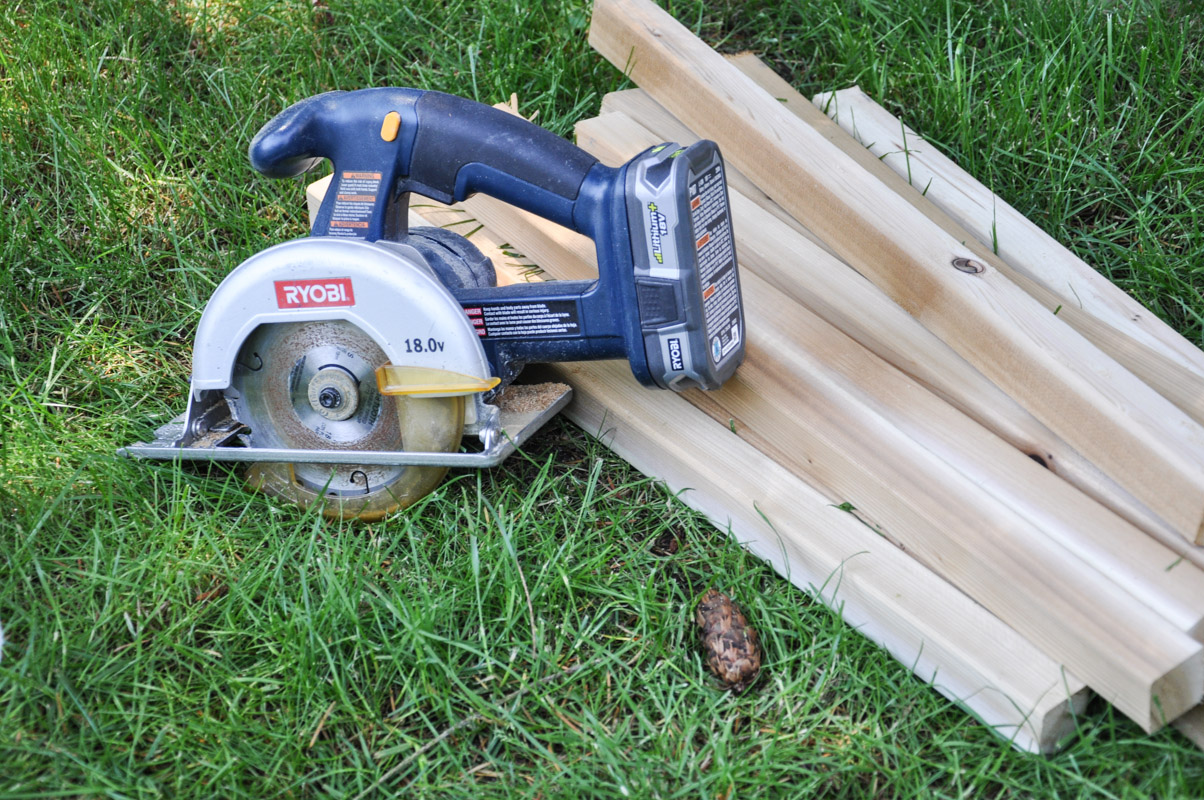 Just one aisle over, we found these 42″ long cedar balusters. They were about $3 each, and were 2″X2″ (although we know that all lumber measurements are lies, so they're truly 1 1/2″ wide).
I was gleeful. We could afford our little porch railings!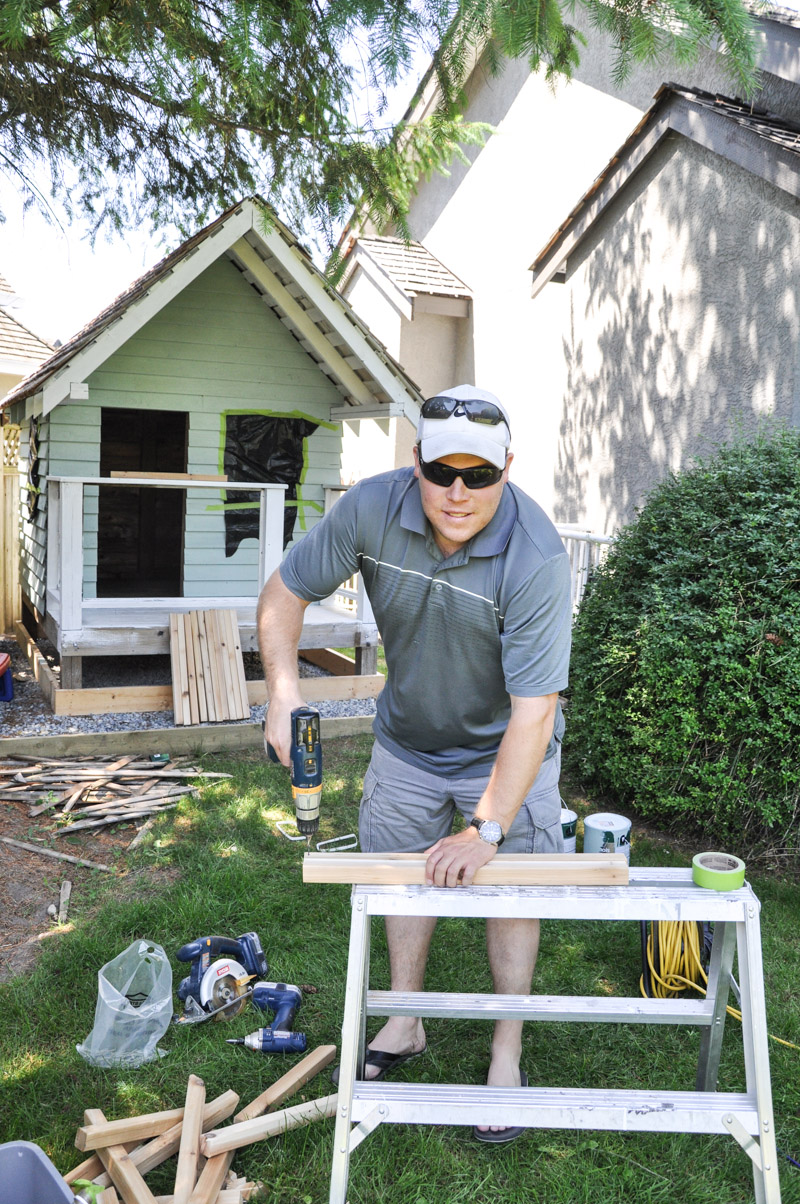 We cut down the balusters and drilled pilot holes in their tops and bottoms. The lattice originally sat on a small piece of 1″x1″ backing, so we drilled 2″ deck screws into that.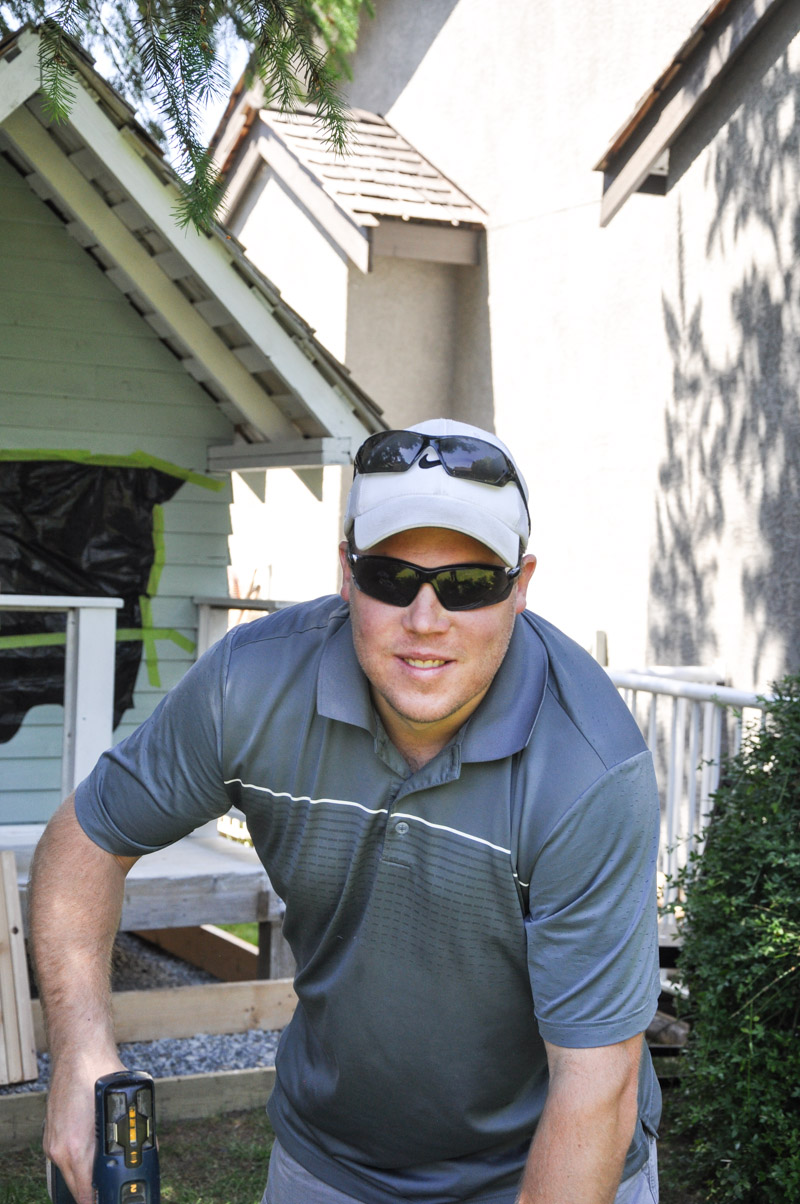 Also – I just have to point out here that Mr. Suburble lost his safety glasses more than once during our work day. Can you take a guess as to how?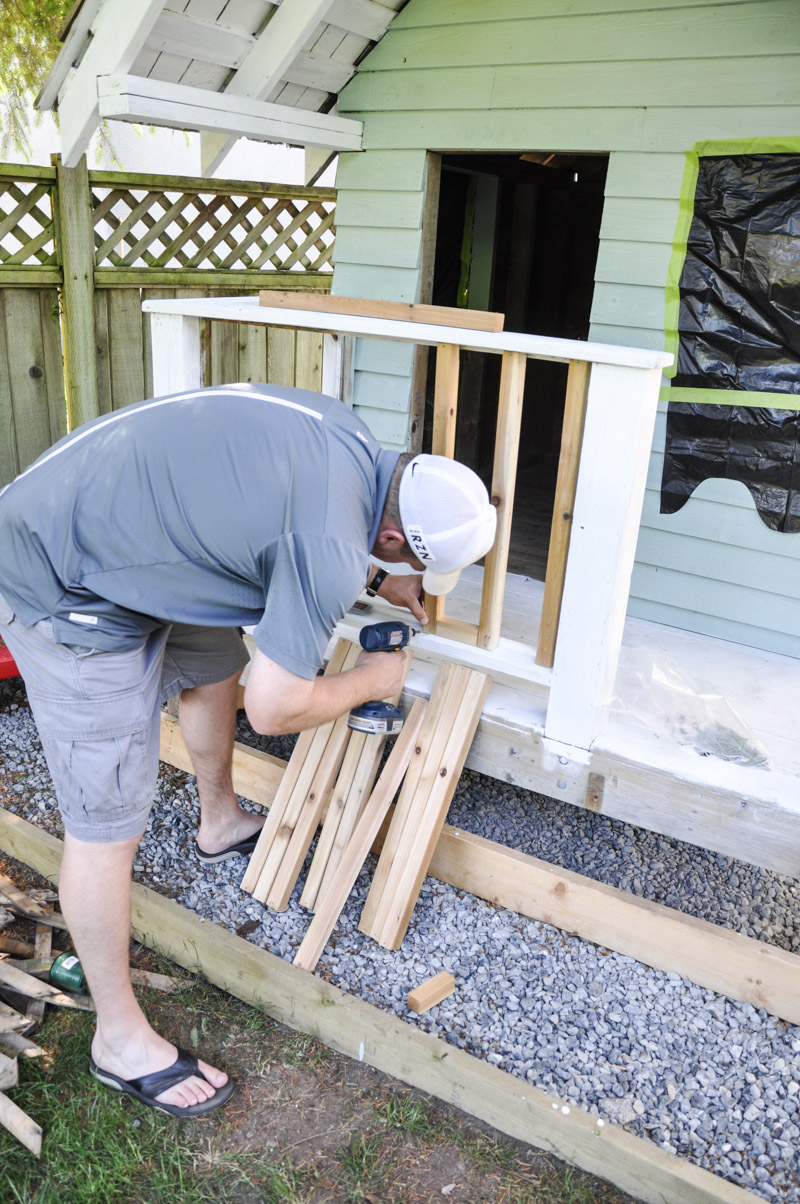 Balusters aren't supposed to be more than 4″ apart, due to the whole "kids jamming their heads in spaces that they're not supposed to" thing. Because we were finishing a porch for our little gremlins, we wanted to be sure that everything was safe.
Mr. Suburble cut two 4″ spacers out of an end-piece of a baluster and we used that to guide installation.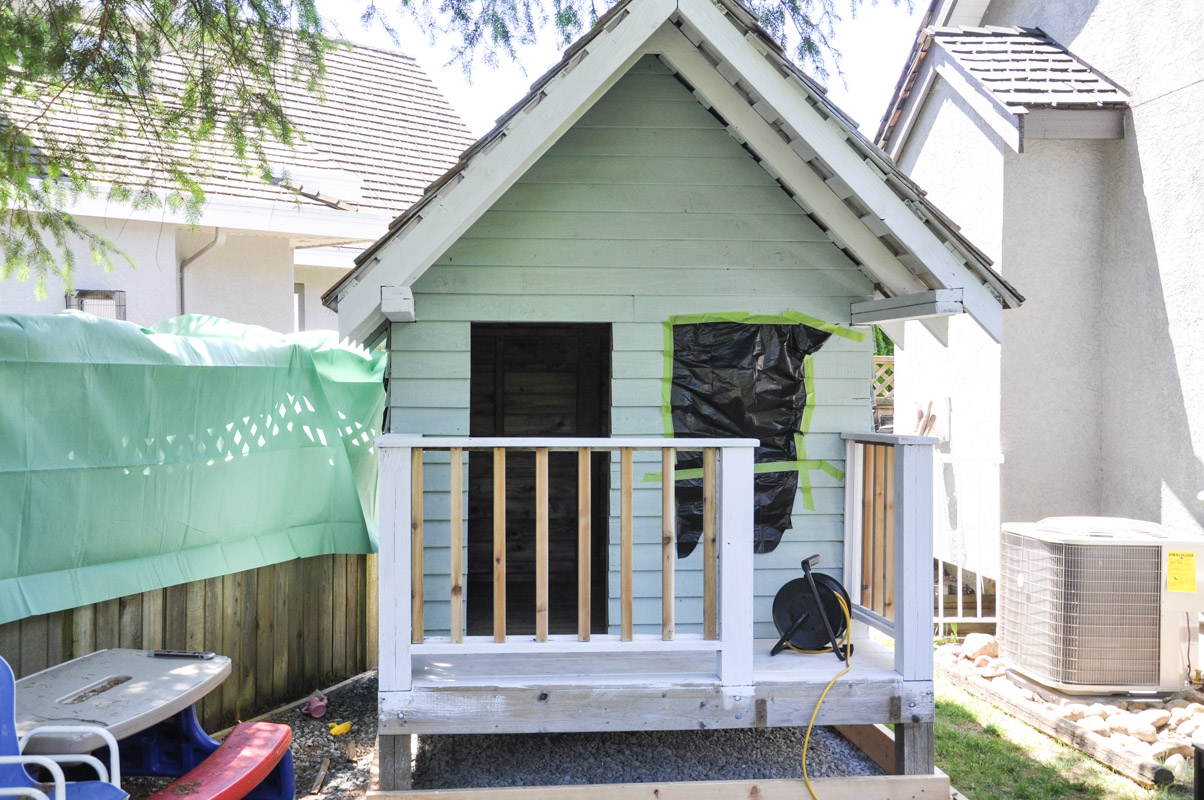 In under an hour, we had cut, prepped and installed our new balusters.
And aren't they so much better than the previous lattice-situation? I was thrilled that we had decided to go this way.
But Eyepatch McGee here needed a bit of love in the stain/decor/general appearance department. We were on a roll, and we weren't going to stop here.
Pop by tomorrow to see how we managed to stain the rest of the playhouse AND its interior in under two hours! It's changed the way I paint!
Also, we've tidied up since these pictures. It's not so… dumpster chic. I promise.
We are incredibly happy to be working with The Home Depot Canada on this kid-friendly and stain-spattered project. They've generously provided some of the materials in this project, but let's be honest… I would have bought them anyway.