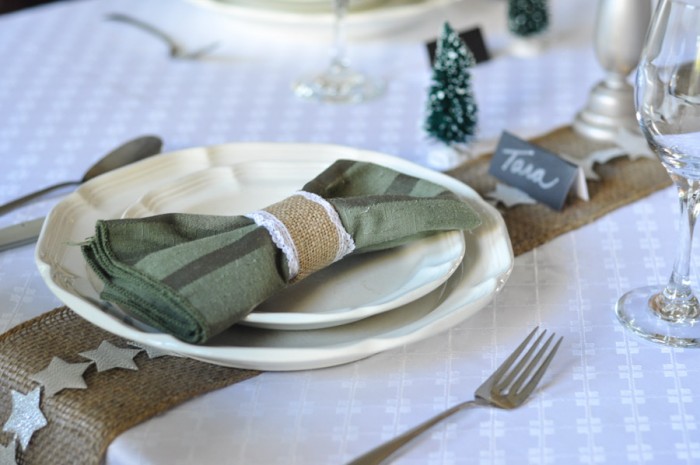 I love to set the table.
There's something so lovely about a table that is set with little details – even if it's carefully chosen cutlery (which is what my mother fixates on), or candles (which is what my mother-in-law loves), or the decor (which is MY favourite part). When all of these things fall together, I find that the table just looks more welcoming.
It tells its guests, "We really want you to be here. So much so that we spend more time arranging dead branches in a crock than we did on 90% of the meal."
That's what hospitality looks like in my house!
In today's post, I am using ribbon from May Arts. A group of bloggers were challenged to create a Rustic Christmas look with a variety of May Arts' beautiful ribbons. It's such a crazy site, guys. You can get lost in the choices.
I decided to create a simple and inexpensive – nevertheless beautiful – tablescape with ribbons… and twigs from the yard. And a paper towel tube.
Thrift was key here. Especially at Christmas time, we could all use a penny-pinching technique or two.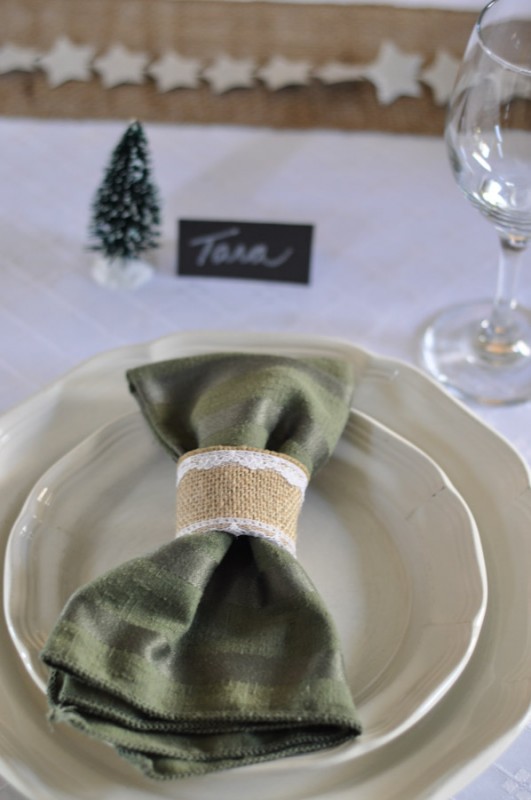 I love napkin rings, but they can be pricey little suckers. I was thinking about how to create my own when I was cleaning the kitchen. As I grabbed a roll of paper towel, the idea hit me! Why not cut up paper towel tubes and craft my own napkin rings?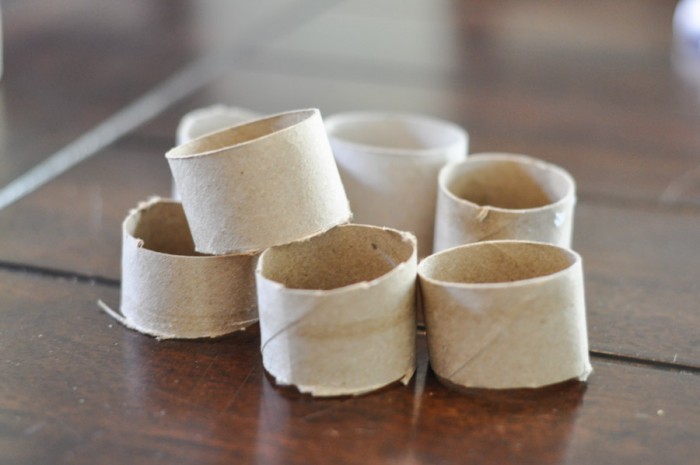 Bingo-bongo, those look terrible!
But don't worry, guys, they're not supposed to be beautiful. They just have to be slightly smaller than the width of the ribbon.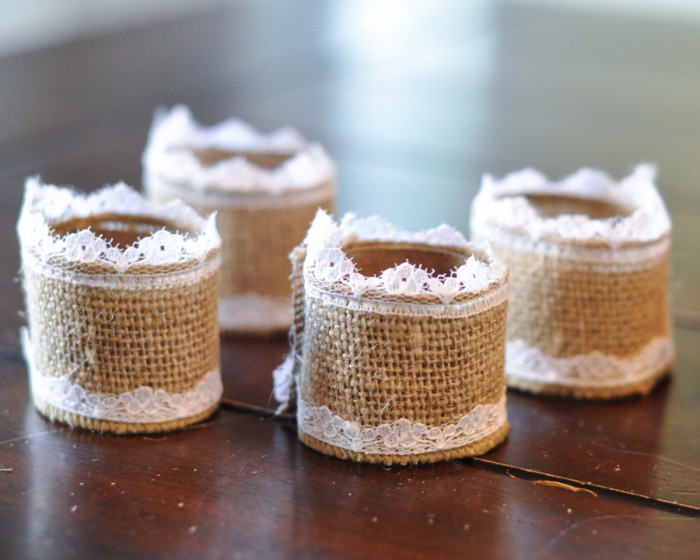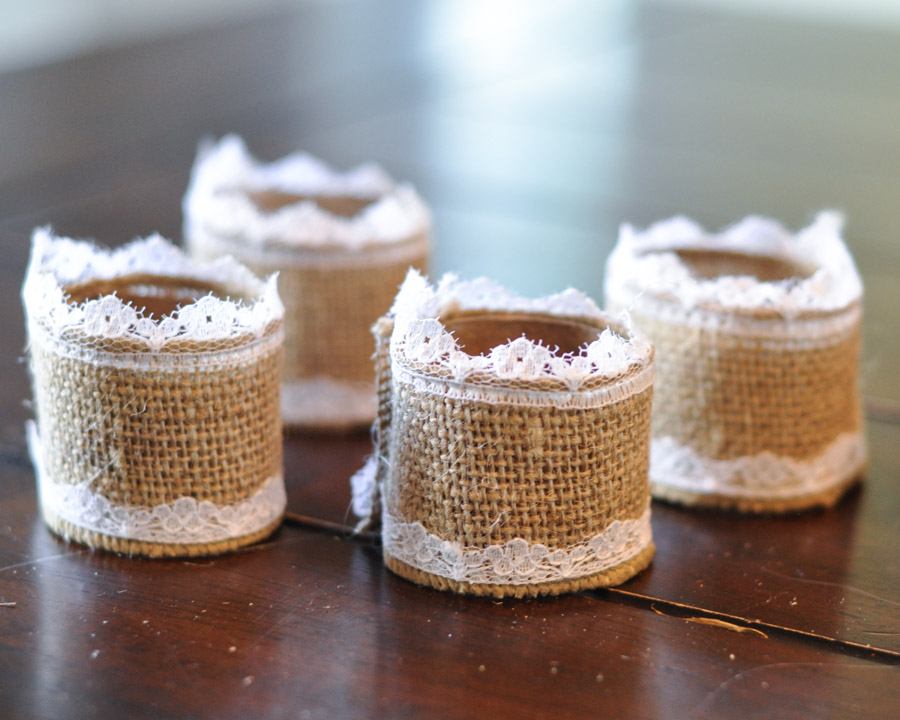 A bit of hot glue and this fabulous burlap and lace ribbon transformed those rough looking cardboard fellas into napkin rings!
And it took about 10 minutes to make all of them, start to finish!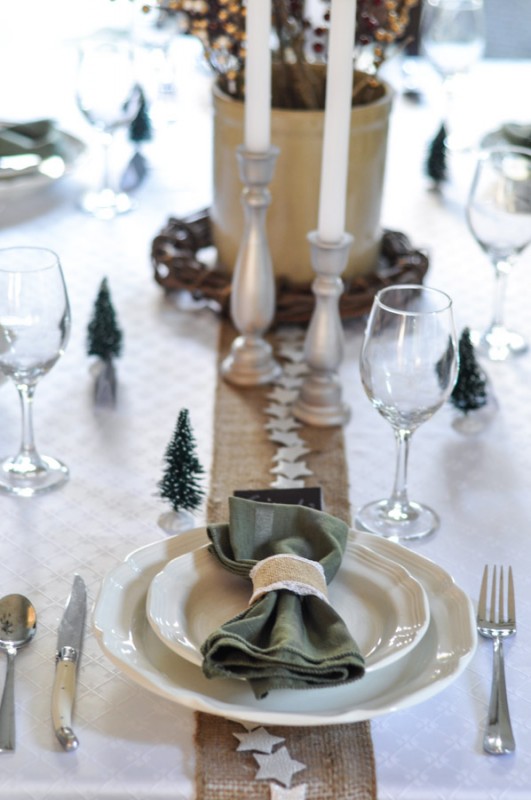 I set the table on top of a "runner" of 6″ burlap ribbon. I LOVE this stuff. I've used it as a table runner on numerous settings, and it's perfect! (And again… it doesn't break the bank)
For this setting, I also added a strand of the metallic star ribbon, because I love metallics at Christmas.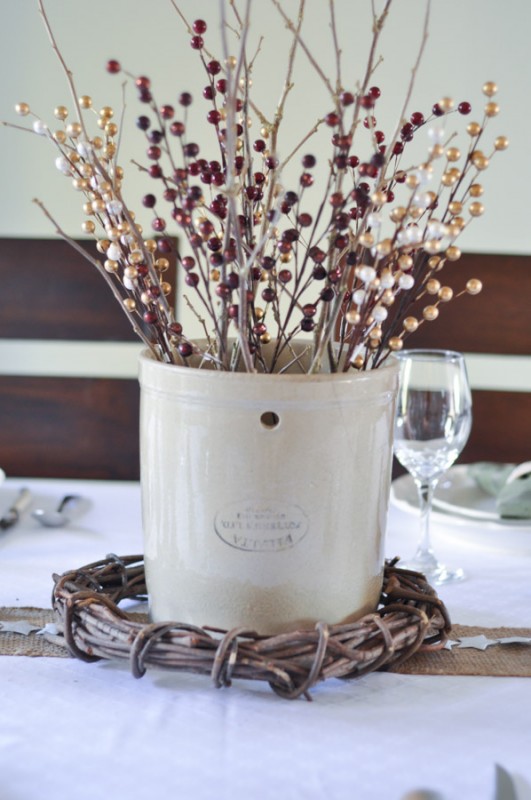 Because we're keeping the theme rustic, I opted to use my new crock as the centerpiece. I picked this up at Granny and Grumpa's last week, and regretted not getting more. Jamie also got one of the crocks, and Grumpa told her that she had a chicken feeder, as hers had a little hole right out of the bottom of it (meant to be flipped upside down on a plate). I assumed that mine was a regular crock… with a random hole drilled in the side of it.
Then Mr. Suburble asked, "Why is "Medalta" stamped upside down on this?!!"
Oh. Crap. This might be some sort of livestock feeder too.
Oh well… just wash it up and put some twigs in it. Nobody will know.
Except you guys…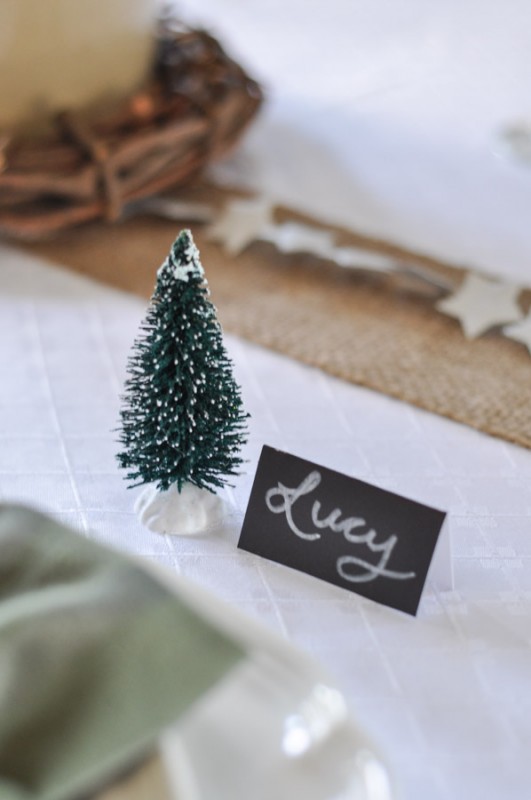 I am in LOVE with bottlebrush trees this season. These little guys are companions for the place cards. Lucy – who helped me set the table – piped up, "Mom.. I know what this snow is called. It's called flocking!"
I did a double-take. Girl… do you have a secret 4-year-old design blog that I don't know about?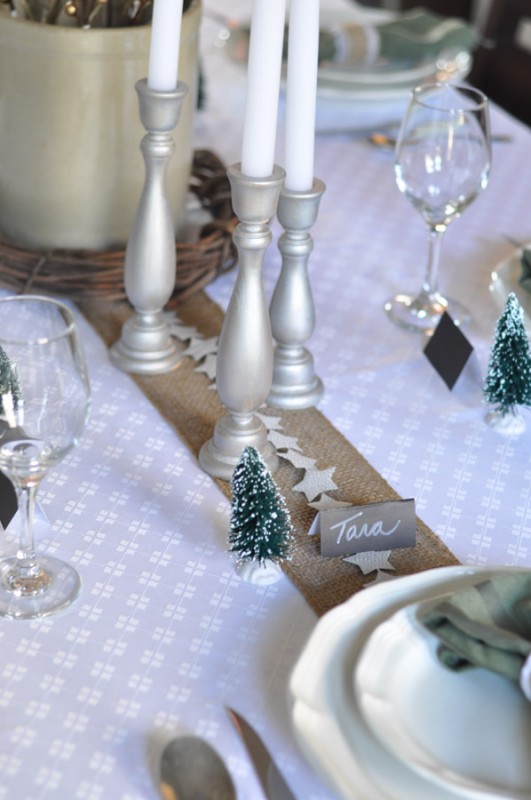 This table setting is an understated Christmas – it's perfect for those who are strict December 1st types. (Not this girl, I'm itching to break out the tree!)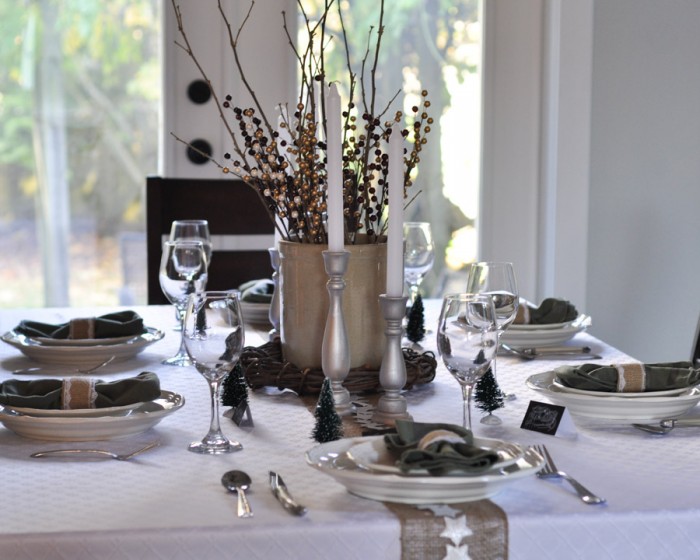 And it was simple to create. A bit of burlap, some glue, paper towel rolls and twigs. Rustic is lovely and in style… but it's also frugal.
I'm embracing it!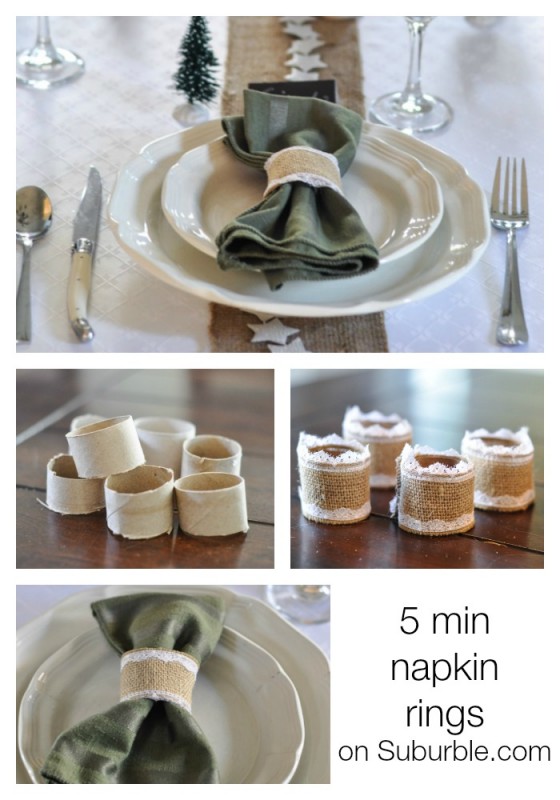 And check out what my fellow bloggy gals have been up to – they've been taking rustic to a whole new level!