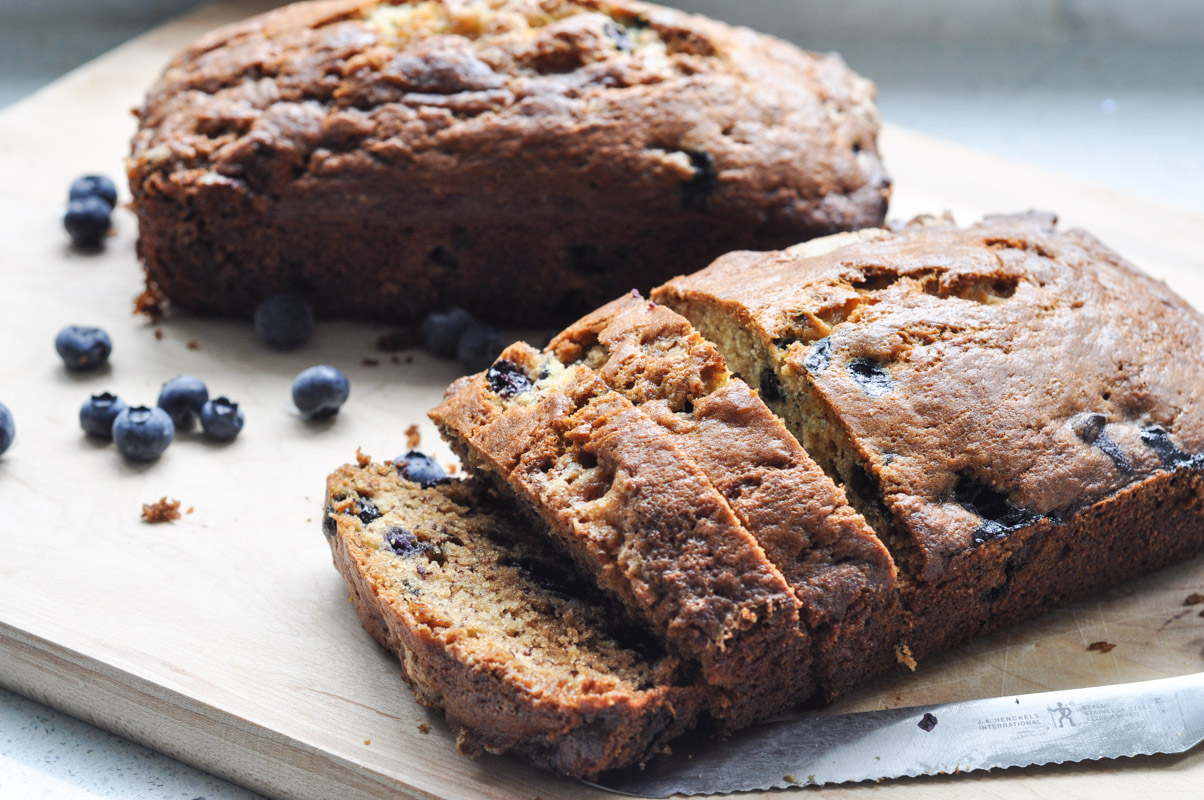 We are lucky enough to live in an area where there are lots of locally grown fruits and vegetables. For the past few years, I've scouted out flats of fresh blueberries and frozen them for the winter. Like a little squirrel, I would dutifully prepare the berries, lay them out on a pan and "flash freeze" them, and then store them in freezer bags for months.
This year, however, I was determined to do something different. We weren't just going to buy the berries – we were going to pick them!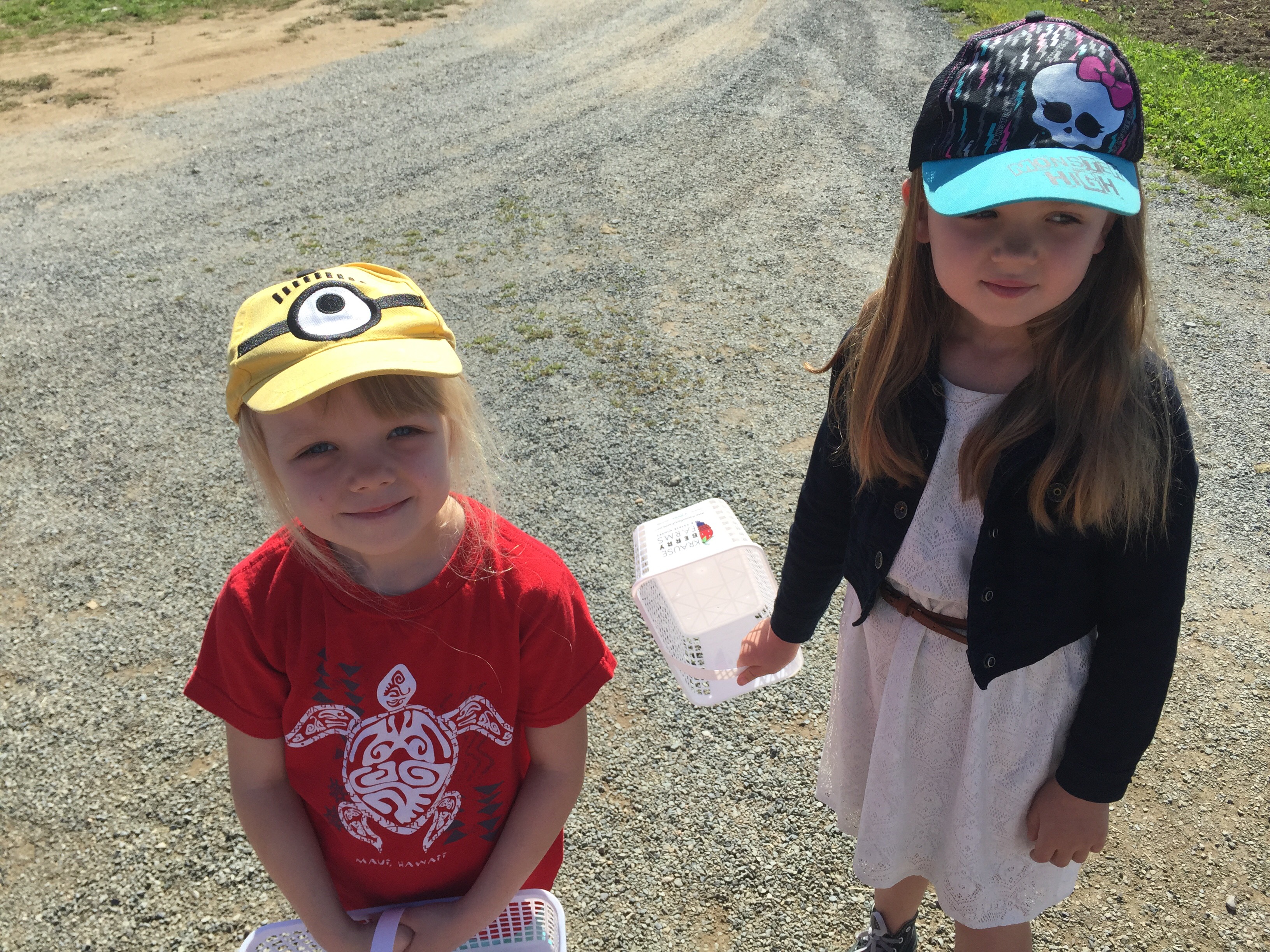 These are the unsure faces of my children as we waited for the bus to take us to the berry patch. Lila was the most nervous about the whole ordeal. She didn't tell me that directly, but instead chose the more subtle approach of criticizing everything and asking, "WHY do we have to do this again?"
I recognize that tactic. I employed it well as a pre-teen and teenager.
I decided to respond as all calm, collected mothers do. I snapped my head and said, "This is going to be a FUN day with FUN blueberry picking and we are going to have a great time and that is IT!"
Yep. Quickly diffused the situation there. Everyone perked right up and skipped onto the bus.
Le sigh.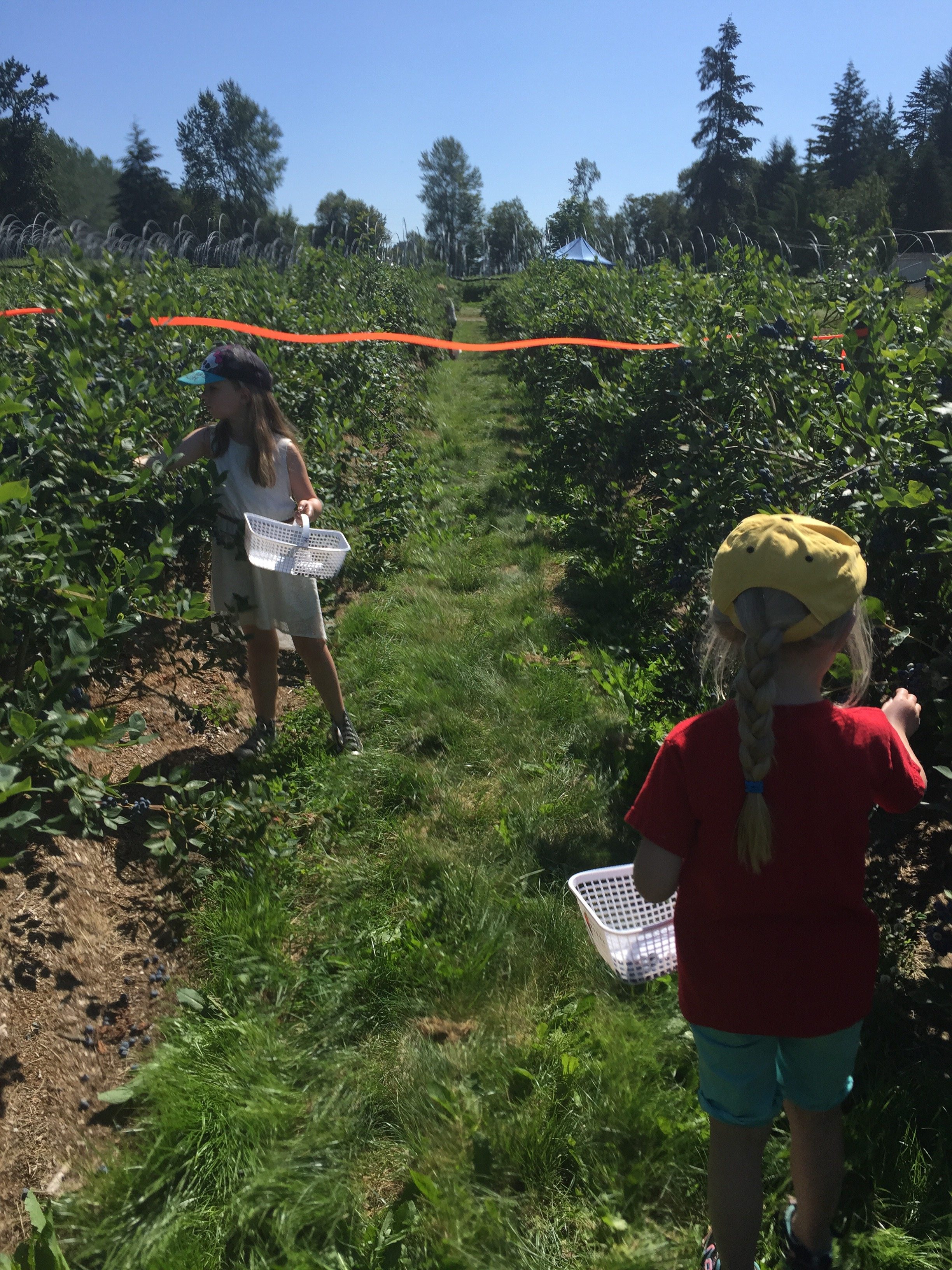 But once we got into the field, the girls became dedicated to their tasks. They picked and picked, happily gobbling up the occasional blueberry as they searched for big fat purple orbs on the bushes.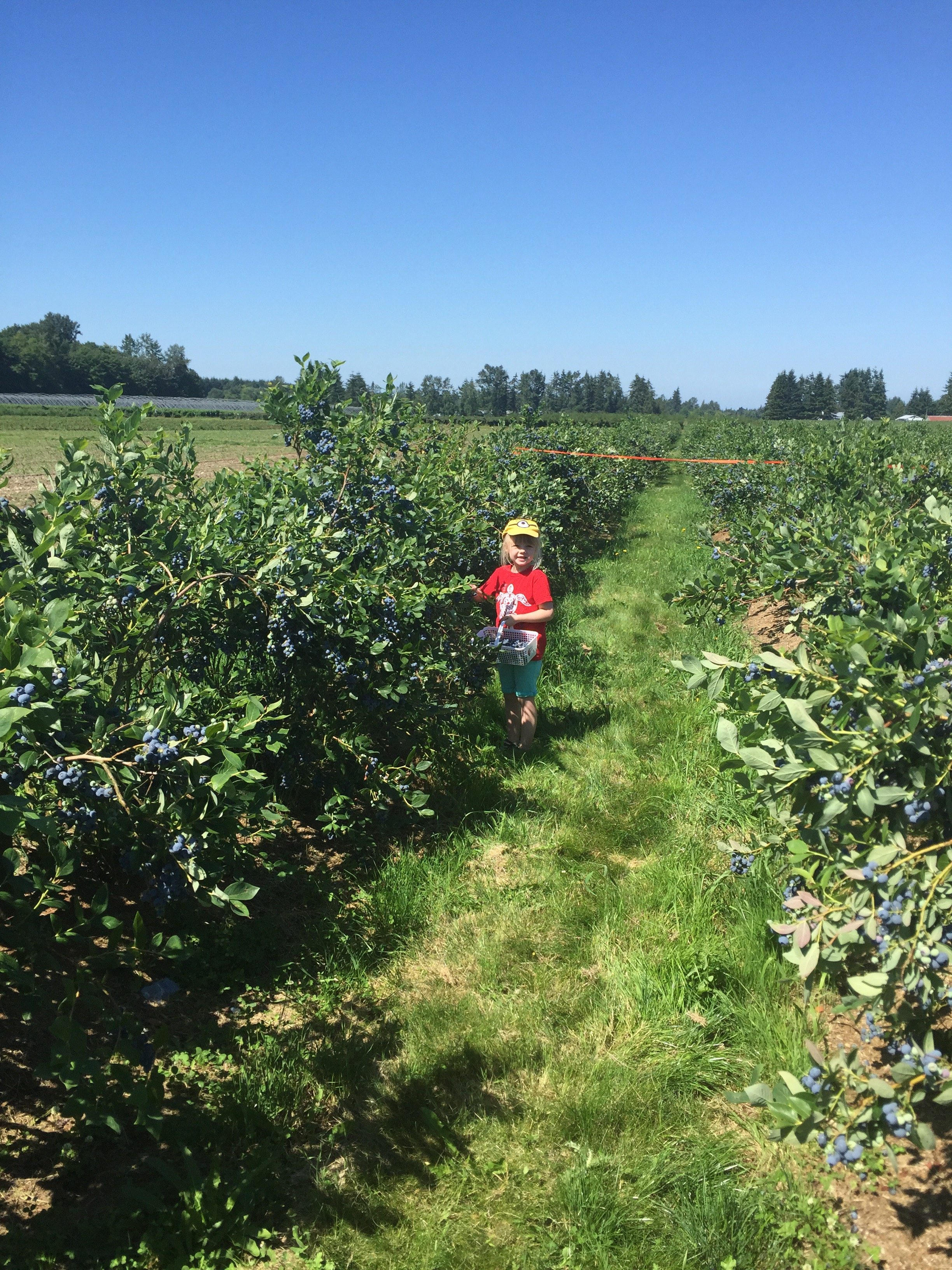 It wasn't hard to fill our buckets. You can see the branches laden with fruit.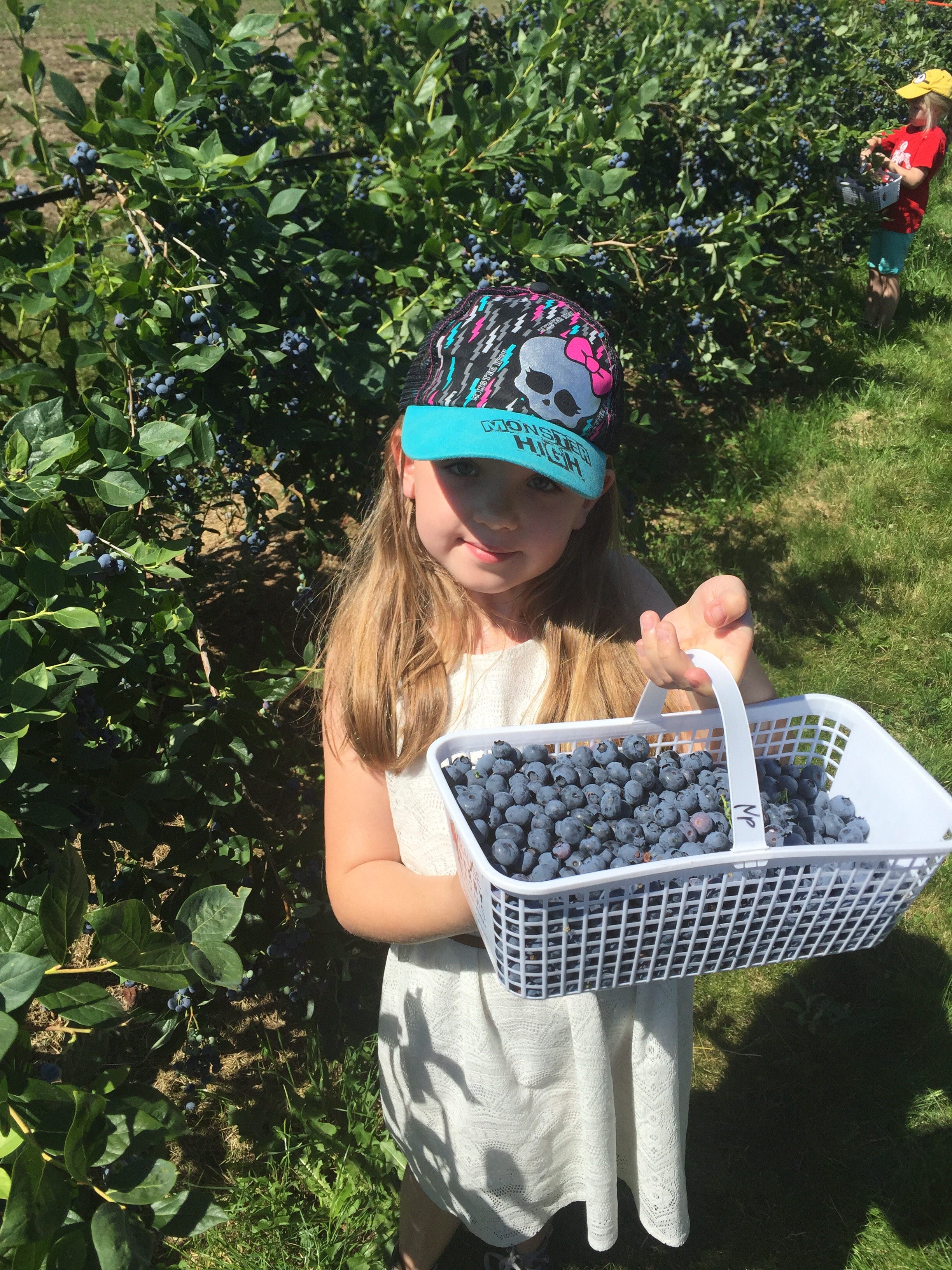 In no time at all, we had baskets that were filled to the brim with berries. My girls were both happily clucking to themselves as we walked back to the bus.
"We should do this again, mom!"
"Yeah, can we come back!?!?"
Success! My Fun Day With Mom plans weren't a total wash.
And so we topped the day off with some baking.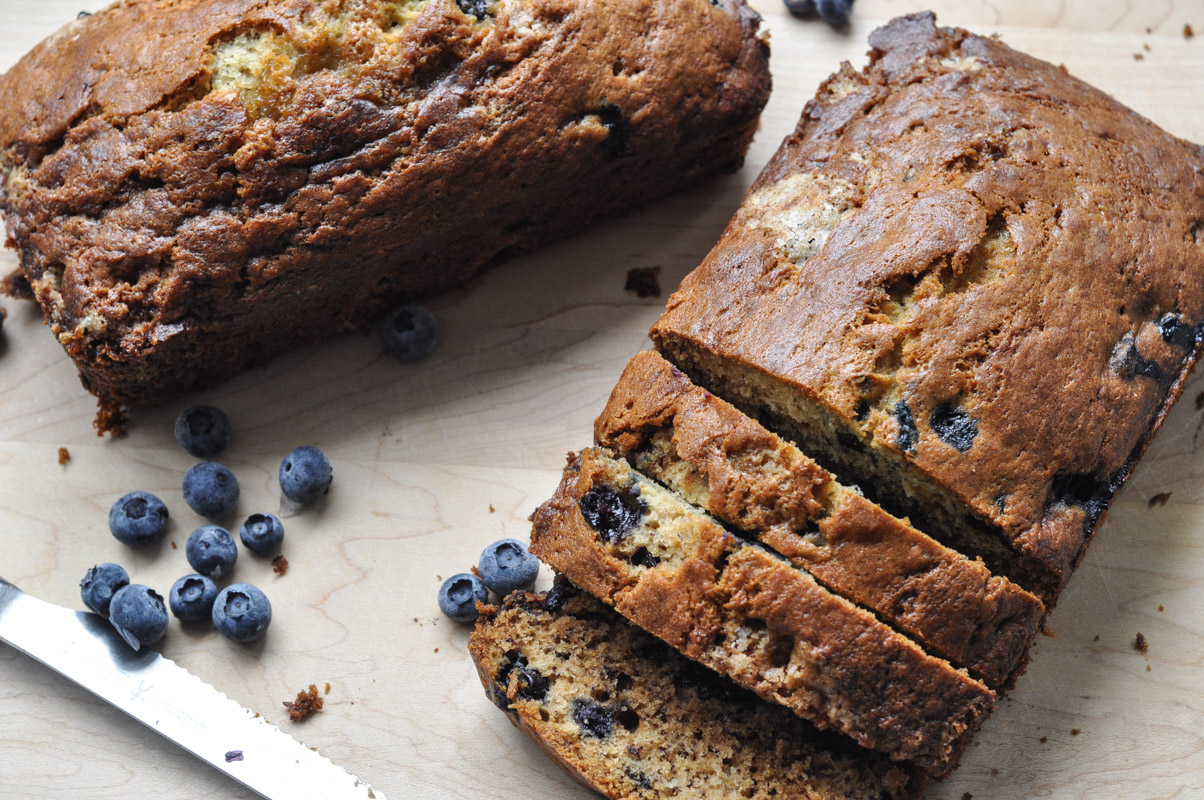 This recipe was inspired by a girlfriend of mine – rather, her aunt – who makes blueberry banana loaves for the freezers of her family members – as my children could not help but gobble up this treat at playdates.
I grabbed some blueberries, a few sad looking bananas, and got to work.
Ingredients
1 1/4 cup sugar
1/2 cup butter, softened
2 large eggs
4 medium mashed very ripe bananas
1/2 cup of milk
1 tsp vanilla
2 1/2 cups flour
1 tsp baking soda
1/2 tsp salt
1 cup frozen blueberries
Instructions
Preheat oven to 350 degrees
Grease two 9" loaf pans
Blend sugar and butter in mixing bowl until fluffy
Add egg and mix
Add banana, milk, and vanilla and mix until smooth
On low setting (or by hand) add dry ingredients until just moistened
Fold in blueberries
Divide mixture evenly over loaf pans
Bake for about one hour; check with toothpick (or kabob stick, in my case!). If stick comes out clean, it's done.
Let cool for 15-20 minutes, then remove from loaf pan
Serve with butter
https://www.suburble.com/2016/07/blueberry-banana-bread.html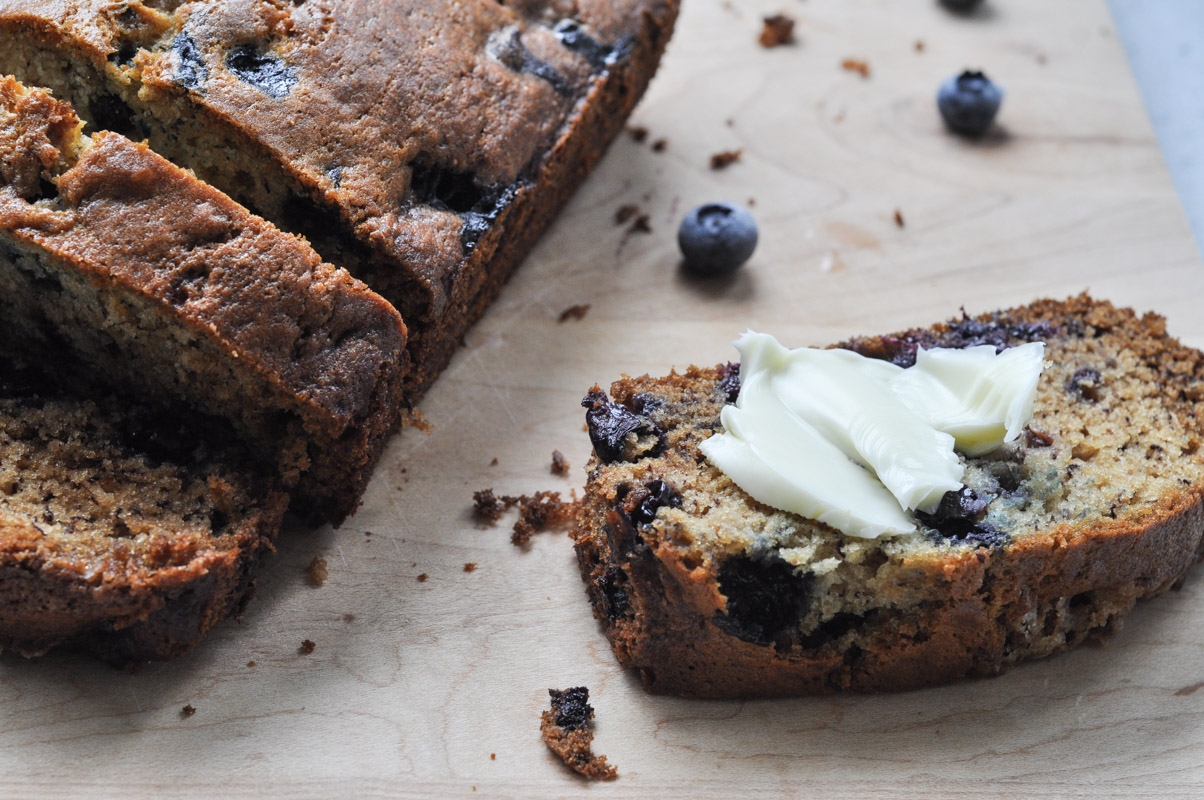 This recipe is a huge hit with my kidlets and a few straggling neighbour children who wandered into my kitchen.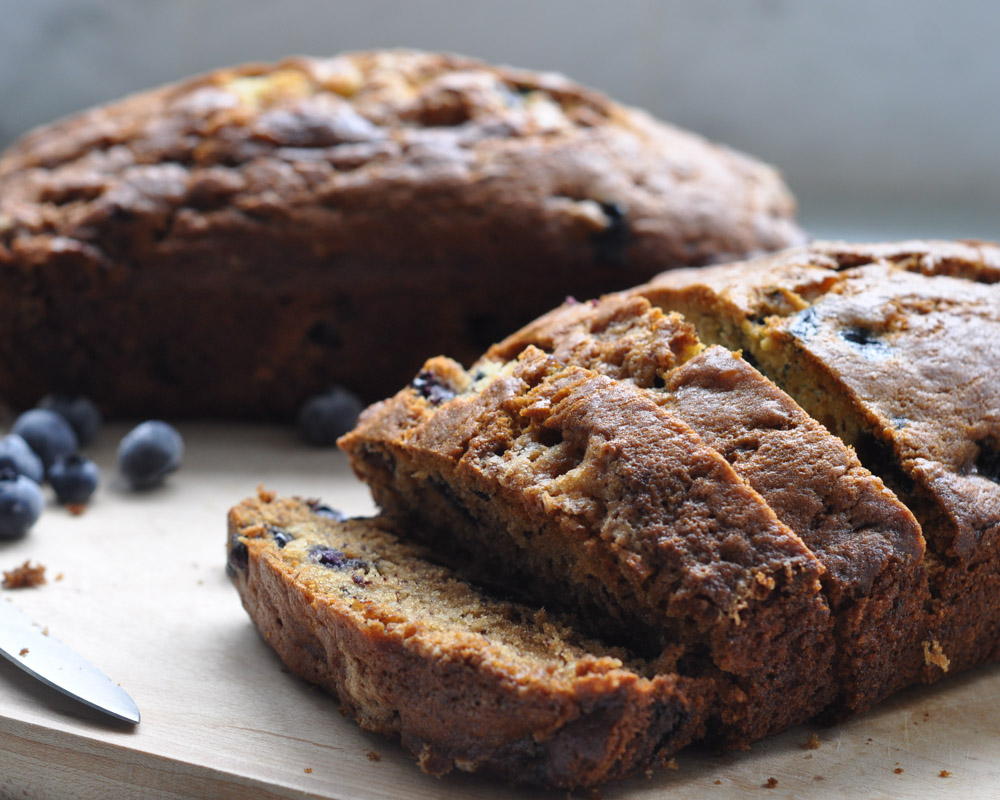 I get the feeling that our freezer could use a few of these loaves (just in case of an emergency tea date) alongside my hoard bags of blueberries.
What do you use your blueberries for? Any recipes I should check out? We've got 40lbs in the freezer right now, and we're going back!