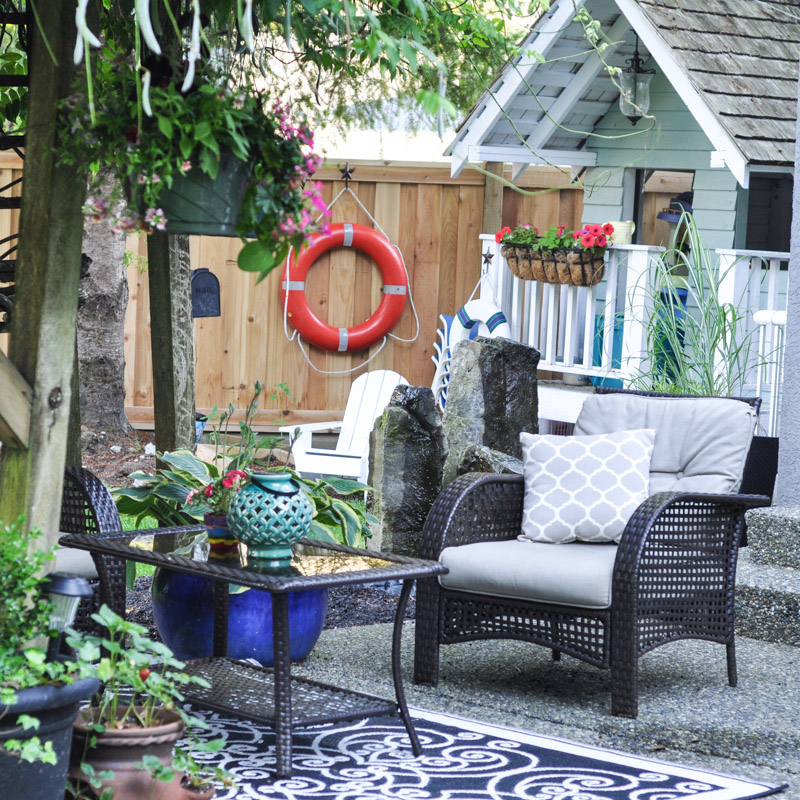 It's been a while since I've given a backyard tour. When Ariel of PMQ for Two suggested that a bunch of us Canadian bloggers joined forces and gave little sneak peeks into our outdoor spaces, I jumped at the chance.
In fact, I think that the last time I showed our whole yard was when I revealed our backyard in our old house!
And while this yard has been less work than our former one – if you can believe it – our new yard is by far my favourite. Perhaps it's because we know that we're not going to be moving any time soon, I feel like each change we make to our yard is a long term one.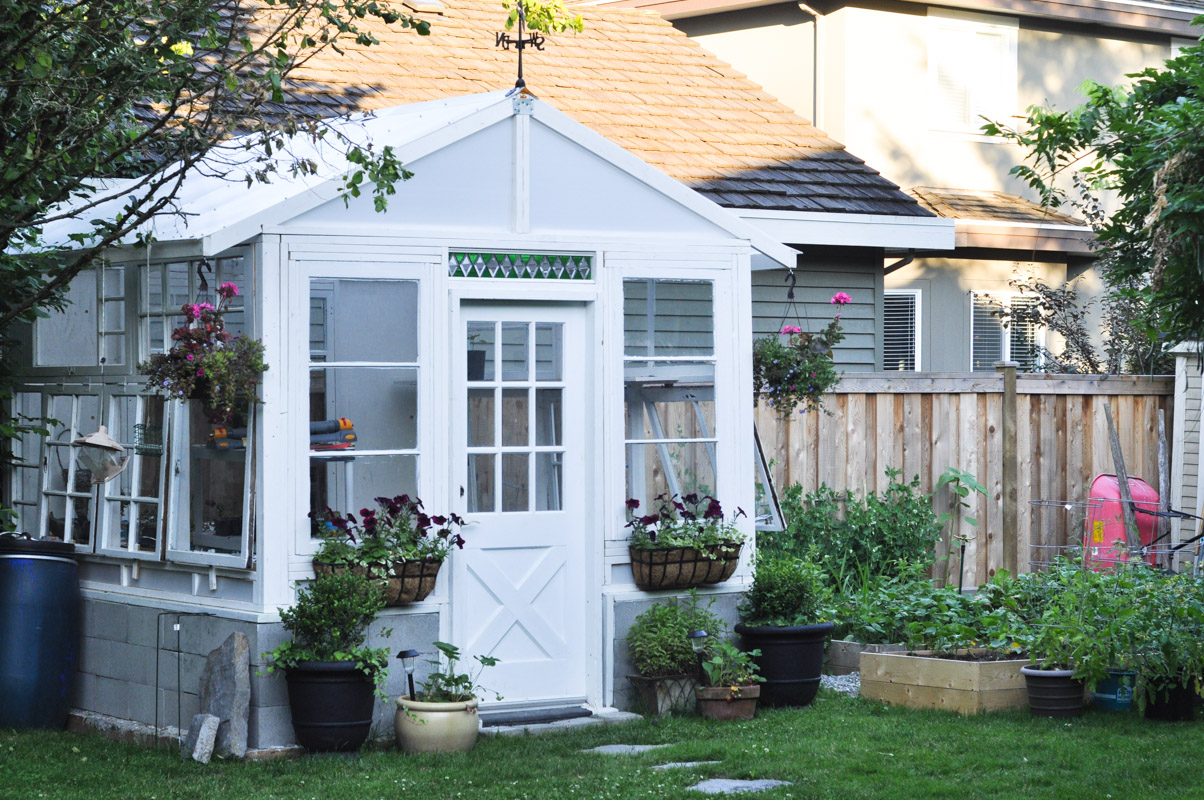 A prime example of this is our greenhouse. We are still loving it, even though the growing season has moved to mostly outdoors.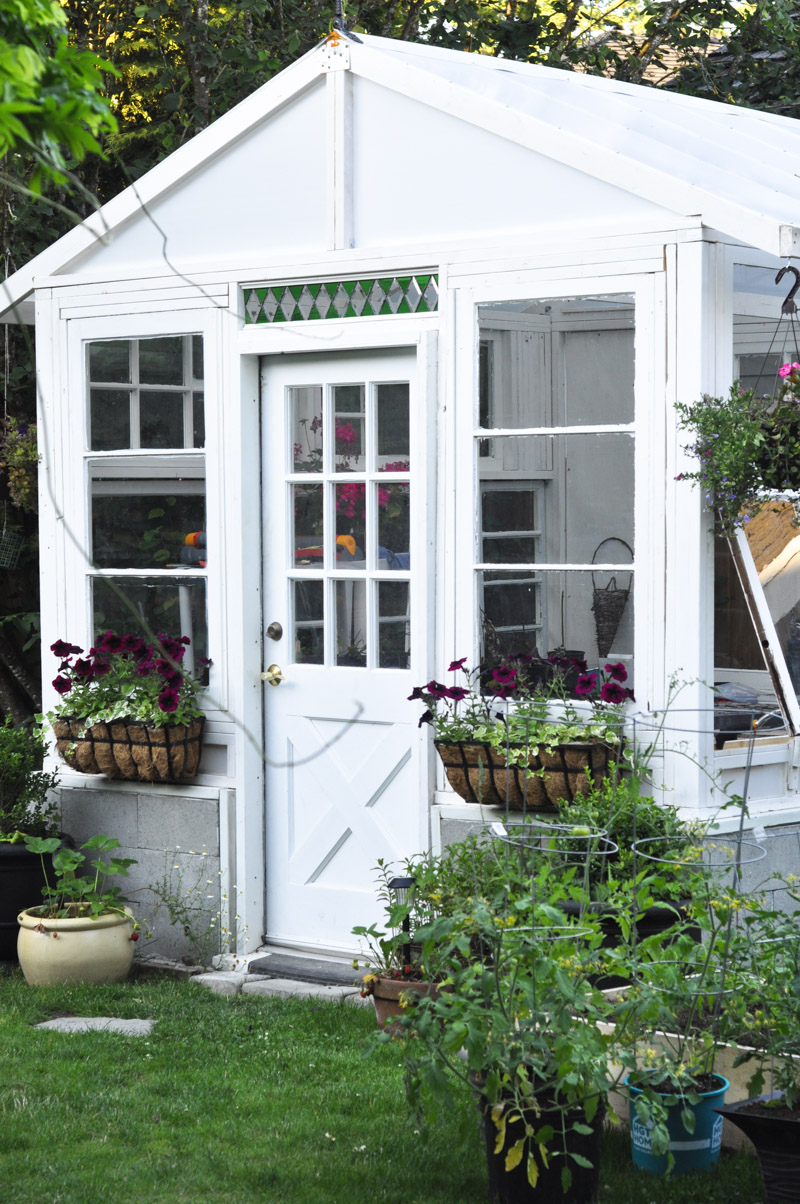 I've been taking our tomatoes on "field trips" into the yard, just because I'm not quite sure of my pollinating abilities. I've been inviting the bees and the butterflies to help things along.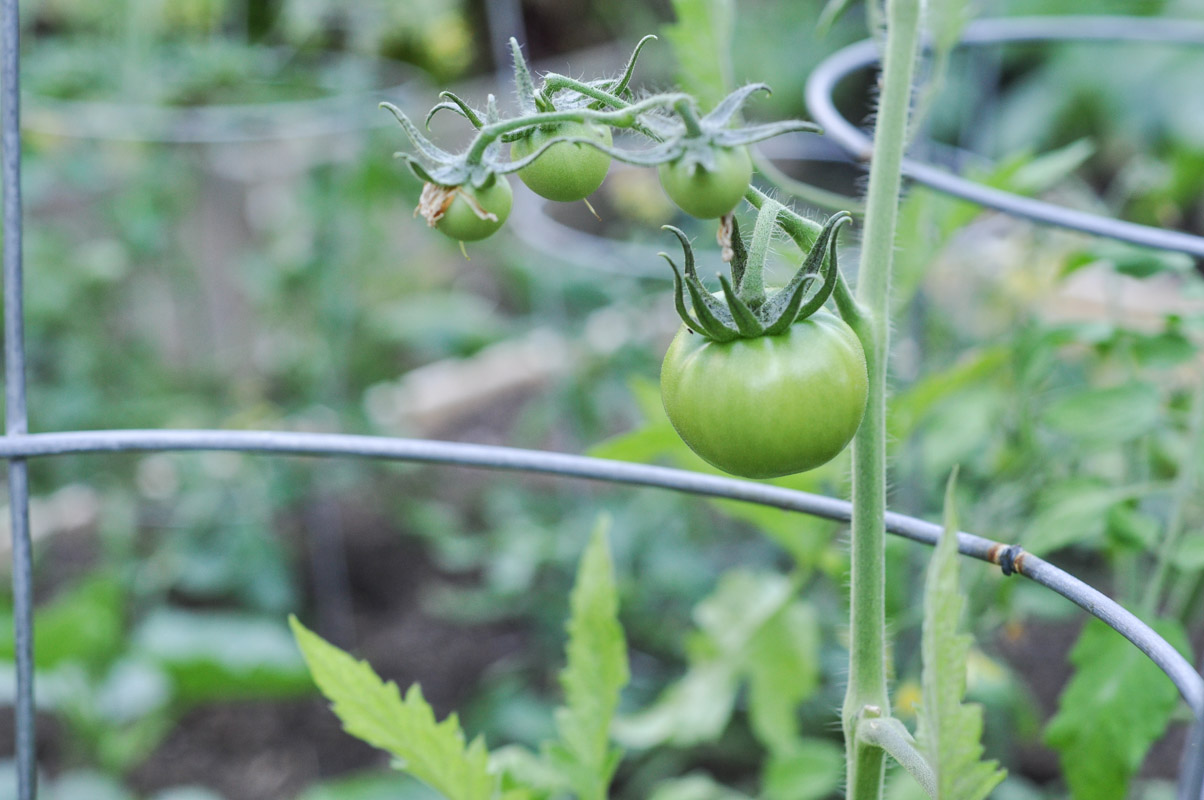 And so far, so good!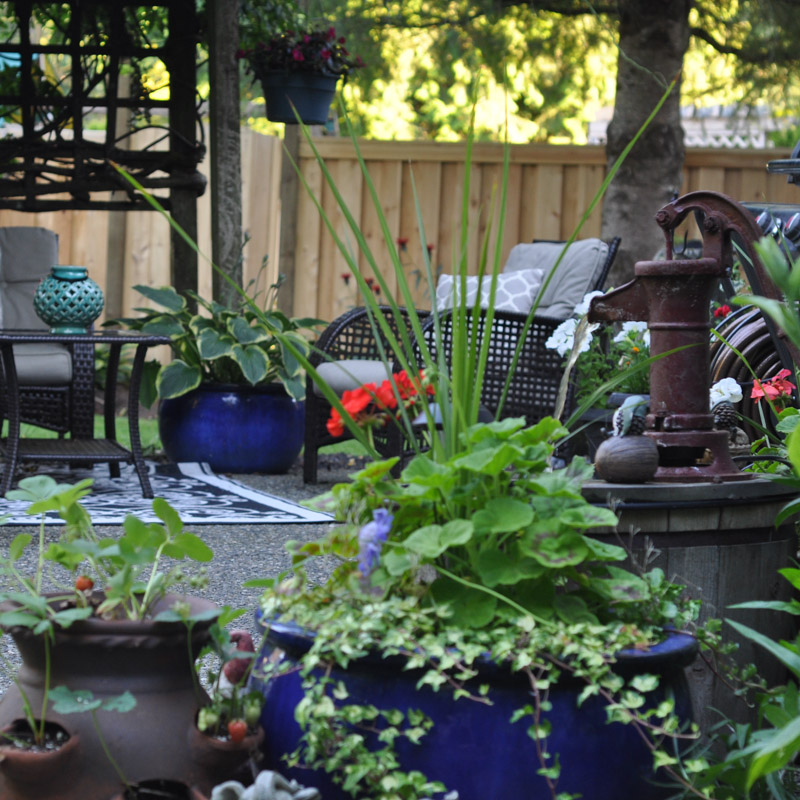 Another recent project we've taken on this year is our whiskey barrel pond. It was sitting, all neglected and sad about its wasted potential, in my mom's shed.
(To be fair, she's building a mega-pond in her backyard, so little whiskey barrel situations are a bit beyond her)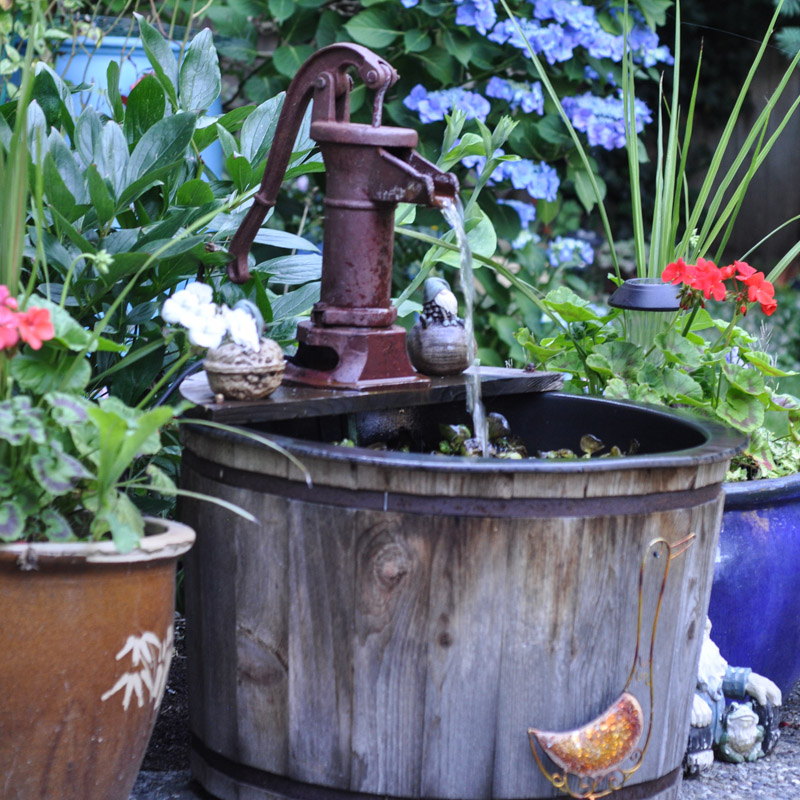 Beneath a layer of water magnolia, which is proving to be kind of a pain in the butt and isn't looking all that wonderful right now, we have four little goldfish that swim around and delight the kids.
The pond is getting a bit murky, so my next to-do is going to be setting up a filter like Melissa of The Empress of Dirt recommends.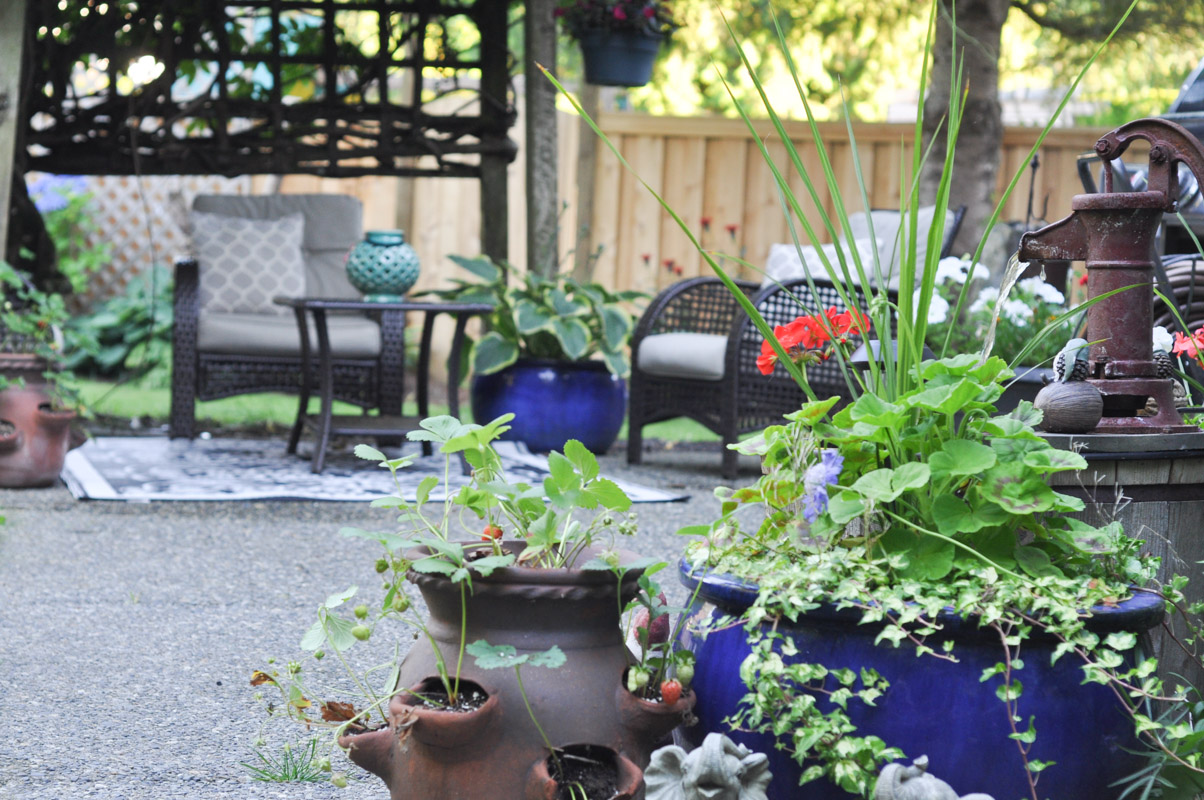 Our little seating area has already been frequented quite a bit over the Spring. Our outdoor patio set is the same old faithful that we bought from Walmart three or four years ago. It's held up beautifully, and I know of at least three other families who have bought the same set.
I'm on the hunt for another umbrella to hang over the uncovered part of the patio. The last one was torn to shreds in a wind storm last year. Vampire-girls like me need our shade!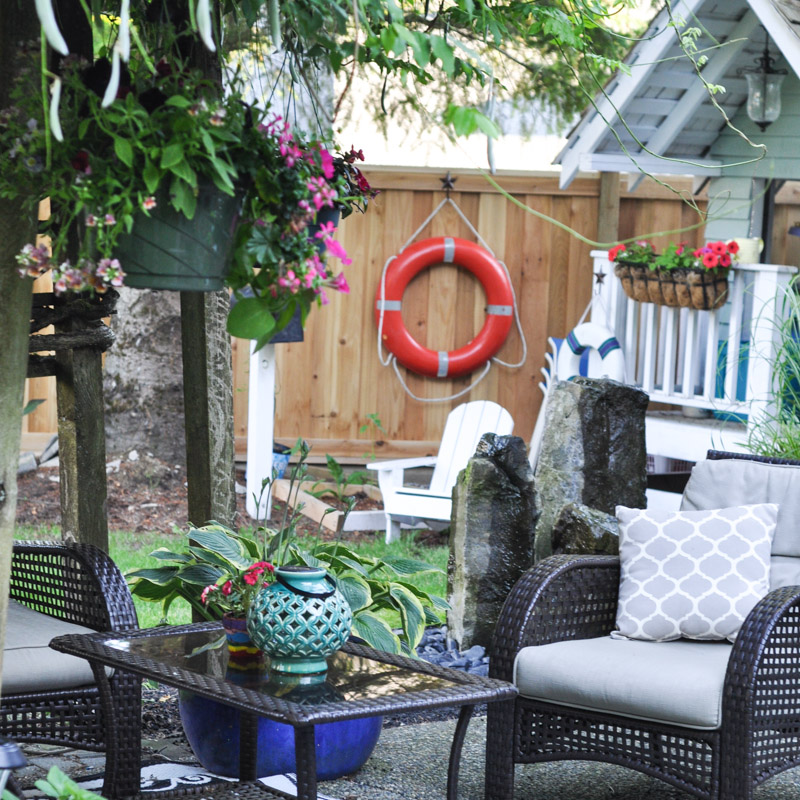 If you look beyond the hosta and the water feature, you'll see that the playhouse/restaurant is open for business!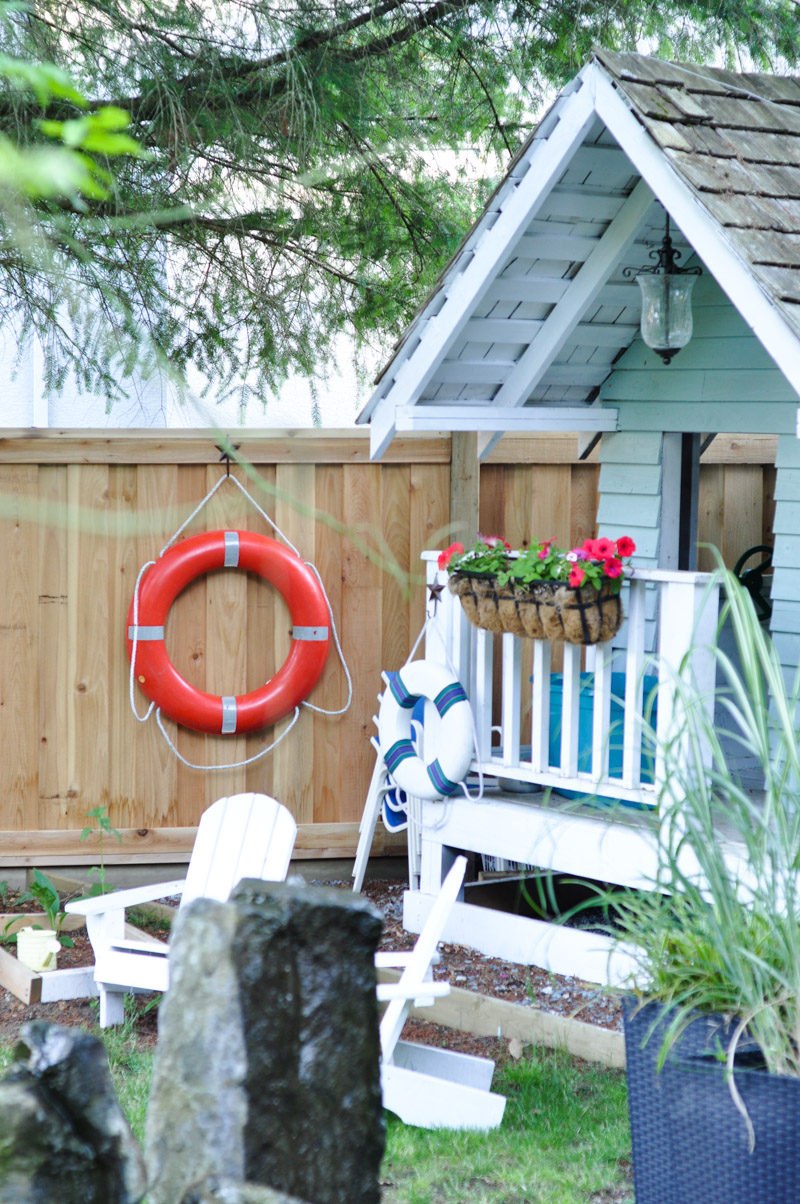 The addition of an old life ring is helping to keep things nautical, like I had imagined, although the girls have yet to turn the playhouse into a boat.
It is almost always a restaurant. No matter what I suggest, they're keen to keep serving mud tea and dirt pizzas forever.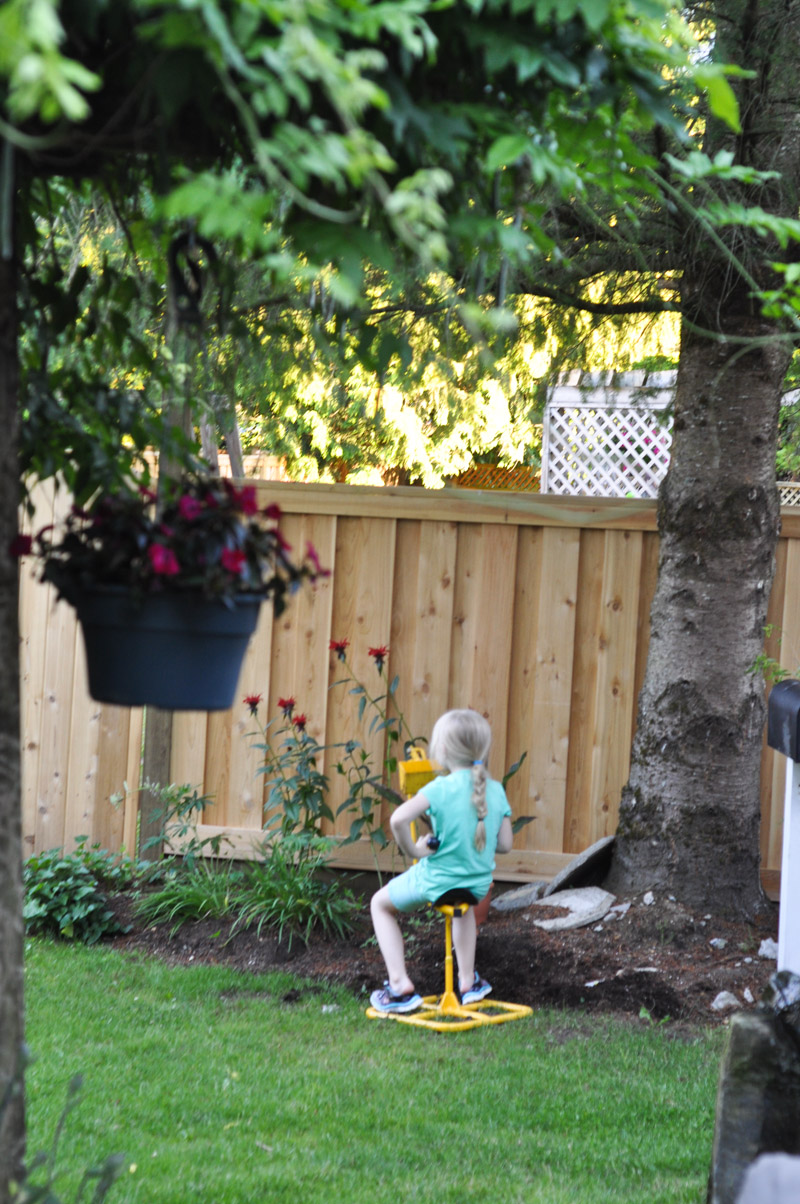 I am going to try to convince Mr. Suburble to put a little sandbox near the "not-a-boat" playhouse this year. You can see a little kiddo digging up the garden with her yellow digger in this sneaky little photo.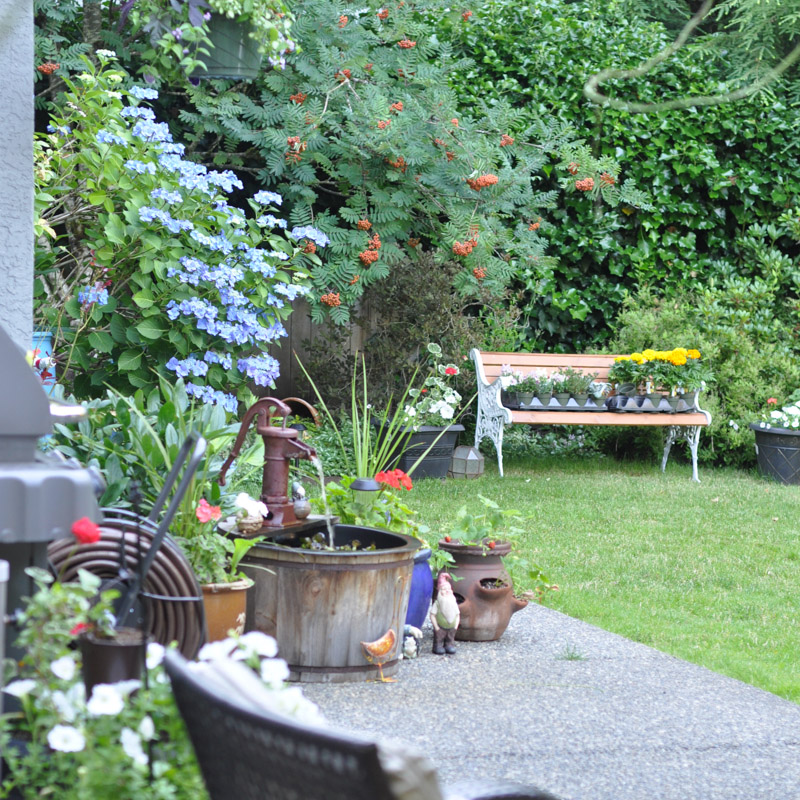 I still have a lot to learn about gardening, and things-having-to-do with flowers. Lots of the existing perennials that were here before us are doing the heavy lifting.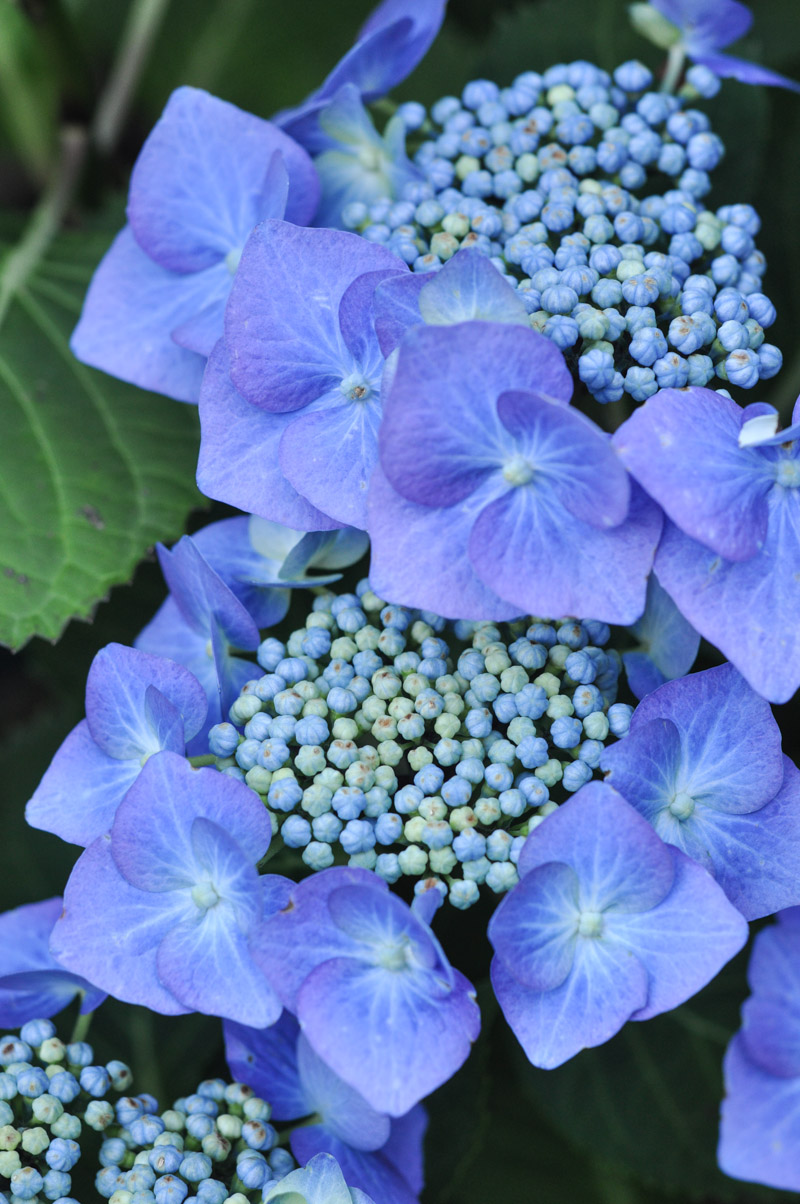 And if someone could teach me how to love lace cap hydrangeas, that would be wonderful. I have two HUGE ones.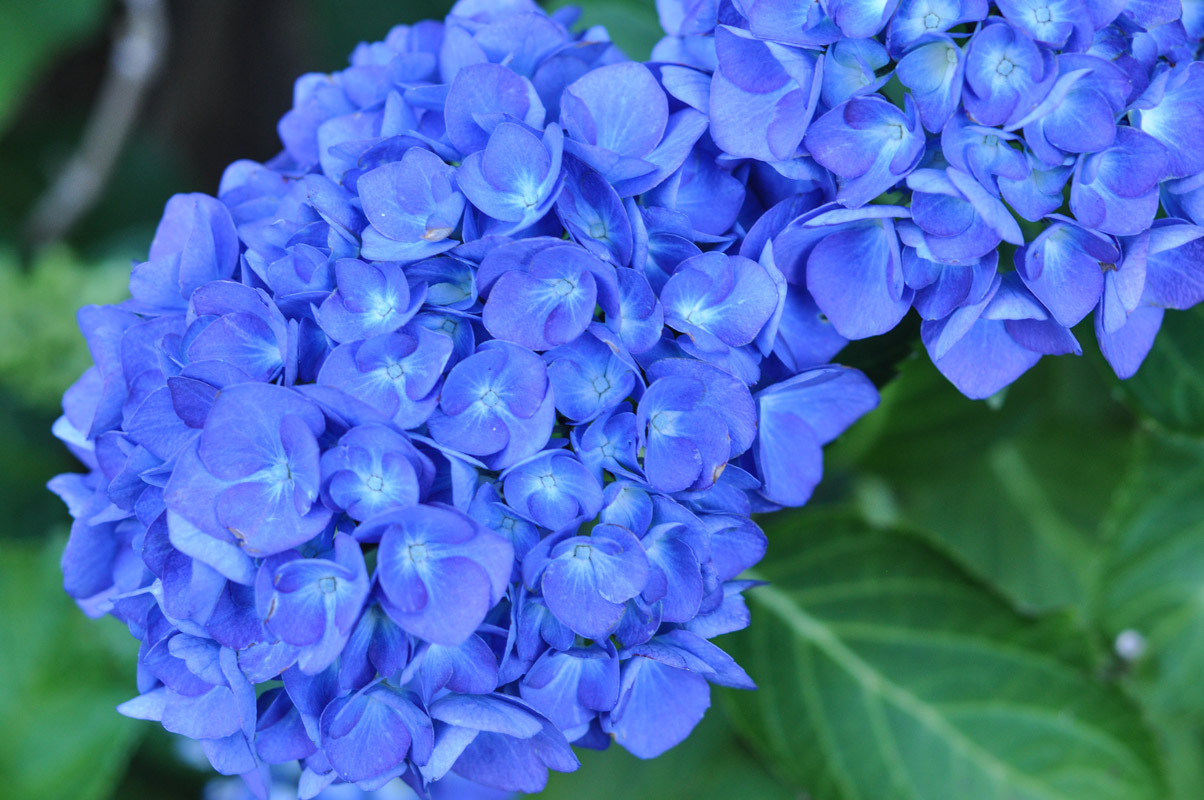 … but just one tiny mophead.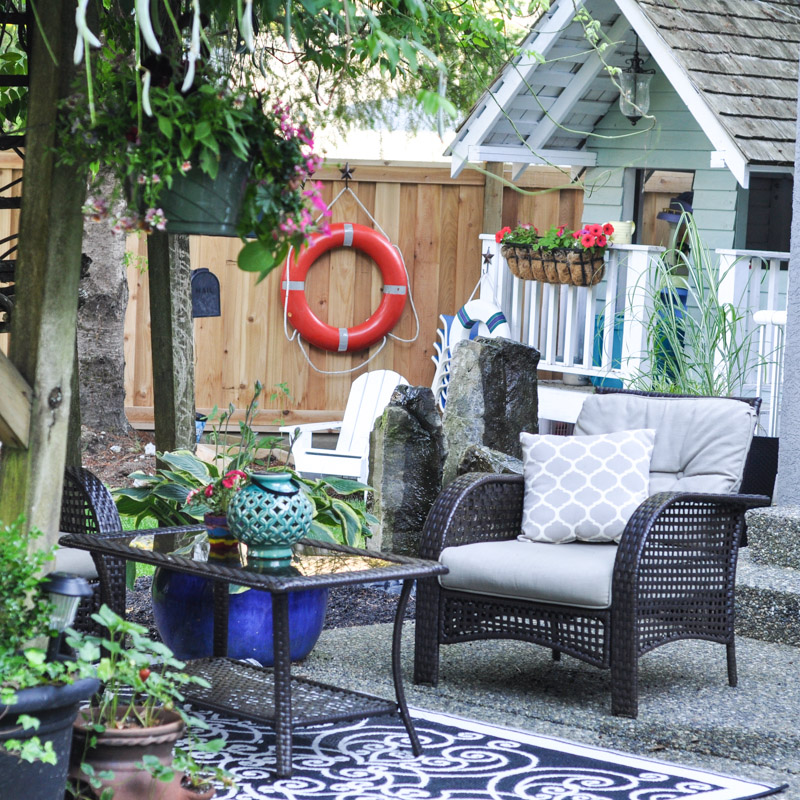 And this is our little backyard retreat. It still has a little ways to go – and I have a LOT to learn – but it's getting there!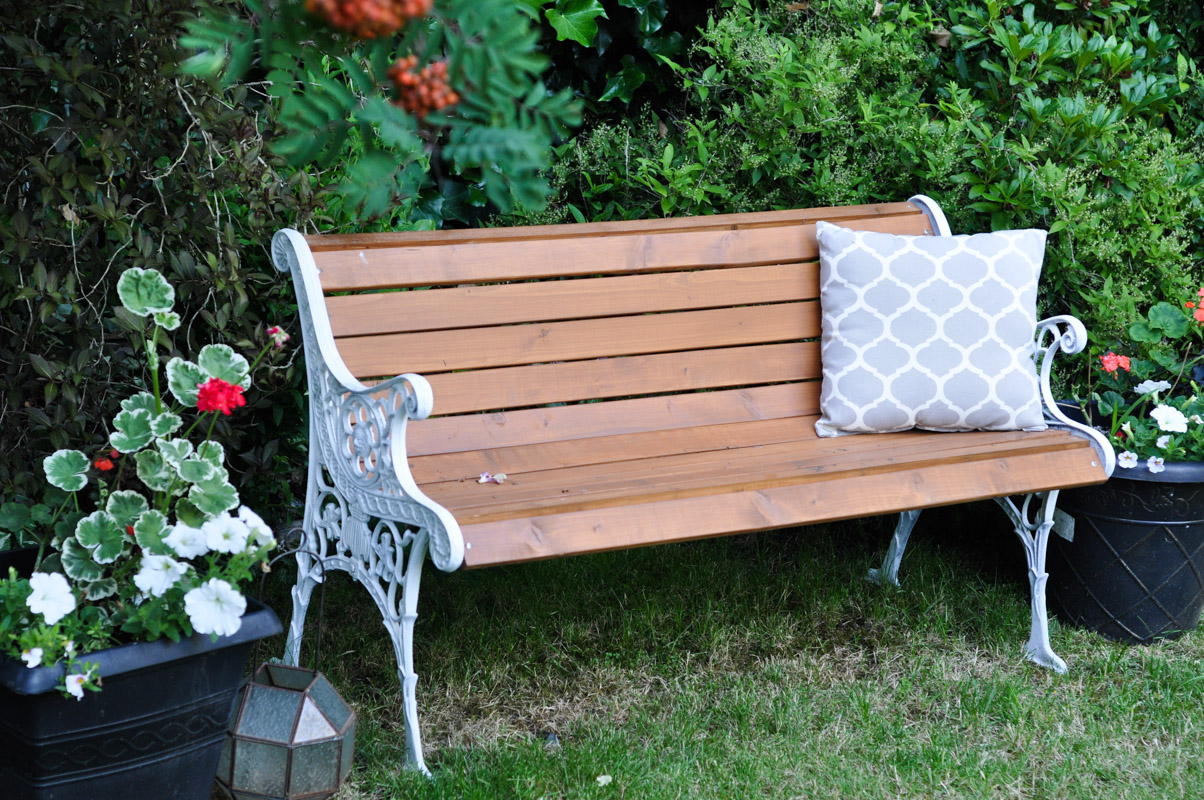 Won't you come and have a cup of tea with me?
(See how I saved this bench from the dump pile here!)
Visit my friends and their spaces, and be inspired!

Come for a drink on Ariel's patio – PMQ for two
Check out Laurie's simple patio upgrades – Vin'yet Etc.
Get a peek into Tara's backyard – Suburble
Andrea shows us how to love our suburban backyards – Personally Andrea
Tour Dannyelle's patio updates – Life is a Party
View Becki's summer deck – The Uncommon Law
View Meredith's balcony patio – Coral & Mint