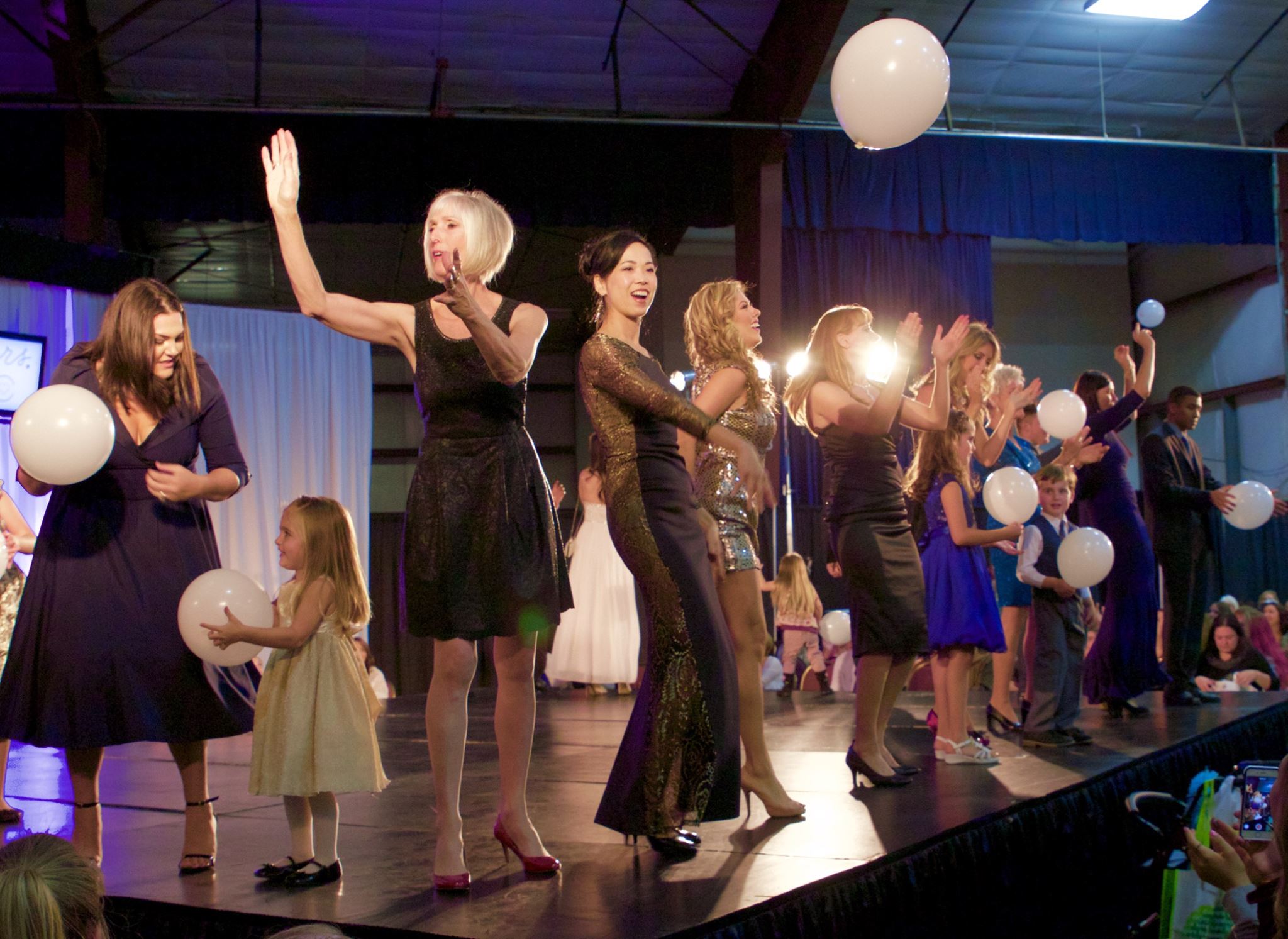 Last year, a group of girls and I hopped into the car on a Friday night and headed towards Abbotsford. What was our destination? The West Coast Women's Show (WCWS), and all of the colourful, tasty, and wonderful smelling booths.
We moved among the crowd of women, stopping at booths that tickled our fancy. There was wine, cheese, cookware, aromatherapy diffusers…
… and paint.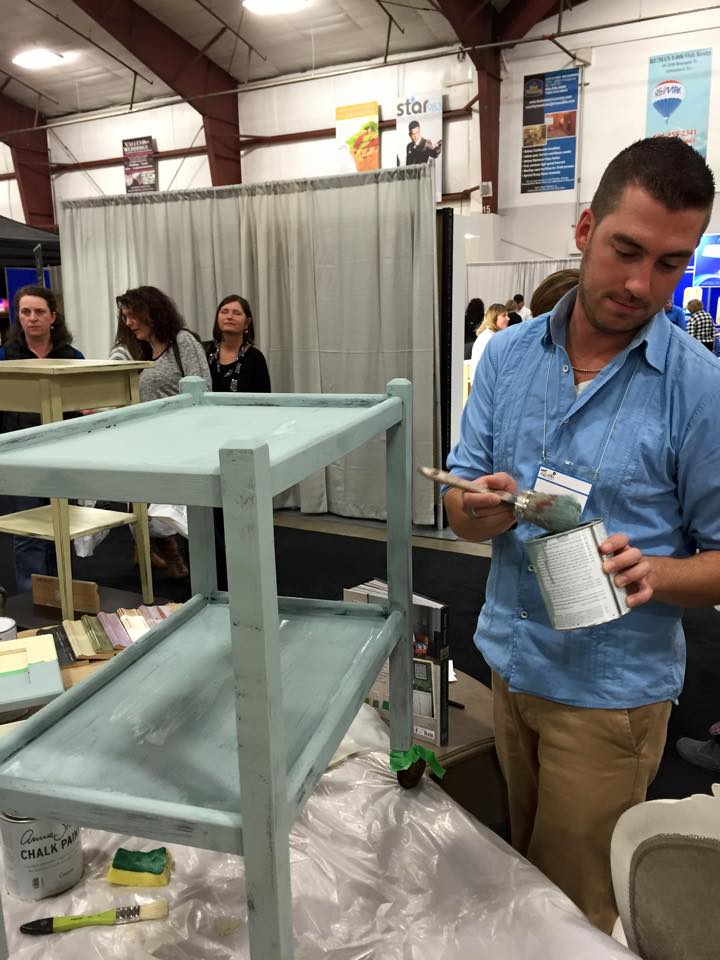 We got caught up at The Passionate Home's booth, where we watched a wet distressed paint tutorial. My girlfriend, Karyn, was keen on painting anything and everything in her house at the time, and so we spent quite a while at that booth.
I bought some organic, locally milled flour from Anita's Organic Mill. We tried samples of food and healthy snacks at the large Nature's Fare "mini-market" that sat in the middle of the convention center. It was there that we found a display of salt lamps.
I'm still kicking myself for not buying one. In fact, all of us girls who are headed back to the WCWS this year have planned to mob that shelf and each get another lamp for herself.
It's about the negative ions, you know.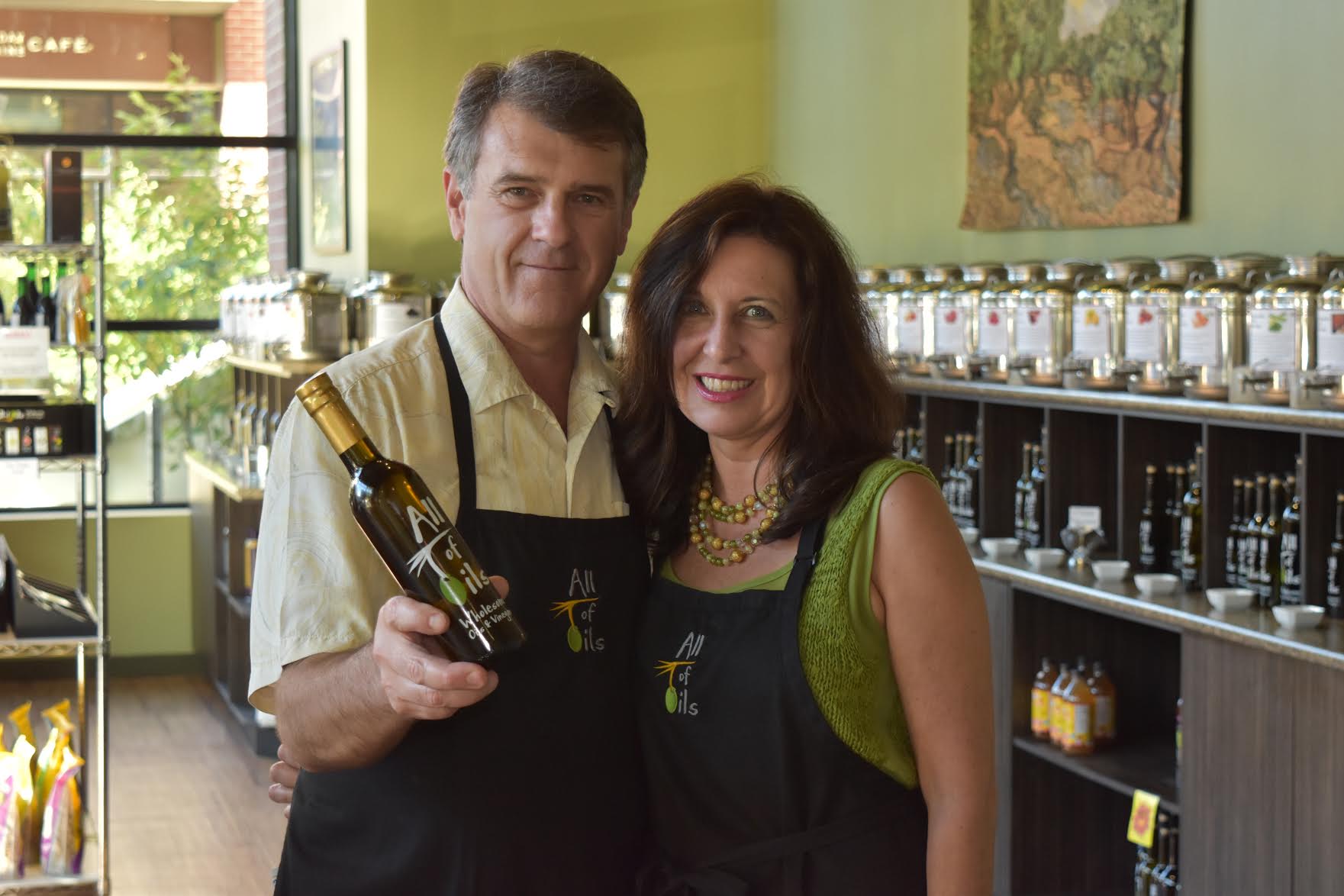 Another one of my favourite booths from last year's show was the All of Oils booth. Yes, the teacher in me loves the pun in the name, but the food aficionado in me loves the flavours of the specialty oils and vinegars offered at this shop. Those in my circle have probably received the gift of a bottle or two of infused vinegar from me. Whether I'm putting it in my fizzy water or drizzling it over my salads and meats, I can't get enough of the stuff.
I had the opportunity to interview Glen, the owner of All of Oils, prior to the big show. Here is our conversation:
What inspired you to get into the Olive Oil business?
Kimm and I got married in Toronto Aug. 25, 2012. My sister came up from PEI and gave us a gift box of flavoured oils and vinegars from one of the stores in our large and growing group of independent stores down there. Like most people who aren't aware of the products we carry, we thought, gee thanks. Then we tasted it. 227 days later we opened our first store in South Surrey, less than 2 years after that, in Langley and this past summer we landed in Abbotsford. The products we get from our main supplier, Veronica Foods Company of Oakland, CA are some of the best in the world. There's nowhere in North America where you can go to get the selection and quality that stores like ours (over 750 now) offer.
Why are you so passionate about oils and vinegars?
The oils and vinegars we sell are not only the best available anywhere, they are extremely healthy and promote healthy eating. They appeal to all ages, incomes and ethnicities. Olive oil has been a staple commodity in Europe for thousands of years and we love being part of the healthy food revolution going on in North America that includes people "re-discovering" this classic food. Since we opened our first store we've met many amazing people who are also passionate about our products and healthy food in general. They have given us so much support in the process of building this business and now we feel even more compelled to keep bringing this great product line-up to as many people as we can.
What makes your oils and vinegars different from those on the grocery store shelves?
That is normally about a 45 minute lecture I don't want to bore you with here but the basic difference is that all our oils are early harvest. Most EVOOs in North America are late harvest. Ripe olives can not produce nearly as much flavour or health benefit as early harvest olives but ripe olives do produce FAR more oil which, because most people do not yet know that difference, allows EVOO producers to make millions more dollars. The other main difference is the chemistry. There is a lot of stuff on our website about this if you care to delve into it but ours ranks above any other standard in the world for EVOO.
All the flavourings in the oils are 100% natural as well.
As for the Balsamic Vinegars, the company that makes them for our supplier is one of the top balsamic companies in the world. They too have all 100% natural flavourings, NO added sugar, preservatives, caramel colouring or anything synthetic what-so-ever. More technical info about our balsamics is also on our website if you're interested.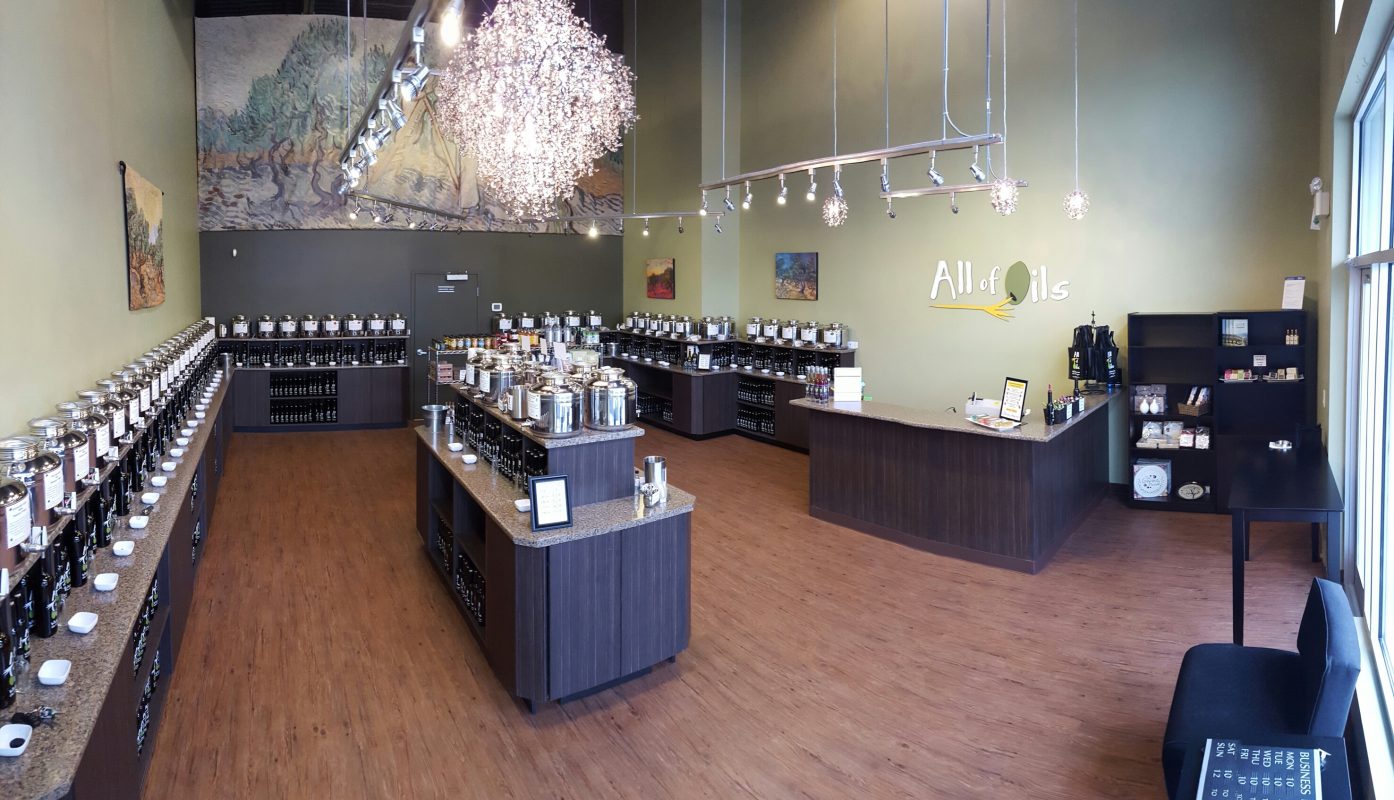 How has your shop, All of Oils, been received by the community?
In Abbotsford, as with our other 2 stores, the response by people finding us for the first time has been phenomenal. Because we are a very specialized, niche company, it takes time for the word to spread through a community. We're confident that as time goes on, Abbotsford's sales will grow as has been proven at our other 2 stores (and the other 750 stores in our group). If you go to Discover Downtown Langley's facebook page, you will see their latest post is a video they produced for us. I encourage you to browse through some of the comments our clients have left. We are very proud of the company we've built so far and are very excited to continue this success in Abbotsford in the coming years.
What sort of excitement can we expect at the All of Oils booth at the WCWS this year?
We're going to have 6 different oil/vinegar combinations to sample and we're going to have the best deals we've ever offered at the WCWS on one of our gift sets. It's always crowded around our booth and the party seems to go on all day and night. We are also going to be offering, for the first time, a fantastic discount coupon to give people even more incentive to come visit us.
I'm so excited to see the bargains that are offered by Glen and his staff at the show; last year I walked away with a big paper bag full of oils.
Of course, once the girls and I leave the the booths with our olive oils and salt lamps in hand, we might wander past the main stage. Speaking of getting oiled up….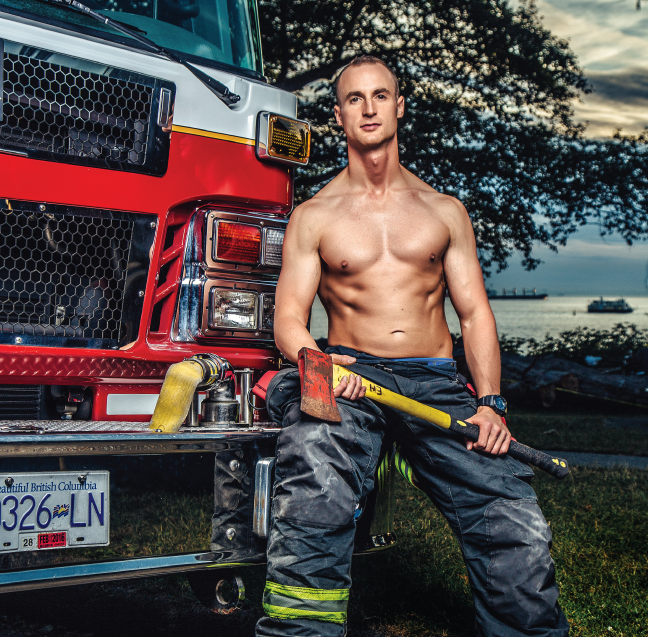 … the Hall of Flame fireman's "fashion show" happens on the main stage around 7pm on Friday and Saturday night.
There is a long list of speakers at the WCWS, and I was lucky enough to connect with Karen Johnson of K'Pure Naturals. She will be appearing on a panel with various other local entrepreneurs to talk about how her company came to be and secrets of her success. We chatted about the birth of her beauty line and some of her favourite products: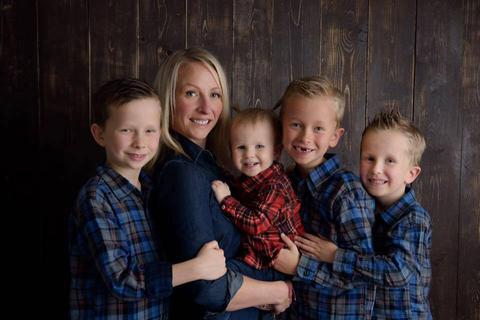 What inspired you to start K'Pure Naturals?
When my third son was a newborn, we discovered that he had high levels of aluminum and plastics in his system. We were shocked as he was exclusively breast fed. The toxins were entering my breastmilk through my body from antiperspirants and commercial body care products. This led me to do my own research and I started making my own deodorant and using coconut oil as a body lotion.
I own a fitness studio and the women who came to my Bootcamp classes started requesting my deodorant. I used them as guinea pigs and developed the current Get Closer deodorant. The original plan was to make it exclusively for the studio, but as the line grew it became K'pure.
Tell me a little bit about your deodorant – what makes it different from the others? How does it work?
This deodorant is different from others in that I stands up to odour and wetness. Most all-natural deodorants only combat odour, but still leave the user with wet pits. Using the fitness studio as a testing ground let me develop a recipe that combats wetness and odour, even during workouts. Antiperspirants work by using chemicals to block the pores. Get Closer uses all-natural and organic ingredients to absorb wetness and kill bacteria that cause odour.
You carry some aromatherapy sprays: tell me a little bit about each blend.
Settle Down is our best selling aromatherapy spray. It is a blend of organic essential, with lavender as the base. Settle Down has people swearing it is a "miracle spray" that gives everyone in the family a good night's sleep. It is safe for babies and moms love to use as part of their baby's bedtime routine.
Keep Going was named after our motto at the studio. This is a favourite during workouts and any time during the day for a pick me up. I keep a big bottle in my glove box for mid-day pick me ups.
Vapo Hug is a soothing, kid-safe blend for colds, flu and congestion. It is eucalyptus and peppermint based.
Time Out was made for the afternoon slump, when it's too late for coffee but too early for wine 😉 this has a hint of almond, blended with bergamot and patchouli.
All aromatherapy blends are made with organic essential oils and include organic witch hazel and coconut oil which make them great as a facial toner.
What can we look forward to seeing at your booth at the WCWS?
Our booth will be stocked with all of our items including our new Comfort Spice blends. We will also have our brand new Serum and Dead Sea Mud masque. Attendees *may* also see an exclusive Women's Show discount.

I'm definitely going to be headed to her booth to check out her deodorant. Finding an effective natural deodorant is a diamond in the rough. I'll be leaving with some Get Closer in my tote bag, that's for sure.
Finally, I cannot wait for the nibbles available at the Canadian Cheese booth. Who can resist a good sampling of cheese?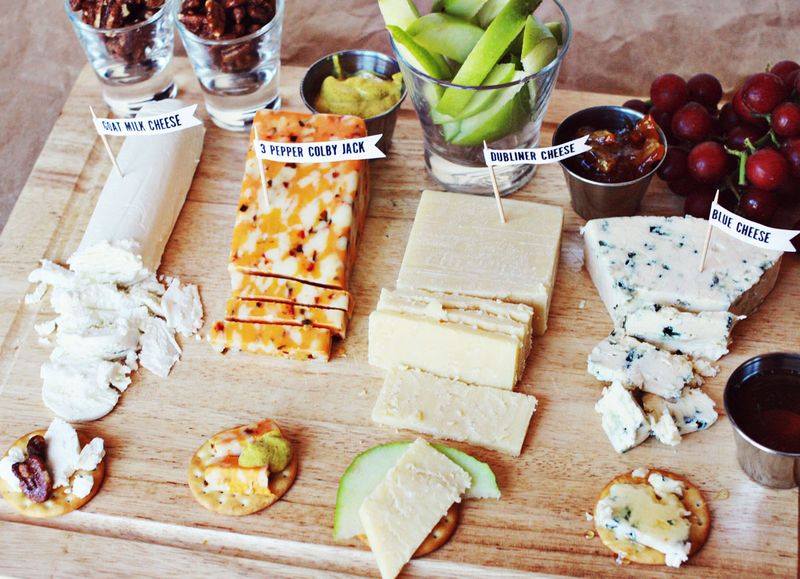 I have a feeling that we'll be spending a lot of time with the wine and cheese – and my gaggle of girls – at the WCWS.
I invite all of my local gals to join me at the West Coast Women's Show for a night of food, drink, amazing products, paint! and more on October 21-23. Buy your tickets online and save $2 per ticket!