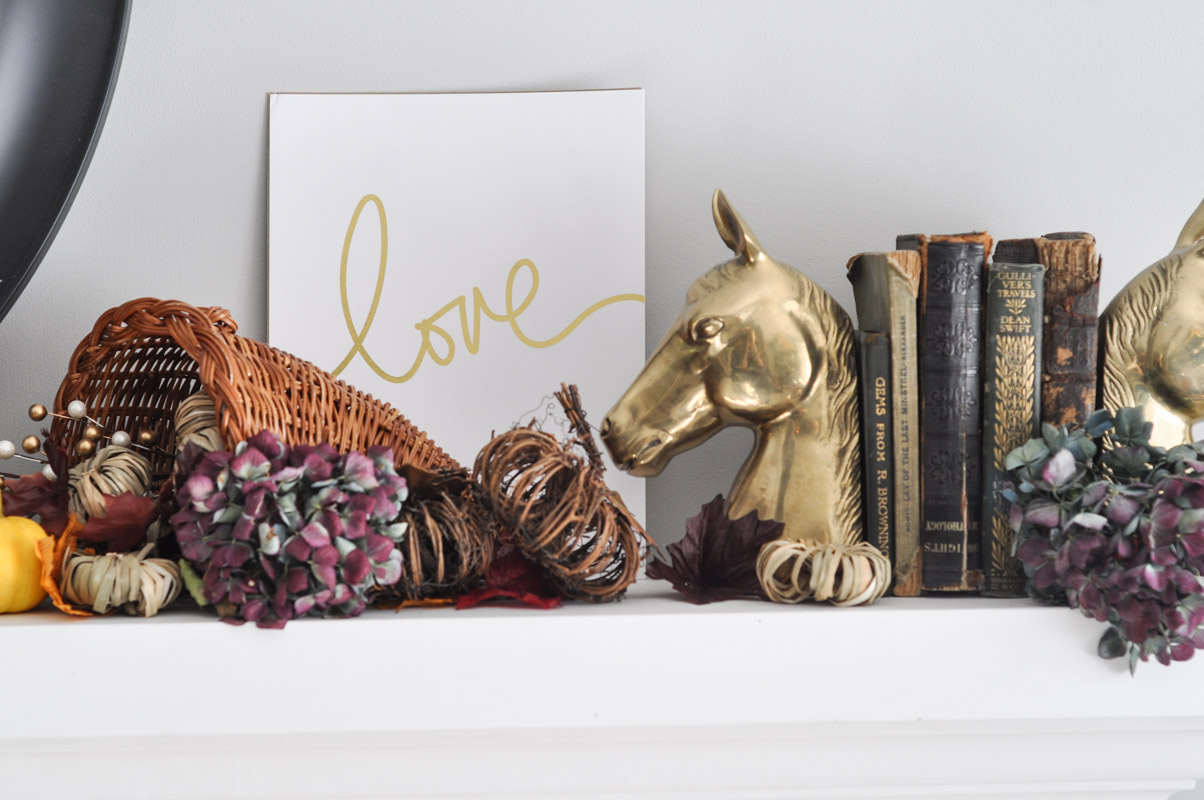 Fall is in the air, as well as in our living room.
When I was given the opportunity to join a gaggle of talented women to show off how we celebrate fall in our homes, I leapt at the chance. Not only did it mean that I got a chance to showcase the tiny pumpkins that I grew (!), but it was also a reason to scour the grocery stores in late September for those very first pumpkins sitting proudly in the sidewalk bins.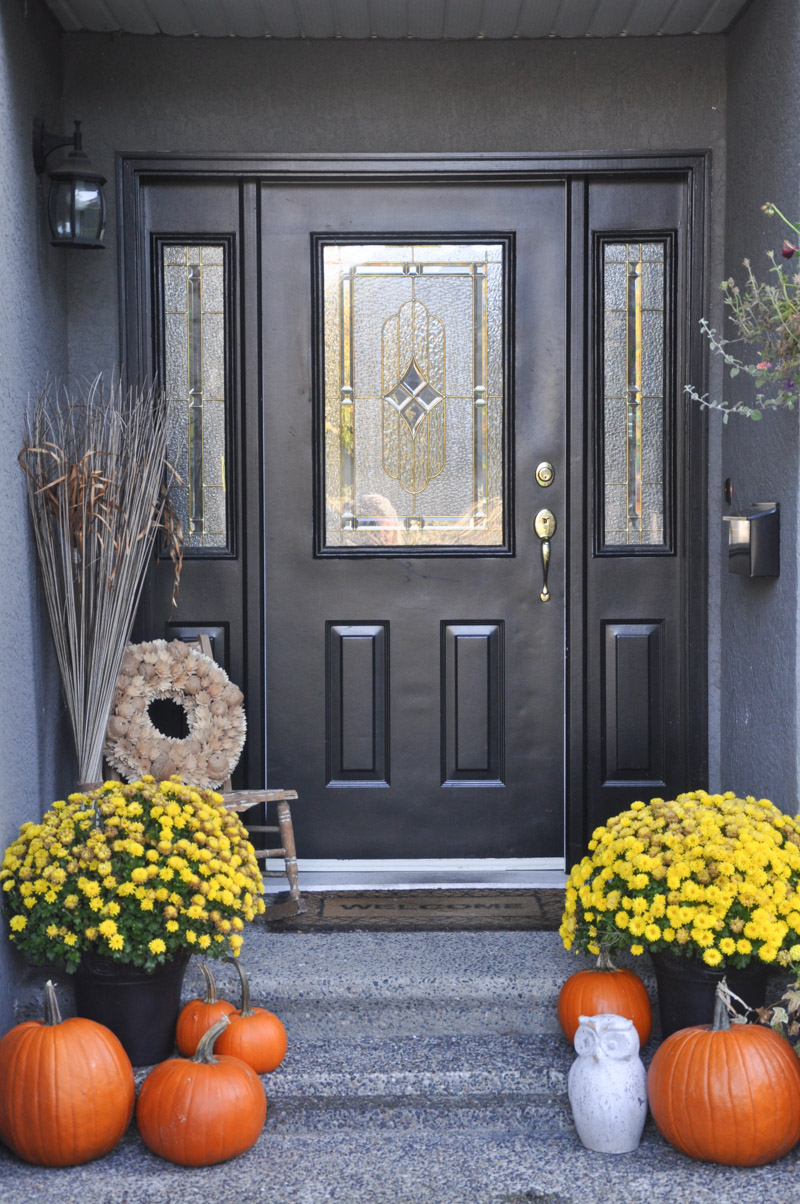 Insert Mr. Suburble's eyeroll right about…. here.
Last year, we had a very hot summer, which meant that a great deal of the pumpkin crop was lost due to early ripening and rot. But this year, we had a lovely summer smattered with both hot and cool days, resulting in a fruitful growing season. And the pumpkins have survived 'til Autumn!
What does this mean for an overzealous gal like myself? It means $3 grocery-store pumpkins that are bigger than my head.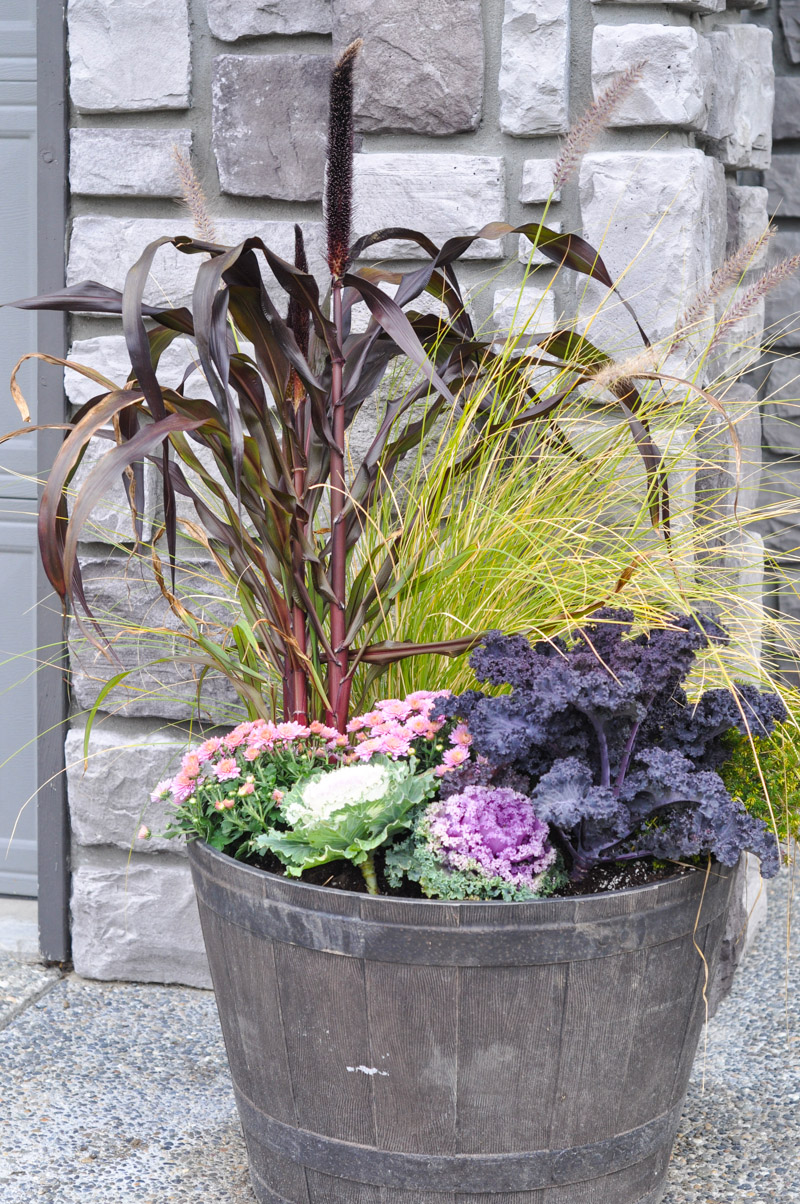 I flanked the entry with two Fall-inspired planters. Rather than continue to nurse along the pathetic marigolds that previously filled these containers, I succumbed to the lure of the nursery.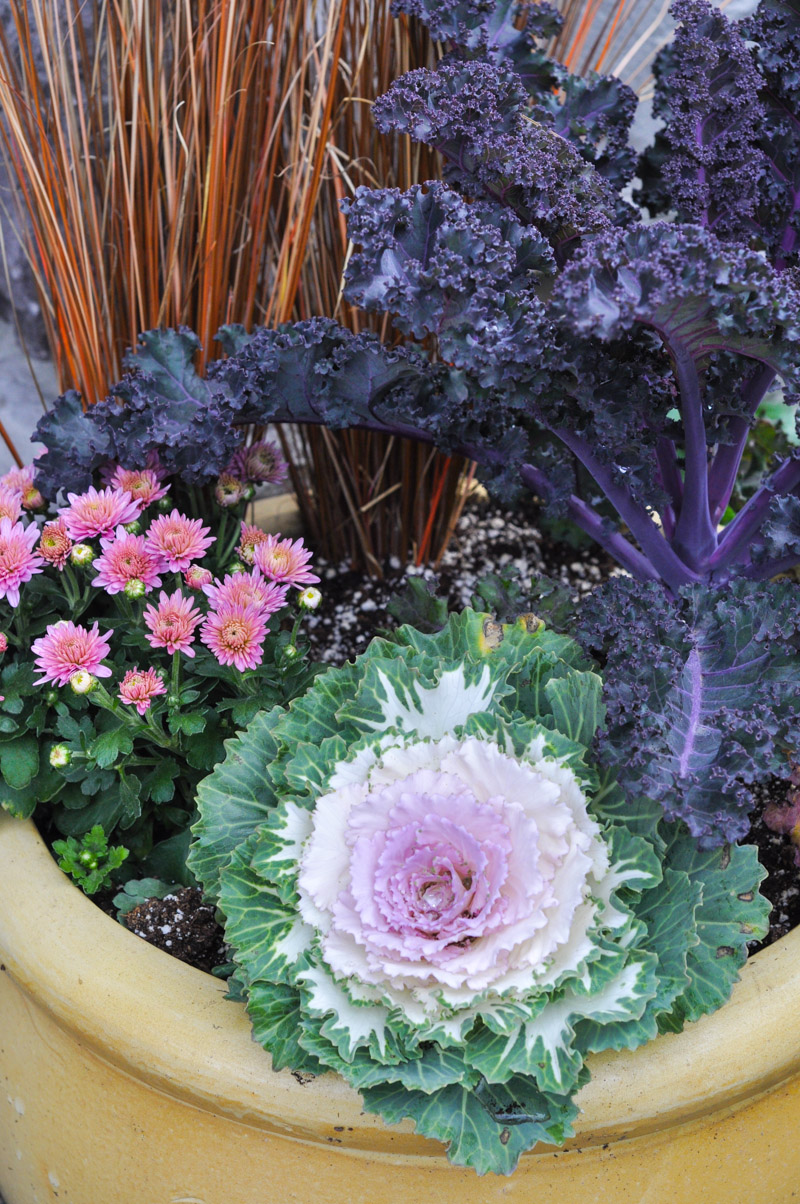 Passing the table of decorative kale and cabbage at the nursery, I couldn't help myself. They had to come home with me.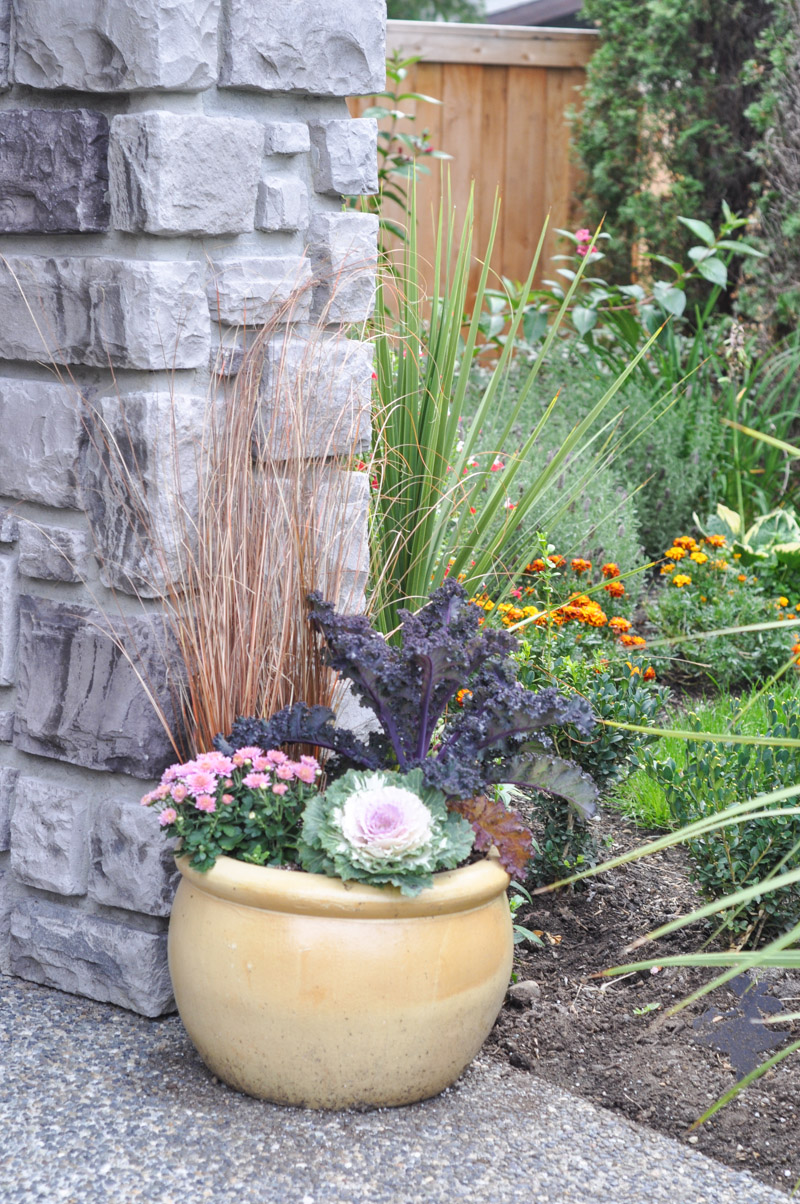 I don't particularly love cabbage to eat, but I find the ornamental version irresistible. I paired it with some deep purple kale and a few tall grasses.
Compared to the sad-sack marigolds that previously lived here a week ago, this is a vast improvement.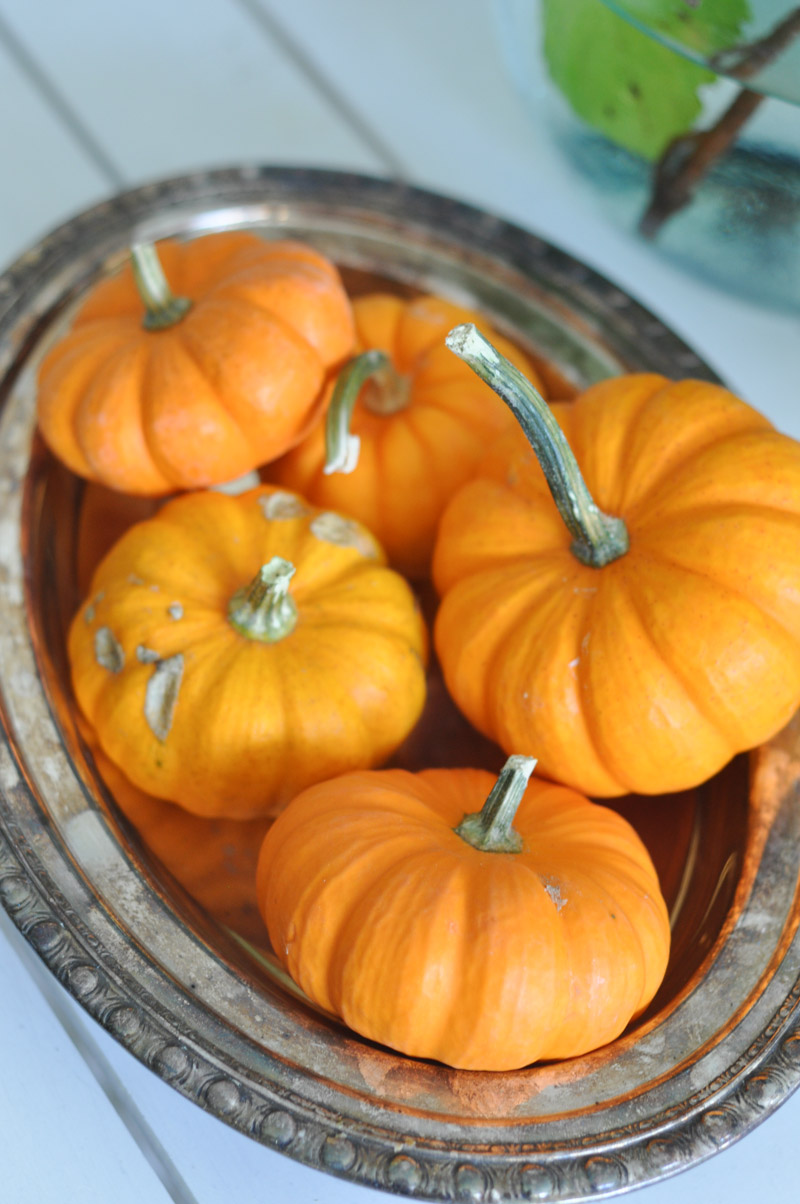 Indoors, I'm showing off my green thumb just a wee little bit. The impulse purchase of a miniature-pumpkin vine this summer has paid off in spades.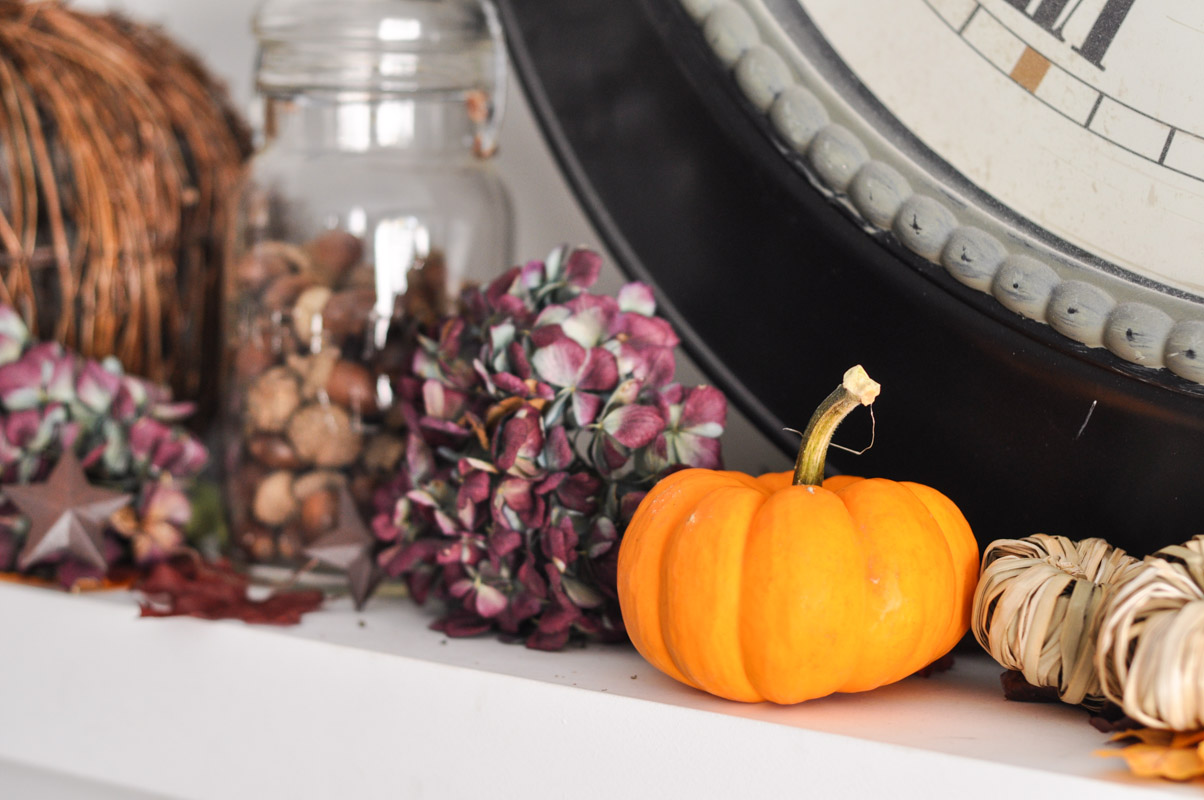 Some of my pumpkins are a bit scarred, and others are picture-perfect. That aside, these teensy pumpkins more than make up for the insanely-invasive vine that crept into nearly every bed of my garden.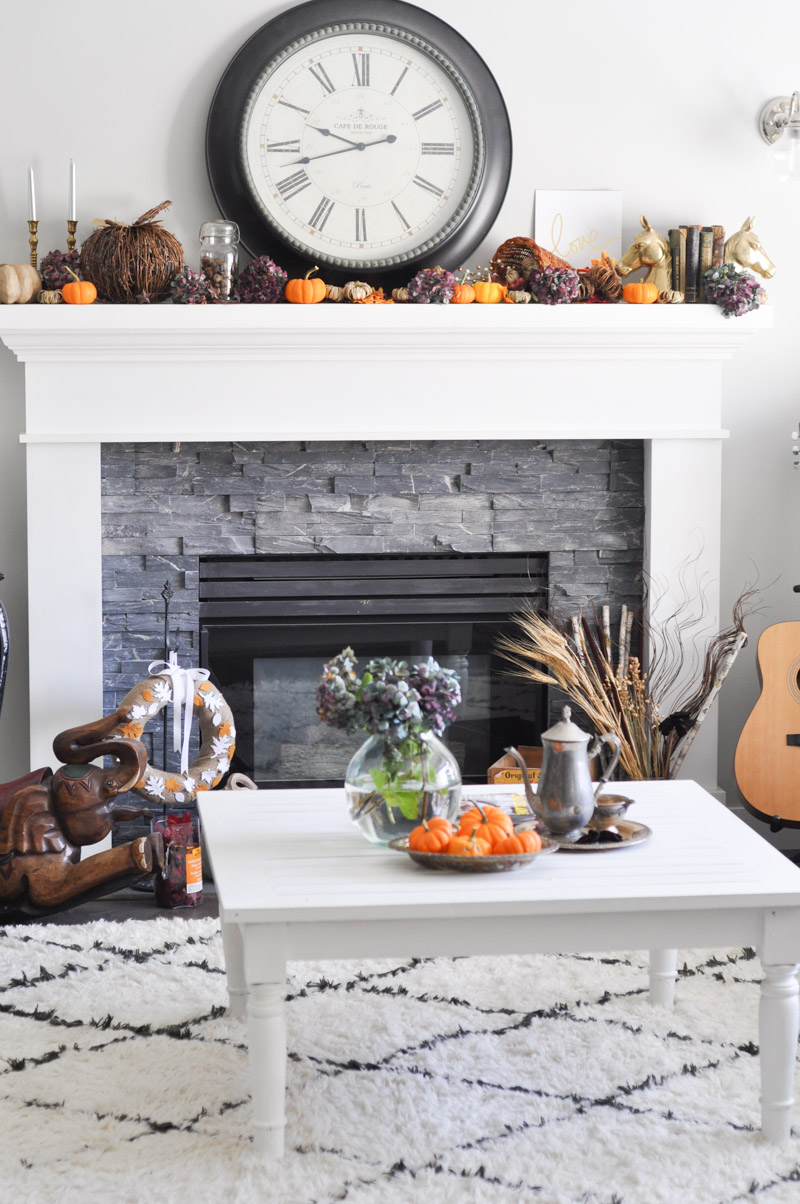 Our mantel was gussied with our pumpkin harvest and clusters of dried hydrangeas from the garden.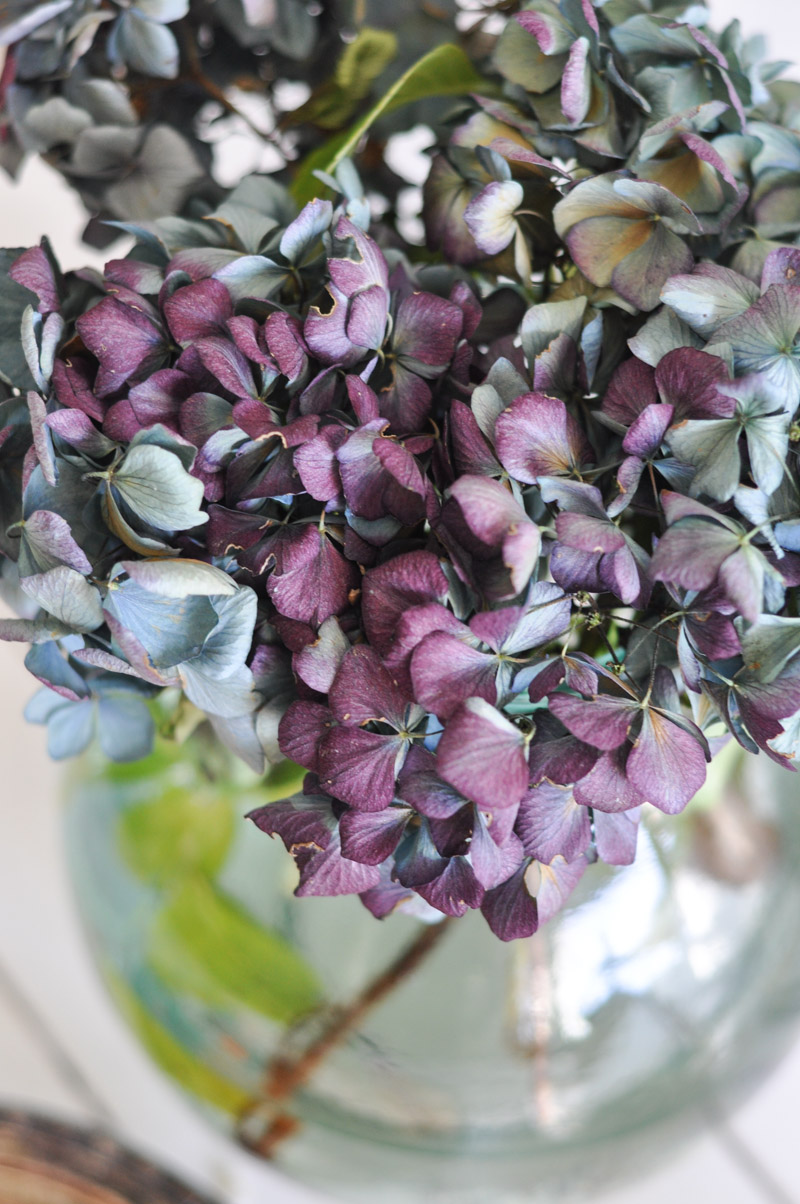 I have no shame. I pillaged the bush. I figure that we spend less time outdoors now that the weather has changed… might as well bring these colours inside!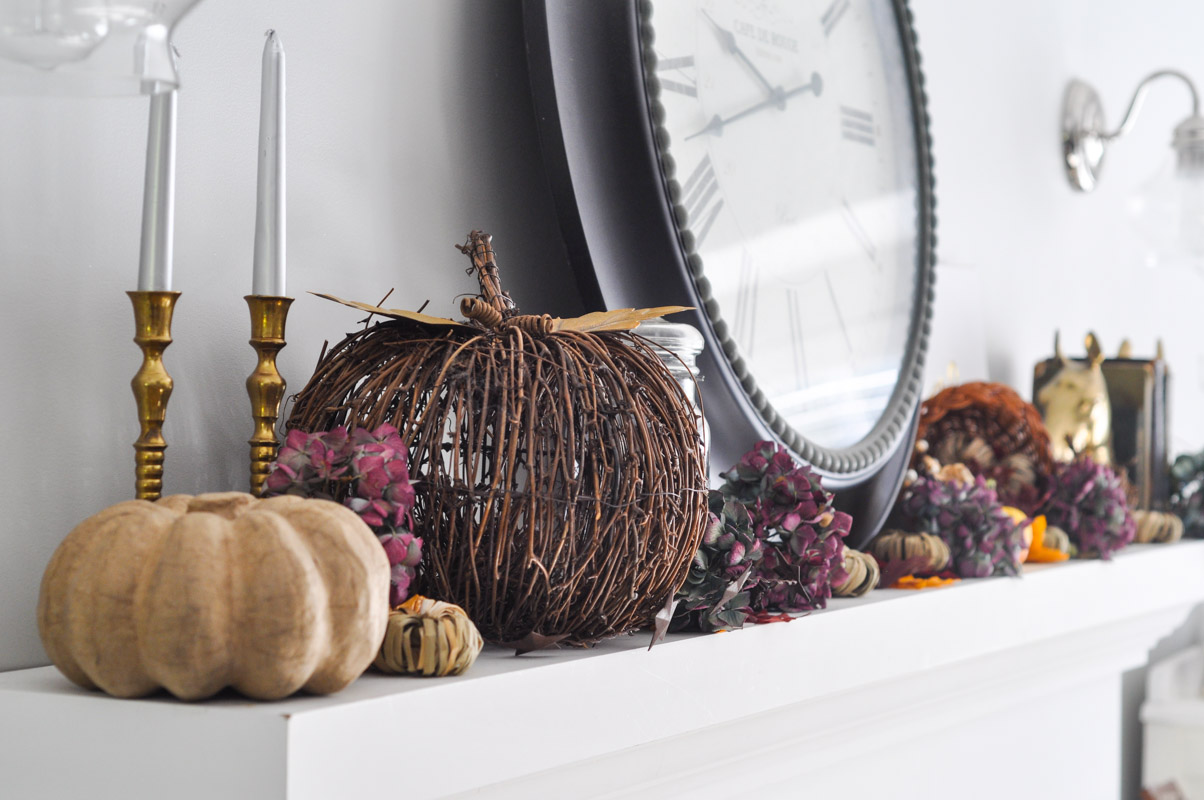 This twig pumpkin gets far more compliments than I anticipated. Its had pride of place on my mantel for two years now, and I can't imagine what will oust it.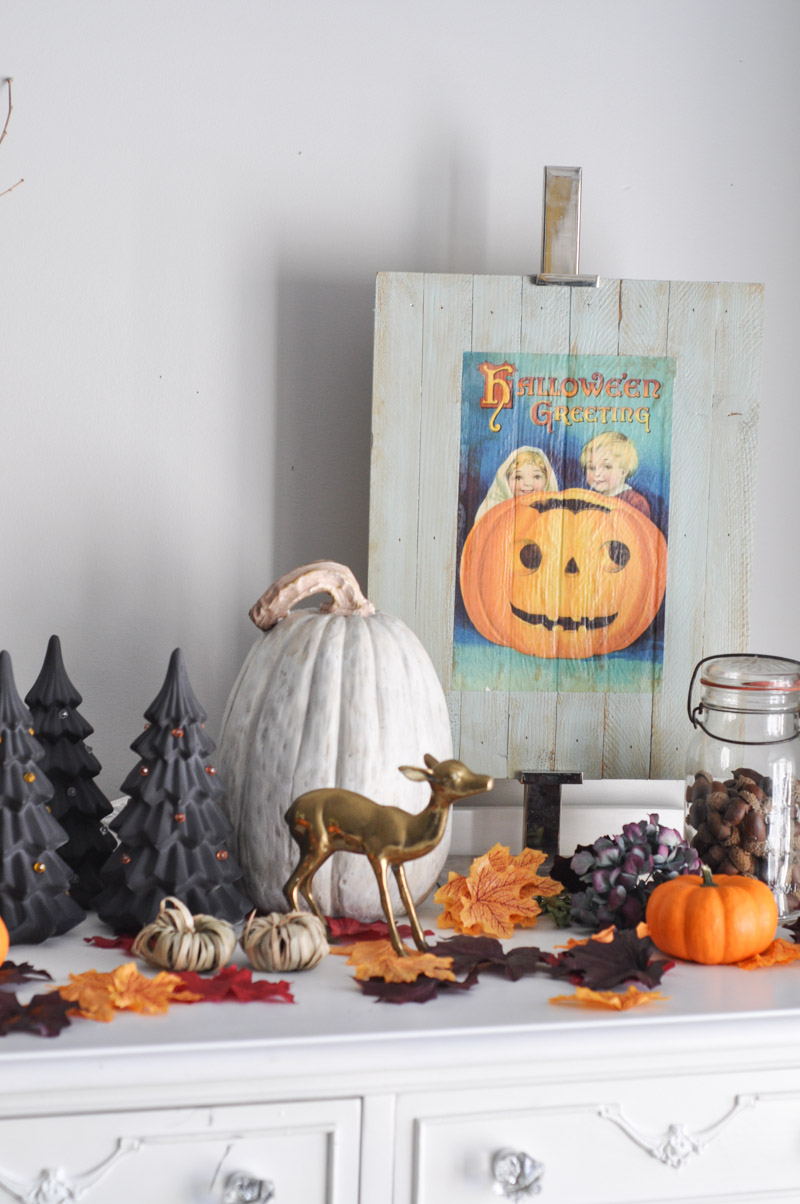 When I brought home (or bribed Mr. Suburble to bring home) this old dresser, I plunked it into the living room for storage.
And then it grew roots and had to live there forevermore.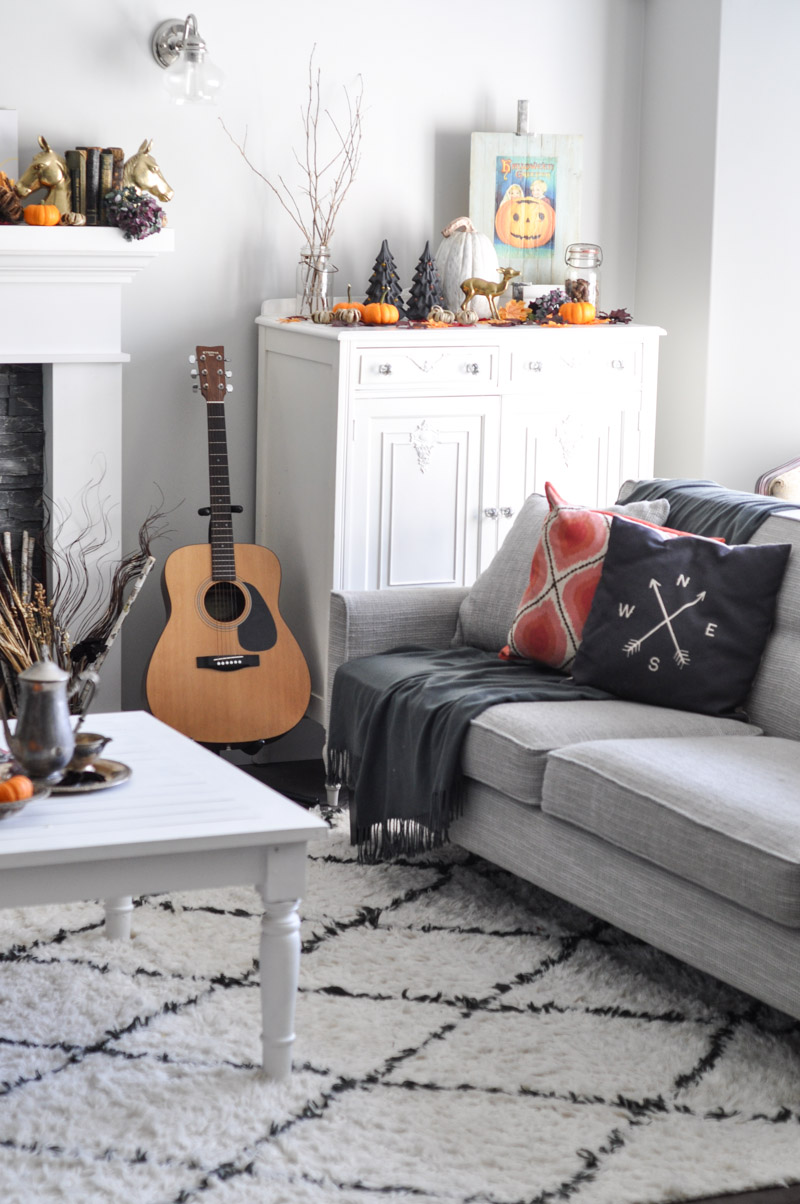 At least, that's what I tell Mr. Suburble. Currently, it shows off a vignette of my "Halloween trees" – painted black, of course – and a sign made from a fabulous free printable from The Graphics Fairy.
I've grown accustomed to dressing up the dresser. Even though Mr. Suburble occasionally huffs and puffs about a "crowded room", I am decidedly in favour of the coziness…. and the decorating potential.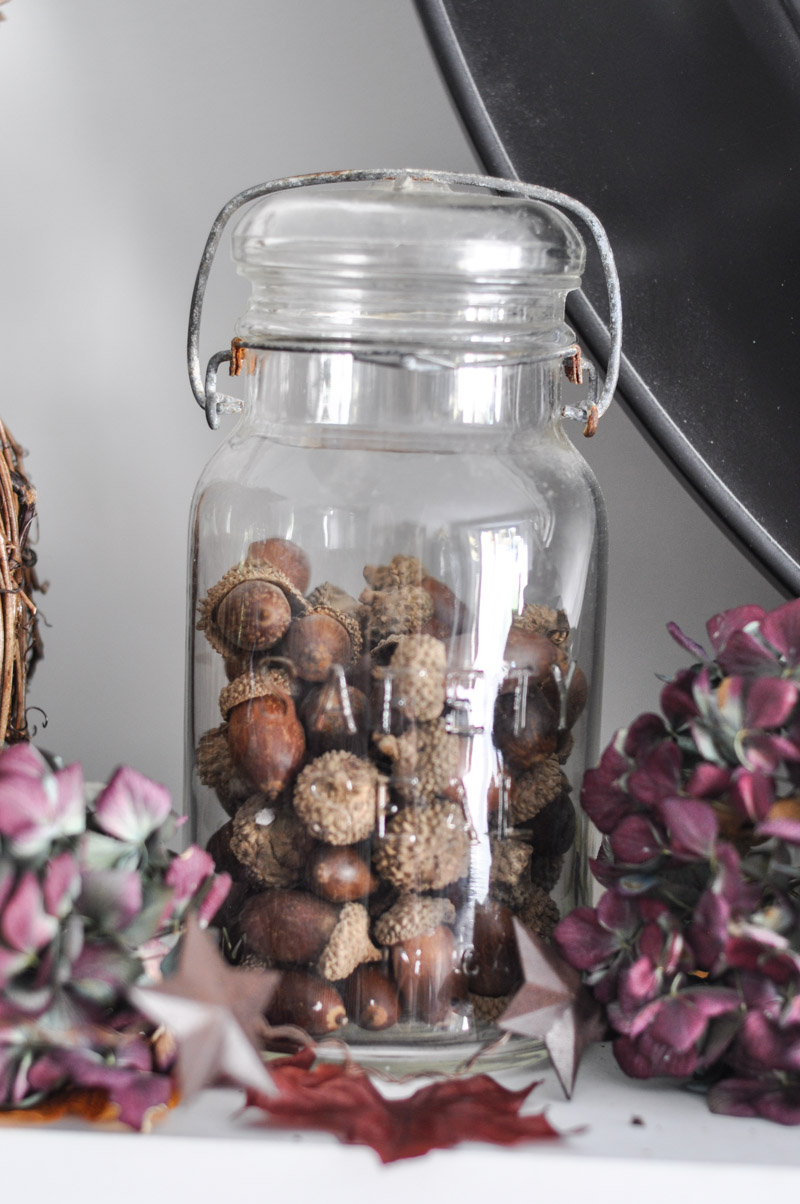 In these vintage jars – purchased at a garage sale by my generous, and not-loving-of-vintage-things, mother – I house faux acorns.
Once upon a last Autumn, I diligently picked up little acorns from beneath a large Garry Oak tree. I had nearly two yogurt containers worth and a sore lower back.
And while I left them out in the backyard before I could properly cook them in the oven to rid them of whatever weird bugs they might be harbouring, some jerk squirrel came and tossed them all over the backyard.
Now I'm decidedly in favour of fake acorns. They have less bugs and squirrel germs than the real deal.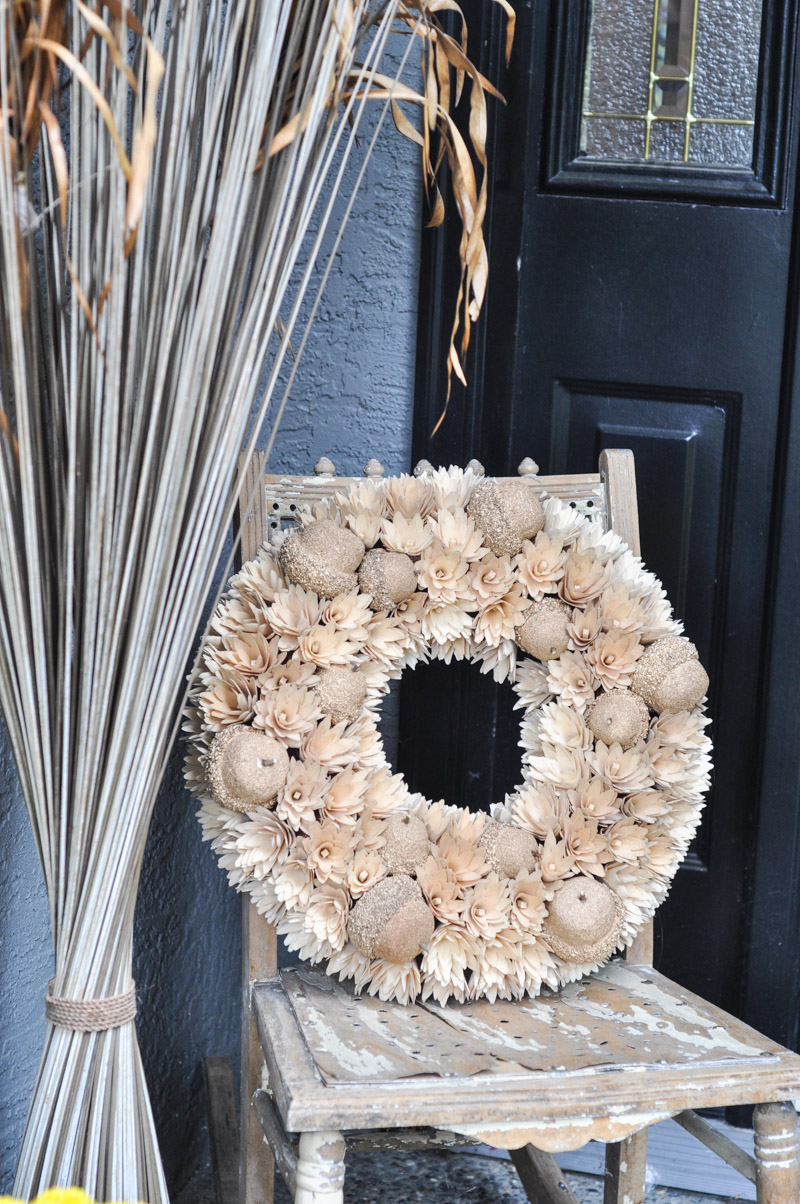 And before you leave… I want to share a story about this wreath and its incredible hardiness.
The wreath is made of wood, and it immediately caught my eye as I was wandering the loud and colourful aisles of Home Sense. In between brightly coloured orange wreaths full of glittered berries and pumpkins was this neutral wonder.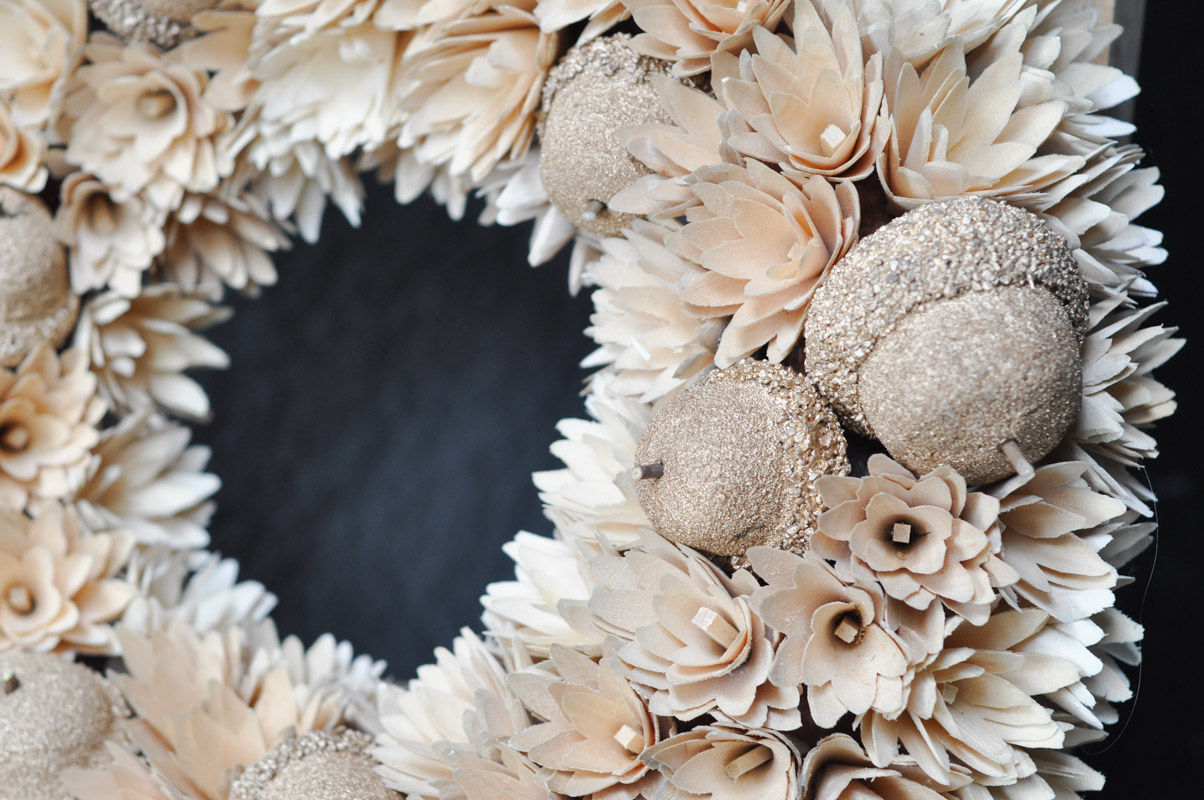 When the cashier wrapped it up for me, he paused and took in the small layered flowers. "Well this is a nice change. I'm glad they're choosing classy over tacky when it comes to wreaths."
I laughed out loud and clutched my wreath even closer as I walked out the door.
Thinking myself oh-so-clever, I attached the wreath to my front door using some Command hooks.
Oh, look at me, I can suspend wreaths in mid-air.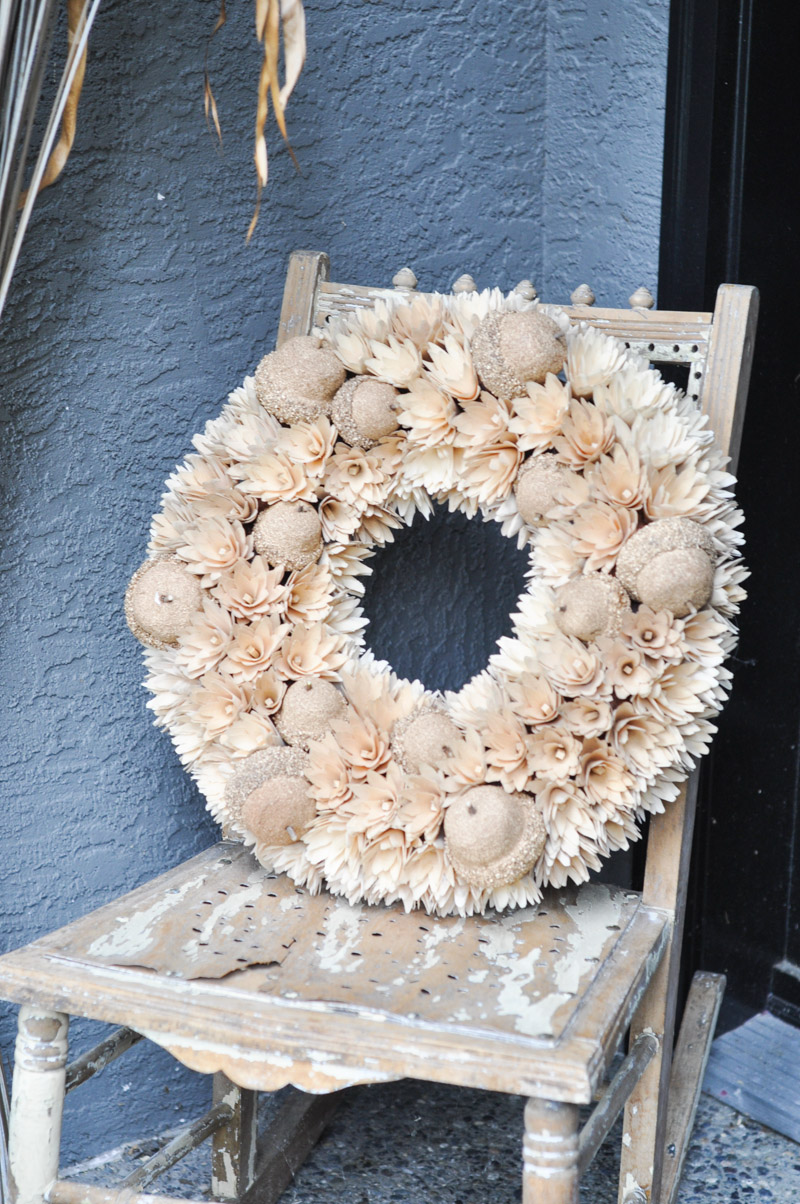 … until I opened the door to find it face-down on the mat.
Ah well, maybe those hooks weren't strong enough. I had another set in my junk drawer and pressed down extra-firmly on the door glass.
Then the wreath fell again. This time, it smashed a wooden flower and threw my hands up in exasperation. Dangling wreaths are for fancy people.
Cracked and broken wreaths just aren't classy. Ask the Home Sense guy.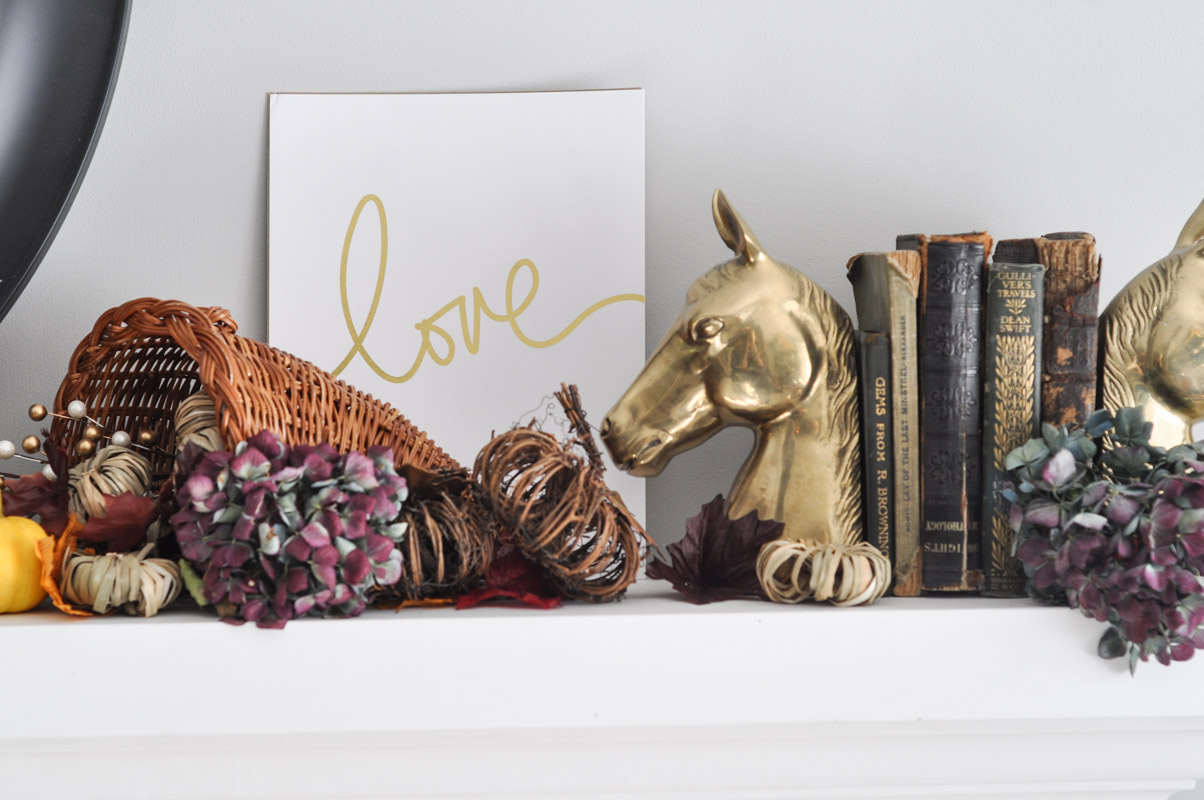 Thank you for taking a little visit in our home today. I hope that if anything, I've encouraged you to run out to the grocery store and get those early pumpkins. Draw out the season and sprinkle a few leaves on your mantel.
It's time to get cozy.
Don't forget to visit the other talented Canadian bloggers participating in the Fall Home Tour!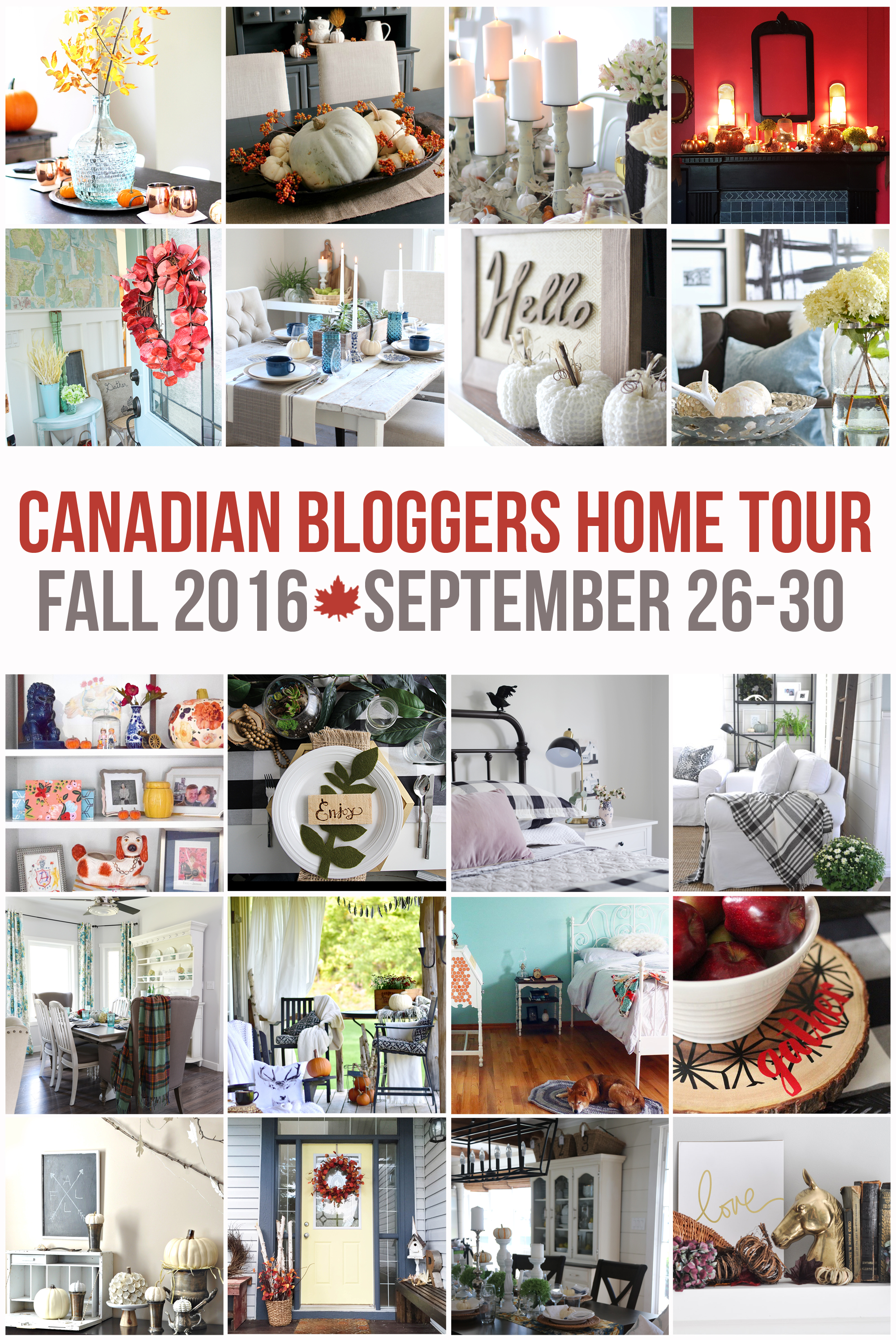 Monday
Northern Style Exposure
Clean and Scentsible
Amidst the Chaos
Heather In Heels
Tuesday
The Happy Housie
Satori Design for Living
Love Create Celebrate
A Pop of Pretty
Wednesday
PMQ for Two
Brooklyn Berry Designs
Rambling Renovators
Kim Power Style
Thursday
The DIY Mommy
Vin'yet Etc.
Home To Heather
Fresh Crush
Friday
Life is a Party
A Pretty Life
This Little Estate
Suburble