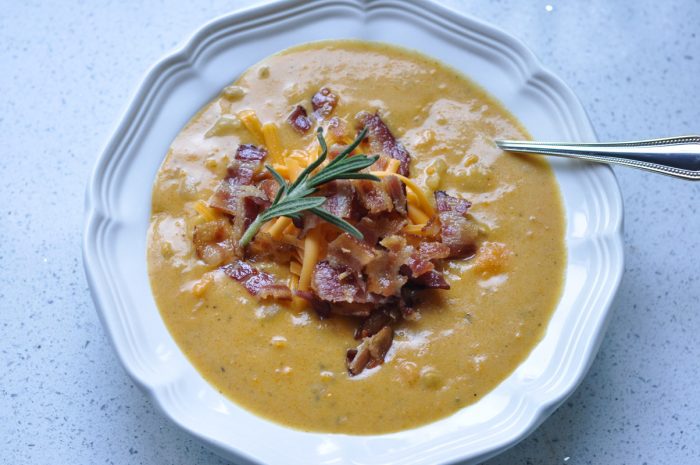 Why did I buy you?
This soup happened because of four little sweet potatoes that were sitting on my counter. I had put them into my shopping basket without really thinking about how I was going to use them. This sometimes happens to me in the produce section. I'll be standing at the checkout and realize that I've bought something completely random, like three Thai red chilis or a container of sliced mushrooms and think, "Am I blacking out while I shop? What am I going to do with this stuff?"
The sweet-potatoes-with-no-plans were gathered up while I was prepping a recipe for our Slow Cooker blog hop. I figured that they'd get along just fine with the garden variety potatoes I was peeling. Along with 10 other fabulous bloggers, I am sharing a crock pot friendly recipe in order to start getting ourselves ready for the crispy fall weather.
In our house, slow cookers have proven to be quite helpful with the insanity that is the fall schedule. Getting dinner ready becomes priority #23 when you're hollering at your kids to get their skates/piano book/cleats/etc so that you can finally leave, for the love of Pete.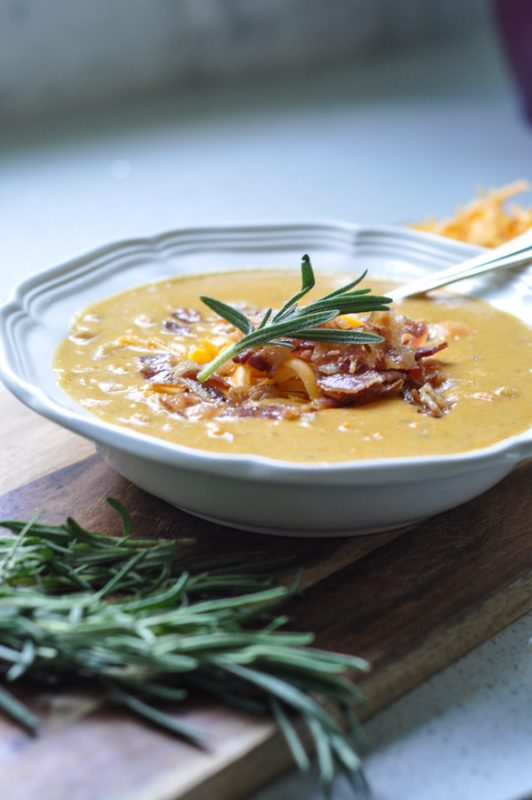 The sweet potatoes were joined by cheese and bacon for this soup. Also, Frank and his hot sauce joined the party, too. It's really just a giant pot of comfort that I chucked into the crockpot.
Feel free to throw some chopped broccoli in at the last minute if you're hankering for something green.
Sweet Potato and Bacon Soup
Ingredients
4 medium sweet potatoes, peeled and chopped into 1" chunks
4 medium baking potatoes, peeled and chopped into 1" chunks
4 cups of chicken stock
3 cloves of garlic, minced
Salt and pepper to taste
1 cup heavy cream
2-3 tsp Frank's Red Hot (or other favourite hot sauce)
3 cups of shredded sharp cheddar cheese
1 pkg of bacon, cooked
Rosemary and extra shredded cheese for garnish

optional
Instructions
In a crockpot, place the potatoes, chicken stock, garlic and salt in pepper in the insert
Cook on low for 6-8 hours
20 min before serving, place bacon on lined baking sheet and cook in 400 degree oven for 15 minutes, or until desired crispiness is reached, place to the side to cool then crumble
Using an immersion blender, puree only some of the soup, leaving about half of the big potato chunks in the soup.
Add cream and cheese to crockpot, stir until cheese is melted and let cook for 5-10 more minutes.
Add hot sauce to taste (I like at least 3 tsps, but feel free to add more or less)
Serve soup topped with crumbled bacon, a small handful of shredded cheese and a sprig of rosemary.
Enjoy!
https://www.suburble.com/2017/09/sweet-potato-bacon-soup.html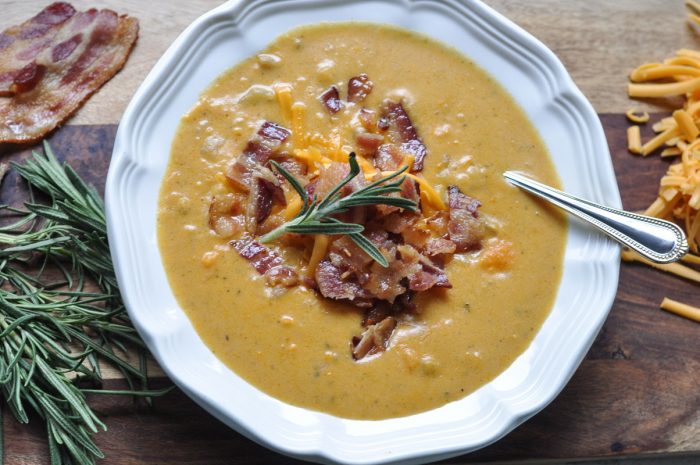 This recipe does really well for leftovers, and it was a big hit with Mr. Suburble, which says a LOT. Soup is a hit-or-miss meal for him, especially if it's got any sort of puree going on. I only half-pureed the soup with my immersion blender and left lots of chunky potato bits in it. For some reason, his brain seems to think that chunks = full, and puree = appetizer.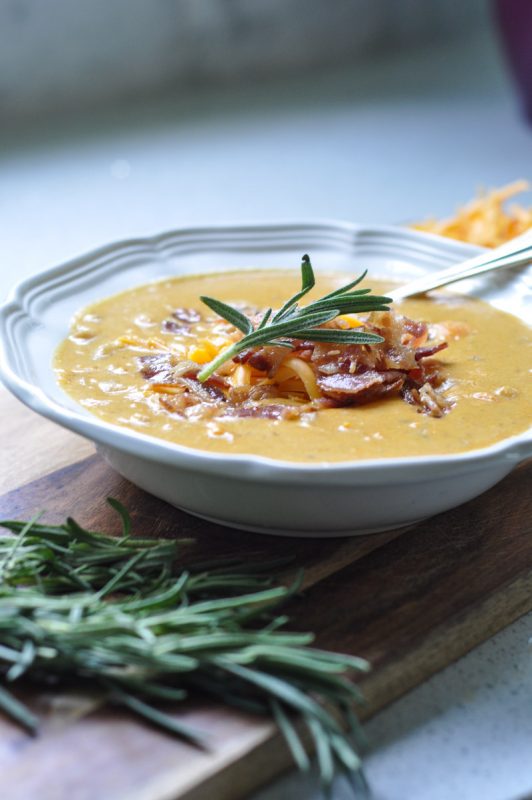 I know that this is going to be a repeated recipe in our house – especially as the days get shorter and more rainy. Hearty soups feed the soul.
Before you rush out to buy your bacon and sweet potatoes, check out these other great slow cooker recipes from these 10 fantastic Canadian bloggers! Visit them, bookmark them, pin them – add them to your must-make lists!
These Slow Cooker Recipes Are Not To Be Missed!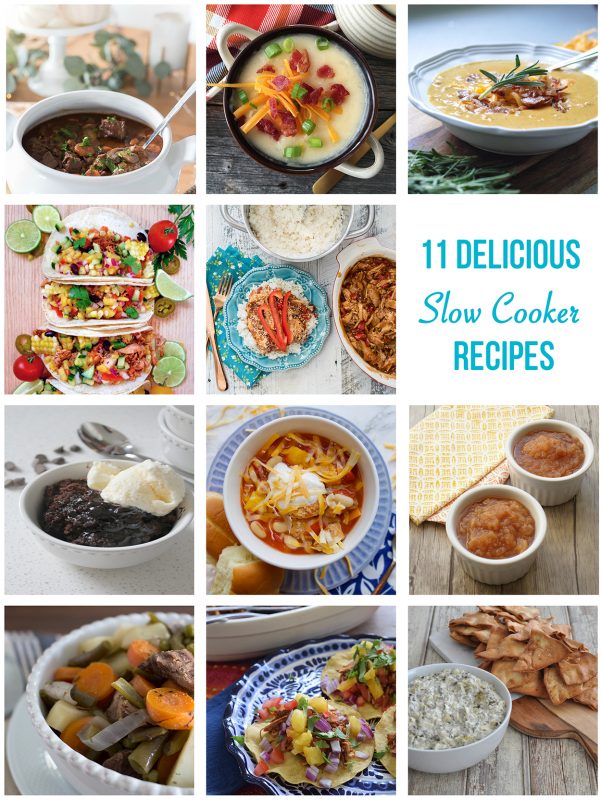 Slow Cooker Beef Bourguignon by Kim of Kim Power Style
Slow Cooker Loaded Baked Potato Soup by Jo-Anna of A Pretty Life
Cheesy Sweet Potato and Bacon Soup by Tara of Suburble
Weight Watchers Crock Pot Chicken Tacos by Virginia of Fynes Designs
Slow Cooker Honey Garlic Chicken with Peppers by Christina of The DIY Mommy
Slow Cooker Hot Fudge Cake by Kendra of Joy In Our Home
Slow Cooker Chicken Fajita Chili by Christine of Amidst the Chaos
Slow Cooker Apple Sauce by Jen of Kitchen Counter Chronicles
Slow Cooker Beef Stew by Shannon of AKA Design
Mexican Pulled Pork by Sarah of Flourish & Knot
Slow Cooker Spinach and Artichoke Dip by Dannyelle of Life is a Party