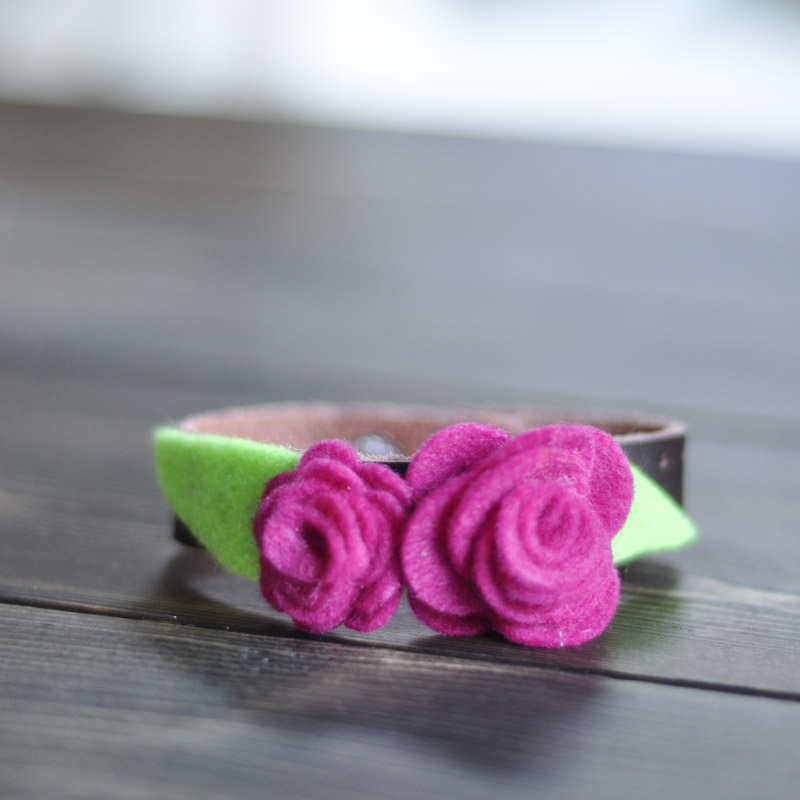 Every time I pick up a piece of felt, I immediately think back to my very first "sewing class".
I was 8 years old, in second grade, and I joined the sewing club. I excitedly brought home my supply list to my mother. One of the projects was making a heart-shaped pillow from two pieces of red felt.
For some reason, that pillow has stuck in my memory. It might be because I was given a real-live-needle, and without hovering supervision at that! Or it could be because it was my first fabric project; I was immensely proud of the pillow and its cattywampus stitching. I think I kept it until I was in my early teens.
When I picked out some pieces of felt for the cuff I'm sharing today, I remembered that silly pillow and my clumsy 8 year old hands.
I love felt. It's so thick, bright, and easy to work with.
It's the perfect fabric for a fun cuff for a child – or an adult – to wear.
To make a felt flower corsage cuff, you will need:
Sizzix BIGKick (or BigShot)
Sizzix 3D Flowers Bigz cutting die
Felt in various colours
Plain leather cuff
Scissors
Glue gun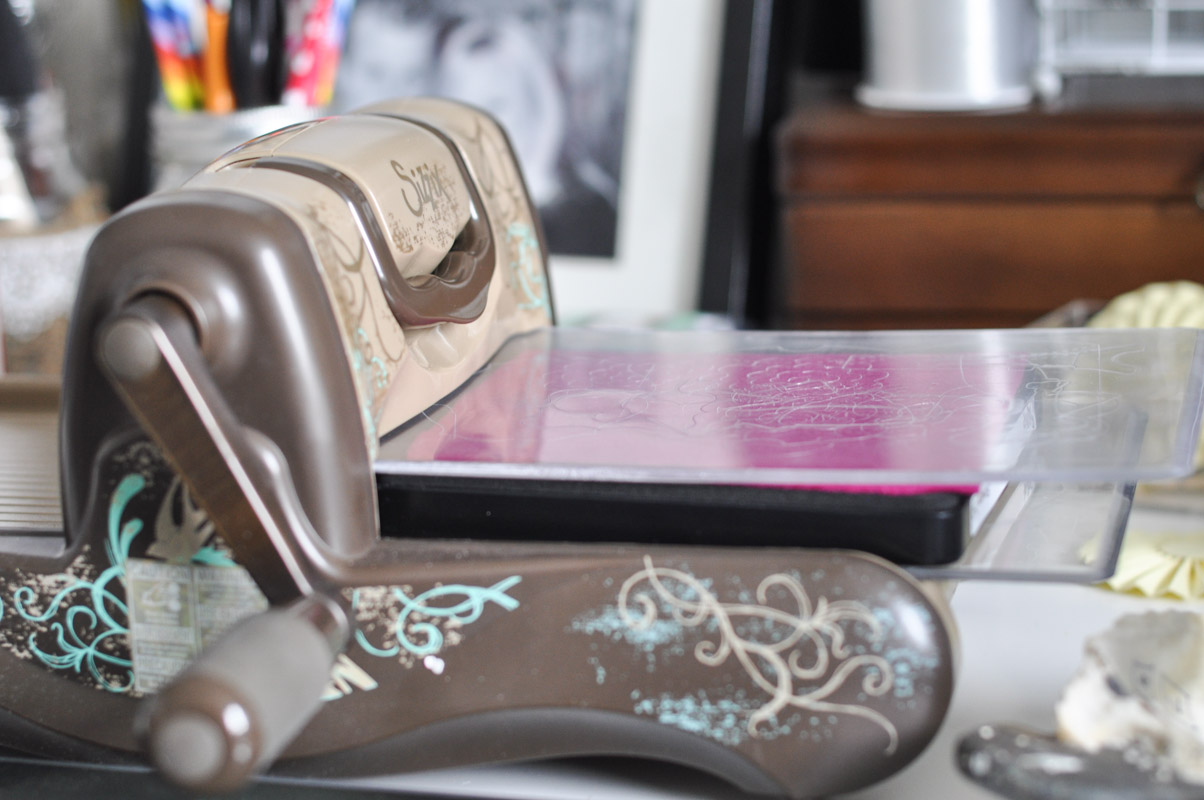 I used my Sizzix BIGKick to create the felt roses for this piece. Cutting felt has typically been left up to my scissors in the past, but the BIGkick has the beefiness to cut through this thick material – and cleanly.
I used the Sizzix Bigz 3-D flowers die to quickly cut out my shapes.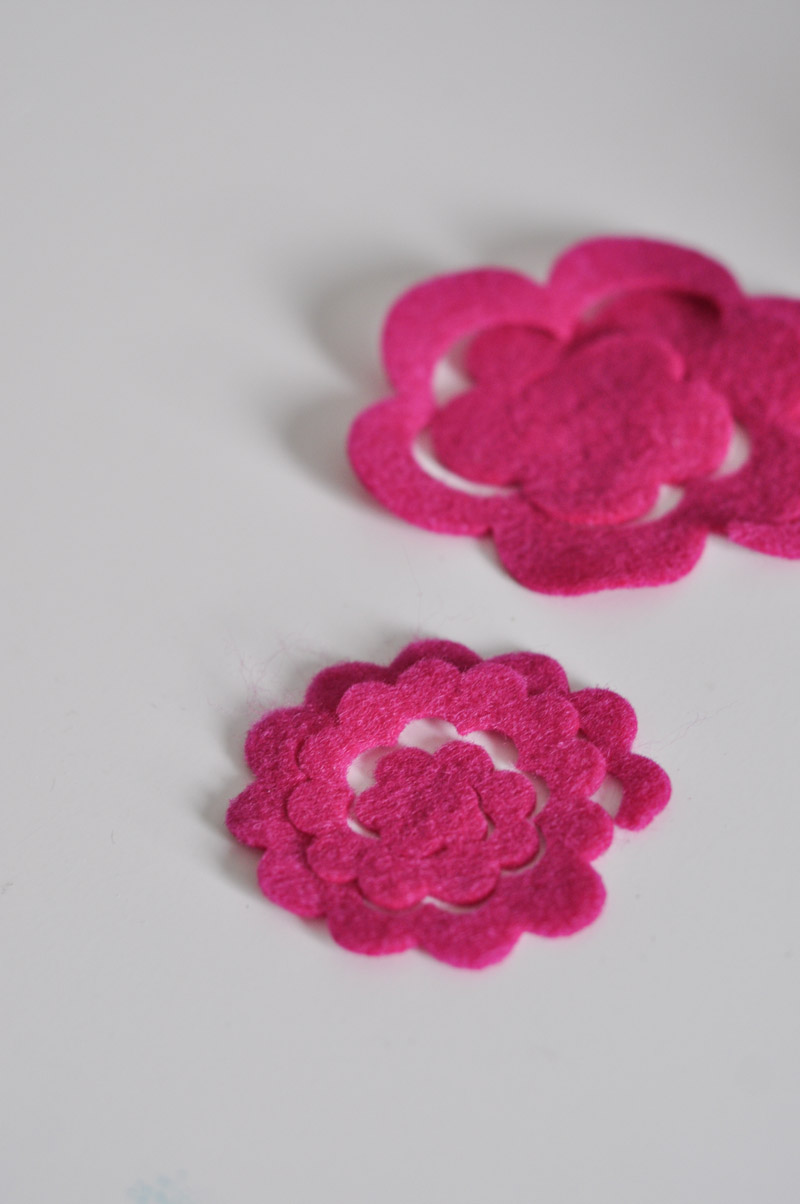 Using a knitting needle (you can use a kabob skewer or thin dowel), I rolled up the flower starting from the outside of the spiral and worked in.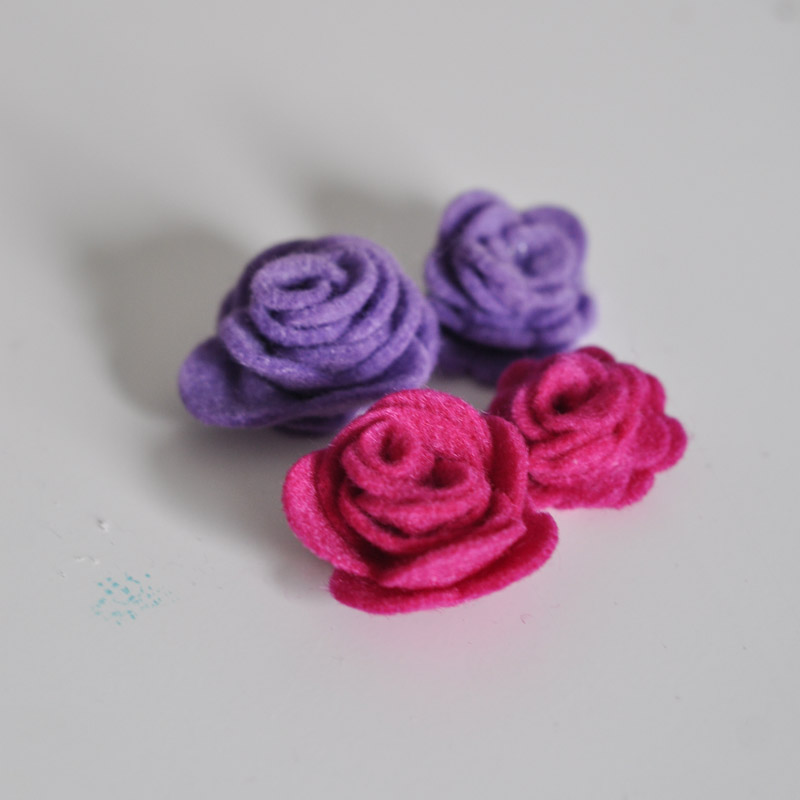 A dab of hot glue at the bottom of the rose – and a few burned fingertips later, because I have NO glue gun skills and likely never will – and the rosettes were ready.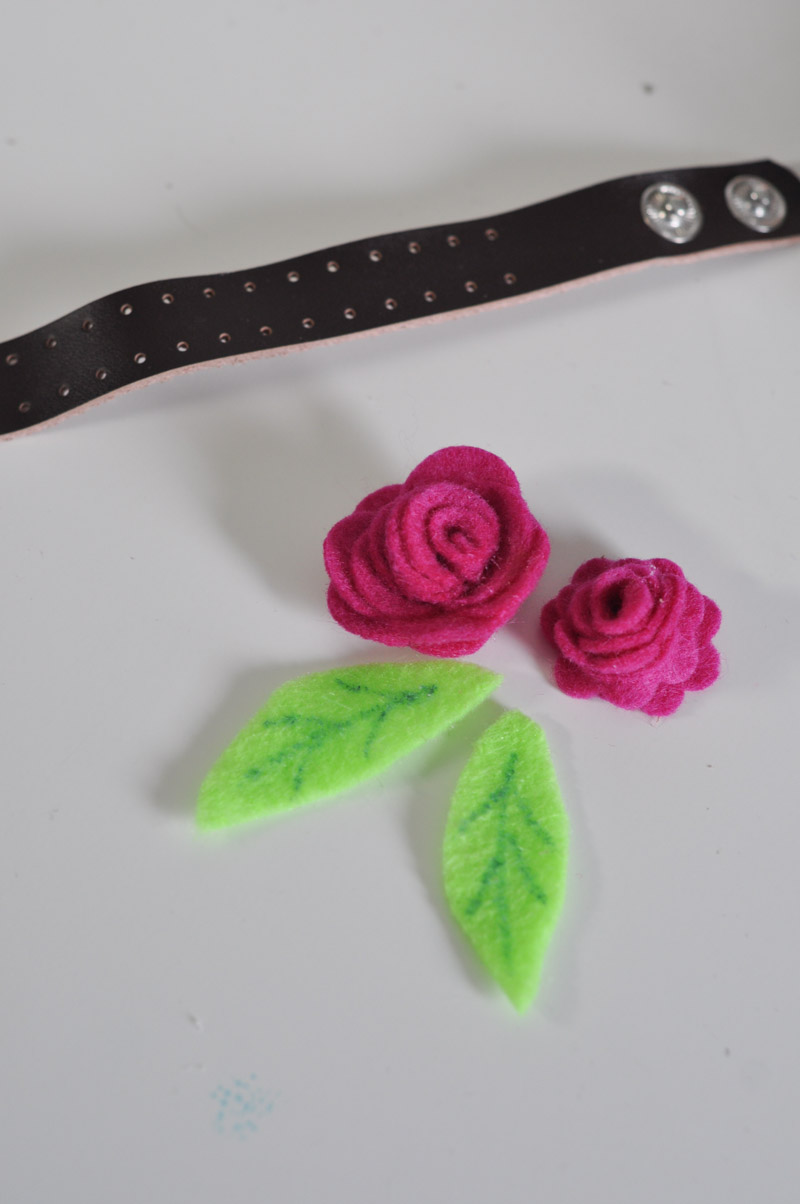 I grabbed a basic leather cuff from my stash (you'll have seen it here and here in previous jewelry posts) – and cut some leaves from bright green felt.
I drew some veins on the leaves at first, but I just couldn't get my eyes to agree with it.
I cut out two more, and left the veins off.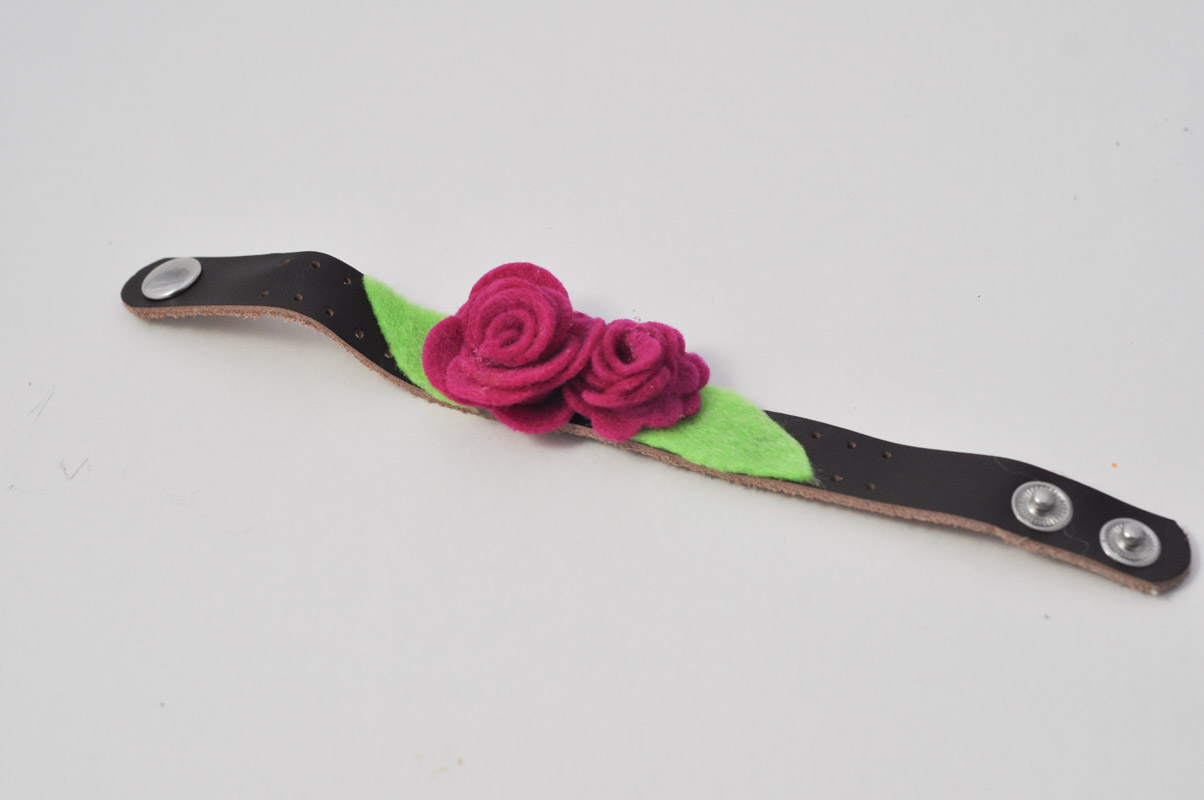 More hot glue later, and the roses and leaves were attached to the cuff.
Does this not make you think of a miniature corsage? I've only worn a corsage once in my life. It was huge and awkward and given to me by a boy who was a few things: my prom date, my first "real" date, and someone else's boyfriend.
Oh, teenagerhood. No thank you very much.
All of that oversharing aside, the cuff turned out just as I'd hoped. Simple, sweet, and bright. It's a less complicated corsage than the one from my adolescence.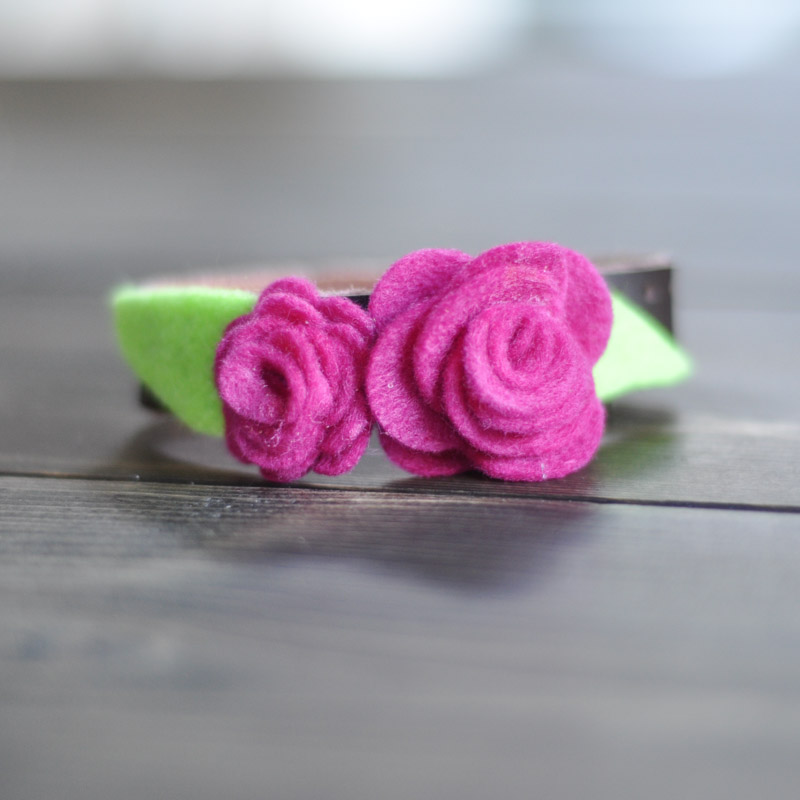 I think that these rosettes would be lovely in cream. Perhaps on a rope bracelet?
Hmmm…. maybe that post will be born next week.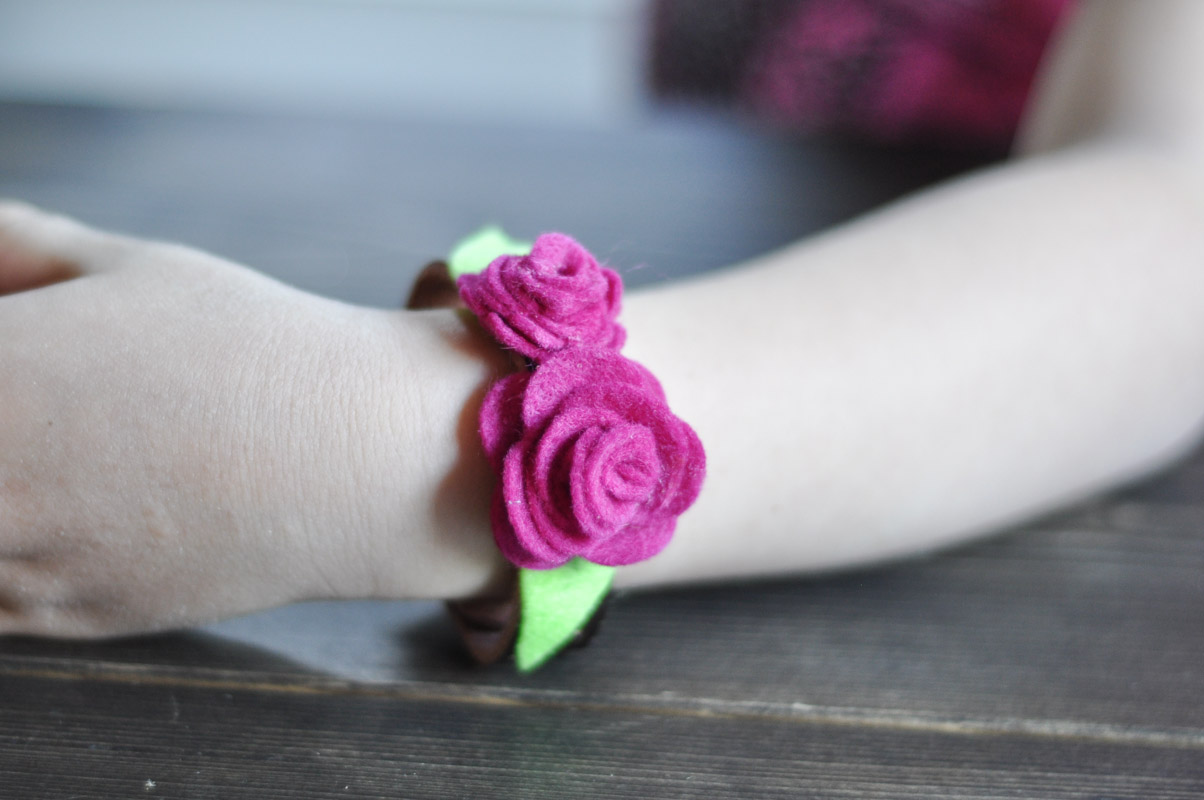 An eager six-year-old wanted to slip on the cuff and model it for the camera.
While the rosettes seem much smaller on my wrist, the larger scale on Lila's wrist is perfect for a glamourpuss like her. She suits the "oversized" look.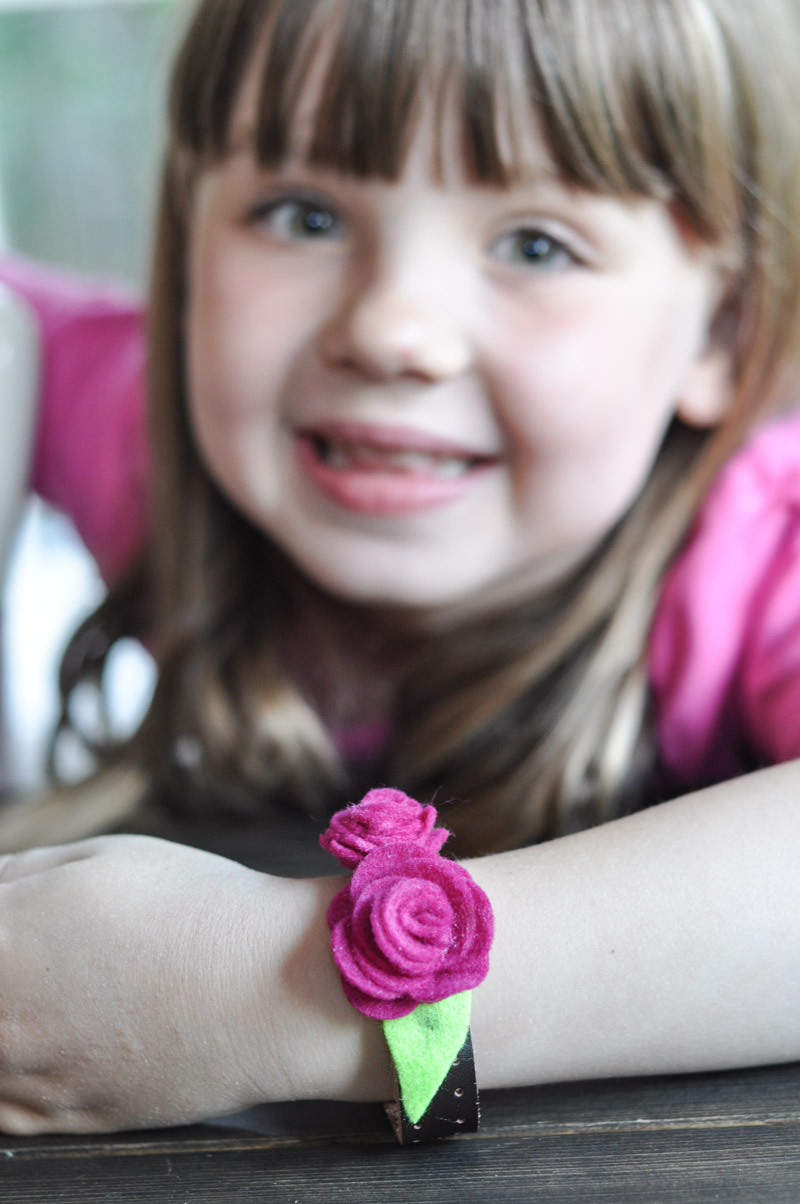 "Am I in the picture, Mom? Make sure I'm in the picture!!"
You are, sweet girl.
I'm on the Sizzix Design Team! Visit me on their blog to see what I've been getting up to. And thank you, Sizzix, for giving me so many reasons to get creative.