I cannot even begin to think of a trifle without being brought back to the Friends episode where Rachel creates a hybrid trifle/shepherd's pie combo.
[On tasting Rachel's English trifle/Shepherd's pie]
Ross:
It tastes like feet!
Joey:
I like it!
Ross:
Are you serious?
Joey:
What's not to like? Custard, good. Jam, good. Beef, GOOD!
And fair enough, Joey. Some casseroles are weird like that. But this recipe is beef-free, so my apologies to those who got their hopes up.
I've been very lucky to be working with Chatelaine Magazine and Save On Foods this fall. The holiday season is my favourite one for developing recipes, and even more so when I get to eat dessert. The Western Family Scottish Shortbread cookies were my jumping-off point for this recipe. Delicious on their own, I wondered what they would be like in place of ladyfingers in a trifle.
The verdict? Delicious.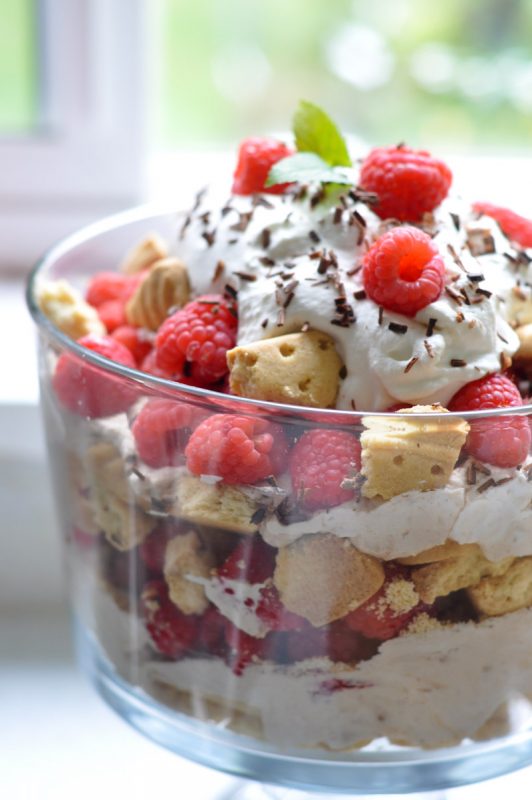 Shortbread cookies originated in the UK – and the Scottish have perfected it. The history of shortbread in Scotland is a long one, but the condensed version is that leftover bread dough would be baked into little biscuits. Normally only eaten on special occasions, the recipe eventually substituted butter for the yeast, and thus, the deliciously sweet and crumbly cookie was born.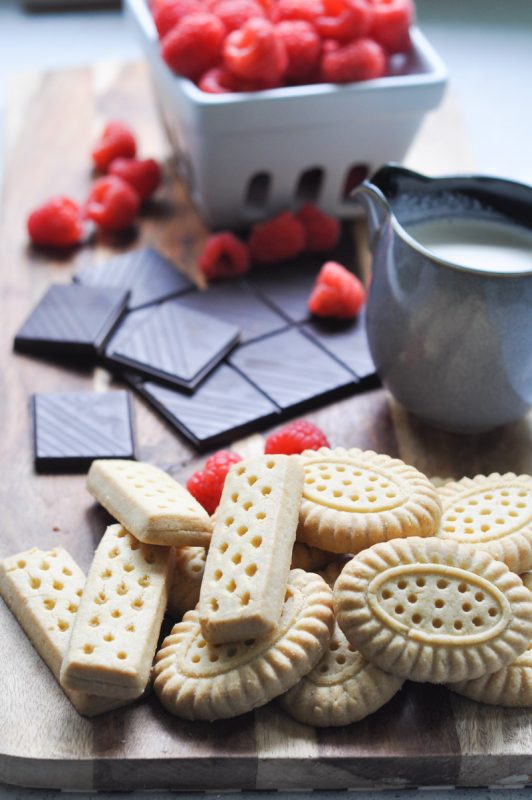 I can't resist shortbread cookies on a dessert tray. My mom used to top hers with a little piece of dried holiday cherry – you know, the dried fruits normally reserved for fruit cake? I still love that little garnish, despite knowing that I shouldn't.
This trifle was relatively quick to put together and refrigerates quite nicely. The addition of the mascarpone cheese and chocolate add another dimension to the recipe – it makes it that much richer and creamier.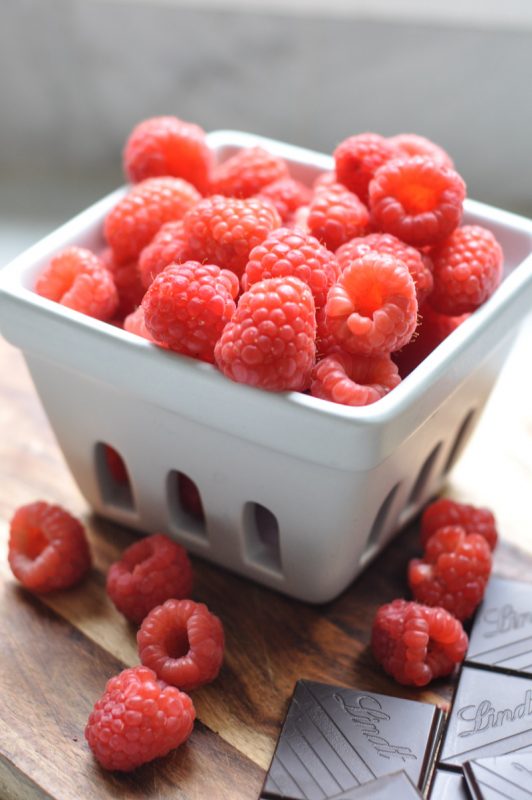 I opted to use fresh raspberries as the fruit layer in the trifle, only sprinkling them with a tablespoon of sugar. The tartness of the berries still shone through the layers of cheese, cream and shortbread. I think that strawberries or blackberries would also work with this recipe; however, it was the bright flavour of the raspberries that I was after for this recipe.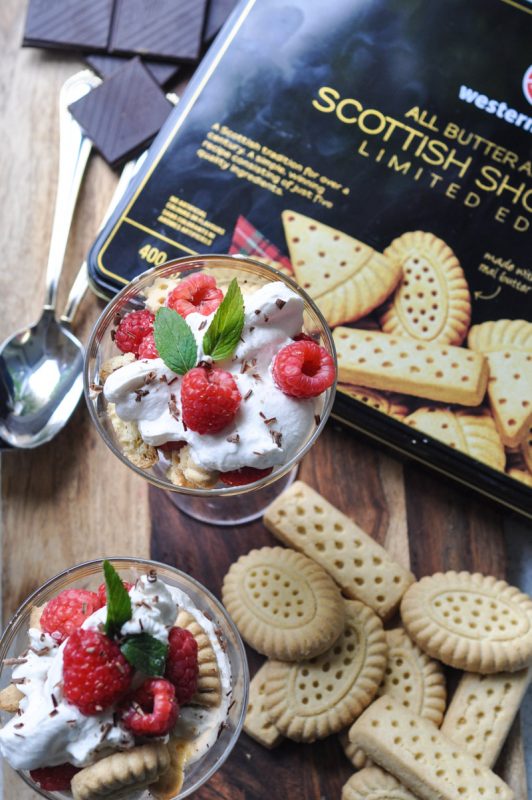 Western Family's crumbly – yet still crunchy – buttery cookies worked very well in this dessert. I was pleasantly surprised with how the cookies worked with the rich cheese mixture and the fresh tartness of the berries. After a day of being refrigerated, they had still retained their crunch – they hadn't gone to a soggy mess that some other cookies would have resulted in.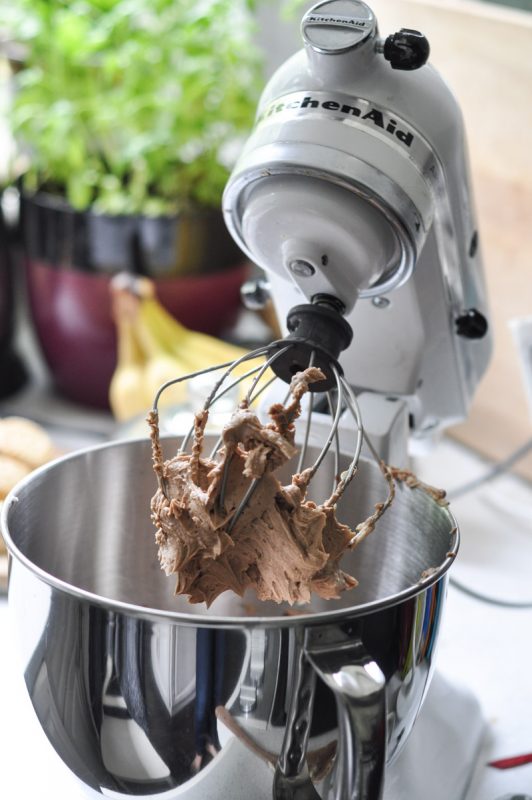 My family tends to gravitate towards milk chocolate in most recipes, so that is what I blended with the mascarpone. If dark chocolate is more your speed, I think that melting one bar of milk chocolate and one bar of dark would make a nice compromise.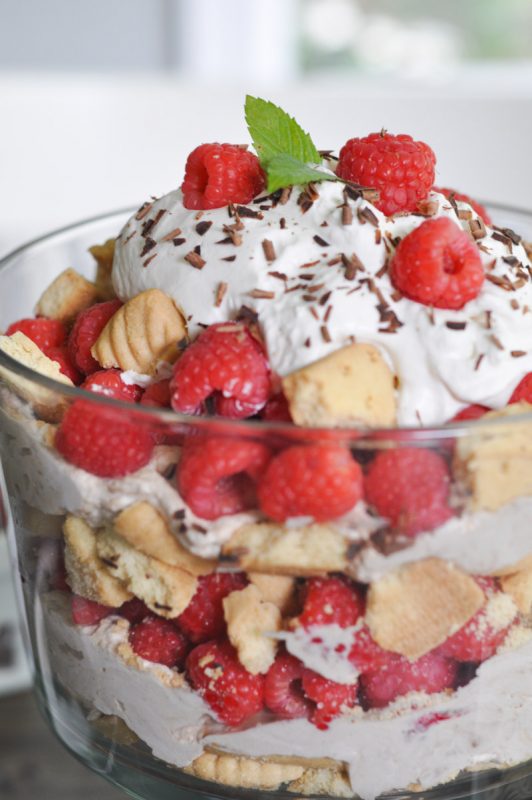 It isn't always easy to make a trifle look tidy. The dish is designed to show off its layers, but there is some forgiveness in its construction.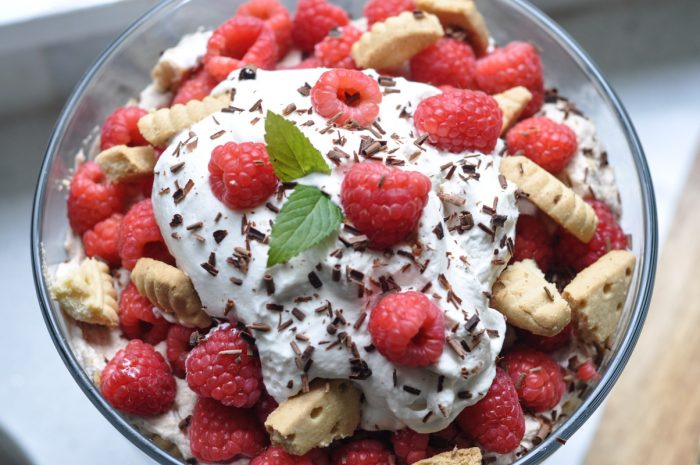 This is why I pay the most attention to the top of the trifle. A healthy dollop of whipped cream, fresh berries, grated dark chocolate… it's begging to be served.
Raspberry Shortbread Cookie Trifle
Ingredients
1 tin of Western Family Scottish Shortbread Cookies
24 oz fresh raspberries, rinsed and dried
1 275g container of Mascarpone cheese
2 bars of good quality milk chocolate
3 cups of heavy whipping cream
4 tsp granulated sugar
1 tsp vanilla
1 square good quality dark chocolate
Mint (optional, for garnish)
Instructions
Place berries in bowl and toss with 1 tsp sugar, put aside
Break up milk chocolate into bowl and melt in microwave, stopping every 25 seconds to stir
Whip mascarpone with a balloon whisk attachment, slowly add melted chocolate until combined
Put mascarpone aside and rinse out mixing bowl, ensuring that it is cold before next use
Add three cups of whipping cream, 3 tsp sugar and vanilla to bowl, whip with balloon whip attachment until stiff peaks form
Fold 2/3rds of the whipped cream into chocolate mascarpone mixture, leave 1/3 of the cream aside
Place shortbread cookies into plastic bag and gently break with rolling pin (or hands) into approximately 1"-1/2" chunks
In a trifle bowl, layer shortbread cookies, berries and mascarpone mixture - leaving approximately 1/4 cup of berries aside - until nearing the top of the bowl
Top trifle with reserved whipped cream, berries, and shaved dark chocolate (using Y peeler)
Mint sprigs can be added as well
Chill in refrigerator until serving - enjoy!
https://www.suburble.com/2017/10/raspberry-shortbread-cookie-trifle.html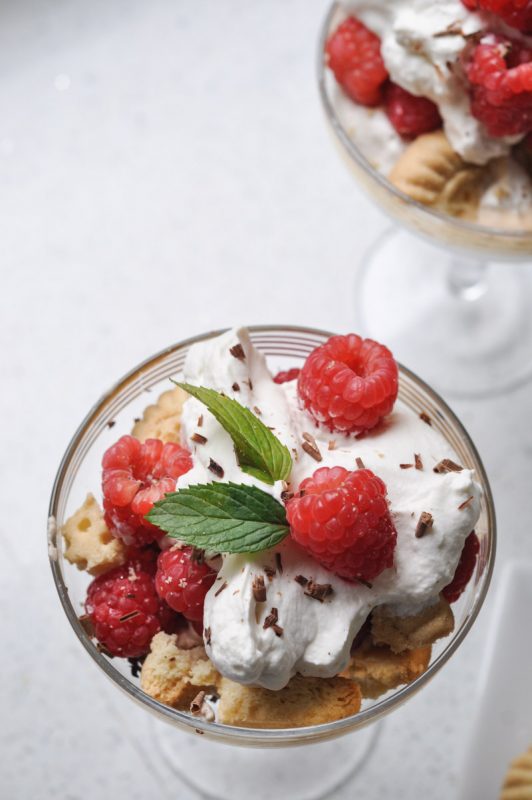 If you're making dessert for one or two – a little coupe glass will suffice as a miniature trifle dish. A crumbling of shortbread cookies topped with berries and mascarpone and cream makes for a delicious after-dinner treat.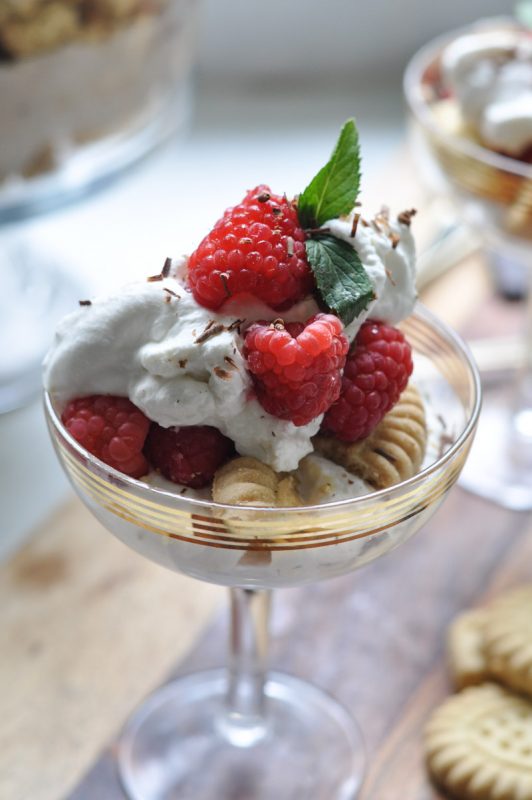 Plus, they're adorable.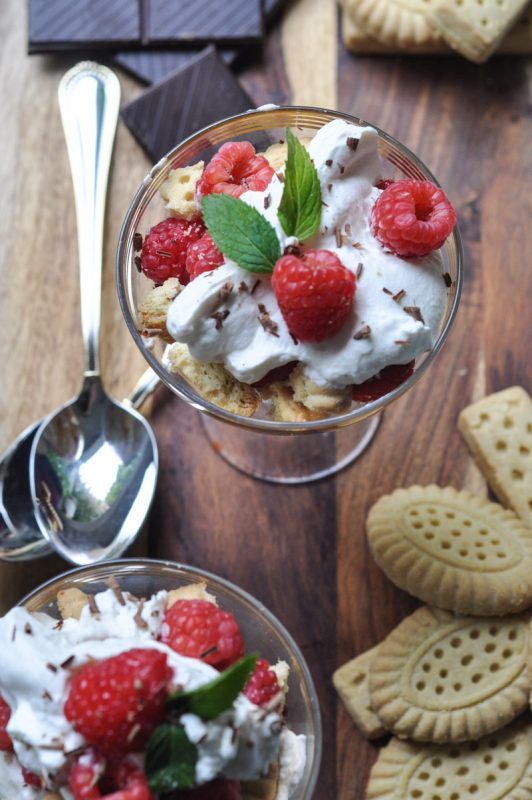 I feel like a platter of shortbread trifle served in stemware would make for a fantastic Christmas party offering. The red of the berries, the green of the mint….
I'm giving myself ideas here! Gah! Watch out Mr. Suburble! It's going to be desserts-in-barware all season!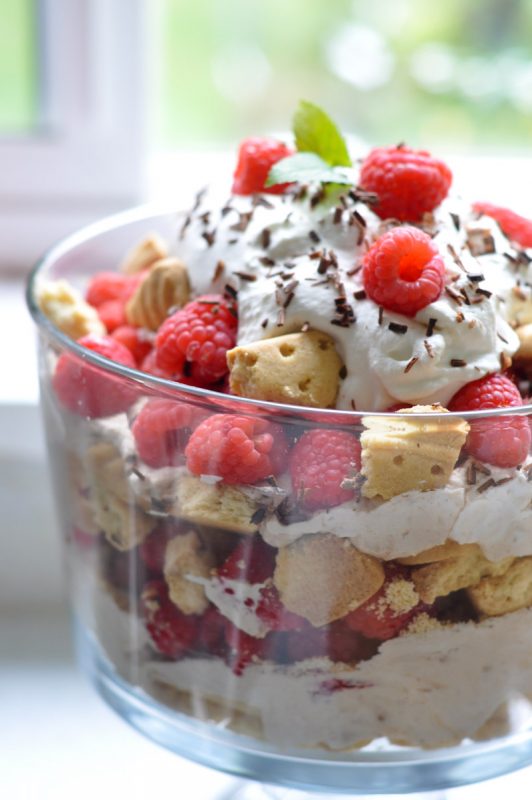 And watch out, indeed. I've discovered another dessert to love.
This could be the start of something dangerous.
Try some of these holiday time-savers!
Here are my top 5 time-saving tips to reduce the seasonal stress:
Stock the freezer with tasty appetizers so that if unexpected guests arrive, you can always pop something into the oven.
Save time (and your sanity) by buying pre-built gingerbread houses – there is nothing more aggravating than having a flimsy house collapse under the weight of your kiddo's candy roof!
Do most of your prep for big dinners either the night before or in the morning. Make your green bean casseroles, chop your veggies, bake your desserts, and simply reheat when the time is right. This makes entertaining far less stressful.
Hang tablecloths on hangers in the closet – this prevents the need for endless ironing before a large gathering.
Have a cookie exchange party! It's so much easier to make a big batch of one variety of cookies and then exchange them with favourites of your friends and neighbours.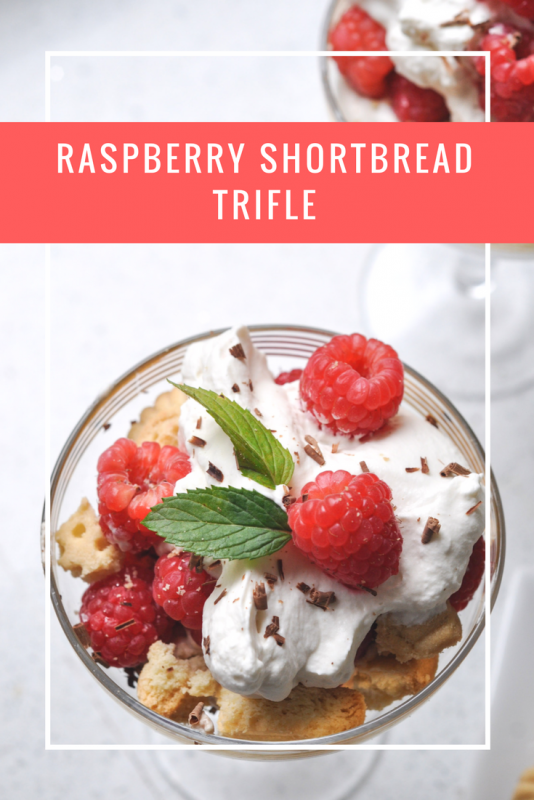 Stock up on Western Family Scottish Shortbread at Save-On-Foods this holiday season! Look for the black tin on the shelves. A huge thank you to Save-On-Foods and Chatelaine Magazine for giving my family another dessert to request this Christmas season!
While this is paid partnership between Suburble, Chatelaine and Save on Foods, the views expressed here are my own.