I will not profess to be a Disney expert. There are various bloggers who have dedicated their entire internet beings to talking about all things Mickey-Mouse-related. However, I am an avid researcher. When I am invested in a trip, experience, or project, I will dive deep into the catacombs of the internet in order to learn all about it. Prior to our recent trip to Disneyland, I learned about the MaxPass feature of the Disneyland App.
The Disneyland App is a free must-have when visiting the park – it features an interactive map that showcases ride line waits, where to find characters, where to find a bathroom, as well as holds any photos that you might have purchased with your photo pass. This app becomes super-powered when you buy the MaxPass add-on. Released just this July, this $10/person add-on pays for itself in spades when you're trying to manage a Disney experience with your family.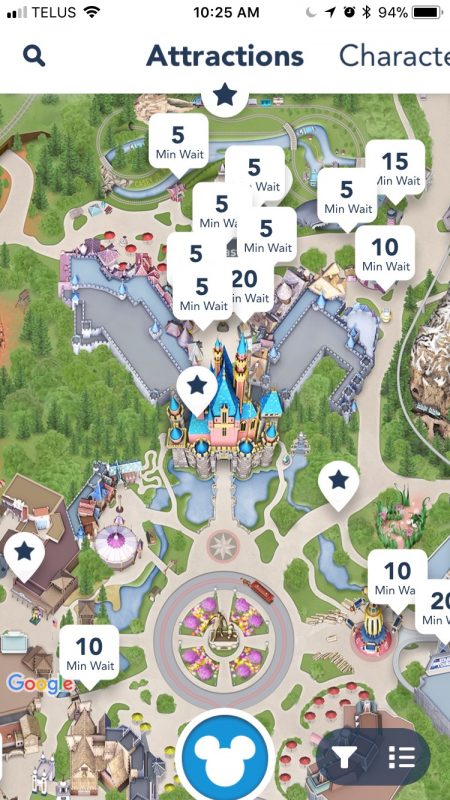 We visited both Disney parks – Disneyland and California Adventure park – over a four-day pass. The first day, we opted not to buy the MaxPass. Once we purchased it on the second day, we realized that we didn't want to visit the park without it.
The biggest perk of the MaxPass is that you have access to the FASTPASS system from your phone. On our first day, we figured, "Bah, we don't need to spend the $40 on our family in order to get MaxPasses. We'll just go to the kiosks for our FASTPASSes."
This is all fine and good until you consider a few things:
a) Dragging two children around Disneyland is much more effort than you would imagine. Mr. Suburble and I often left our children with the grandparents as we ran to the next "Land' to get our FASTPASSes.
b) You can only hold one FASTPASS at a time. If you run to Splash Mountain in Critter Land (?), and the next FASTPASS is in 5 hours, you have to decide whether you want to keep that FASTPASS and not be able to get any others.
c) Timing is often beyond your control. You can also run to Splash Mountain, hoping to get a later time (you don't want to be wet for half of the day at the park) and realize that the available FASTPASSes are only good for the next hour. You sigh, and head back to your kids and in-laws, waiting in Fantasyland.
Then, we tried the MaxPass. All I can say is, this is a game changer. Using my phone, I could see ALL available FASTPASSes, along with the line waits for each ride. As soon as we entered the park, I started planning out our day. We would try to get the next available FASTPASS, and then secure our NEXT FASTPASS while in that lineup. Sometimes, FASTPASSes would be available within the next fifteen minutes!
You can scan your park tickets prior to entering the park, and then upon entry, you can create your FASTPASS party. You cannot buy MaxPasses for people who have not yet had their tickets scanned at the entry gate. By entering the app, and clicking onto Get FASTPASS, you will be able to create a "party" of people. Once your party is created, you can purchase your MaxPasses for the day and then start selecting your FASTPASSes.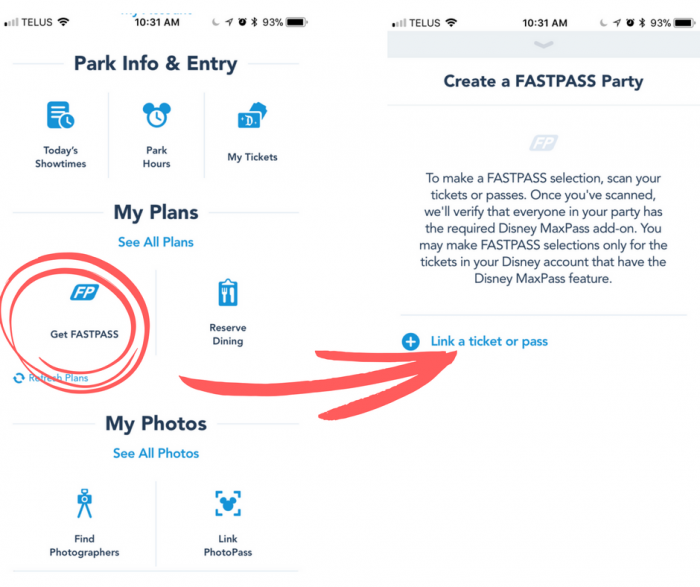 You can book your next set of FASTPASSes at the halfway mark between your current FASTPASS or earlier (i.e. if your FASTPASS is good for 10-11 am, you could book another FASTPASS at 10:30 for the next ride). Because of this system, we were able to ride Radiator Springs (an insanely popular ride oftentimes with over an hour long wait) multiple times in our visit. As soon as we collected a FASTPASS, I would set a timer (thanks, Siri!) on my phone for the time stated where we could collect our next Pass.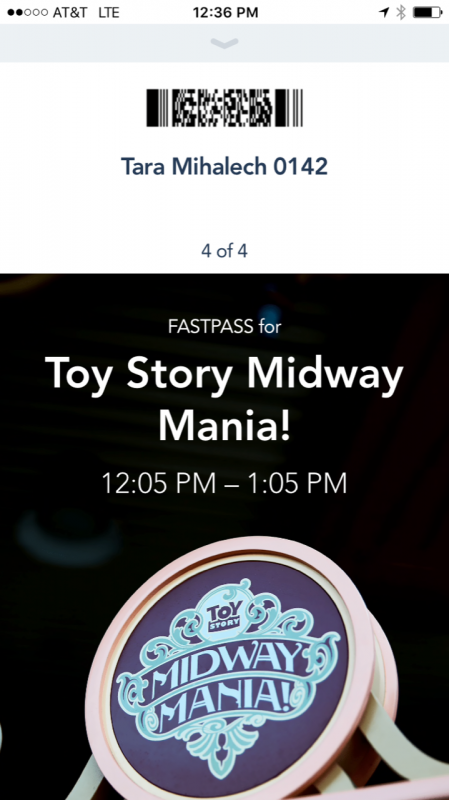 We used an average of 7 FASTPASSes per day, and only waited over a half hour in the few rides that DON'T have FASTPASSes. It was so slick. Mr. Suburble insisted that we buy the MaxPass every day, because "For $40, this changes the way we do Disney." You can also cancel Fastpasses for the group (called a "Party" in the app) or for individual people. If someone decides they want to do Space Mountain, you can cancel their Astro Blasters FASTPASS and get them another. You can scan the FASTPASSes from within the app, or with the physical Disney ticket. Both have the same barcode, and thus, can be used interchangeably. This is great if you have two riders who want to go to a different ride.
And then… it gets even better! Right now, the MaxPass includes PhotoPass privileges. This means that all photos taken on rides (Splash Mountain, Radiator Springs, and California Screamin') are available to your app for free! You can download them onto your phone and then print them out at the photo processor of your choice. This perk was HUGE when we decided to take in a character breakfast.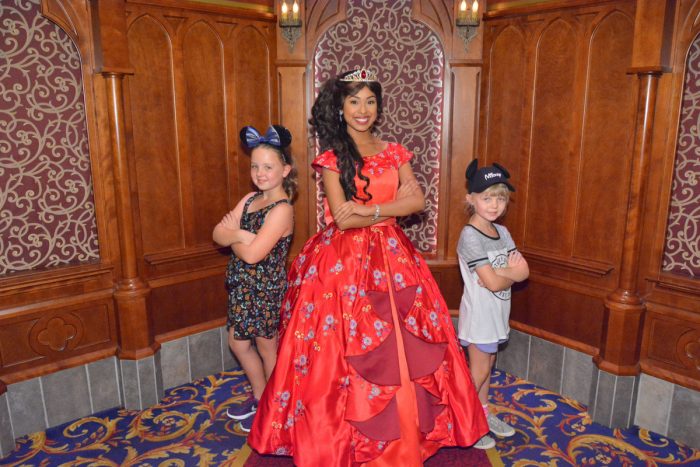 We attended the Minnie and Friends breakfast at the Plaza Inn. The very first thing you do upon checking in for your reservation is to have a photo taken with Minnie. We noticed that tables were being presented their photo with Minnie in a lovely little envelope, and Mr. Suburble said, "Oh, do we get those as part of the breakfast?"
Errrm….. no.
They bring you the printed photo and offer it to you for $40. BUT, because we had a MaxPass with PhotoPass privileges, the cast member instead scanned a code into my app and voila! I had downloadable files of all of my images. I heard various cast members telling guests to get the MaxPass while at the breakfast in order to make the most of their day.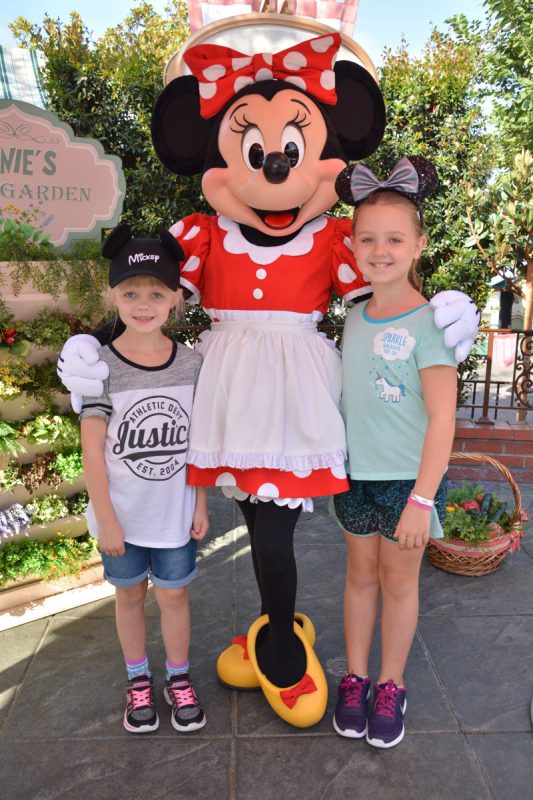 Upon the realization that all of the professional photographers' work would be free with the MaxPass, we started to stop photographers as we ran into them. We used them in Storybook Land to visit the princesses, and when we were in the California Adventure Park, near the waterfall by the vineyard. Here, the photographer told us to look at Lucy's hand with a surprised face. When we accessed the files, the girls were THRILLED to see that Tinkerbell had joined our photo. This is a fabulous little extra that comes with having professional photographers snap your shots.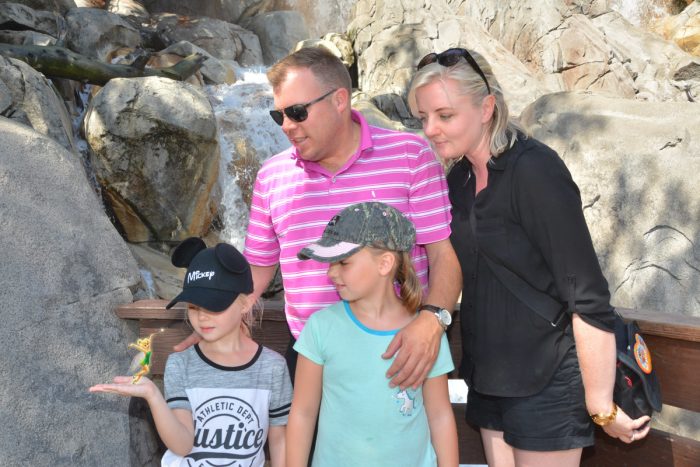 Upon our return to our slightly-rainier home, we have told everyone that the MaxPass is the way to do Disneyland. And of course, Mr. Suburble turned to me and said, "You should write a blog about it!"
And so here I am. Writing a blog about it. I would tell everyone that even just one day with the MaxPass will change your park experience. Not only will you spend more time on rides and less time in line, but you'll also have the professional photos to showcase your visit!
Considering it's the cost of about 1.5 churros, I'd say it's worth it.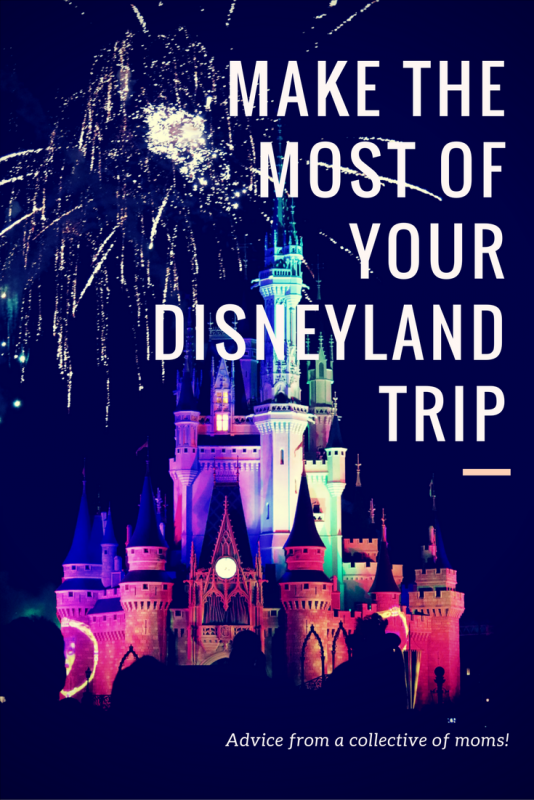 Click on the image above to learn all about all of the advice I gathered to make our first trip to Disneyland a success!