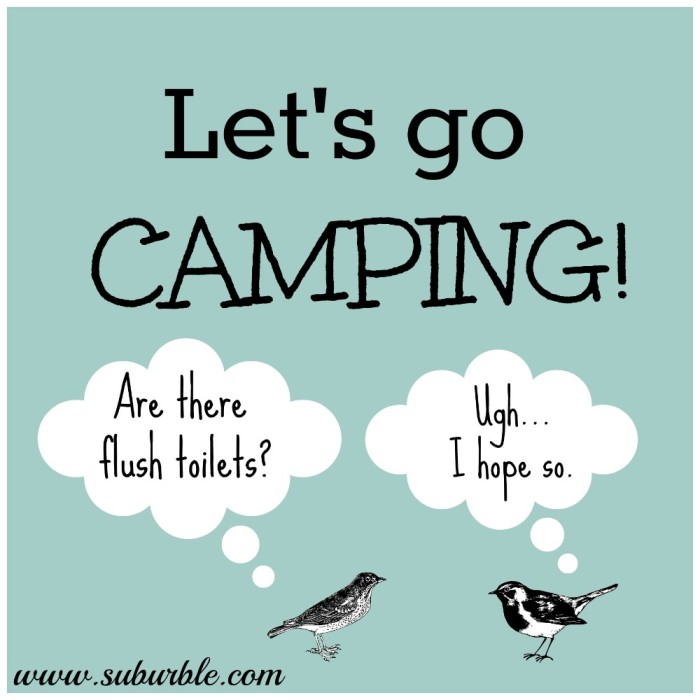 I've been so excited to start this camping series.
It really all came to me in the moment that I opened up my trailer ( to get it ready for this camping season) and realized… I'm not even CLOSE to being ready.
Starting this series of blog posts is a way of kicking myself in the butt and motivating me to sort out all of the disorganized and dysfunctional parts of our camping set-up while adding lots of fun and prettiness to it as well.
Camping = pretty? Well, not really. But I'm going to try.
I've decided to hold off on the grand tour of our trailer. Lots of bloggers have "Home Tours" on their blogs. I will eventually have "The Trailer Tour". In my next post of Let's Go Camping, I'll show you exactly what I'm working with. You're excited? Me too!
(If you're not… just fake it. Okay… thanks.)
I will show you what came out of our trailer before I started the Great Camping Overhaul. We don't have a lot of storage in our house, and so in the wintertime, we often use our trailer as a shed that just happens to be parked in our driveway. Handy, isn't it? Unfortunately, it also allows us to hold onto things that we have no business owning.
Exhibit A: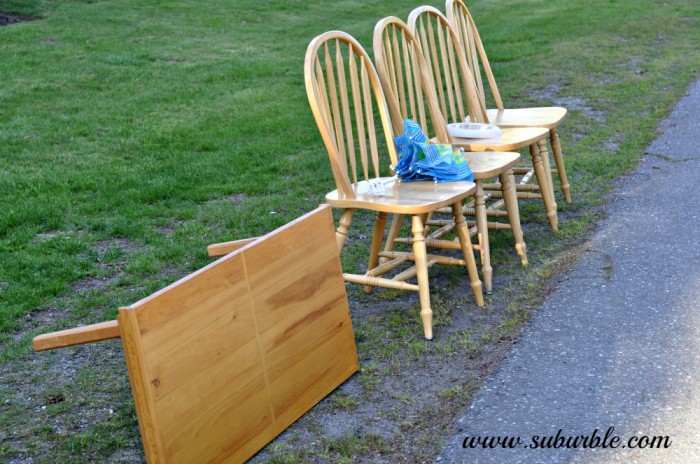 Yes. Four chairs, a coffee table, and an umbrella. All of these things were perfectly good – in fact, my grandpa built that coffee table… and so I hung onto it long after we had converted the "man cave" into the Playroom O' Cluttery Bits – but we just didn't have room for them. I diligently trucked them into the trailer every winter, and then brought them back into the house to clutter up the spare room in the summer. Finally, I had to make peace with my pack-rat tendencies and set these pieces free.
Not ten minutes after we had put them on the side of our road, a neighbour popped over and said, "Are you giving these away? My daughter has just moved into her first apartment and has nothing!"
Now she has something. And we have more space. It was a win-win!
Exhibit B: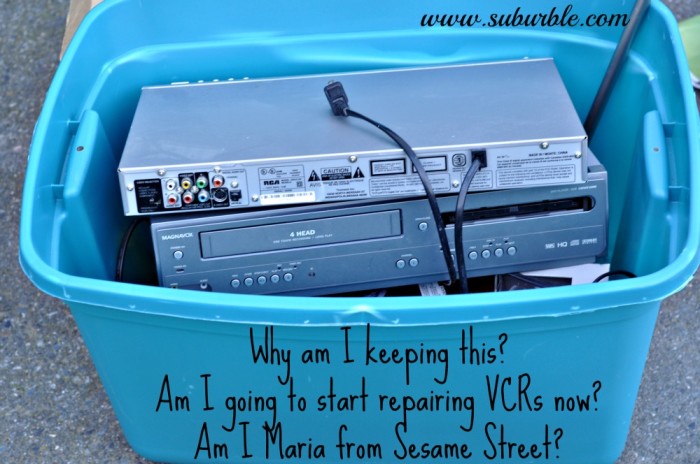 This tote also came out of the trailer. I have a problem. I know it.
After we had cleared all of the redundant furniture from our trailer/shed, I started to think about my project. And then I started to think about  a new trendy word that's been flying around the Camping Universe: glamping.
Glamping? You may be asking: what IS that? Well, it's the clever combination (and perhaps paradox) of "glamour" and "camping".
I know that when I'm walking around the campsite with a messy topknot of unwashed hair and a too-big hoodie that reeks of campfire, my style screams, "Glamour!"
But the way I am going to interpret "glamping" is to add a bit of style, a dash of ingenuity, and hopefully a lot of personality to the campsite and the trailer.
Am I going to show you the newest in Campsite Fashion? No. I can show you dirty feet in flip-flops and cooking marshmallows on sticks.
But I can add a lot of fun and some of the comforts that we have at home to the campground.
First – I had to channel my inner Glamazon. And I came up with this: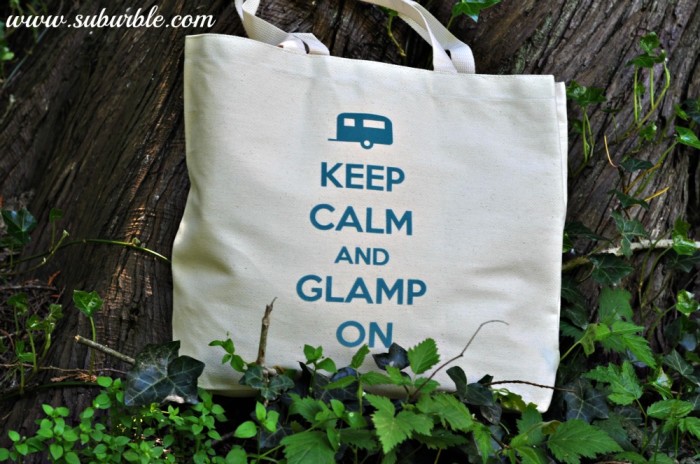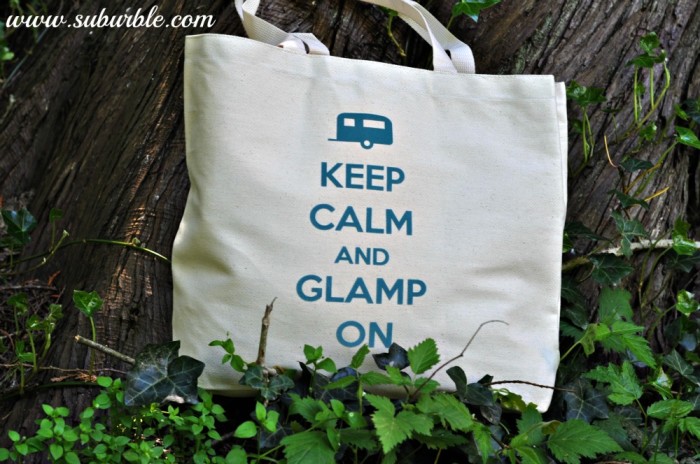 This is a canvas bag that I bought at Michaels. Using flocked iron-on vinyl, I used my Cameo to cut out the phrase "Keep Calm and Glamp On" beneath the silhouette of a Boler-style trailer. This bag is perfect for carrying beach towels, sunscreen, or extra snacks during trips down to the water.
Plus, it reminds me to contain my inner wild-woman.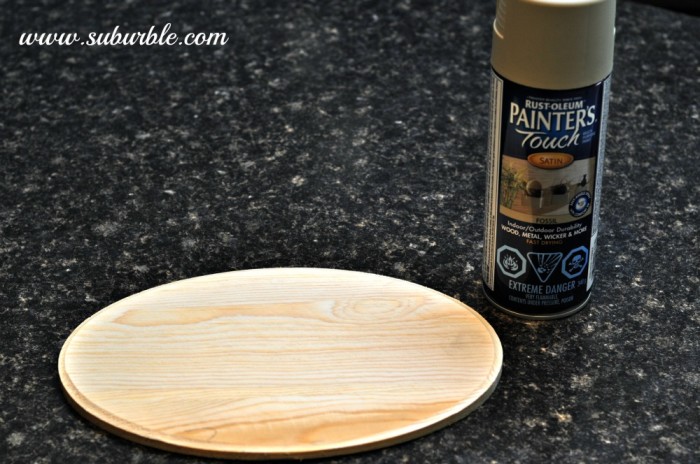 My second Glamping project involved my new favourite spray paint (Rustoleum in Fossil) and a plaque that I picked up from Dollarama. It came with a chain attached to two eyes screwed into the wood, and I just unscrewed the whole kit-and-kaboodle prior to the spray painting process.
Instead of iron-on vinyl, I used the traditional outdoor adhesive vinyl, and cut out the phrase, "I'd Rather Be Glamping" with my Cameo. After a few coats of Mod-Podge, and a re-attachment of the chain, I ended up with a kitschy little sign that can hang in the trailer or stay at home: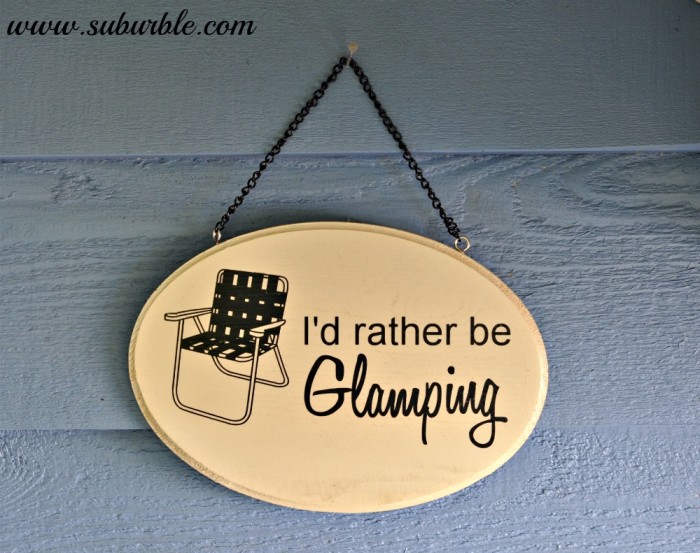 I really love how the chair turned out on the sign. I'm wracking my brain, trying to think of ways that I can use it in other projects. Does anyone need a sign for their campsite? Casa de Crazy? Camp Glamp?
Now that I've purged and done a few crafty camping accessories, I think I'm ready to dive into the next chapter of Let's Go Camping: Organization.
Wish me luck. I've got a lot of sorting to do. And I have to find a place to recycle two VCRs. Sigh.
I share my stuff at these glamourous places.
Disclaimer: There are affiliate links in this post.