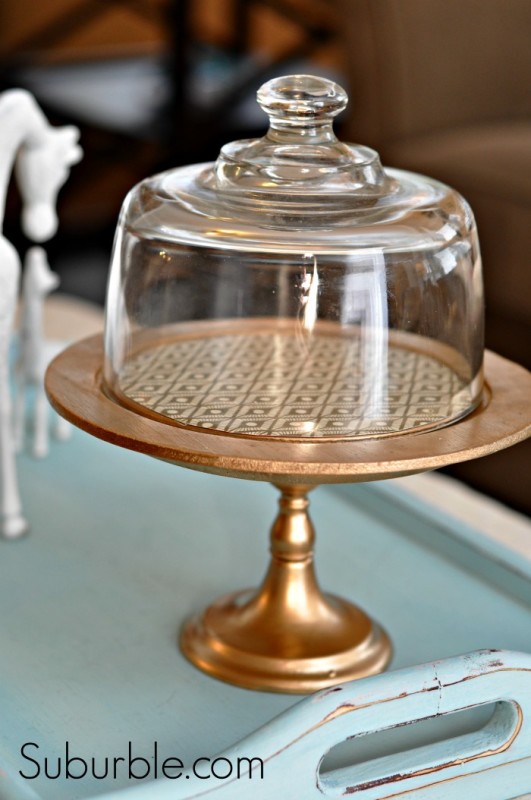 You guys know that I haunt thrift stores. Second to garage sales, they're one of my favourite places to shop.
And I think that I have developed an eye for potential in previously-loved things. Perhaps it's a strange eye… one that may not be appreciated by everyone. But, I can't help but feel a certain satisfaction when the Thrift Store Gods smile down on me.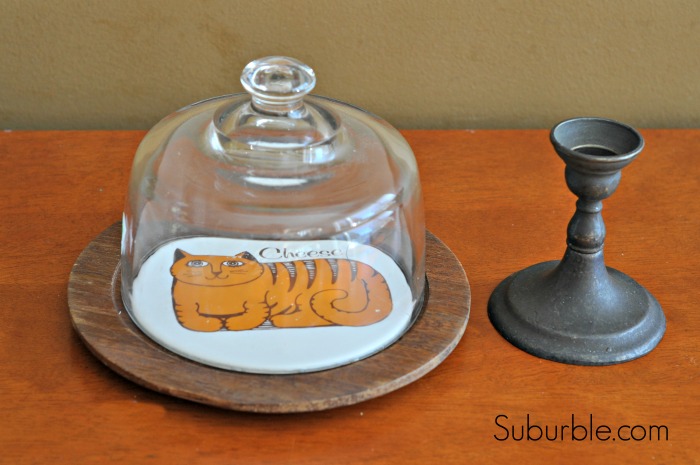 My mom and I were hitting her local circuit of second-hand shops, when I stumbled across this beauty of a cheese plate. Cats and cheese – it just makes sense.
My mom heard me exclaim from a few aisles away, "I could DO something with this! Sold!"
I'm sure she rolled her eyes. Half of what I bought that day made her say, "Welll… okay……"
But after I explained that I was going to make a cloche, it was her little $.50 brass candlestick (a garage sale find) that ended up being donated to the project!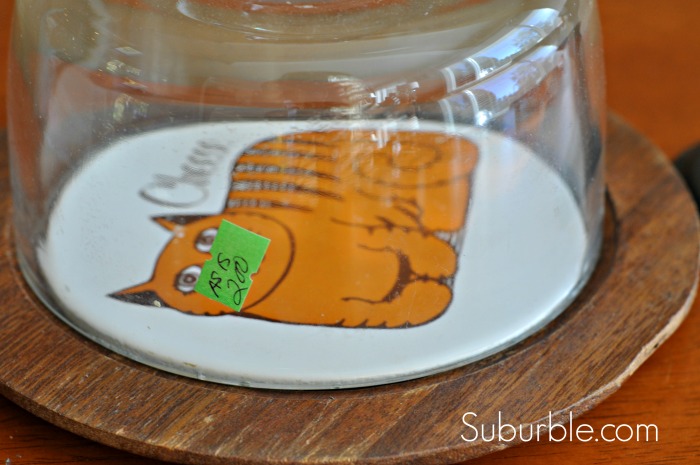 I didn't have to pay for the candlestick (Mom didn't want fifty cents), but I did have to pay $2.00 for this funky cheese plate. You'll notice that it was "As is".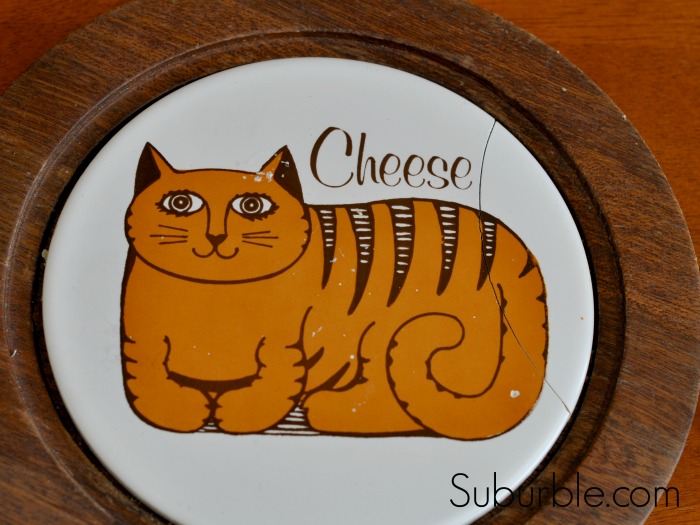 Not because of the wide-eyed cat illustration in the center of the plate, but because the tile was cracked. And it was also covered in some specks of schmutz.
Didn't faze me! This was golden! I was getting a steal!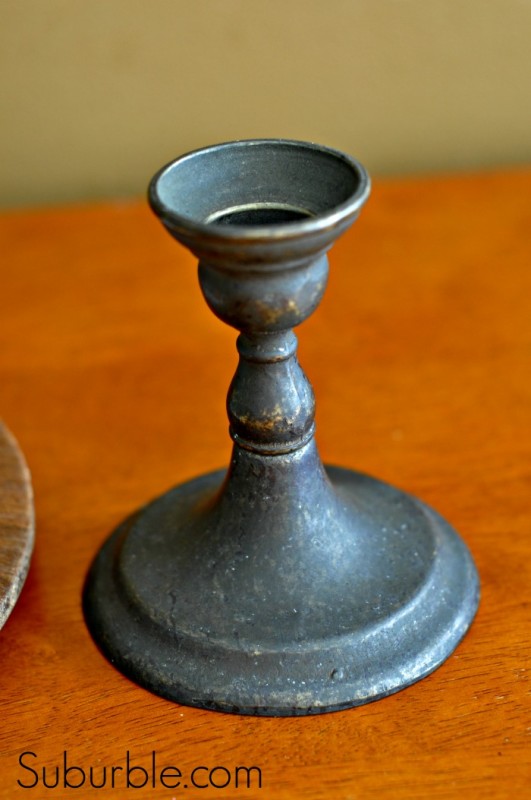 If you decide to try this project for yourself, make sure that your candlestick base is a sturdy one. This brass one was heavy, and I knew that it could easily support the weight of the cheese plate. I would say, stick to metal or dense wood, just so that you don't create a top-heavy cloche.
If you want to see what two candlesticks can create when glued together, check out what Lauren did at The Thinking Closet.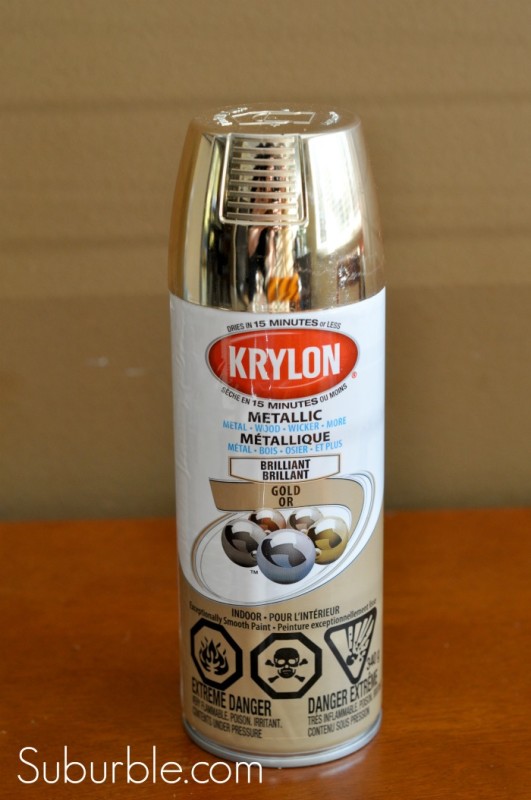 Have I mentioned how much I love spray paint?
Oh, I have?
Okay. Carry on.
(Both the cheese plate and the candlestick got two coats of Rustoleum Metallic Gold.)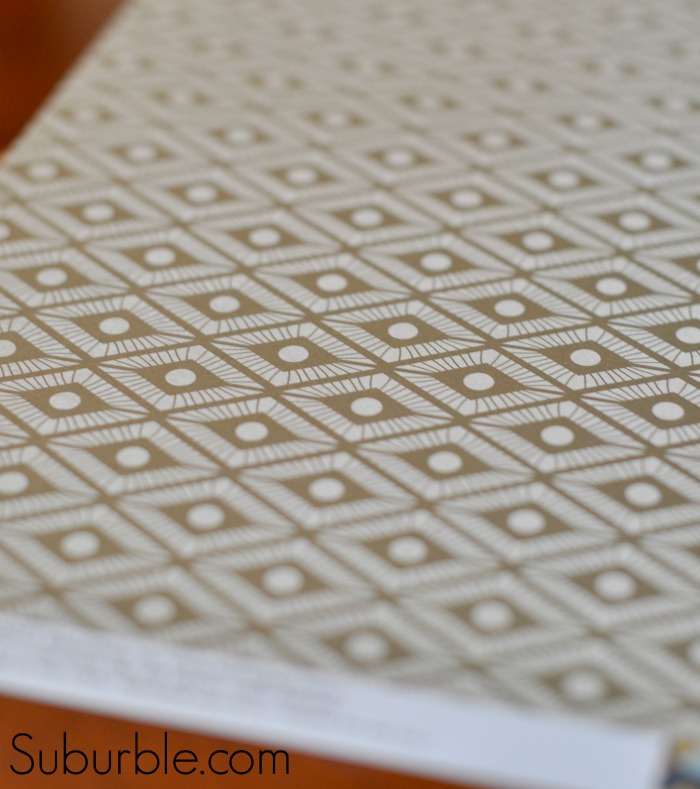 Despite the fact that the cheese-eating cat was now covered, there was still that pesky cracked tile to deal with. I traced a circle out of this fabulous scrapbooking paper ("Harvest Cider" by Basic Grey Persimmon).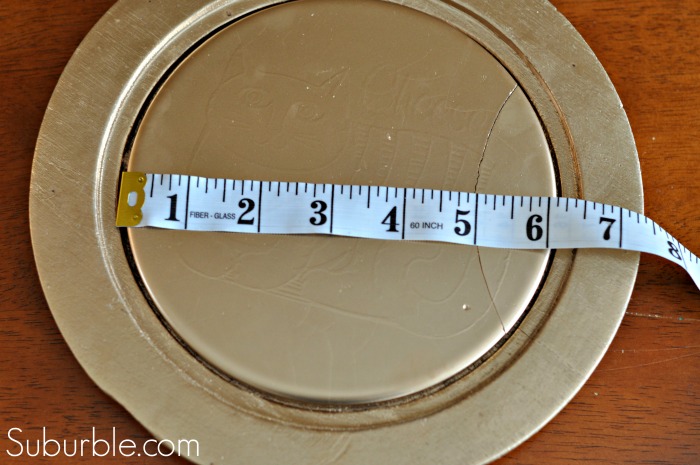 The way to easily cut out a circle to a specific size is to first measure the diameter of your tile.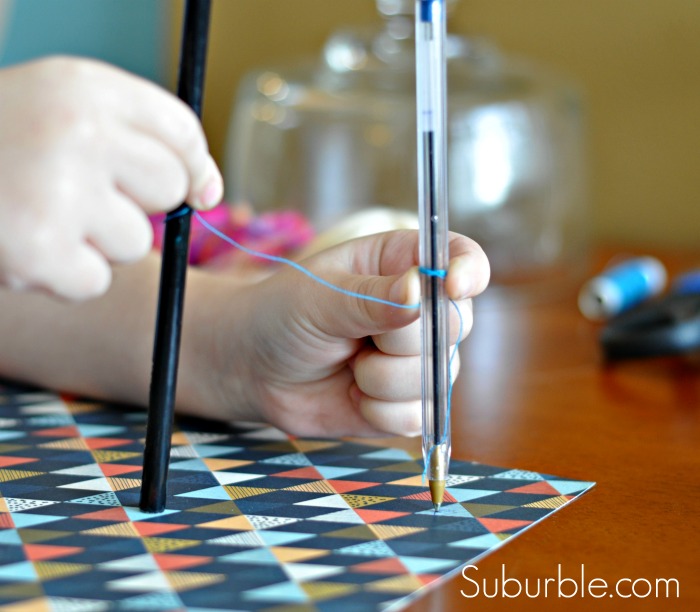 Tie a piece of string to a centerpoint (in this case, the blue pencil crayon) and then attach a writing instrument at half of your diameter measurement (or the radius of the circle). Complete a perfect circle around the centerpoint, and Bob's your Math-loving uncle! You've got a circle!
(Yes, this is a compass. No, I didn't invent it. Still… I thought myself pretty clever!)
Also, do your tracing on the underside of your paper, so that you don't have any blue lines on the good side. And probably don't let your four year old do the tracing; she was just the model for this picture.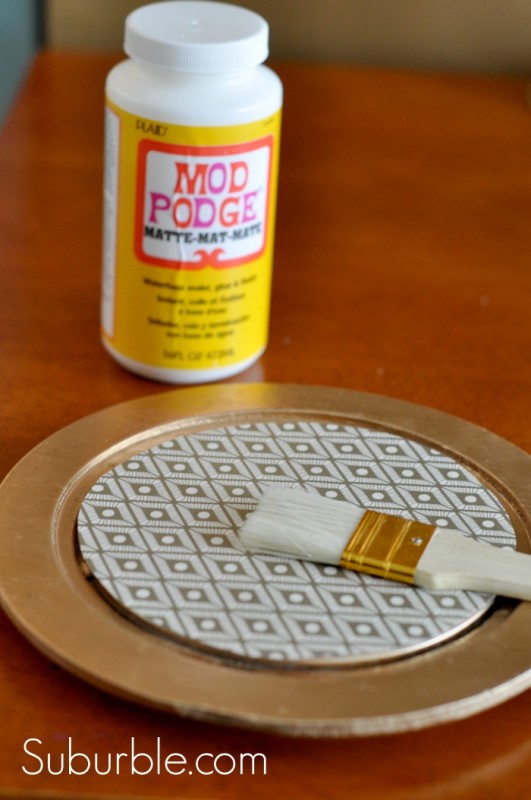 I attached and sealed the paper to the tile using Mod Podge Matte.
Then, I used a very strong glue to attach the candlestick to the cheeseplate. If you're using lightweight items in this project, you could probably get away with a glue gun. I opted to use this crazy strong glue that we had in the tool cupboard. It was probably overkill, which is why I won't advise that you use it. However, consider a Super Glue, or an all-purpose glue that will bond multiple surfaces.
And be sure to allow enough time to cure. You want a secure hold.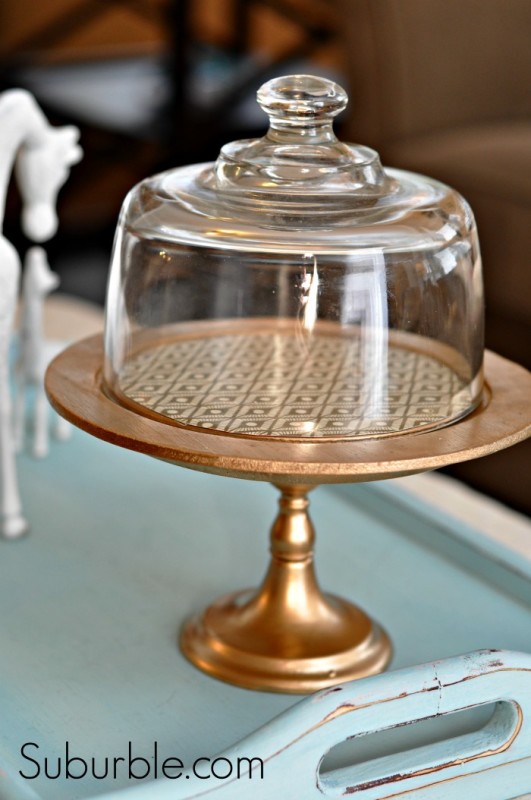 Once the glue had set, the glass dome was set back onto its new fancy-pants stand. It's a cloche! A pretty one!
The cloche is very on-trend right now in decor, and I think that it's only going to become more popular in the winter months.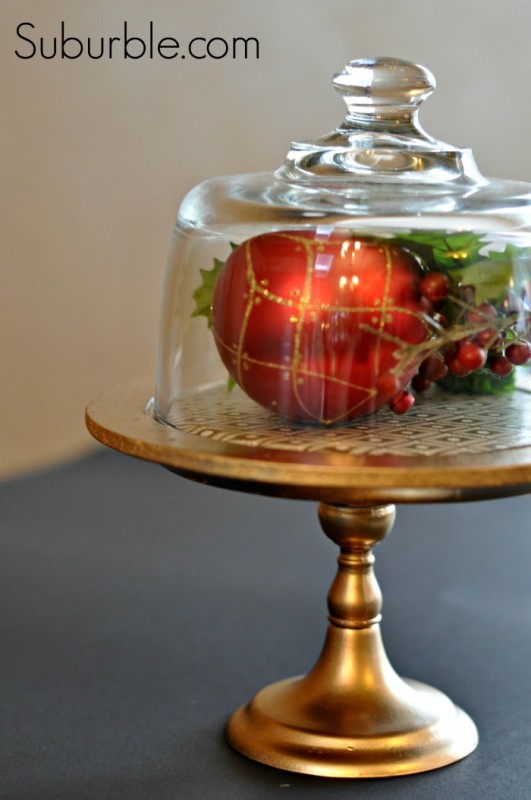 How gorgeous would some special (or vintage – oooh! Gotta get to those antique stores) Christmas ornaments look under glass?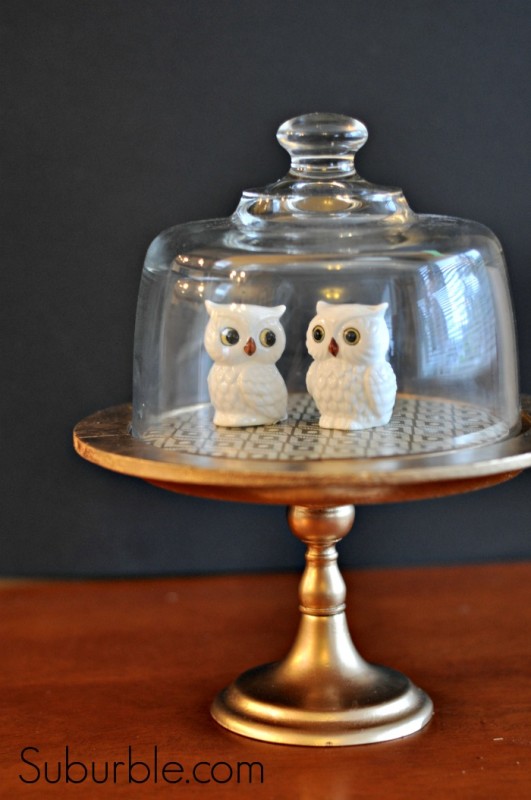 Or display some of your most favourite thrifting finds. These sweet little owl salt-and-pepper shakers were $1.50 at a thrift store I wandered through during that trip.
I love them.
And I think that they are a teensy bit Wintry, don't you? Something about the white feathers?
If you have a cheese plate hanging around, or if one happens to catch your eye at the thrift store, grab it! You can create a cloche for only a few dollars! And suddenly, all of your precious little objects get the chance to be shown off properly!
Tell me about your best thrifty finds!
What was your best score?