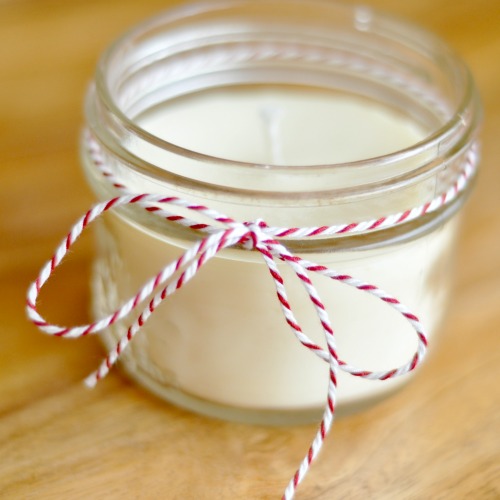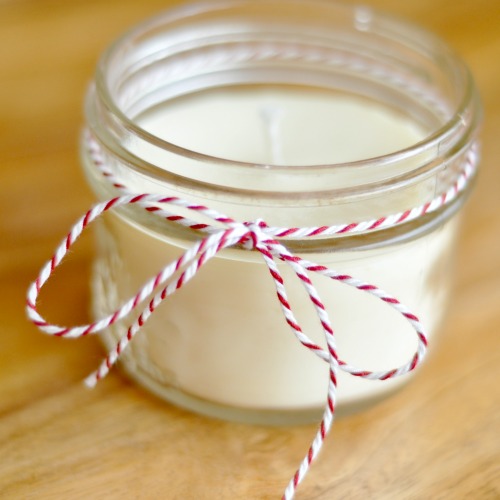 I have always loved candles. I remember being in the sixth grade, and we were all OBSESSED with candles. Gift shops that had harp music softly playing, and miniature bear figurines on the glass shelves – that was our candle shopping territory.
And don't EVEN get me started on the friendship candles (with the buried charm somewhere in the wax). Those were our favourites. Meaning… we were paying almost $20 for candles as birthday gifts. And then… when we were lucky enough to receive one of these magical and treasure-hiding candles, we shrieked with joy!
"A friendship candle! THANK YOU!"
Guess what, kids? Candles don't cost $20 to make. I know. I'm as shocked as you are.
What's even more interesting to note? Candles that are made with paraffin and chemical scents aren't super healthy for us. Especially when we do things like, say, light them on fire.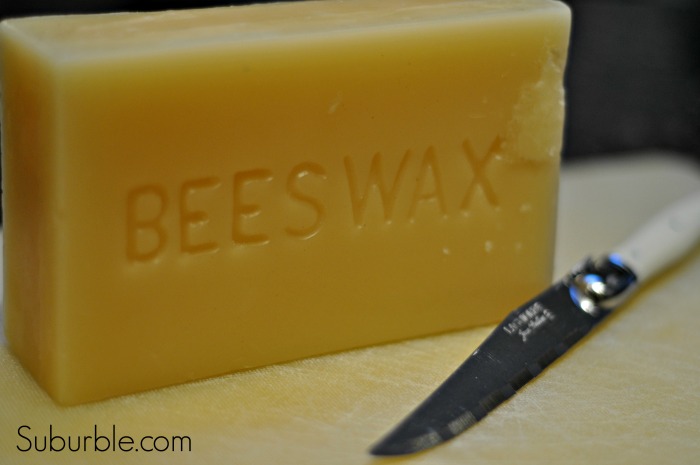 I did a bit of research and learned that beeswax candles were the way to go when it comes to candles. And beeswax can be bought in big bricks. I got mine from Amazon (and this is very much an affiliate link, just to be honest here), but you can also find beeswax locally and from some craft shops.
Beeswax naturally purifies the air around us. It does not burn and leave soot in the air. You will see soot from many candles (it's the black smoke that trails from the flame), and this stuff is NOT good for us. Beeswax is also naturally scented, and does not aggravate sensitive noses and allergies.
I'm converted. Beeswax candles for everyone!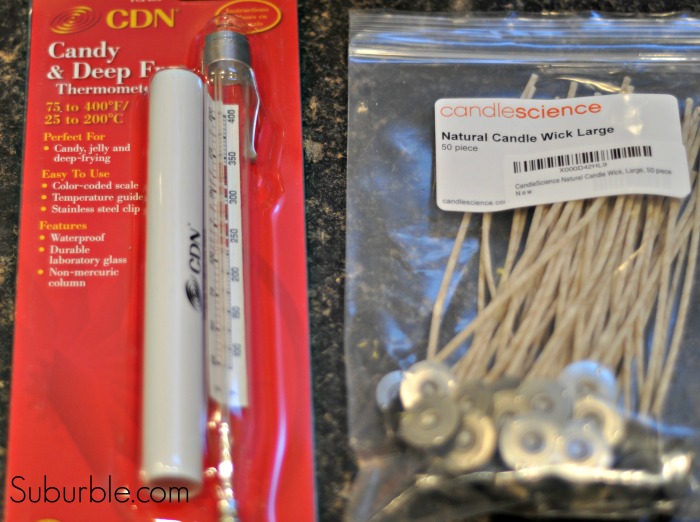 Amazon also sold me the majority of my candle-making gear. This candy thermometer and these long wicks were both very inexpensive (affiliate link alert here too!). I chose longer wicks because I knew I'd have to tie them to something in order to have straightly-set wicks in their jars. And you can always trim them shorter; you can't trim wicks longer.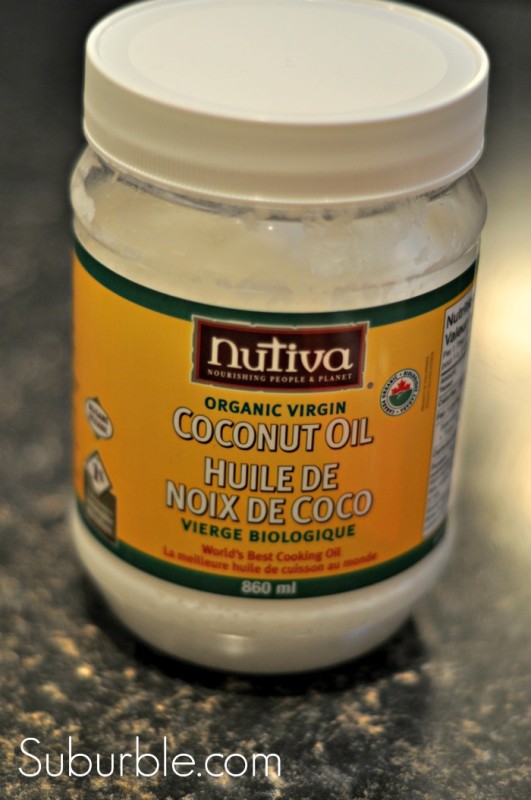 I did a bit of research and stumbled upon Heather's blog, Mommypotamus. She made beeswax candles and informed me of two things:
1) I probably could have bought cotton wicks, if I wanted to be the best crunchy crafter-mama ever. But I bought something called a "natural wick". It seems to work fine, but you guys can decide for yourselves.
2) Beeswax burns very hot. It's got a higher melting point than paraffin, but as a result, it gets SUPER hot and can sometimes cause its containers to crack. She advised to mix your beeswax with coconut oil. So I did.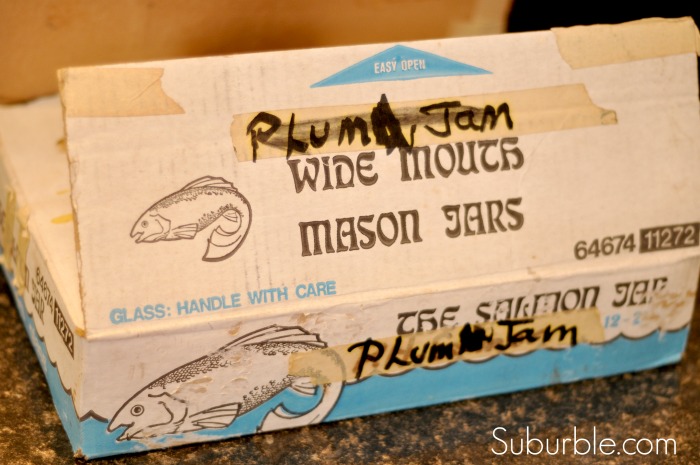 I didn't have to worry TOO much about my container cracking, because I was going to use this flat of mason jars (for canning fish – can you tell by that very shocked looking salmon on the side of the box?) that I picked up at a garage sale. For one dollar.
Garage sales are so great.
I also love that these used to have Plum jam in them. Not Plumb – as someone noticed and hastily scratched out.
Beeswax Candles
2013-10-14 23:07:59
Make these fantastic (and much healthier) candles to burn in your home! A great (and inexpensive gift!)
Ingredients
1 lb beeswax
1/2 cup coconut oil
wicks (natural or cotton)
Pencil/wick holder
Containers for the candles - 1/2 pint mason jars in this case
Candy Thermometer
Double-boiler/melting pot
Instructions
Prepare mason jars with wicks tied onto pencils, ensuring that the wick is in the center of the jar.
Turn on double boiler, and add wax (chopped into chunks)
Melt wax, then add coconut oil
Once wax and oil are completely liquid, heat until 150-160 degrees (or use your judgement, as I gave up early)
Pour a small amount of wax into the jars to secure the wicks
Once wicks are secure, pour remaining wax into jars - leave at least a 1/2 inch of space at the top of the container
Let candles sit overnight to cool completely
Trim wick to 1/4" length
Enjoy/gift/decorate!
Adapted from Mommypotamus
Suburble https://www.suburble.com/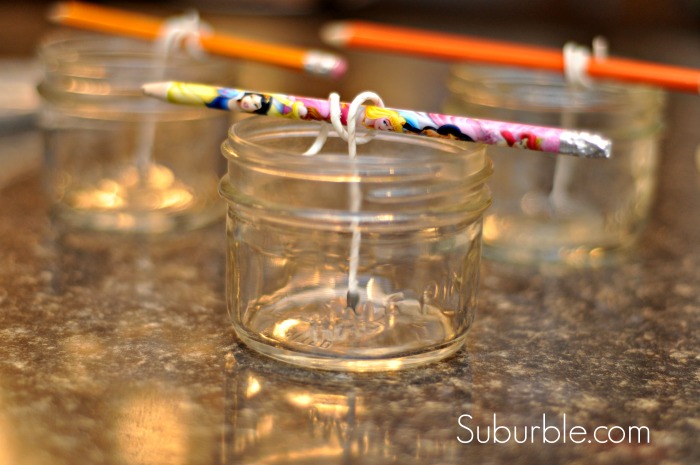 Using my very official "wick holders", I prepped the jars. This is as easy as it looks.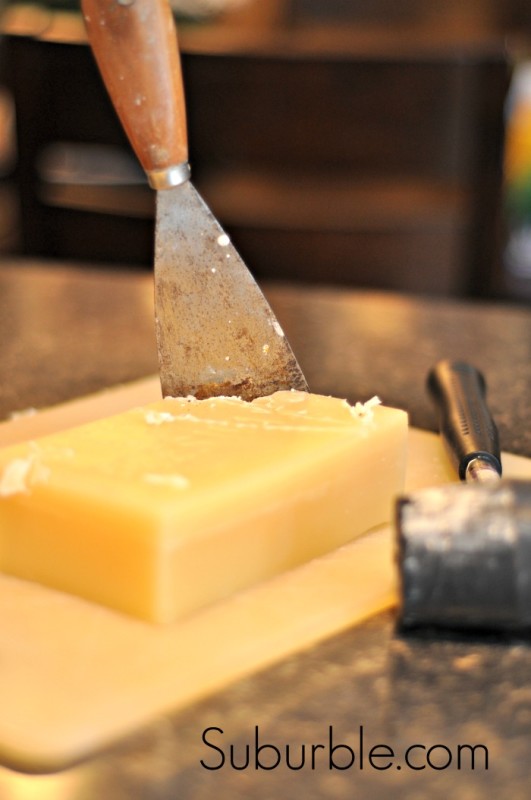 Here comes the not-so-easy part. I thought that beeswax would just crumble nicely and get chucked into my wax-melting pot. Pfffft….
No. It hated me.
After using a knife – a brief moment of weakness where I tried to nuke it in the microwave (but then I got nervous and stopped) – and trying to hit it with a tenderizer, I got out this scraper thing (so not quite a chisel) and my rubber mallet.
And I hammered on that wax until it was in little chunks. It sounded like I was renovating my kitchen.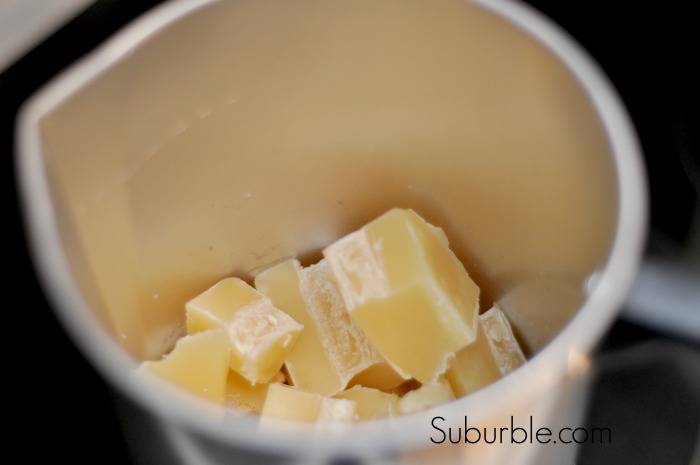 I bought this wax-melting pot (again – affiliate link!), only because you don't want to do this in your own pots. They will get destroyed.
Wax should be melted over a double-boiler. And while I was fashioning that up, I realized, "I could have just bought a pot at the thrift store and used it for this."
So consider that option as well. You really just need a pot to fit on top of another pot, and then you can get to work on wrecking that pot with melted wax.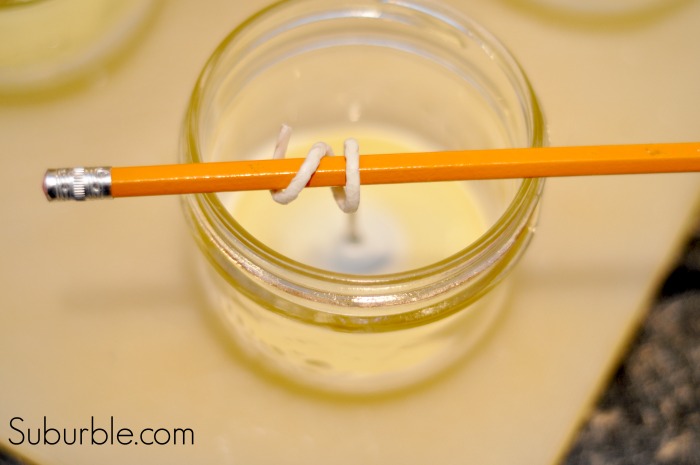 The wax will take a while to melt, but once it has, add your coconut oil to the mixture. Even after it's a beautiful amber liquid (remember – it's HOT, and despite what Ricky Martin led us to believe, hot wax does NOT feel good on your skin) – you should bring it up to a fairly hot temperature. Most candle-making blurbs on the internet suggested between 150-165 degrees.
I watched the thermometer for a while, and when it got to 120, I called it good. Maybe this is a candle-making sin – I don't know – but they turned out great in my opinion, and I was getting tired of staring at melted wax that just wasn't getting any more melt-ier.
Secure the wick with a tiny bit of wax, leaving the "holder pencil" in place.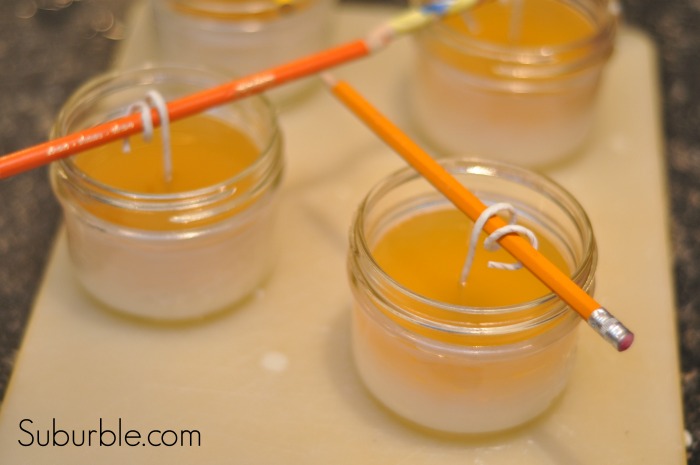 Then, pour the rest in. You will be able to see it slowly cooling, and turning into a lovely ivory coloured wax.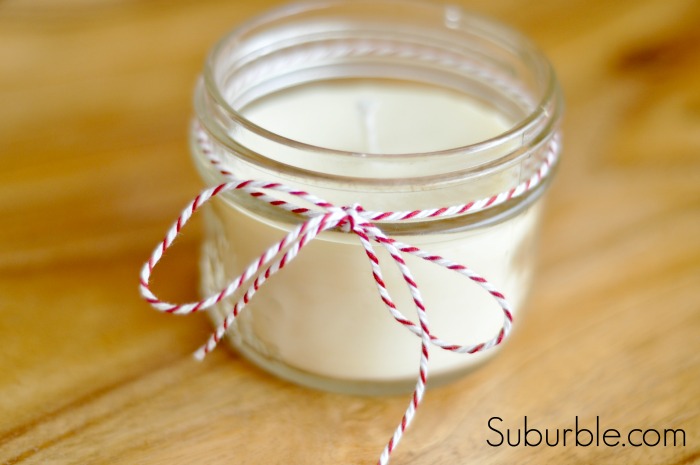 Leave the candles to sit overnight, and then trim the wicks to 1/4″. You can decorate them with a bit of baker's twine.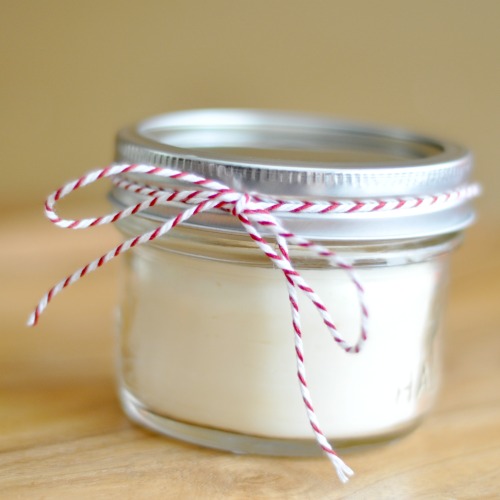 Or do what I did, and put a snap lid onto the jar. I thought it was an adorable little gift for Fall (considering that everybody is making/gifting preserves and other canned goods).
Plus, the lid makes it easy to tote these candles around (or to put them away). Nothing will gouge or land onto the beeswax.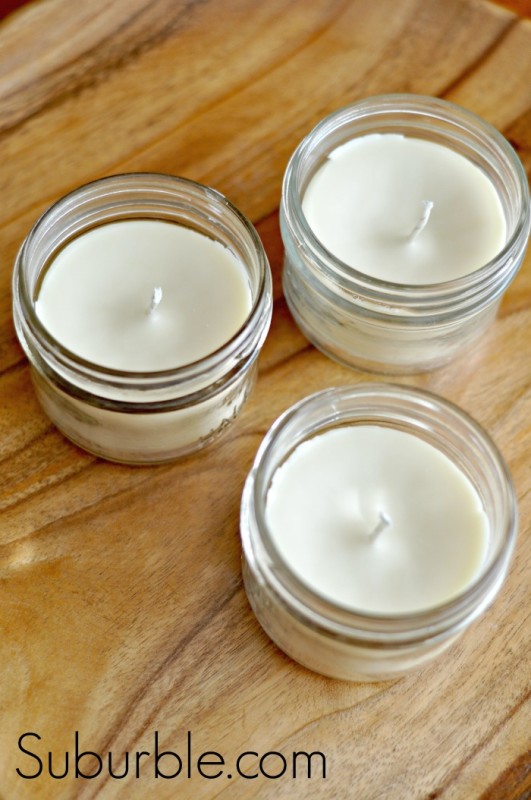 A pound of beeswax (plus a half cup of coconut oil) yielded me four half-pint mason jar candles. And I've only got one left!
We've already gifted three of them!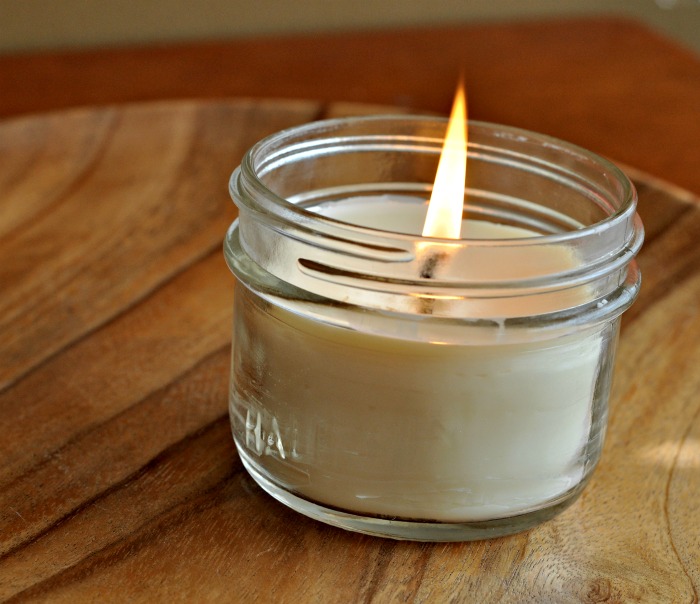 This is definitely just the beginning of my experiences with candle-making. I will have to experiment with colours and essential oils (the burning of oils being a contested subject on the internet right now) – and I look forward to sharing each of these little waxy adventures with you!
Maybe I'll even make a friendship candle! You don't want to miss that. Subscribe!