This weekend was full of "Things to Do" in our house. The sun was shining, the girls were running around inside-and-outside-and-back-again — leaving a wake of chaos and mess behind them — and I was faced with a brand new blogging platform to navigate. My humble little blog has graduated from Blogger to WordPress (huge thanks to Kristi Linauer of Linauer Designs for being the brains behind the move!) – and I feel just the teensiest bit overwhelmed. I know that Suburble.com doesn' t look THAT different so far… but the framework behind it has changed quite a bit, and so I've had a few stumbles. And if the blog goes a bit wonky over the next little while, you'll know it's probably just a product of me "learning".
Despite this busy weekend, I managed to get a few crafty things completed. The sunshine always helps with painting projects, as everything dries much faster. I like instant gratification, so I headed outside with some spray paint.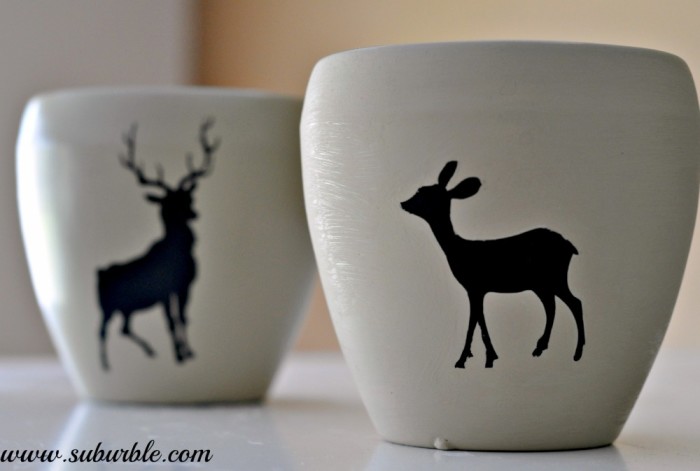 I finally gave my regal buck a little friend to flirt with. The unofficial vote among readers (and FBers) was overwhelmingly in favour for a doe to grace the front of my other flower pot. She's so much daintier and has smoother lines than the buck. And yet, she was a bigger pain in the butt to stencil (I can't figure out why, but she didn't want to cooperate).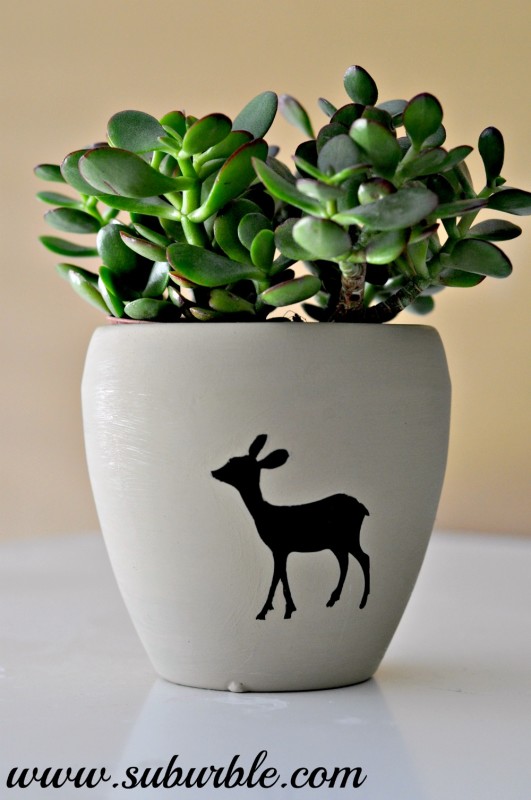 I thought that a jade plant (because I love succulents and jade is quickly becoming my favourite) would be the right amount of fanciness for Miss Deer. They're both very feminine.
We've been promised a week of sunshine and jacket-free temperatures — woot! Let's shake off this Seasonal Affectiveness Disorder that we've all been dealing with —  and so this is a perfect time for the Suburble family to go on a little trip. We're going camping!
And with camping season upon us, I've decided to start a new series on the blog. It's called: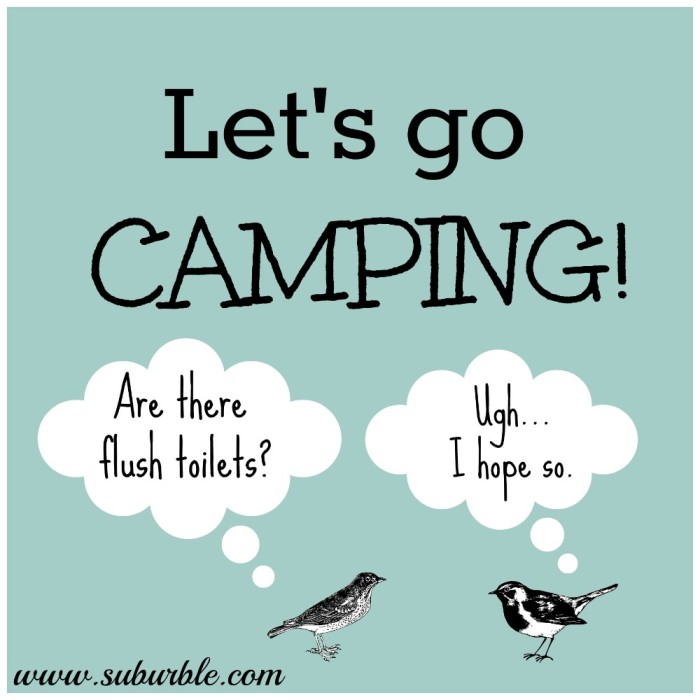 "Let's go camping!" is going to be a series of blog posts where I tackle things like
a) Converting your camping trailer back to a liveable space after spending the winter as your extra shed
b) Organizing cupboards that are within a giant box on wheels (where contents can fly around and create all sorts of calamity)
c) Camping games – and how to make them
d) Camping food – it doesn't always have to be hot dogs
e) Glamping: Is that a thing?
and finally e) how to not be a hot mess the entire time you're camping. That one will be my toughest challenge, and I don't know if I will actually conquer that one. My children have not always slept very well while camping, and so I've had my fair share of walking strollers around campgrounds at 6 am – not to mention attempting to sneak out of the trailer without waking up sleeping children (hint: channel your inner James Bond, because that is an impossible feat). As a result, I sometimes become a bit of a wild woman. With awesome hair. And mascara smudges.
And if that happens, then you – my loyal group of readers – get to enjoy the hilarity of the pictures and the stories.
But I'm hoping that this series will help me to make my campsite a little less chaotic (as in, there will be less plastic toys strewn about) and my trailer a bit more organized (again… less things… less strewn-about-ness). And if we end up being a bit more on the "Glamping" side of things, then all the better!
I have decided to channel my inner Shelley Long for this project:
I hope you'll join me on my trip to Camping Wonderment.
Or I hope you'll laugh when I tell you about my Camping Fails. Those will happen too.
I share my stuff at these fabulous places and here too.