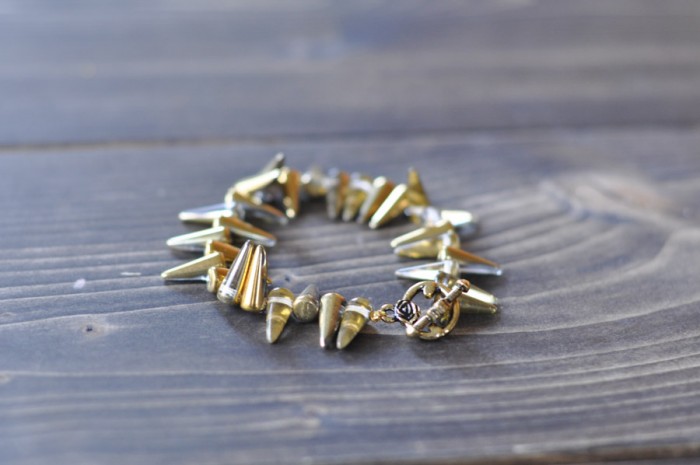 I was digging through a box of craft stuff – as you do – when I came across a few packages of golden spiky beads that I had ordered once upon a time.
I had seen them on the Consumer Crafts website and immediately knew I had to have them.
You see… I had remembered this Stella and Dot piece: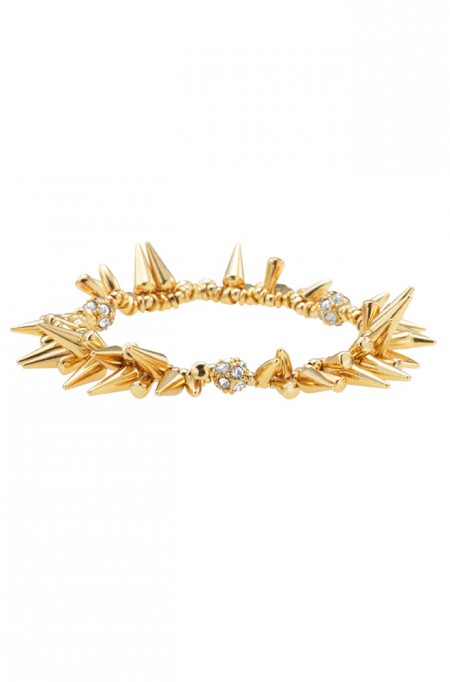 This is the Renegade Cluster. It's $64. And while it's fancy and I love me some Stella and Dot, I knew that I could make a bracelet inspired by this look for less than a quarter of the price.
To make your own spiky bracelet, you will need:
Gold Elastic Cord
A toggle clasp
Three packages of spike beads
Scissors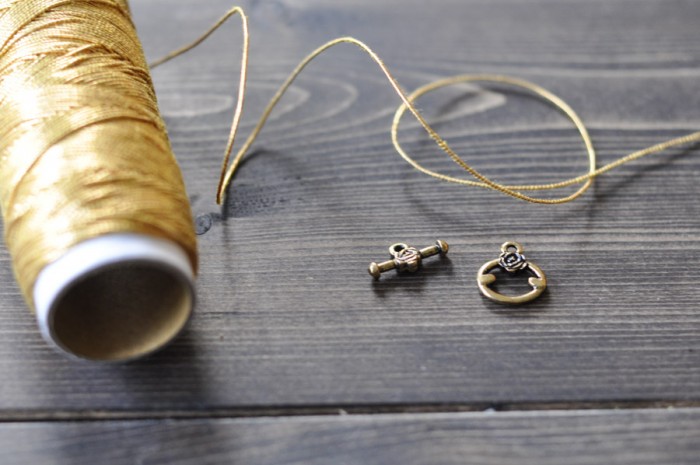 I decided to put a toggle clasp onto my bracelet for a few reasons. One was because the clasp acts as a natural anchor for the beads as I slipped them onto the cord. The second was because I love toggle clasps. I think they're so beautiful, and this little rosy pair was no exception.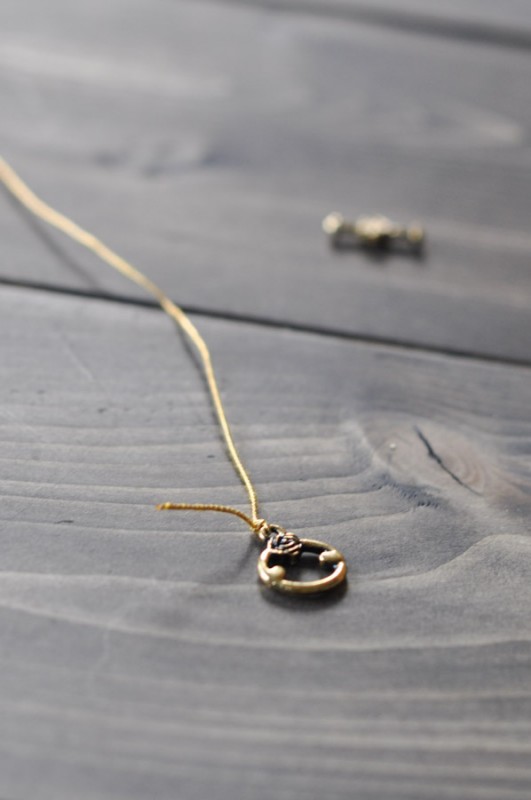 I simply tied one end of the clasp onto the cord with a double knot and trimmed the ends.
I measured around my wrist to get an idea of how long my cord needed to be, and then I added an inch for tying and cutting off the cord.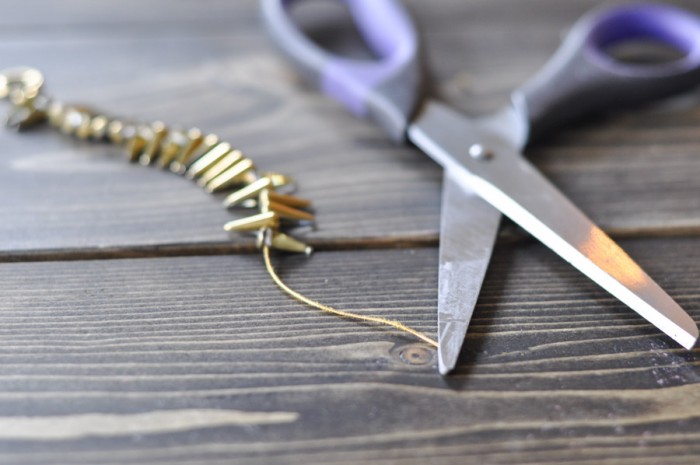 As I threaded the beads onto the cording (I didn't need a needle – the cord is stiff enough), I occasionally had to cut the tip of the cord to get a clean end. After a few beads, the end of the cord will get a bit frayed, making threading nearly impossible. Give yourself that extra inch and snip off the ends as you go.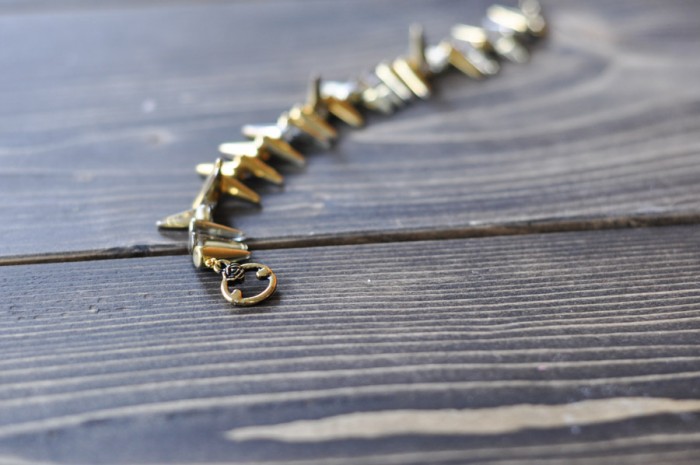 I didn't use the whole three packages of beads in my bracelet; I occasionally wrapped the bracelet around my wrist and stopped when it was just shy of fitting. The toggle and the elastic in the cord would allow me the remaining length. You don't want the bracelet to be too stretched while it's on – consider that when you're taking your measurements.
I would tell you how long mine was as a guideline, but I am tall and I have wrists to match.
A dainty little flower, I am not.
So measure your own wrist – and do it while you're completing your project. You'll get the best idea of when to end the beads.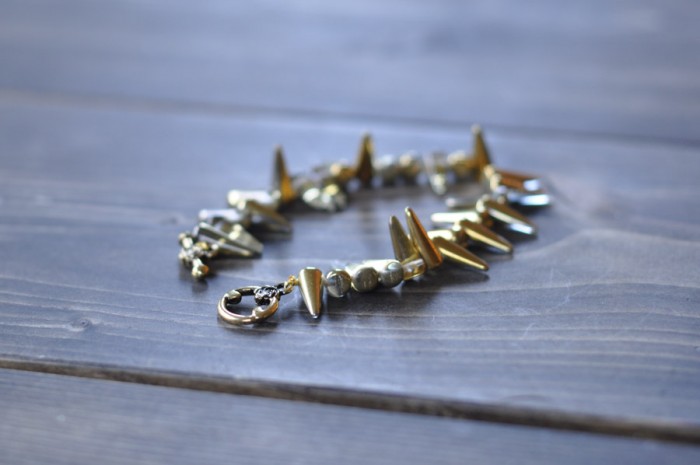 And in only ten minutes (or less) – this project is done!
I love how this bracelet turned out! It's simple, but very pretty.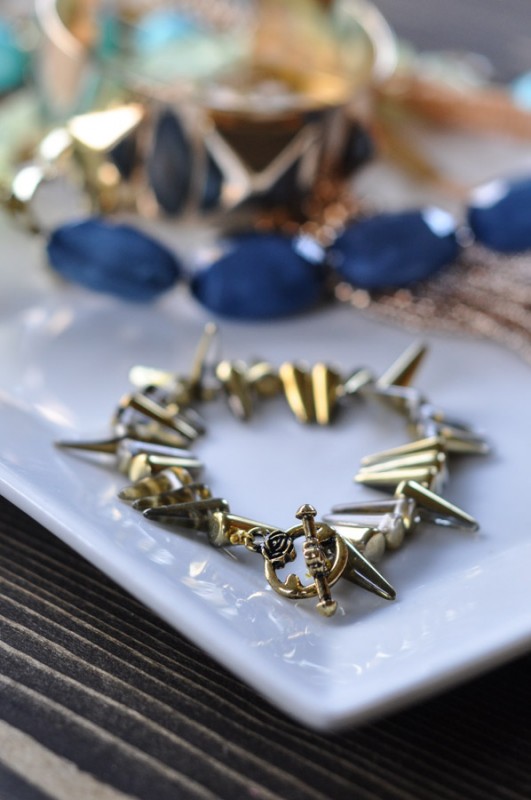 It's perfect for layering with other bracelets or wearing it on its own.
This is a great project for someone who is just dipping their toes into the water of jewelry making – no tools or pliers required.
What do you think – do you like the toggle clasp? Or would you prefer it without?