Things were quiet around here for a few days- and this was because we were camping! The Cliff's notes of our trip go like this:
It rained

The bugs came
We worried
It was overcast
We played
We ate too much
The bugs ate us
It was sunny
We played
The bugs were full and left us alone for a little while
We came home
That's a good story, isn't it?
Yes, we're dotted with little red welts from the World's Jerkiest Mosquitoes, but aside from that, it was a great trip! The girls played with friends and we chatted with grown-ups around the fire, and now we're home… sprawled all over the soft landing pads in our house… like sloths. Sloths with dirt on their faces. One little sloth may still be in her pyjamas. And it's 1:30 in the afternoon.
But aside from my riveting camping story, I have other news: there's a giveaway happening on this blog!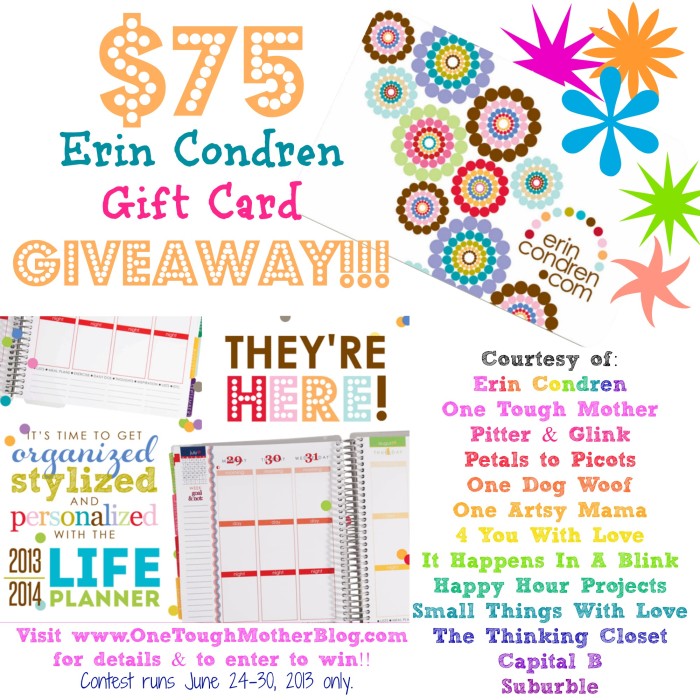 I've joined forces with One Tough Mother, along with a group of other awesome bloggers, and we're giving away a gift certificate to Erin Condren. Erin Condren is a site that specializes in awesome stationary, accessories, gifts, and the ultra-coveted life planner. (If you want to see this life planner in action, check out Kirsten's review here.) This giveaway is for a $75 US gift certificate to spend any way you want at Erin Condren – hop over there and check out all of the awesome things that you can get!
Enter this giveaway in the Rafflecopter widget below. The giveaway runs from June 24-30th, and is open world-wide. Good luck!
a Rafflecopter giveaway