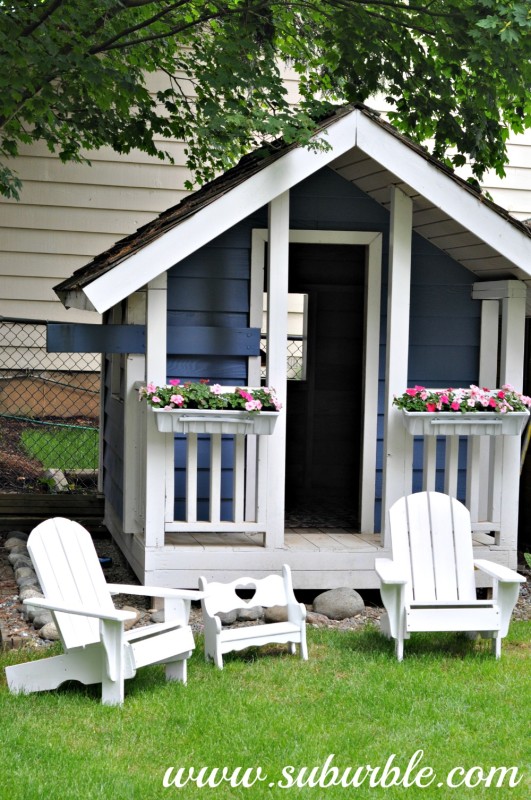 The Playhouse Project is one that is coming along slowly, but I'm plugging away at it. I was happily surprised to read heaps of great ideas in the comments of my first Playhouse Project post, so I made a list. Now I'm starting to tackle some of these "To-Do"s.
The first (and probably most seasonal) project that I wanted to complete were the flower boxes for the playhouse. The porch had been practically screaming for some flower adornments (or that could have been the Voices of Fussing Over Things that sometimes make noise in my head), and I had to get on it. Flowers only do their thing during certain months of the year; procrastination doesn't gel well with gardening.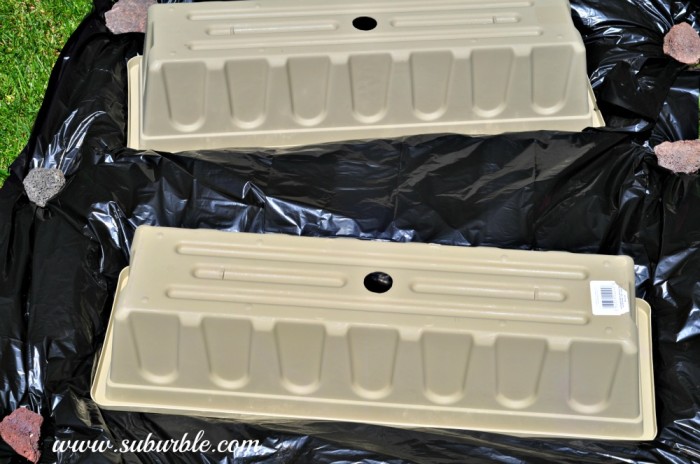 I searched in vain for inexpensive white flower boxes. I know that I could have made them, but sometimes, I like to take the easy route. Plus, I wanted the boxes to be lightweight and splinter-free. My DIYs with wood don't typically guarantee either of those characteristics.
I found these tan plastic flower boxes – complete with brackets! – at Home Depot for about $5 each. There weren't any white ones. I hmmed and hahhed while standing in the HD garden center… and then I remembered. Spray paint! Girl, just get your spray paint and everything will be fine.
And it was.
Until I happily trotted over to the playhouse and realized that my brackets were designed for skinny little 2X4s standing on their ends (and are there a lot of deck rails that are this thin?) and not big 4″ wide porch rails. The project grinded to a halt. A spray-painted-and-cannot-be-returned halt.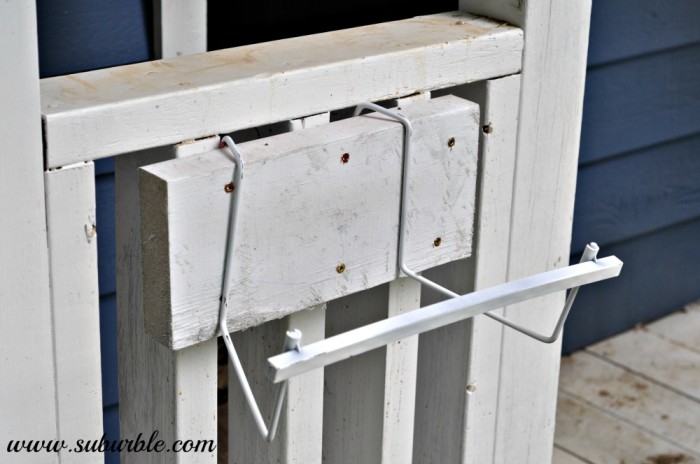 'scuse the dirt. It's mud-pie season 'round here!
It was Grandma Gardener who came to the rescue. She suggested screwing on another piece of wood (skinny stuff, perfect for these super-particular brackets) and hanging the box from that. Hooray! It worked!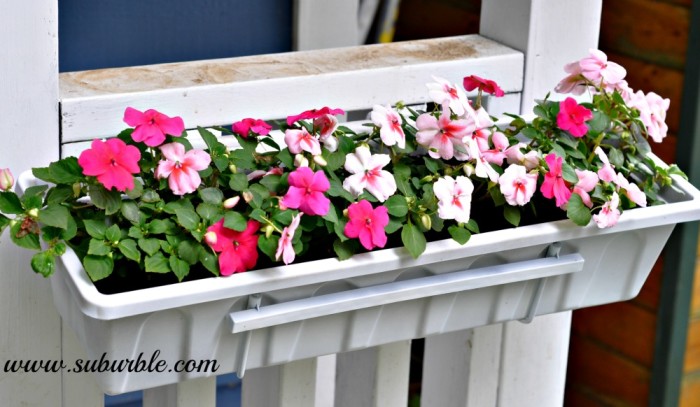 And now our flower boxes full of pink and white impatiens can show off their fancy selves at the front of the playhouse.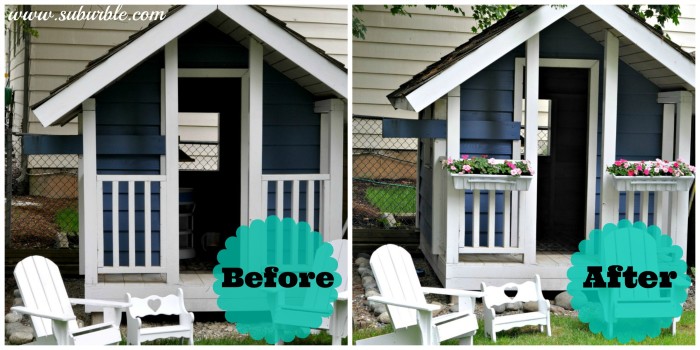 I think that they make the playhouse look so much more inviting and sunny. Wouldn't you agree?
Who knew that $10 in flower boxes and a bit of scrap wood could be so magical?
I'm getting even more excited for the next playhouse projects – they involve the Awkward Piece Of Wood. It's so clumsy and weird that it deserves capitalization.
Don't Miss The Next Playhouse Project! Subscribe!