I might have mentioned a few (dozen) times that I was helping to host a Pinterest Party for Hometalk and Michaels this weekend.
And it went fabulously.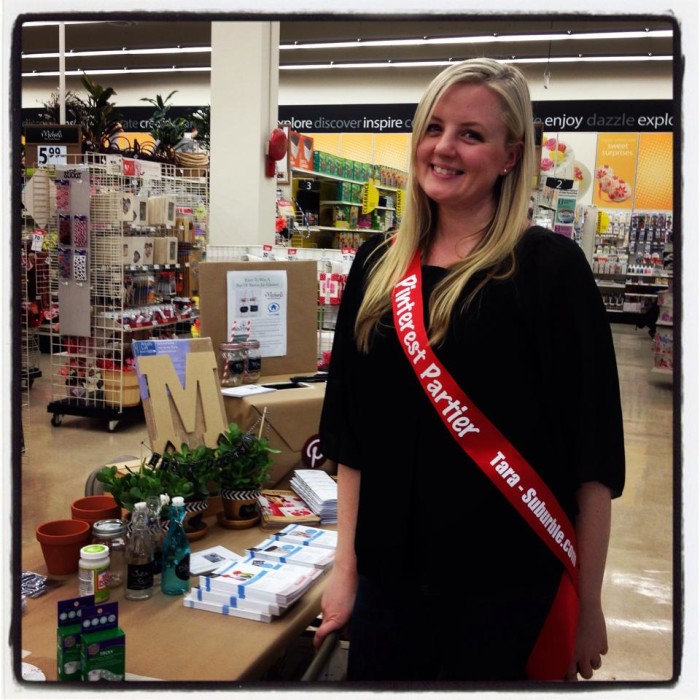 What do you do when inclement weather and international shipping holds your Hometalk apron hostage?
You make a sash.
Because you can.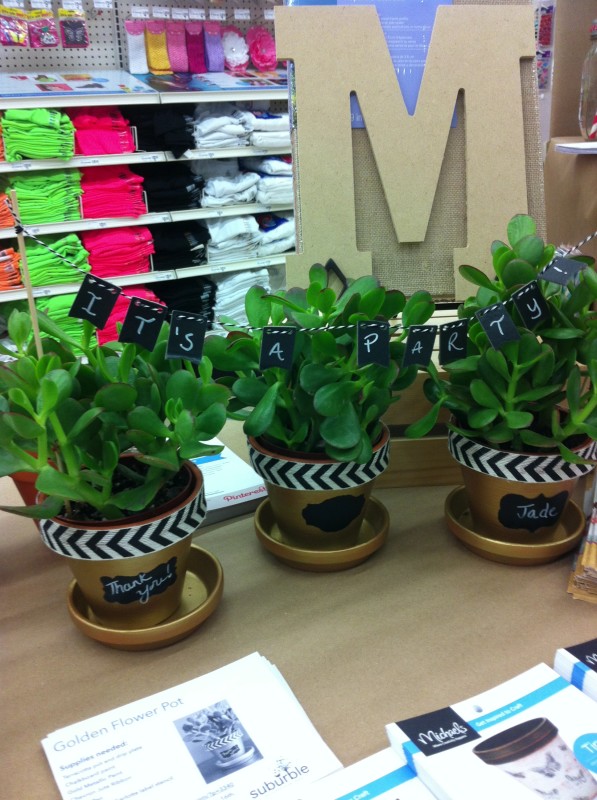 At this crafting party, I showcased some of the projects that I had created prior to the event. Like my golden flowerpots (with chalkboard labels)…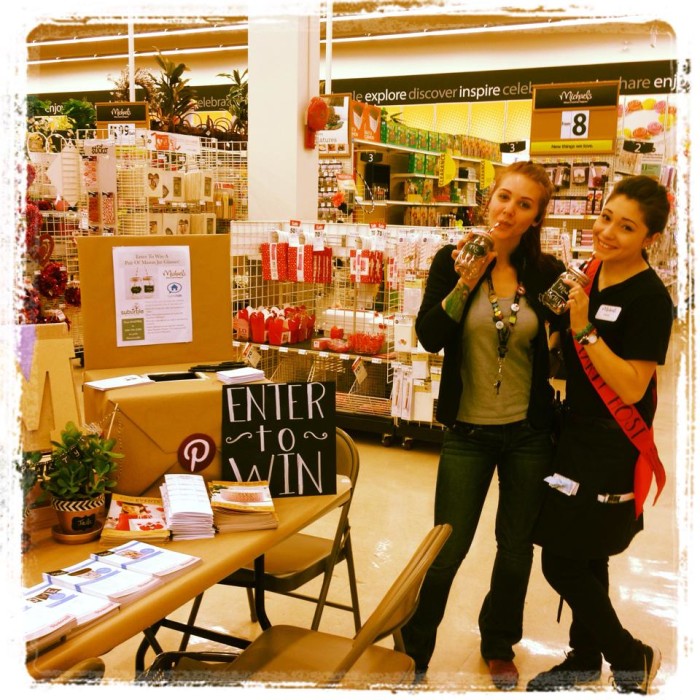 … and my mason jar drinking glasses, which are being demonstrated here by these two rad girls: Surrey Michaels manager, Dani, and product guru, Tamara (also wearing a sash, as she was instrumental in the party going off without a hitch).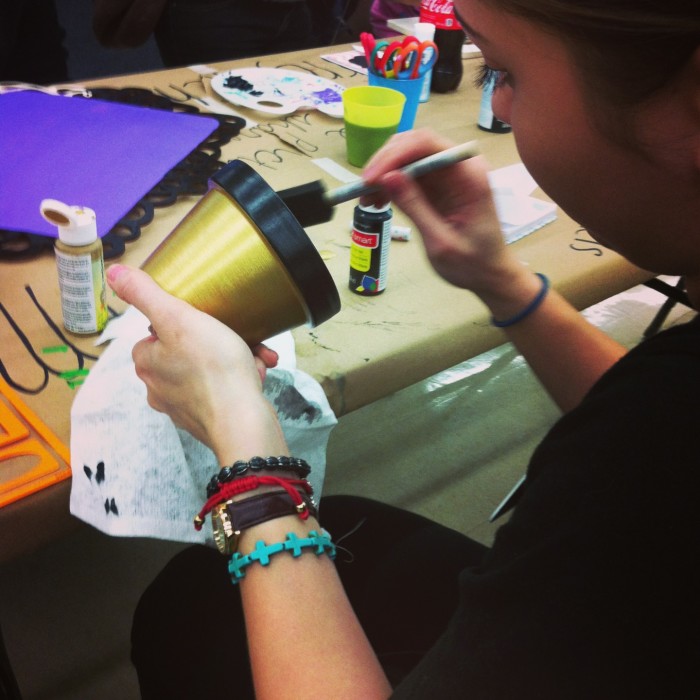 We had a great turnout! Some tackled the flowerpot craft… it's hard to resist the gold, I know…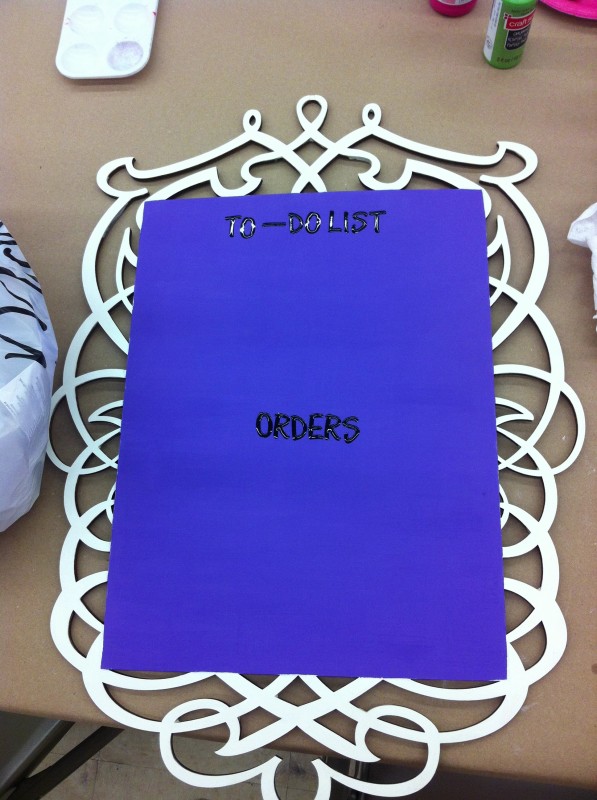 …while other crafters took the inspiration and ran with it. This is purple – yes, PURPLE, how cool it that?!?!? – chalkboard paint on a laser-cutout. This crafter, who was also a very talented cake decorator (I saw the pictures on her cell phone to prove it), created this board to keep track of her orders. Love it!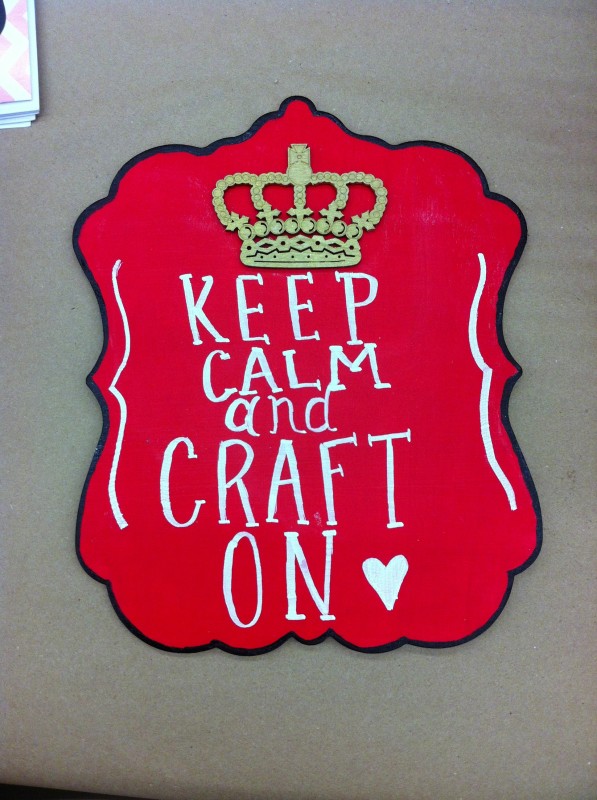 Or how about this excellent advice? This is Dani's take on the "Keep Calm" trend, only she painted clear chalkboard paint over a red acrylic base. This message can be wiped off and exchanged with another, and so on.
That crown cut-out is giving me some ideas….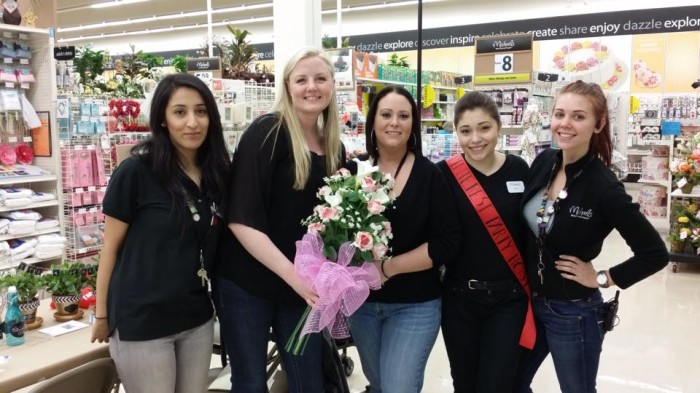 The party was hopping for most of the three hours that we were stationed at the front of Michaels. We even managed to convince a few kiddos who were happily clutching new Rainbow Looms to sit down with us and craft for a while.
If a kid is putting down a Rainbow Loom, you know that there is some serious craft-gravity happening.
And when it was over, the gaggle of Michaels ladies (Mahaam, Sarah – the events coordinator of Surrey Michaels, Tamara and Dani), who were so kind and helpful while I was a guest at their store, presented me with a flower bouquet as a thank you!
I know! How sweet are they!?
Also, to get an idea of how awkward I am about my height, check out how I'm leaning in this picture. Strike a pose, Tara.
Pinterest Parties need to happen more often. It was such a hoot being in a Michaels – let's face it, it's the mothership for crafters – and encouraging people to craft on the spot.
And the sash definitely helped. Princess of Pinterest? Crafty Queen? Awkward Blonde Chick Beckoning You to Paint With Her?
They all work.
Check out some of the other projects that were featured at Michaels and Hometalk Pinterest parties at 99 other locations across the continent! Get inspired!