Some people call it junk.
Other people may call it "hoarding" or "a problem".
I call it inspiring.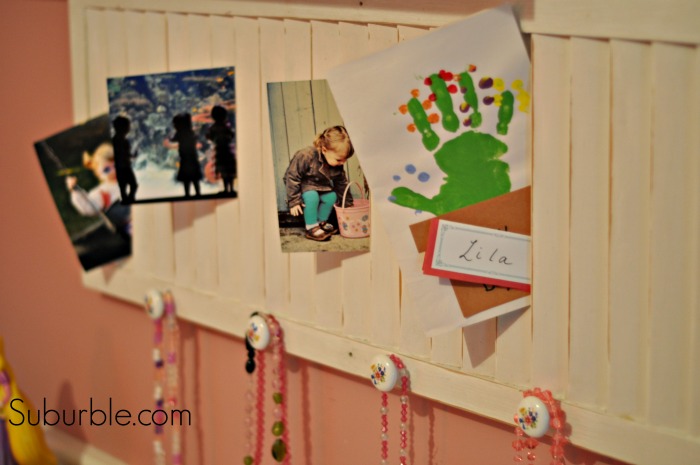 Today I'm sharing an upcycle that is not only practical, but is also pretty! So pretty that it currently resides in our eldest daughter's room, with pride of place.
It's a shutter organizer! I know! Are you excited too?!?!? How many exclamation points can I use?!?!
I'm trying to wean myself off of exclamation point abuse. Please let me know if I slip again in future posts.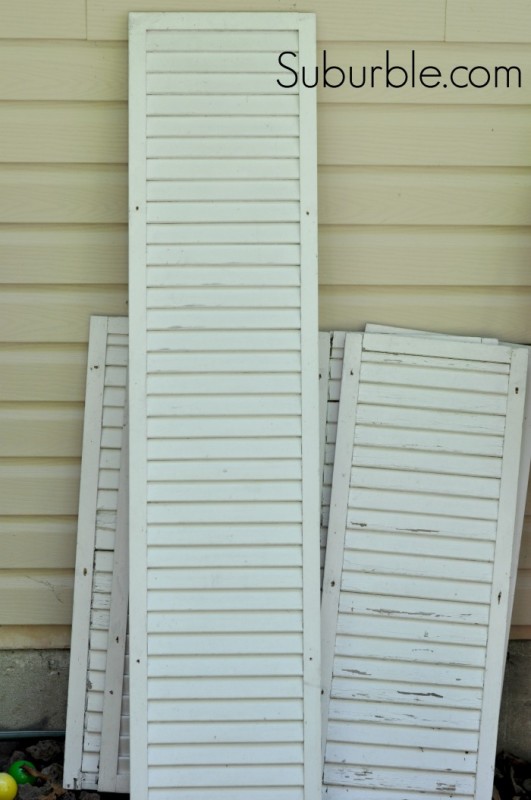 The idea for this organizer came to me one day, as I was taking the girls on a walk. I noticed a pile of shutters heaped on the side of the road. At first, I thought to myself, "Who would want someone's old shutters? Windows are all different sizes… who can possibly reuse these?"
And as I turned the corner, I was struck with Bloggy Idea Lightning. "You fool! YOU can use those! You can turn them into eleventy million things! Why did you leave them there?!?!"
So I half-jogged, half-groaned my way home as fast as I could (pushing a double stroller with two almost-preschoolers isn't as easy as you would think, especially when you're stressing about your side-of-the-road freebie possibly being snagged by another faster-thinking DIYer), chucked the kids in the car, and went back to the shutters.
Thankfully, they were still there. My neighbours probably thought I had lost my mind, as they watched me gleefully throw the shutters into the back of my car. "Goldmine!"
And Mr. Suburble just raised his eyebrow at my newest addition to the hoard.
(If you'd like to see another project I made with a cast-off shutter, click HERE)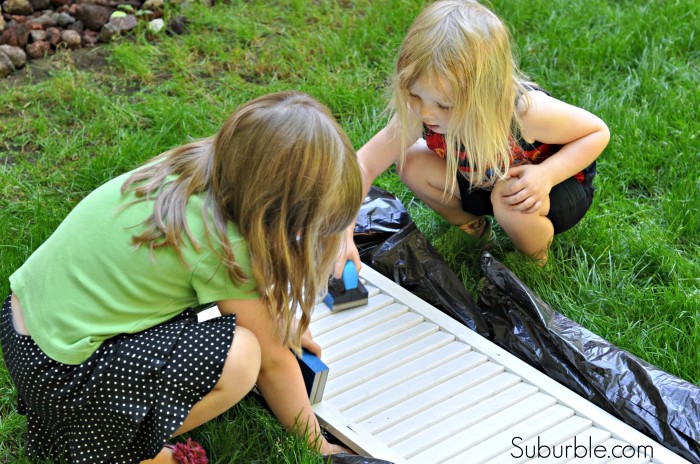 The first thing we did to our chosen shutter was to sand it. I had two very eager helpers for this job. I figured that they probably couldn't screw up sanding, right?
They could argue about it, though. Good grief.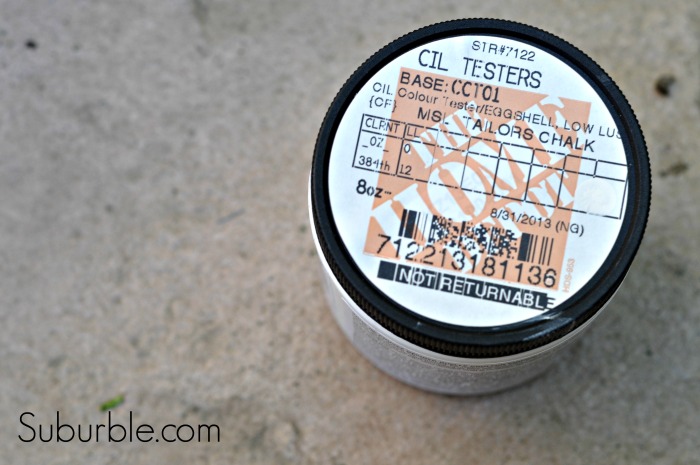 The shutter then got a coat of Martha Stewart Living's Tailor's Chalk. It's an off-white that has a hint of grey in it (so a cooler tone). I bought it in the tester size because these little pots are FANTASTIC! Want to get just a little bit of paint for your project for around $5?!? Tester sizes, people. Love them.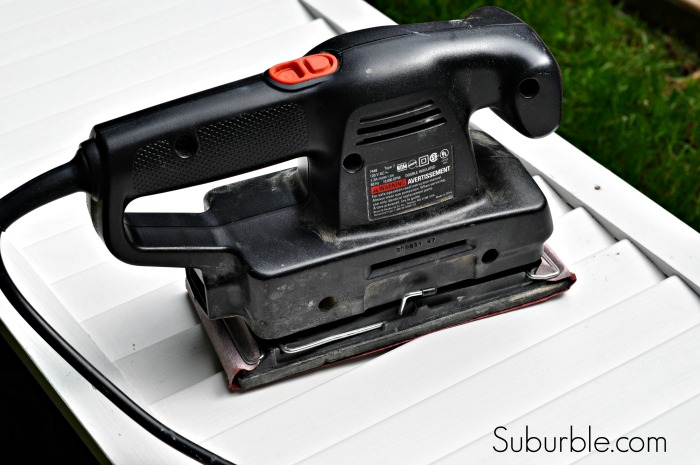 In order to distress the shutter, I broke out one of my dear friends – the belt sander – and started strategically sanding.
Mr. Suburble said, "But it was already distressed when you got it off of the side of the road. Why did you paint it and then wreck it again?!? It CAME wrecked."
Oh, funny man… that shutter was filty dirty and covered in spiderwebs when I found it. I can appreciate a good vintage find with an original finish… but this was an ornamental shutter off of the side of someone's house. It needed a coat of paint so that I didn't feel heaps of guilt when it went to live in Lila's room.
Yes, maybe it doesn't make a lot of sense, but I feel better knowing that the shutter had a lick of paint and then some sanding "distress". It's brand new again!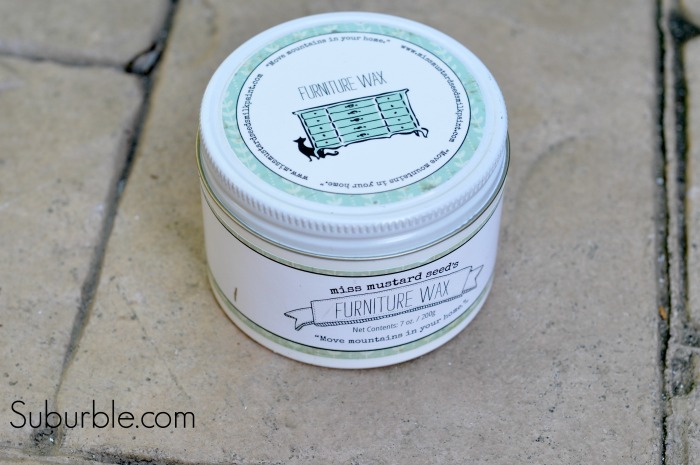 After the piece was thoroughly "re-wrecked", I used a paint brush to knock off all of the sawdust and then fetched my new furniture wax. I picked up this Miss Mustard Seed wax a couple of weeks ago and have been itching to try it out.
I have to say, the wax gave the piece a very smooth and "professionally finished" feel. I LOVE it and highly recommend it for anyone DIYing a furniture piece. I'm going to try the antiquing wax next – I imagine that I'll have a heydey with it.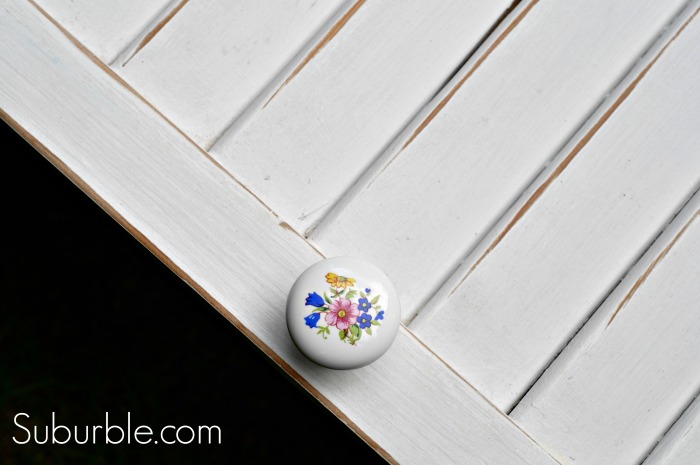 The final step was to drill four holes along the bottom of the shutter and screw in these decorative knobs (that I found at Home Depot for cheapy-cheap). I think that they're darling for a little girl's room!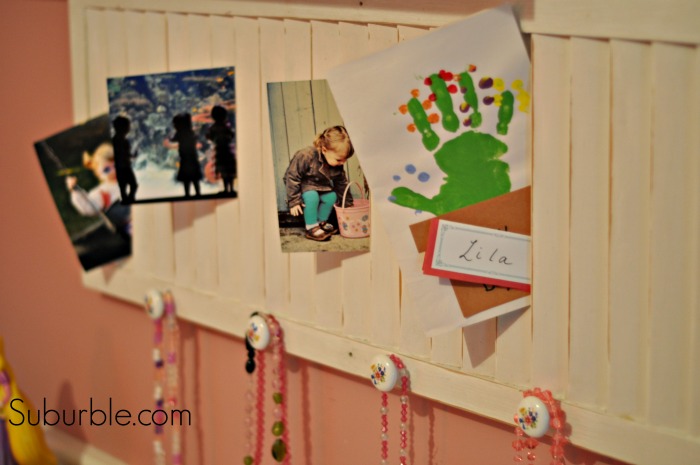 And in its finished glory: Lila's shutter organizer!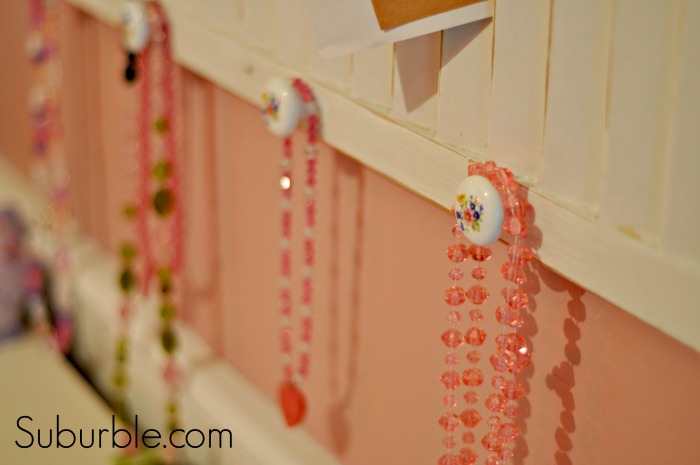 The knobs are necklace organizers. The child has amassed a collection of necklaces (at four years old! What will she be like when she's 14!?!?), and this is a a great way to not only display them, but also keep them from becoming a tangled mess in her jewellery box – or let's face it, in whatever box/drawer/bin she's put them in.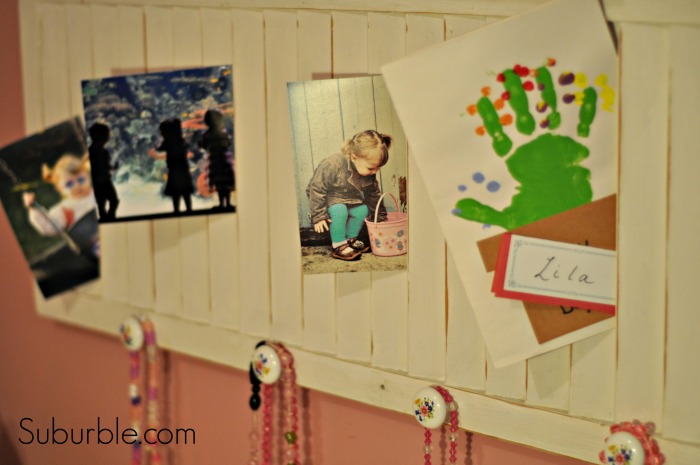 Lila is able to slide in photos, artwork, or little memories (like that placecard from a friend's very memorable fancy-dress birthday party), without needing to use thumbtacks or magnets.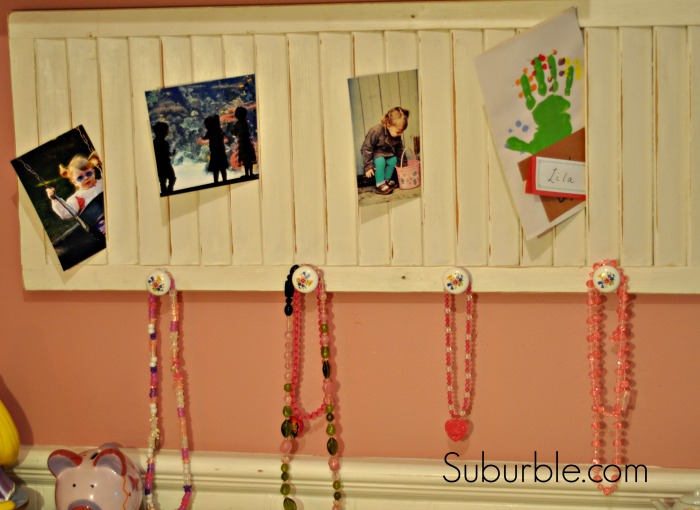 I love how the shutter has a bit of a vintage feel – thank you, belt sander – while still appearing fresh and bright with its new coat of paint.
It's a charming take on the bulletin board, and yet, it's got a bit of an arty feel. I'm pretty thrilled with how my curbside victory has turned out!
Subscribe to Suburble! We are the people looking for your "Free" signs!

**This post first appeared on One Artsy Mama