In our house, crafting is not limited to one room and to one person. We all love to get our hands dirty (or glue-y) and to create things. The girls are probably the craftiest of the bunch (with Hubby being happy to take fourth in the Suburble Crafty Olympics). This is why I have been hankering to try out the Kiwi Crate. Kiwi Crates are kits that feature incredible crafts for your kidlets all under the umbrella of one theme. Each crate is delivered  to your door and includes everything (and I mean every. single. thing.) that you and your progeny will need to make your awesome projects.
So when I learned of an opportunity to review a Kiwi Crate, you can bet that I jumped all over it. And when I learned that the crate's theme was birds? Well, that has got to be kismet or someting. The "birds in the 'burbs" were about to get literal!

 Lila could not help herself – she opened the box right away. Inside, we found all of the materials we needed and two booklets that described each project we would tackle. The booklets not only had instructions, but also bird facts and enrichment activity suggestions so that parents can go beyond simply crafting with the kids.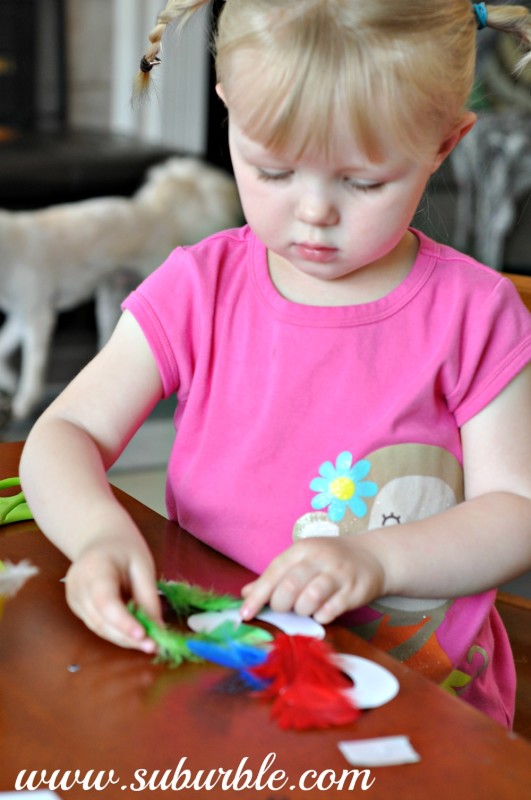 We started on the bird costume. The girls quickly figured out the glue dots and how to position the feathers.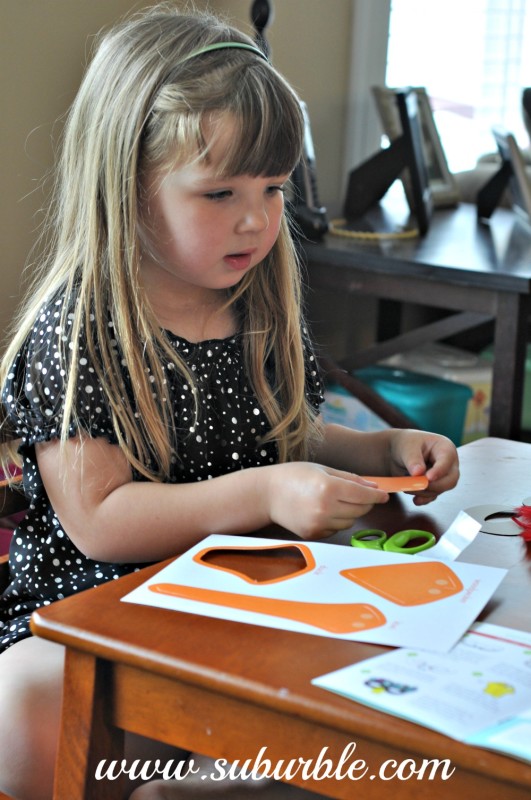 The Kiwi Crate came with three different sized bills that attached to the mask with velcro (how clever!). I loved that the girls had a choice of whether they were a woodpecker, kiwi or duck. "We're learning, girls!"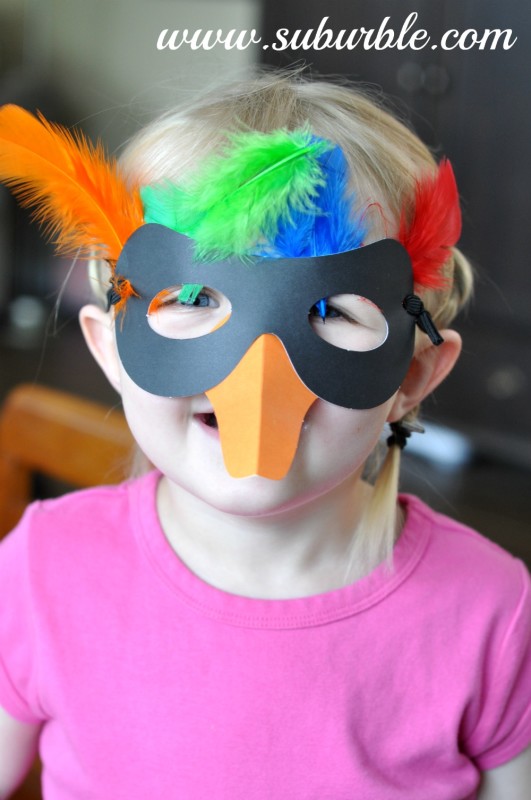 We also learned that if you're not careful with your feather placement, you can potentially lose an eye!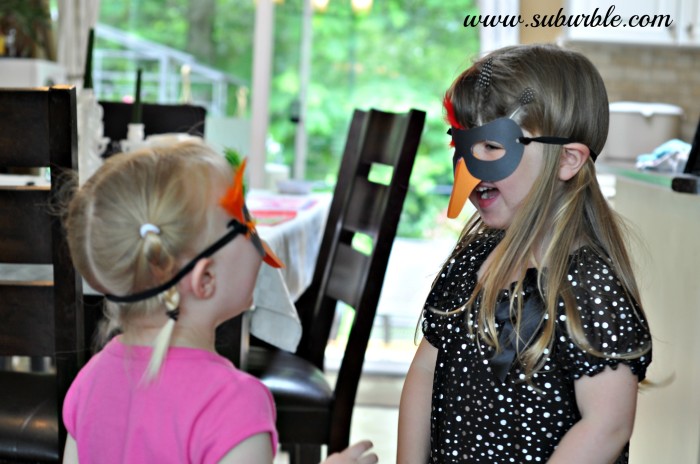 "You're a bird!"
"You're a bird, too!"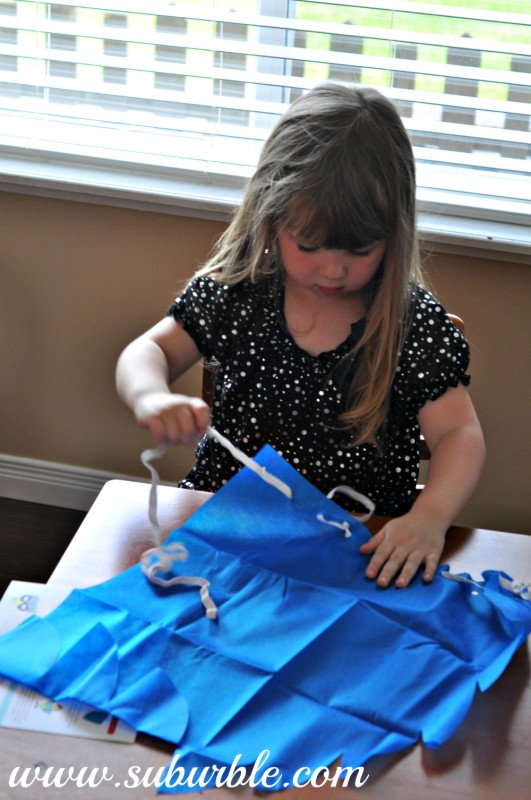 It didn't take long for Lila to notice the pictures of the wings in the booklet. She threaded the elastic through the pre-cut holes all by herself. I was pretty impressed.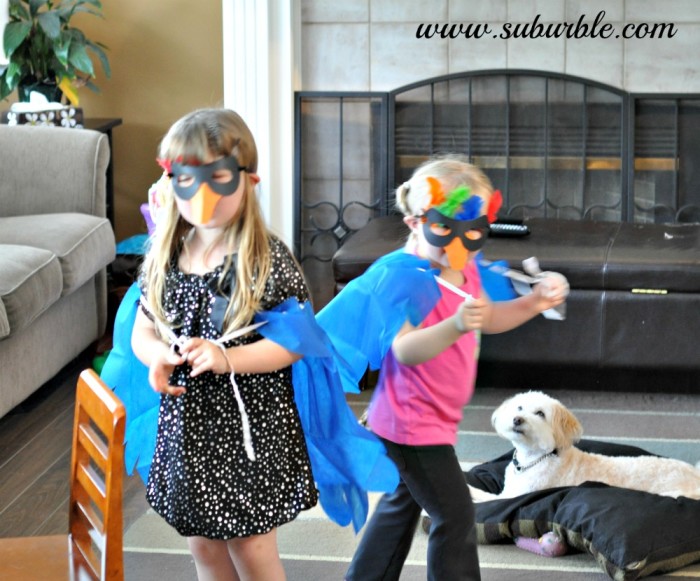 'scuse the blurs. The birds were flying pretty fast.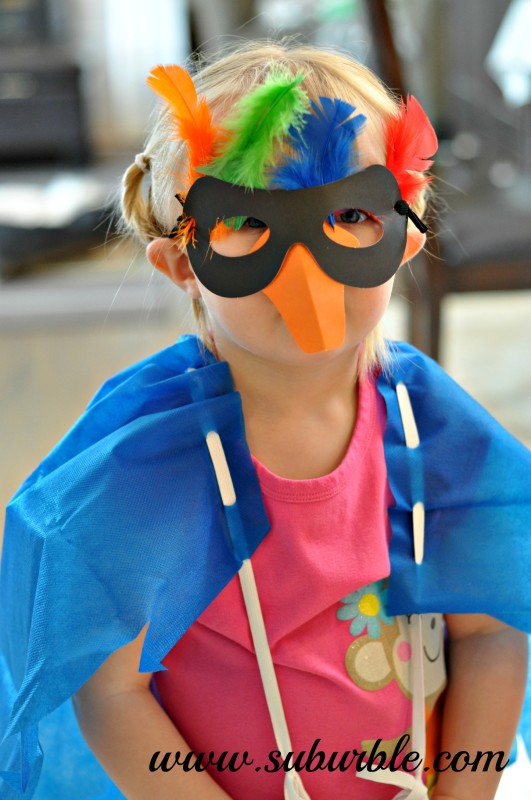 She's so proud of her bird transformation!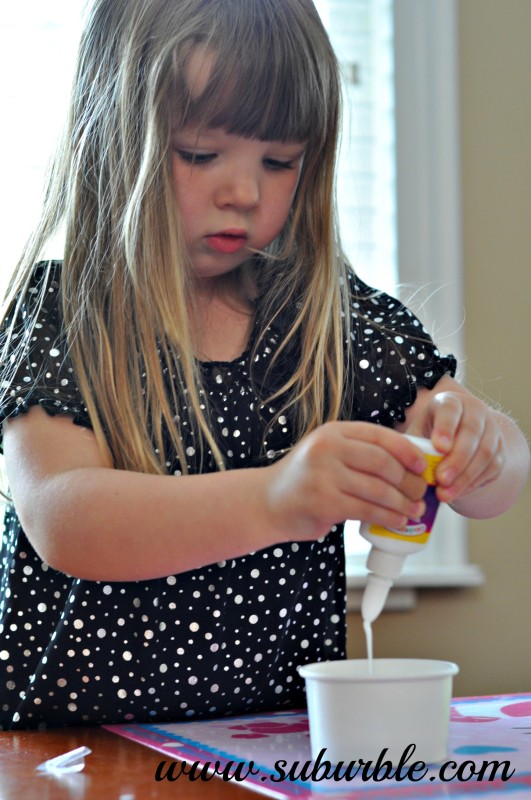 After the birds grew tired of soaring, Lila grabbed the other booklet (Nest and Eggs) and pleaded to start the next project. I had intended on saving it, but honestly, I was excited to see what happened too.
Turns out, we were getting our hands dirty!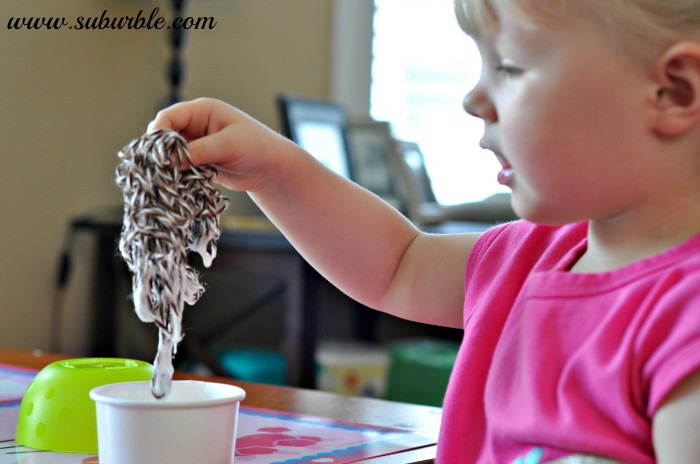 Well, perhaps a bit reluctantly.
(And I should add that after we completed this craft, we noticed the wooden spoons in the Kiwi Crate that were for stirring the string and glue. We did it the old-fashioned – and sticky – way. Mom should pay closer attention to the instructions, we think.)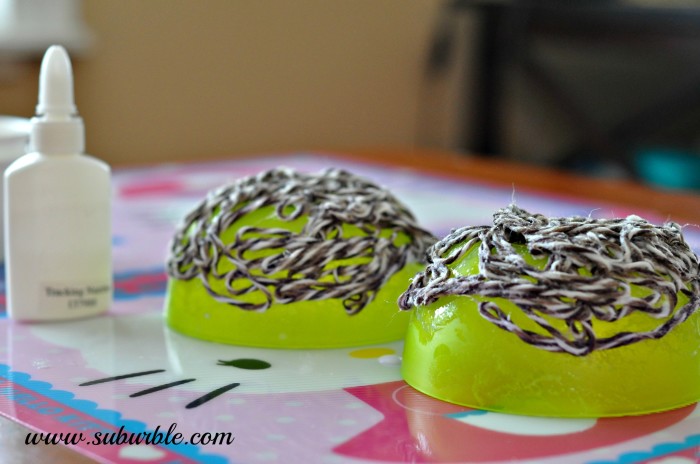 We let our nests dry overnight.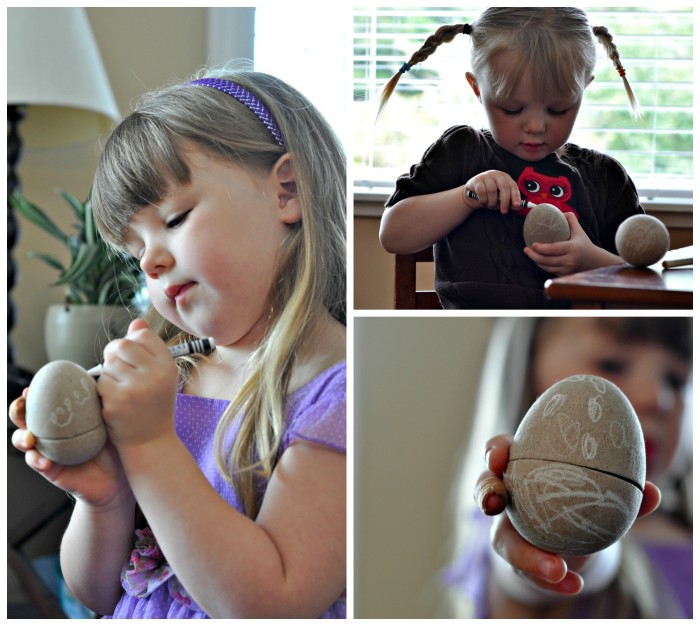 The next day, we started on egg-decorating. The girls used a white crayon to create speckles (and happy faces, because that chick is ecstatic).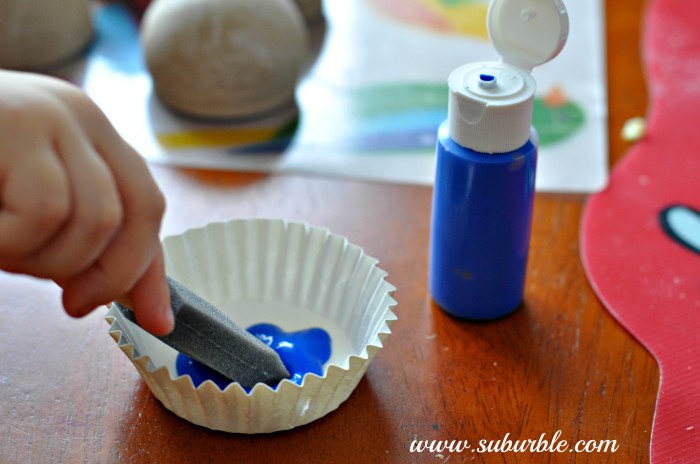 And then we set to work on painting.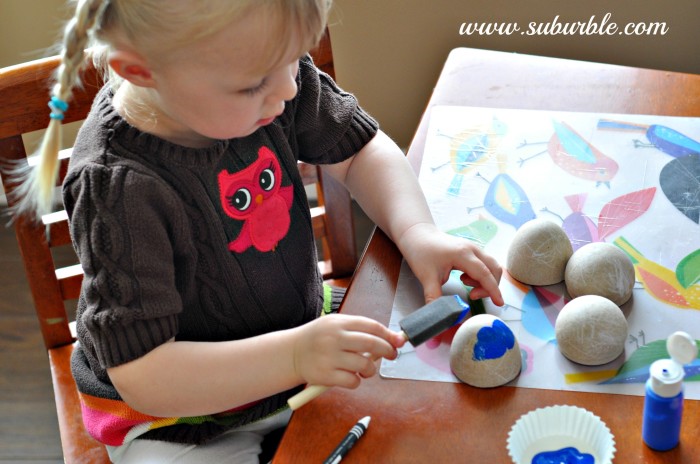 Lucy's favourite colour is blue – it was a hit!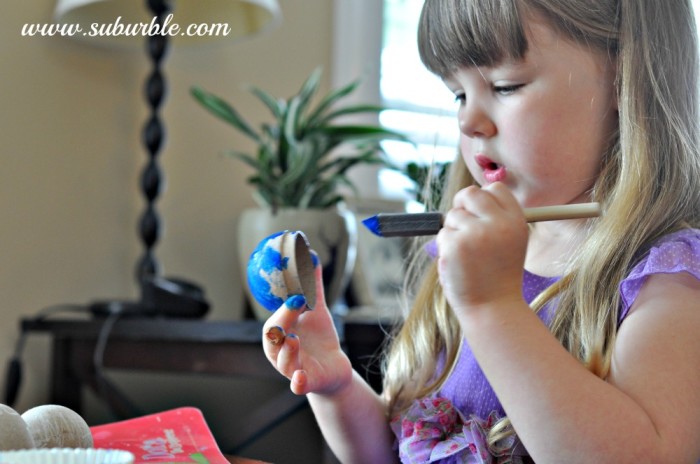 Concentrating….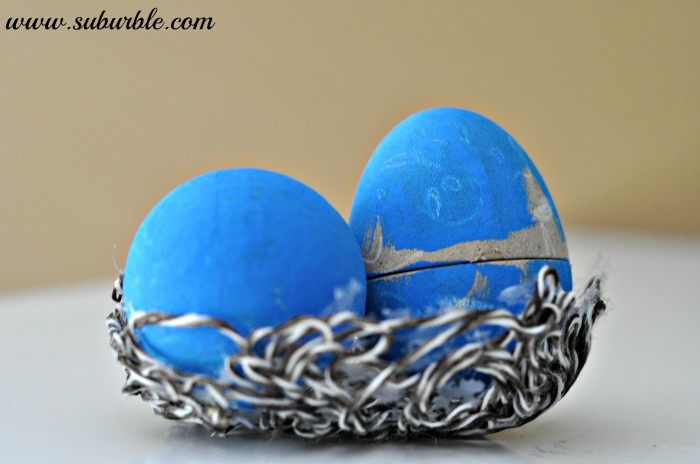 And after they had dried, our eggs got cozy in their little nests.
The Kiwi Crate was (and still is) a huge hit in our house. Our birds have flown through the house countless times since the crate has been cracked open. I know that there are many other crates that the girls would love to try. Some of the themes are: a dinosaur crate, a garden crate, and a Colourful Inspiration crate. Kiwi Crates can be purchased as a single crate or as a monthly subscription. They also have sibling add-ons – because while sharing is caring… Mama doesn't want to have to be a referee during craft time.
As an activity or as a gift, we think that the Kiwi Crate is an awesome choice.
This mama-bird approves.
Follow along here: