All of the photos in this post were taken by my incredibly talented friend, Lindsay Faber, of Lindsay Faber Photography.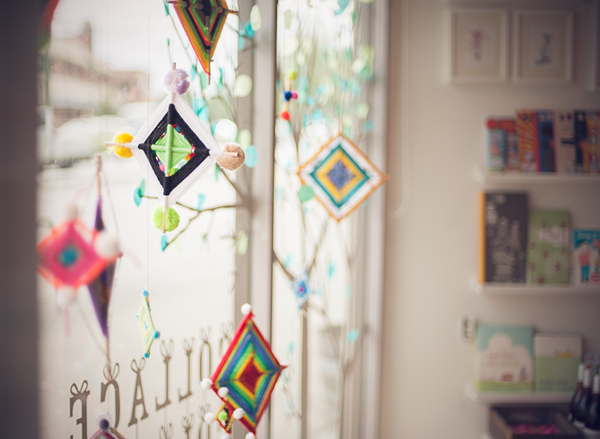 This weekend was a big one for me.
See… for the past month and a half, I've been working on a project. I haven't been working on it alone; it's been the non-stop-chatter of myself and my friend, Crystal, of Sew Creative.
We met over coffee at the end of March. Never having met before, I didn't know how long our date would be, nor whether we'd even get along. After four hours and two empty mugs of tea, we had decided: we were going to get creative bloggers together in the Vancouver area, and it was going to be fantastic.
The West Coast Creative Company was born.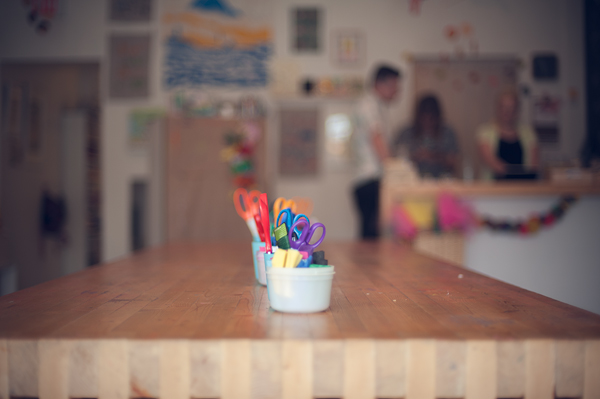 This past Friday, Crystal and I hosted the very first West Coast Creative event, held at the gorgeous Collage Collage in East Vancouver. A creative space for young and old, it was the perfect spot for us to gather as a group of writers and creators.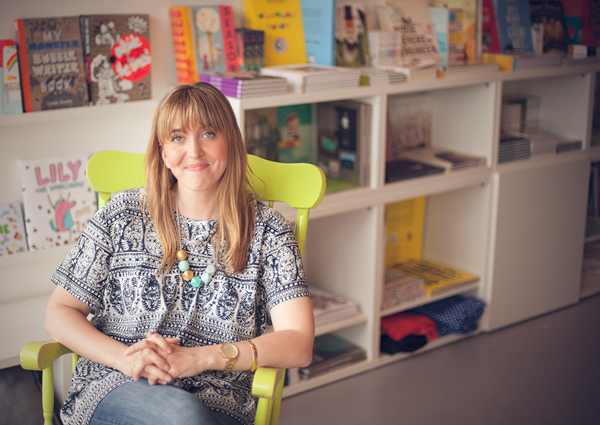 Erin, the "mother of a five year old shop, and a fourteen month old baby" graciously welcomed us into her space, and made us feel right at home.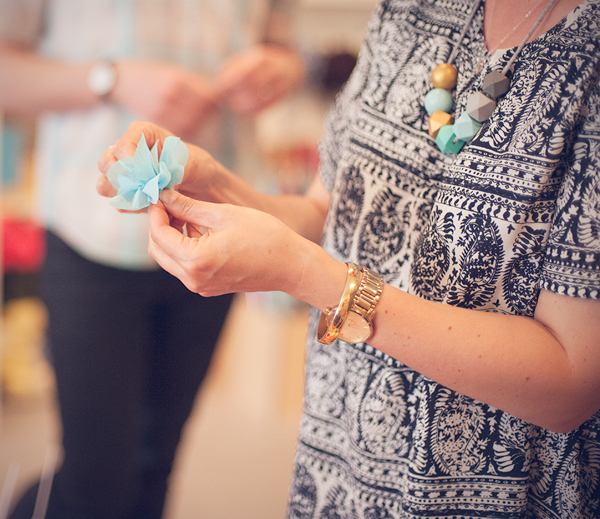 And she – along with Russell, another shop teacher – showed us how to make paper flowers. The group of women who were sitting at the large table in the center of the room – a room filled with books and pipe cleaners and paint and art – laughed, sipped on glasses of wine and crafted.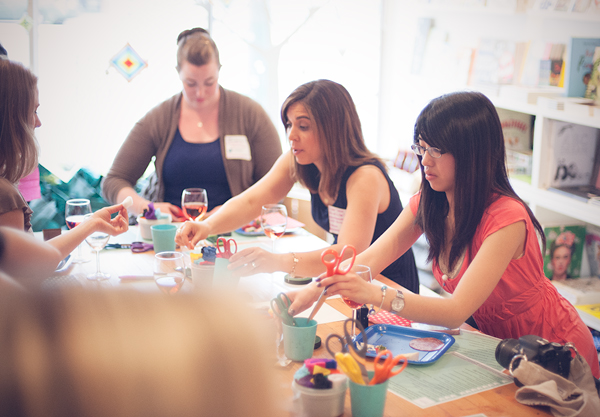 And it was amazing.
It was a beginning.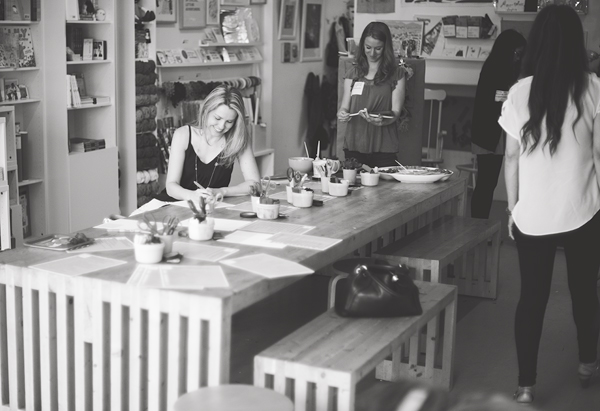 I met friends that I have only spoken to via the internet. So weird that you can talk to people for months, and never make eye contact with them. Like Jamie (above) from So Much Better With Age. She's just as sweet in person as she is on her blog.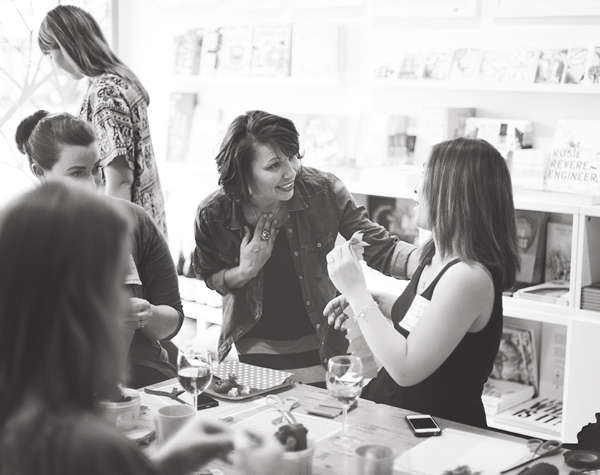 And the lovely Shelley of Sow and Dipity. She and I live in the same area, and haven't ever met before! It's so funny that we both had to drive into the city to meet when we live probably less than 10 minutes away from each other.
Though we are going to make it more of a habit these days!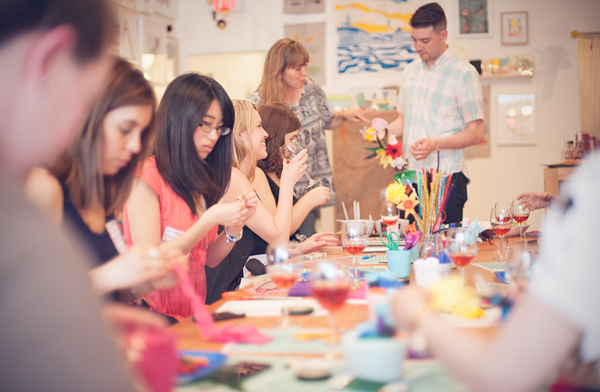 And there were so many other amazing women to get acquainted with:
Eleanor of Moo and the Bear (who also provided beautiful necklaces for each blogger)
Tamara of Discovering Parenthood
Allison of Seaside Home Accents
Roya of Betsy Ideas
Whitney of Macarons and Mischief
and the fabulous Ronda of A Girl with a Pen.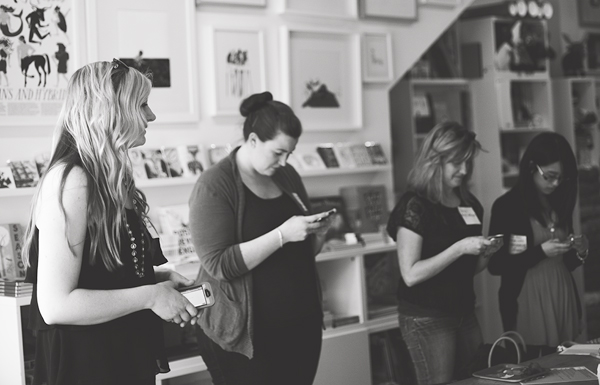 A blogger event means that you're allowed to be on your phone throughout the night. And also, I'm the only putz who didn't realize that she had her sunglasses on her head for most of the night.
The evening sped by with some serious crafting, peppered with stories from women who discovered their creativity. Erin talked to us about starting Collage Collage; she had perhaps always known that she was meant to teach and inspire children. She was a camp counsellor and loved every second of it. She talked about how there are parts of us that are evident as children – elements of our personality that can be nurtured and developed – that we should pay attention to.
I thought of my own girls, and how different they are from each other. And how I should be paying close attention to their loves, so that I can encourage them to follow their passions.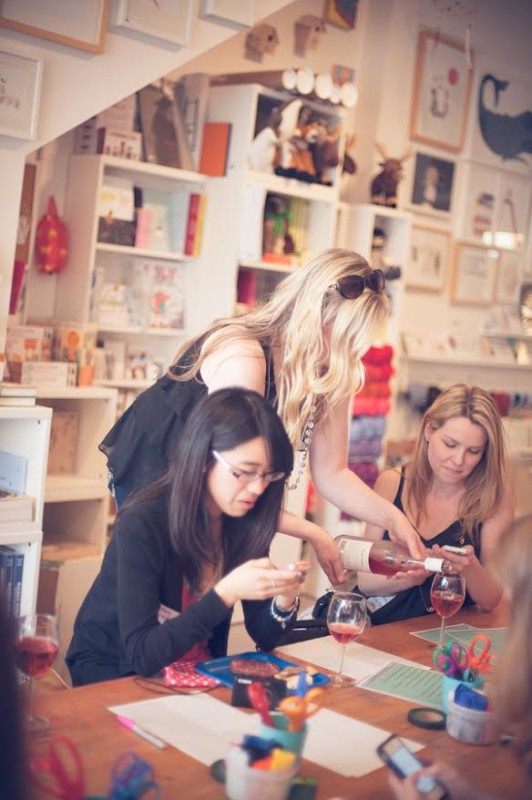 Okanagan Crush Pad generously provided our event wine – bottles of delicious Haywire Rose.
And yes, I'm the one pouring the wine. I'm very good at making sure everyone has a drink.
Eleanor told the story of starting her jewelry business, and how she strives to create pieces that tell a story. She and I gabbed about stamping supplies that night; I'm feeling more and more confident about getting my stamp on! Lindsay, our event photographer (and my friend for over the past 10 years), shared why she loved photography. She also announced that her Blogging Photography E-Course will be available this summer! (You can sign up to be on her email/info list to get the details first!)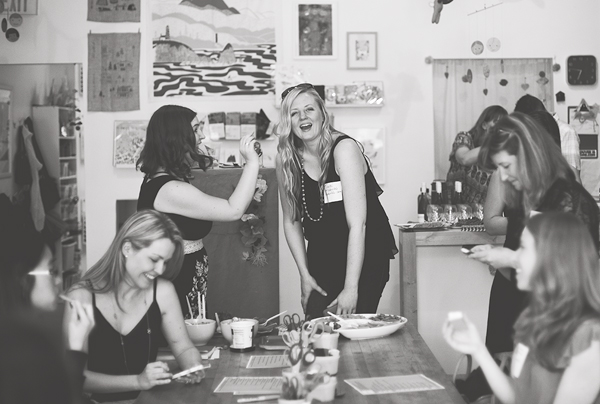 Ever the serious hostesses….
It was a wonderful night full of creative energy. I left feeling inspired and overwhelmed. And not at all tired. I didn't fall asleep until well after midnight.
Last Friday, Crystal put up a printable on her blog in celebration of the event (and in recognition of the butterflies that were flapping around in our stomachs) that said: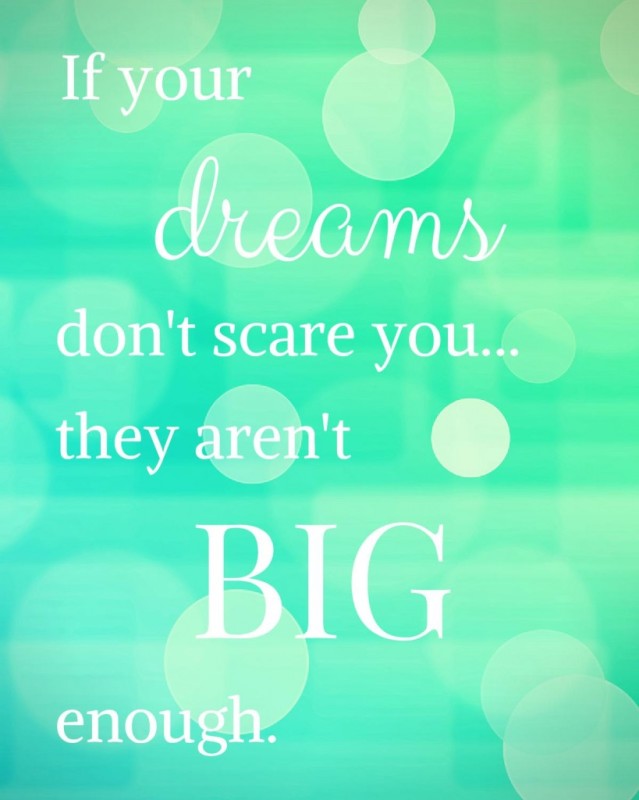 And it's so true.
So often we think, "I wish that this would happen" or "I want to meet more people who do this…"
Make it happen. It will be terrifying and wonderful.
You can write me if you need encouragement. I give it out like I pour wine.