I know that butternut squash soup is typically a fall dish. But sometimes I get a bit fed up with the whole "Winter is for comfort food" and "Summer is for citrus" recipe stereotypes. I live in Canada. Rarely is citrus considered eating locally. Also, it rains a lot where I live. Soup is such a nice rainy day meal.
What's even better is that I've discovered a way to take these typically autumn dish and turn it into a spring feast: minted sour cream! Trust me, this delicious little dollop of heaven takes any soup and gives it that fresh, cool feeling that we're all looking for when the sun comes out. It's a way to take our favourite recipes, and give them a little je ne sais quoi?!
I was wandering through the produce market when I saw these two little butternut squashes just hanging out. They looked a bit bored, so I decided to take them home and turn them into a soup.
I was a fool and thought I had red peppers at home. I didn't. I had yellow. So roasted yellow peppers it was!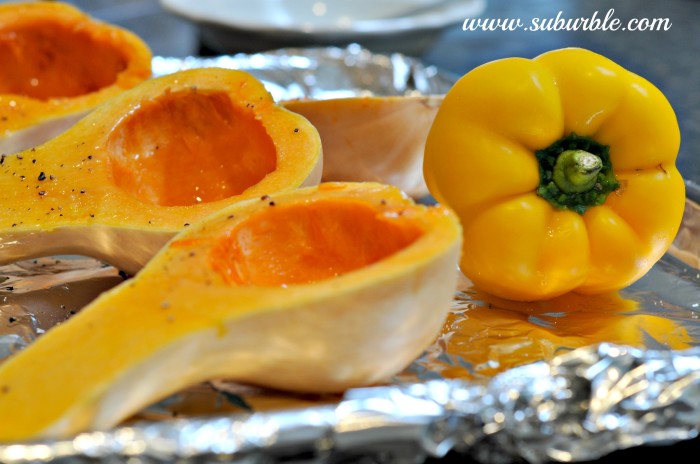 Before and after. There's something about the sweet, satisfying taste of roasted vegetables. That caramelized sugar is delish!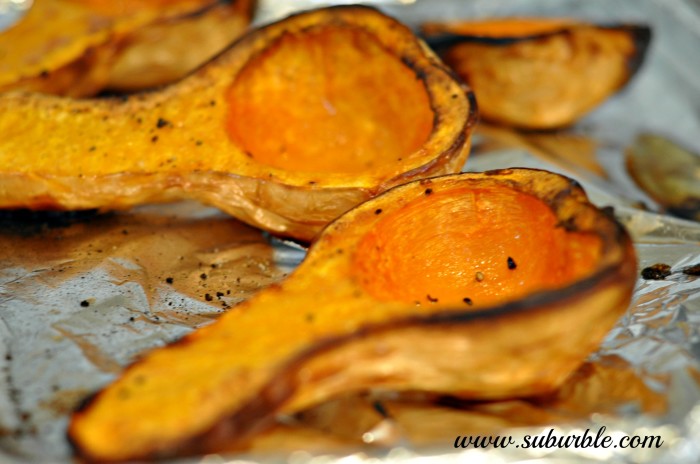 The recipe below tells how to take this roasted bit of goodness and transform it into a fabulous soup, but first, I have to show you something: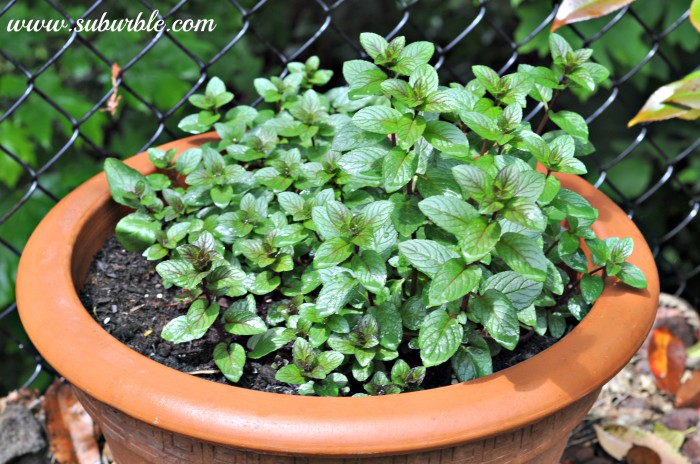 This is my little mint patch! It's chocolate mint, to be exact. It doesn't smell like chocoate, but smells unlike any other mint I've had. It beats spearmint by a long shot. This stuff is fab in your tea, and is even better in your sour cream. Trust me.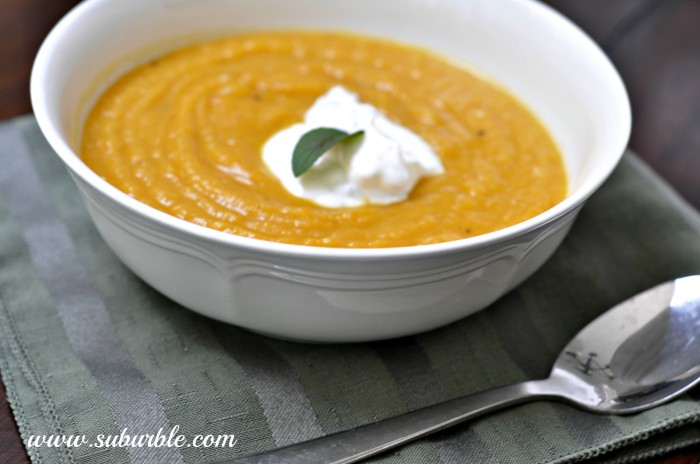 I was pretty impressed with my presentation when I whipped this up. Sure beats the typical grilled cheese sandwiches that are usually on my lunch plate.
Don't have butternut squash in your local produce market? (and fair enough, it's June) – you can substitute sweet potatoes or carrots in this recipe. Fork your sweet potatoes and then wrap them in tin foil before you roast them (it should take an hour). Carrots can be chopped (into "coins"). Roasting should take 1/2 hr to 45 min.
Roasted Butternut Squash Soup With Minted Sour Cream Garnish
2013-06-10 00:27:32
A delicious and hearty soup; this is a great way to use up some veggies from the refrigerator as well!
Ingredients
One large butternut squash (or two smaller ones)
1 pat of melted butter (approx 2-3 tbsp)
One red or yellow pepper
One cooking onion, diced
Two cloves of garlic, minced
4 medium baker potatoes, in 1" chunks, steamed or par-boiled
2 cups of vegetable or chicken broth
1 tsp of cumin
Salt and pepper to taste
For garnish
1 cup of sour cream
2 tsp of fresh mint, minced
Optional: 1/4 tsp cumin
Instructions
Preheat oven to 400 degrees
Cut squash in half and scoop out seeds
Brush squash with melted butter and season with salt and pepper
Place squash and whole peppers on pan lined with tin foil
Roast vegetables for approximately 45-1 hr. Pepper skins should be blackened.
Place peppers in bowl and cover with tin foil; leave to cool
Scoop squash from skin and set aside
Once peppers are cooled, remove skin and seeds. Chop up remaining pepper.
In large pot, melt butter and saute onion and garlic
Once onions are transparent, add squash and pepper
Saute for approximately five minutes, then add broth and par-boiled potatoes - retain extra broth - if any - for pureeing
Bring to a boil, then turn down to simmer for approximately 15 minutes
While soup simmers, combine sour cream, mint and cumin (if desired)
Refrigerate sour cream mixture
Using an immersion (or stick blender), puree the soup until smooth. You may need to adjust the broth levels here.
Garnish and enjoy!
Notes
This minted sour cream can be used on a variety of soups. Allow at least 15-20 minutes of sitting time, so that the cream can take on the minty flavours.
Suburble https://www.suburble.com/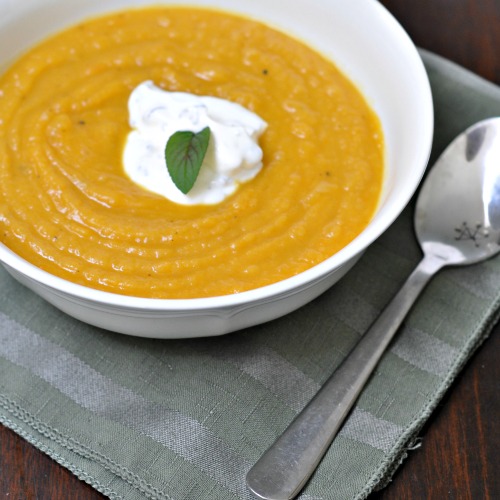 Add this minted garnish to all of your favourite pureed soups. And tell me if you do! I'd love to know if you love it as much as I do.
My favourite part of making this recipe was Lila's expression at the soup. "Mom, are you really going to eat that leaf? Why are you putting trees on your soup?"
Sweetie… it's about presentation. And also, I don't really know.