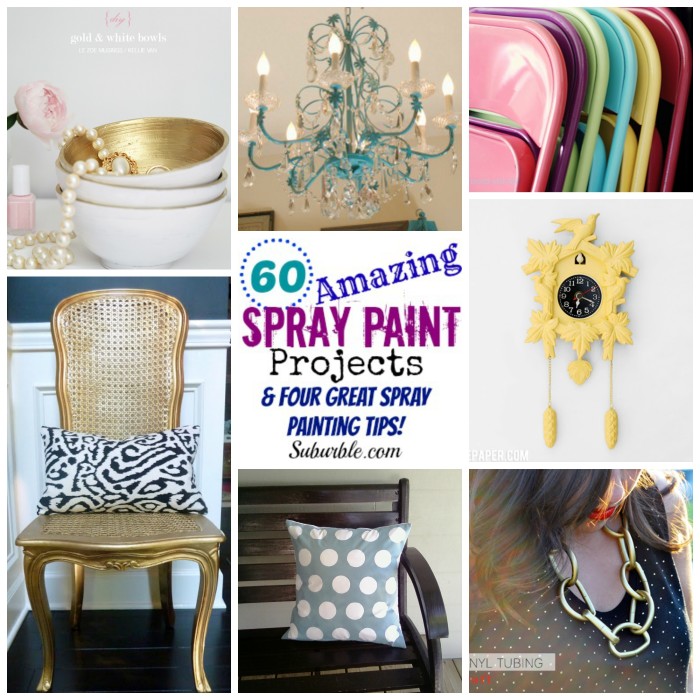 Those who know me (or read this happy little blog) know that I love spray paint. I lurrrrve it. I search through cluttered shelves of the thrift shop for things that would be improved by a coat of paint. And while I'm quick to press the trigger on a paint can, I don't know that others are aware of its potential. In fact, I think that most people would be surprised to see exactly how diverse and incredible spray paint is.
While I was looking for some spray paint inspiration, the idea for a gigantic Ode To Spray Paint came to me. Yes! Pay homage to my favourite DIY "tool"?!?! I must do it!
And so I did.
And perhaps I got a little bit too excited, because this round-up is a big one. However, it wouldn't be fair to leave any of these incredible projects out of the list. Take a gander and then answer me this: are you not itching to slap a coat of paint on something?

(Links are listed from left to right)
Spectacular Lighting: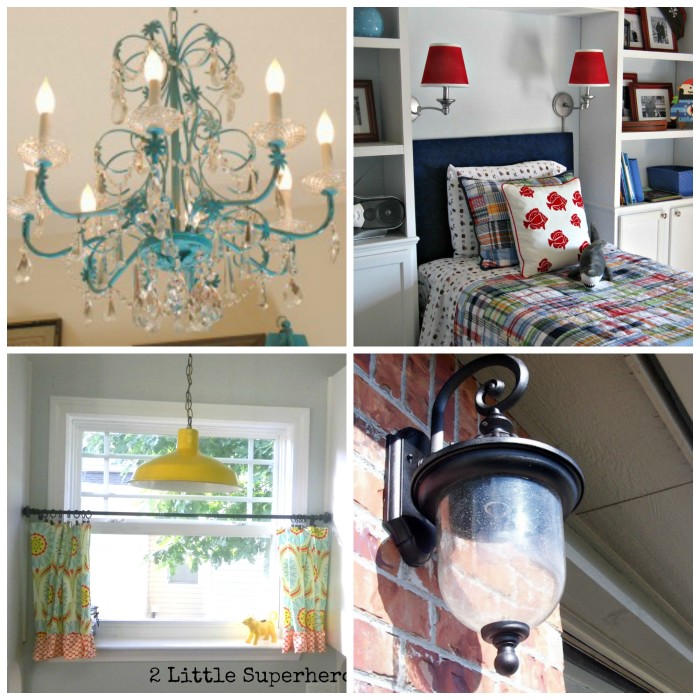 Restoration Redoux – Gorgeous Blue Chandelier
Inspiration for Moms – How To Paint Lampshades
2 Little Superheroes – Sunny Yellow Light
Three Mango Seeds – Updated Lamp Post

Restoration Redoux – Blue and Gold Lamp Makeover
Plum Doodles – Lamp Makeover with Trash Can Shade
The Happy Housie – Thrifted Lamp Makeover
Gorgeous Accessories: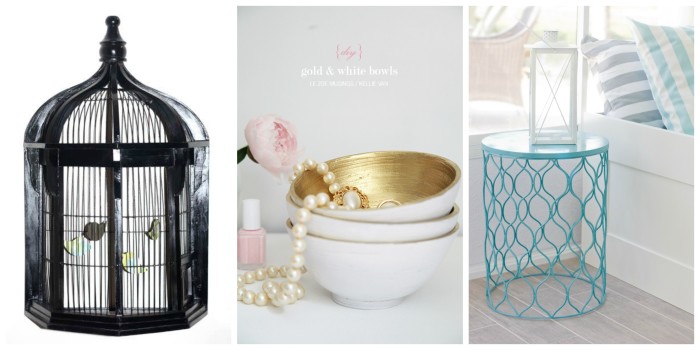 Koti Beth – Thrift Store Bird Cage Makeover
Le Zoe Musings – DIY Gold and White Bowls
Jenna Sue Design – Trash Can Turned Side Table
Adorable Painted Animals: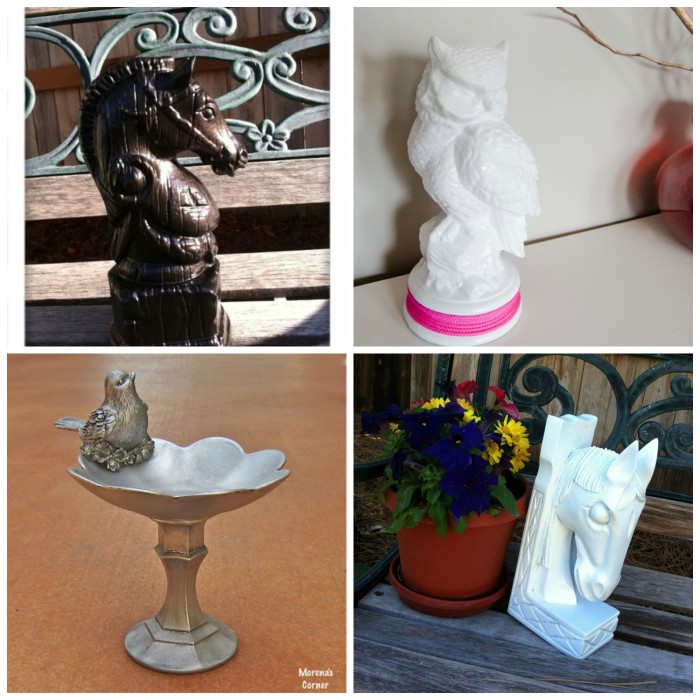 Kathe With An E – A Hot Mess Turned Into A Mighty Steed
A Swell Place to Dwell – A Happier Ceramic Owl
Morena's Corner – Faux Silver Birds and Flowers Bird Bath
Kathe With An E – An Updated Horse Bookend
Stunning Chairs: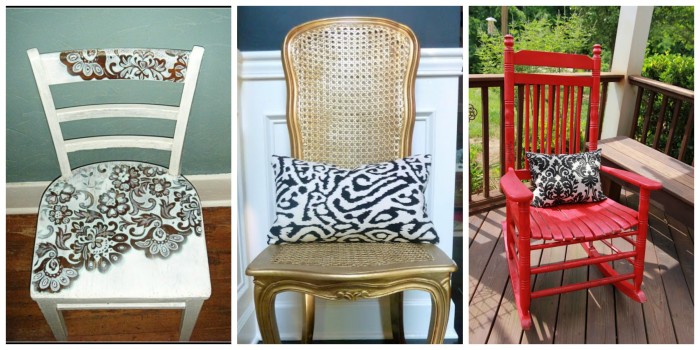 Creativity in DIY: You Can Do It: Spray Painted Lace Chairs
Our Fifth House: Stunning Gold Wicker Chair
Chic Stamping, Etc: Rocking Chair Redo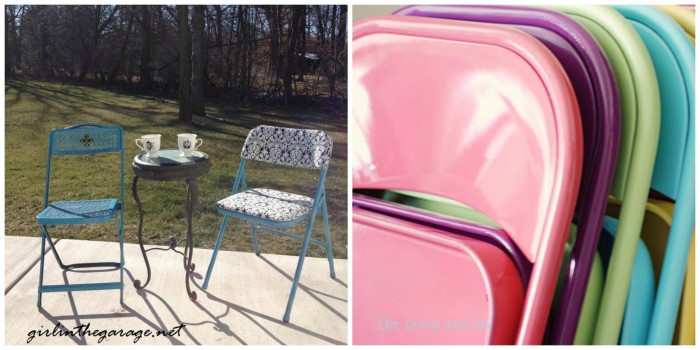 Girl in the Garage – A Tale of Two Chairs
The Moon and Me – Spray Painted Folding Chairs
Why Didn't I Think Of That?
2 Little Superheroes – Mailbox Garden Tool Storage
'A Casarella – DIY Present Toppers
52 Weeks Project – Soup Can Flower Pots
Confessions of an ADD Housewife – Dalek Dresser
Incredible Time-Pieces:

Please Note Paper – Cuckoo Clock Makeover
Southern Girl Secrets – Kitchen Clock Makeover
That's What Che Said – DIY Chrysanthemum Clock (those are plastic spoons!)
Beautiful Collections:

Living Savvy – Colour Blocked Vases
The Proper Pinwheel – Anthropologie-Inspired Golden Logs
Jenna Beth Day – Gold and Pink Dino Collection
Awesome Home Decor:

Suburble (that's me!) – Buck Silhouette Flower Pot
Believe & Inspire – Stenciled Spray Painted Bottles Tutorial
Morena's Corner – Dollar Tree Blue Mercury Glass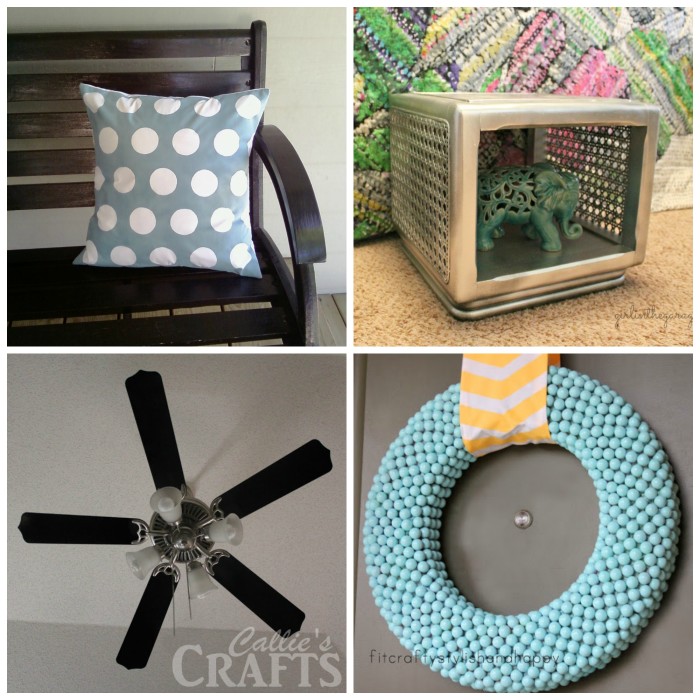 This Thrifty House – Spray Painted Pillows
Girl in the Garage – The Metallic Cube
Callie's Crafts – Ceiling Fan Makeover
Fit Crafty Stylish and Happy – My Spring Wreath (Spray painted gumballs!)
A Little Bit of Girliness:

Suburble (me again? Say what!?) – DIY Jewellery Organizer
Creme de la Craft – DIY Chunky Necklace
Lovely Indeed – DIY Gold Hippo Necklace
For the Foodies:

Rain On A Tin Roof – DIY Cupcake Holders
Real Cheap Housewives of Texas – DIY Kitchen Art
Sania Pell At Home – Fluro Cutlery
Ingenious Organization:

'A Casarella – Alligator Jars
Creative Soul Spectrum – DIY Elephant Key Hooks
Recaptured Charm – Kitchen Canister Makeover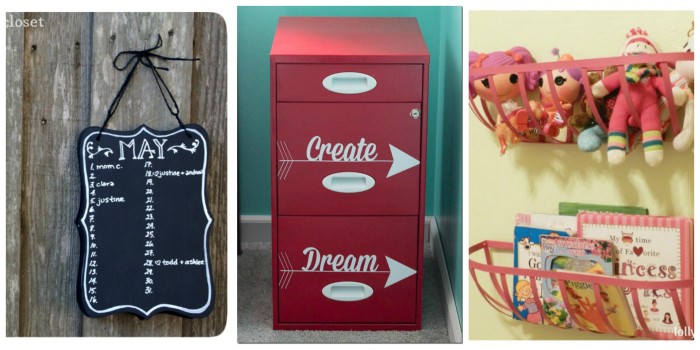 The Thinking Closet – DIY Birthday and Anniversary Calendar
Confessions of a Recovering Chocoholic – File Cabinet Makeover
Lolly Jane – Upcycling Flower Baskets into Bedroom Storage
Wonderful Outdoor Projects: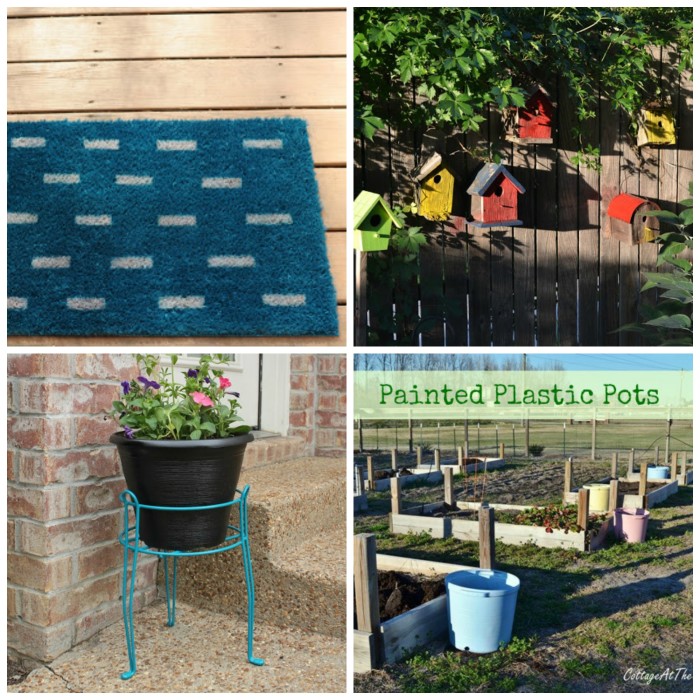 Rust and Sunshine – Rug Redux
For What It's Worth – Painted Bird Houses
Callie's Crafts – Spray Painted Plant Stand
Cottage At The Crossroads – A Rainbow Of Plastic Painted Pots
Striking Flower Vases: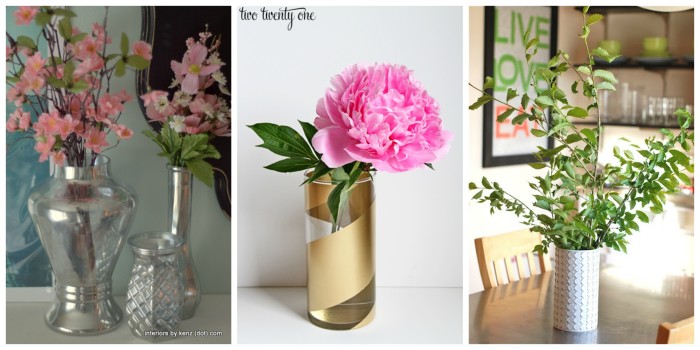 Interiors by Kenz – DIY Mercury Glass Tutorial
Two Twenty One – DIY Gold Striped Vases
Kreyv – Cheap and Easy Penny Vase
Amazing Wall Art:

The Thinking Closet – DIY Subway Art
Freckles Chick – Painted Seafan Art (Restoration Hardware Knock-off)
'A Casarella – Song Lyric Canvas Art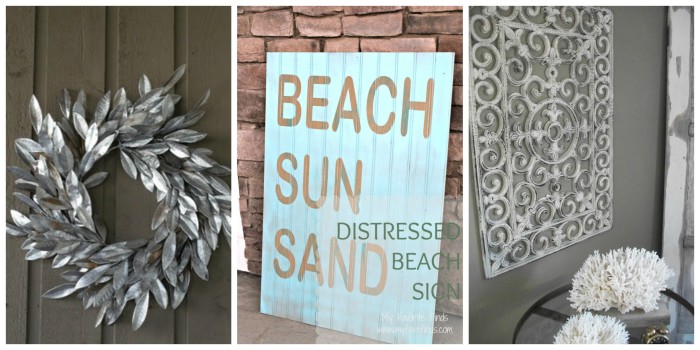 Designing Home – Spray Painted Wreath
My Favourite Finds – Beach, Sun and Sand Distressed Sign
Salvage Dior – Rubber Door Mat Wall Art
Now That You're Inspired, Check Out These Awesome Spray Painting Tips!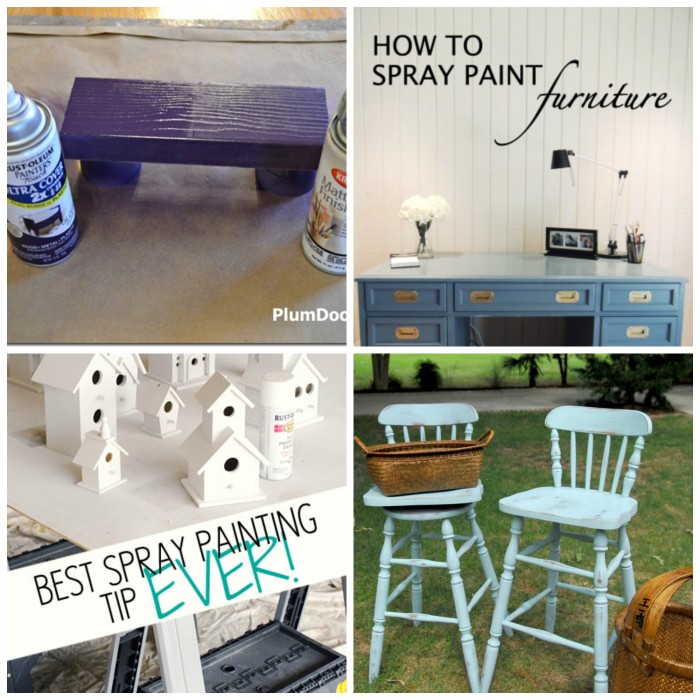 Plum Doodles – How To Change Paint Sheen
Do or DIY – How To Spray Paint Furniture
Makely Home – Best Spray Painting Tip Ever!
You Are Talking Too Much – Annie Sloan Chalk Paint Colours in Spray Paint
And there you have it, friends. It's a hugely fantastic round-up of some incredible projects – and each one relied on spray paint!
Get inspired and give it a try!
If you want to follow where the Crazy Spray Painting Lady (that's me!) has pinned — and will continue to pin — amazing projects using this incredibly diverse medium, please check out my "Spray Paint It Spectacular" Pinterest Board!
Now tell me, my paint-can-trigger-happy lovelies: which project are you going to try first?