This past week, Lucy has been fighting a cold bug. It's been an ugly one, with a red nose, watery eyes and a hacking cough. I've been doing my best to stay away from the germs – I employed the usual warfare: washing hands, yelling, "use your germ pocket!", and trying to keep kleenexes and other snotty-business tucked into the trash.
But if you look at this picture that I posted on Instagram this week, you'll see that it's nearly impossible for me to have germ-free space. We (affectionately) call our children "barnacles".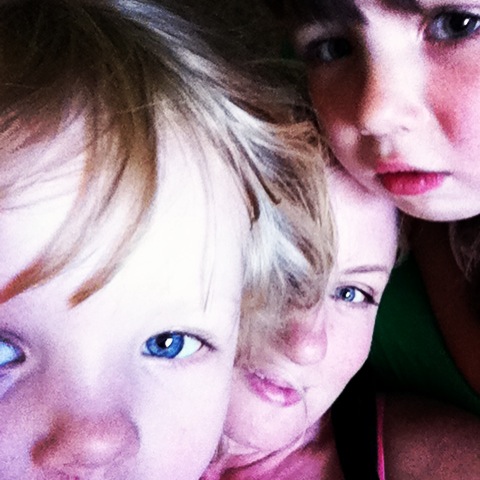 Yep. Your face on my face on her face and spreading all sort of germs.
We threw a Welcome Baby barbecue for our good friend (Welcome Miss Adele!) on Saturday. I woke up that morning with that oh-so-familiar scratchy feeling in the back of my throat. "No. No……. not today. Can't happen. Won't let it…"
I ignored my throat and the way my voice slowly slipped under-water throughout the evening. I washed my hands so frequently that the skin under my wedding rings started to turn angry and red.
But it was worth it. The night was a great success! Everyone ate and drank and laughed and bounced babies (myself excluded – I know the rules!) and we went to bed after midnight.
This morning, I woke up with joints that needed oiling, a face that felt stuffed with cotton, and a nose that had started running. My body had granted me one wish: you won't be sick on party day, but you're going to be doubly sick tomorrow.
But unlike being sick when you're a singleton, having a cold when you also have young children causes the following symptoms:
1. Inability to properly lounge on couch and watch HGTV all day. Instead, your also-sick daughter will climb on top of you and beg for non-stop Dora. "Dora, Dora, Dora the Explorerrrrr….." GAH! Save me!
2. Gravity is suddenly very serious about his job. Why is it so hard to move my arms? Am I swimming in molasses?
3. The house seems to collapse in on itself in piles of mess. Mr. Suburble carried piles of crap from one room to the other, but the clutter bred faster than fruit flies.
4. Feeding the children becomes an exercise in a hunter/gathering lifestyle. "Do you want… toast? Some cheese? I don't know… saltines?" Just let me lie down and be miserable. Please!
5. Did I mention that I don't get to watch my shows? Any of them?
"Who can we ask for help when we don't know where to go??!?! MAP!??!"
Dora – nobody gets lost as frequently as you do, girl. And why are your parents okay with you traveling across the country and hitching rides with strangers? Something's wrong here.
6. You spend the day lying in an avalanche of tissues and snot and a child whose chapped nostrils are just inches from your own.
Barnacle-baby, I can't tell if I'm developing a lung infection or if you're crushing me with your whole body.
7. The all-day dozing catches up with you… so that at 10:45 pm, you're wide-awake and writing a blog post about having a cold. And thinking, "This might be good. Or maybe it's crap. Either or, I'm posting it."
So I am.
I'm sure that those of you who are the proud owners of tiny humans know what I'm talking about. How curling up in the fetal position seems like a good idea, until another sick-o tries to wriggle her way into your middle – like a hermit crab who found a new shell.
And as I cradled my little hermit crab like a baby and sang her songs in my gargly voice ("Mama's going to buy you a diamond… bull…?" I don't know… my brain is broken) and watched her eyelids slowly close, I tried to send all of my "get well" thoughts her way. I'll be sick longer if she gets well sooner – can we negotiate that?
The Suburble house was a pathetic one today; I only hope that tomorrow we wake up with clear voices and dry noses.
And no pink eye, please. Please let us not have pink eye!
Don't Miss Another Post From the Suburble Crew! Subscribe!