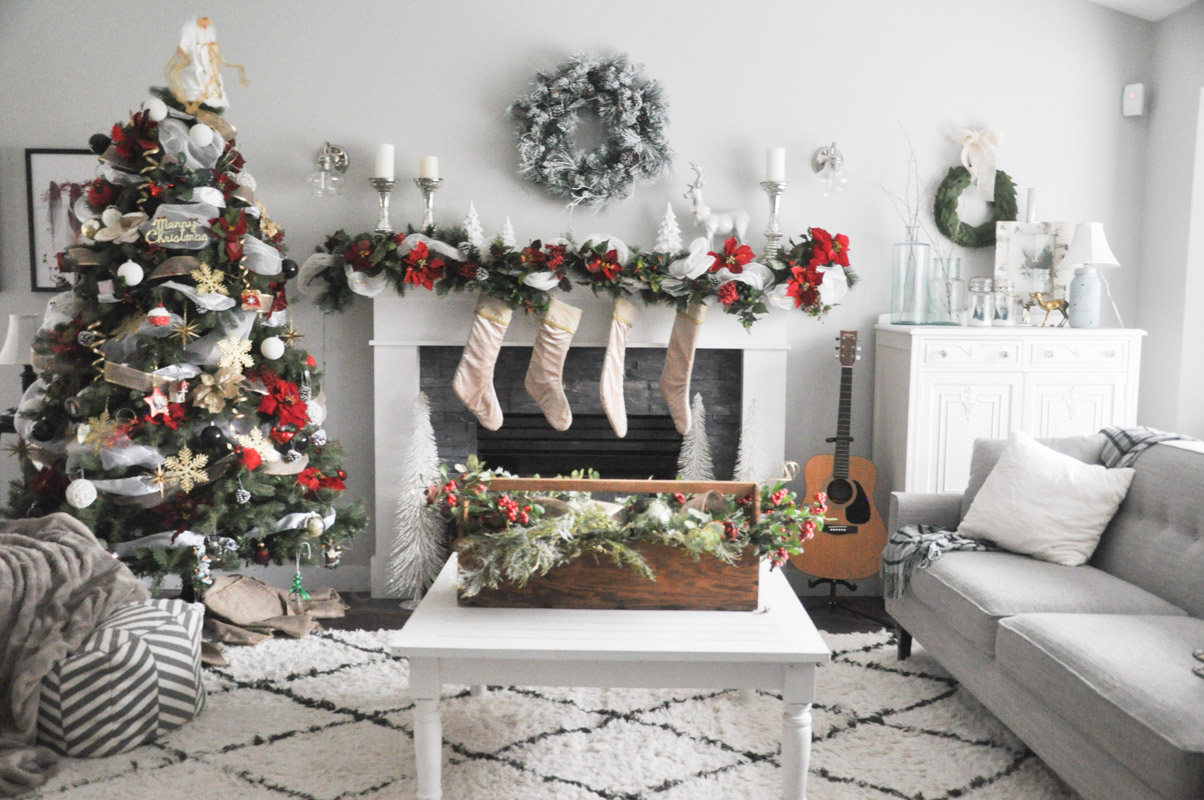 Oh, the mantel. It's probably one of my most favourite things to decorate when I break out the Christmas decorations. And so, when Wayfair asked me to showcase my mantel as part of their Mantel Mania series, I jumped at the chance.

In our last house, we had a huge mantel in our living room. It was disproportionately large compared the rest of the room, and of course, I took full advantage of that. It was so large, I would put outdoor decorations on top of it.
Yes, process that craziness. It was HUGE!
When we renovated our house, I made sure that our mantel was big enough to hold at least a few substantial candlesticks. And then I found some.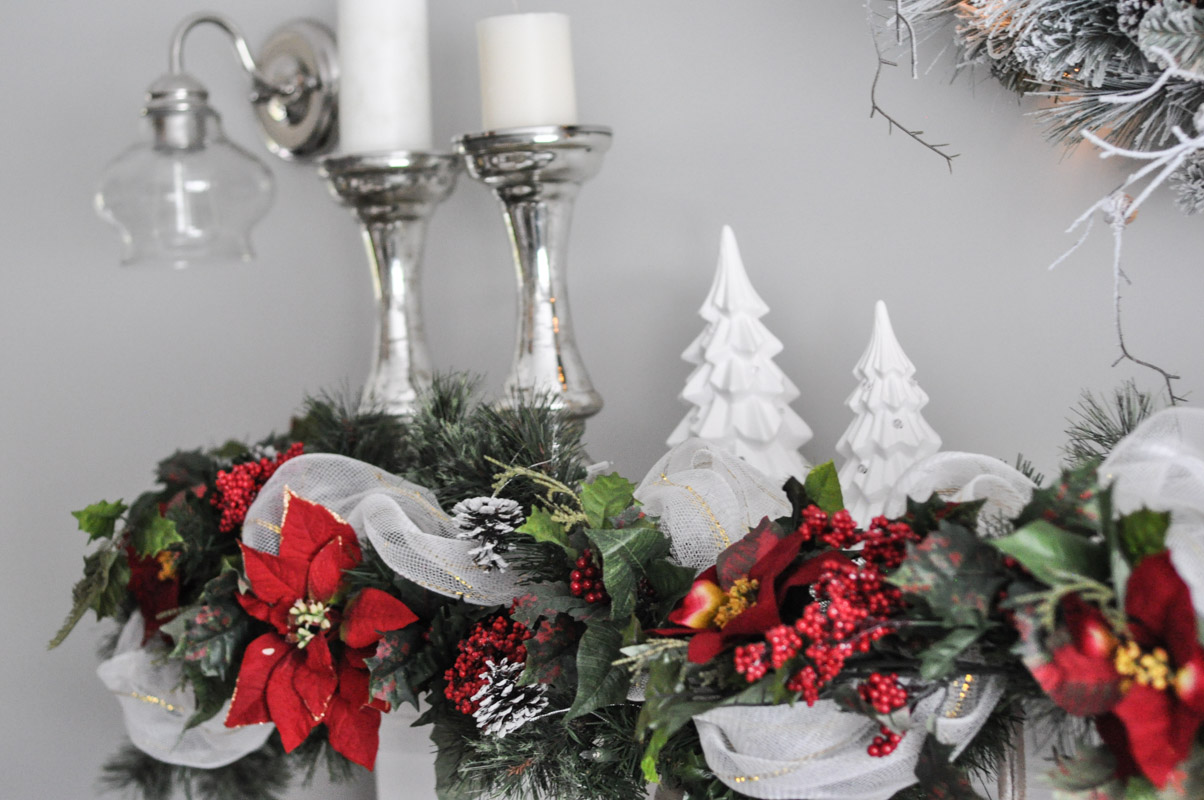 I don't think that I will ever give up my faux poinsettias. While I know that garland is leaning towards the more simple look these days, I just can't give up my decadent red flowers and my white decor mesh.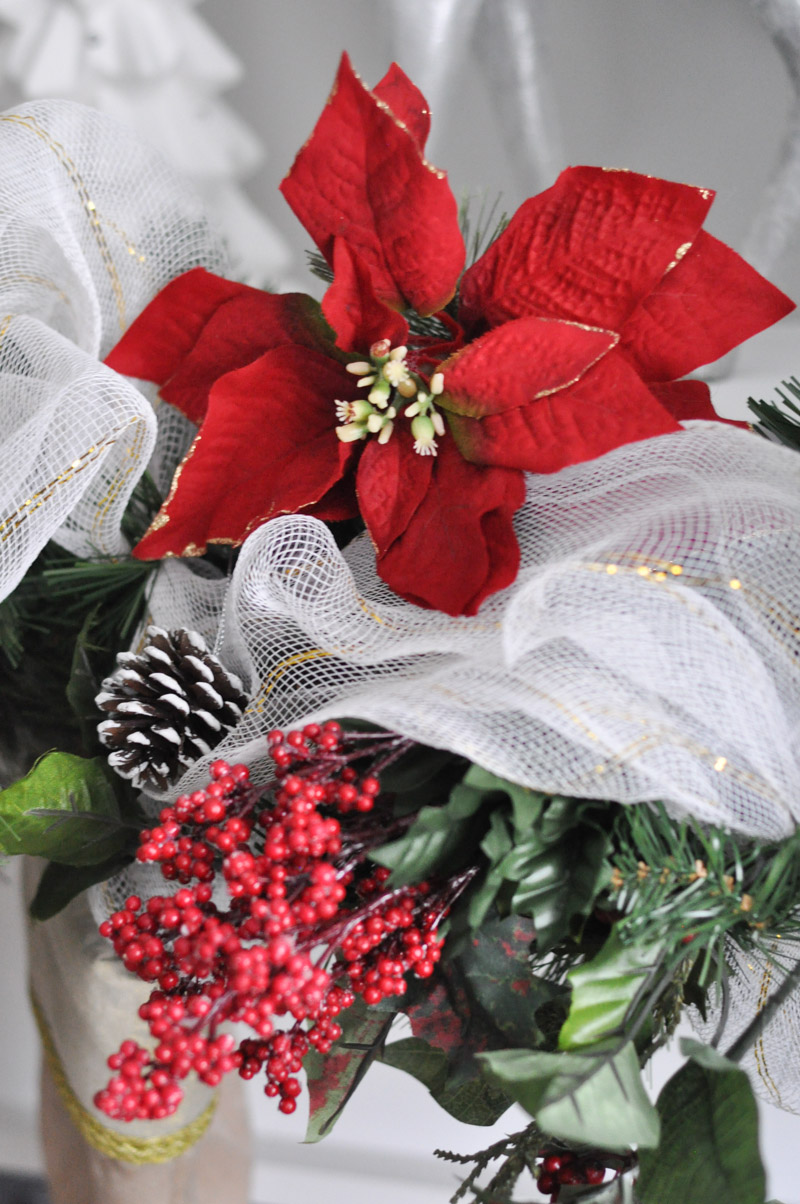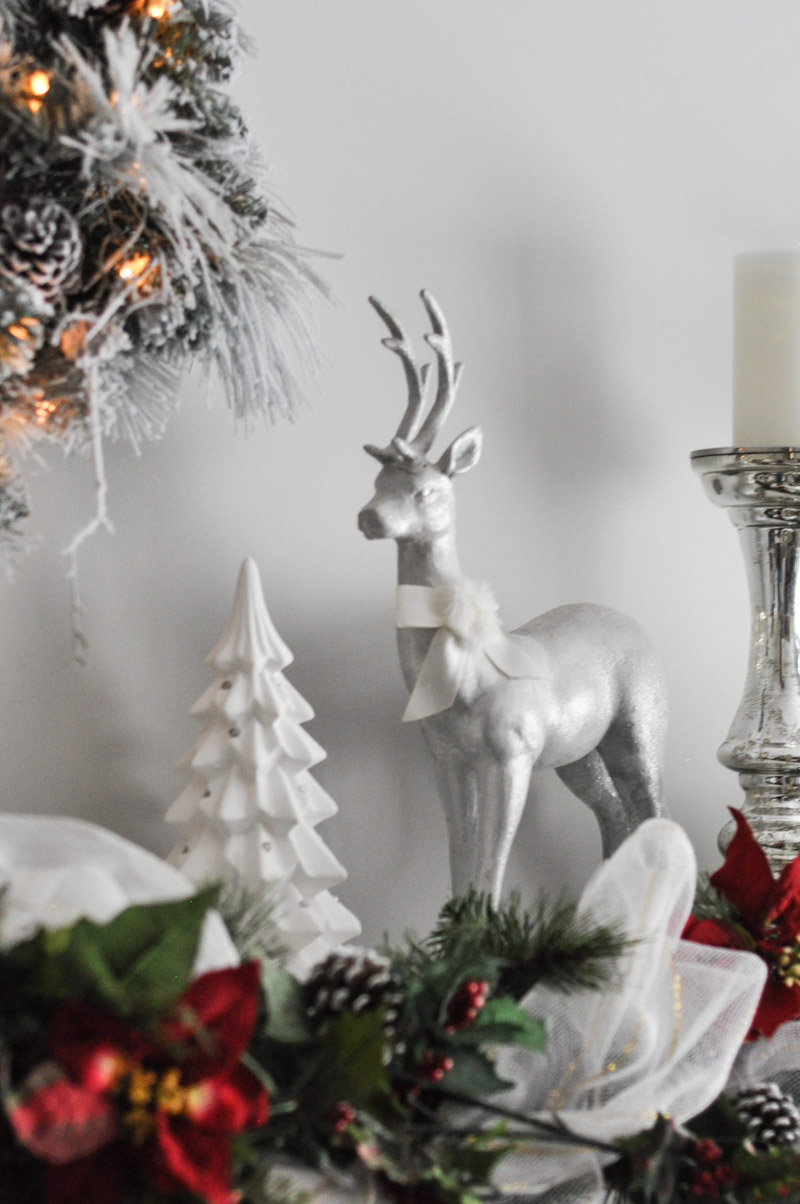 This deer has snuck into pictures throughout the entire year. For some reason, he never seems to get packed up with the rest of the Christmas decor. Instead, he manages to make appearances around the house in every season.
Around summertime of this year, Lila insisted that we put the fur-collared deer away. But by then, it was almost fall… and aren't deer so quintessentially autumn? So he stayed put.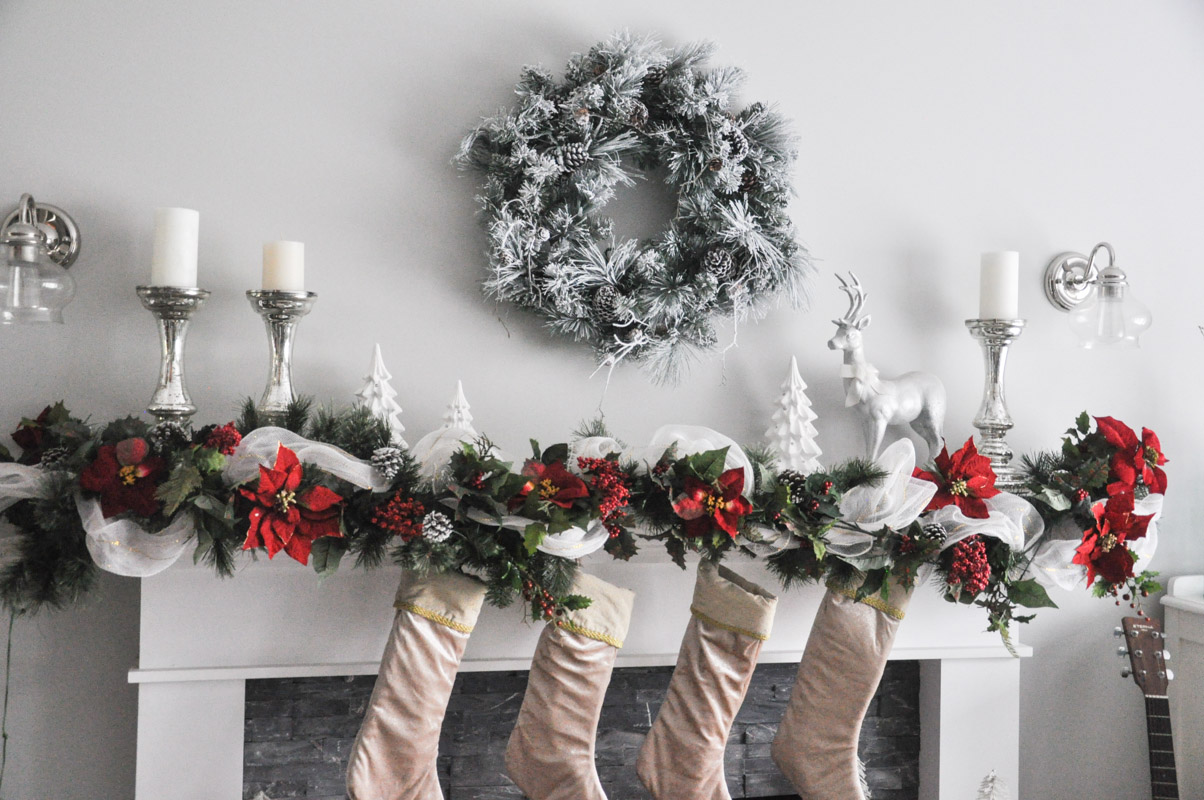 Above the mantel hangs a flocked wreath. At first, I wasn't sure about its frostiness, but I've quickly fallen in love with it. (It's also got some hidden LED lights that turn on with a timer. What will they think of next?)
I flanked the sides of the mantel with white Christmas trees and a pair of vintage mandarin orange boxes.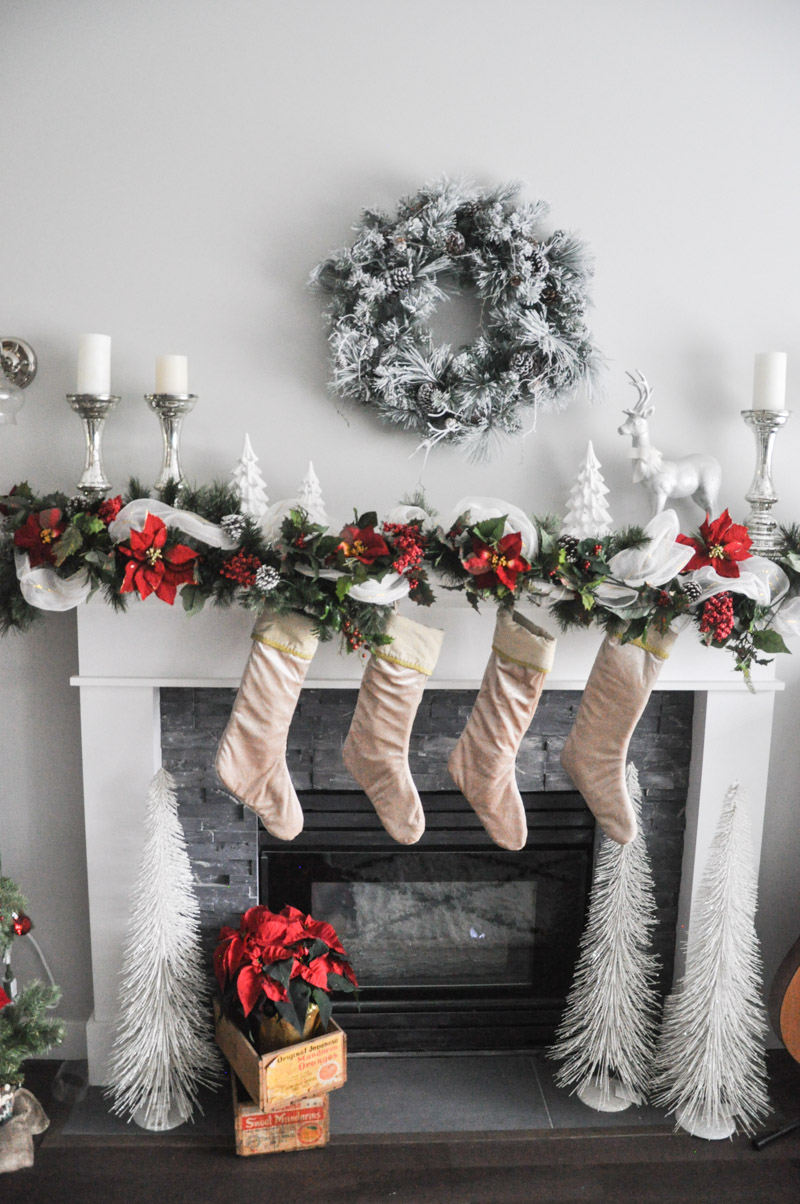 But speaking of decor indecisiveness, I'm not quite sure about these stockings. I've had them for a few years, and have always liked their beige-and-gold-ness. But this year, I feel as though I'm itching for something more traditional. Perhaps something a bit chunkier… a bit more handmade?
I almost bought the fabric to make my own quilted stockings….
…. but then I quickly came to my senses. Handmade stockings are something you start in July.
Not at the end of November.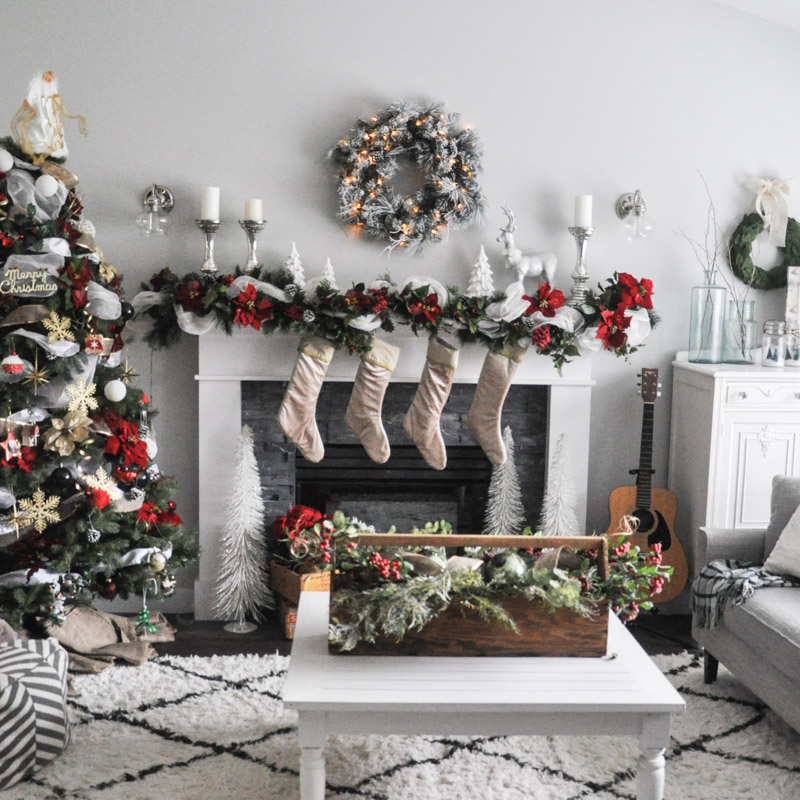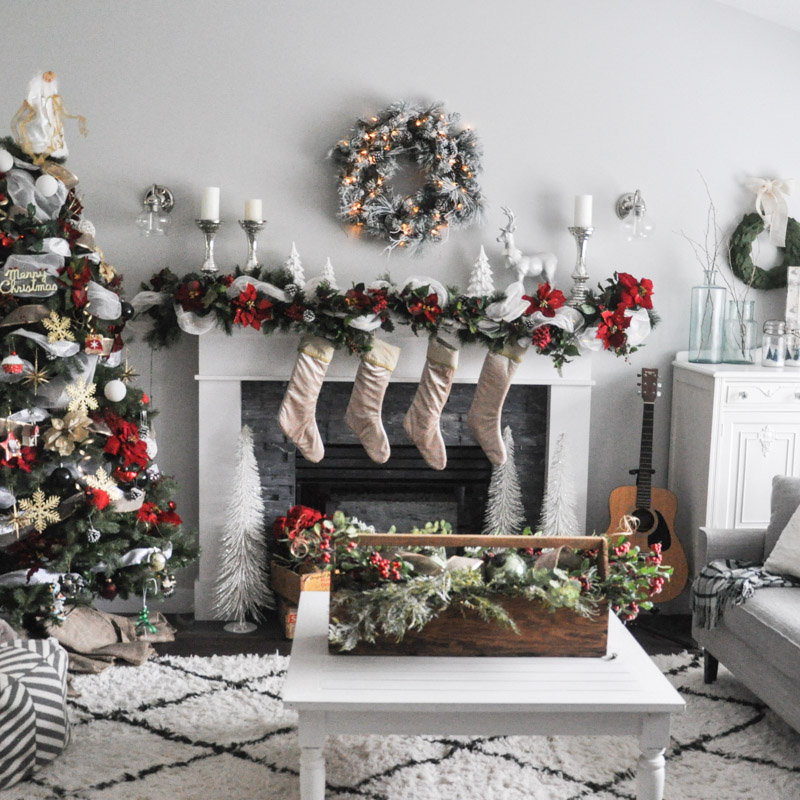 At any rate, the stockings are hung by the not-quite-a-chimney with care, waiting for the day when Santa will show up to stuff them.
My red and white Christmas will live on, as I cannot help myself when it comes to floral picks and sprays.
And that little deer will probably deftly avoid being packed up – again – when I'm wrapping ceramic trees with paper and placing faux poinsettias into boxes. Watch for him.
He's a bit of a Where's Waldo in our house.

This post was sponsored by Wayfair.ca, but all opinions, images, love of faux poinsettias and rogue deer are my own. As always.