Disclosure – I am participating in the Old El Paso Blogger Campaign by Mom Central Canada on behalf of General Mills, and received compensation as a thank you for participating and for sharing my honest opinion. The opinions on this blog are my own.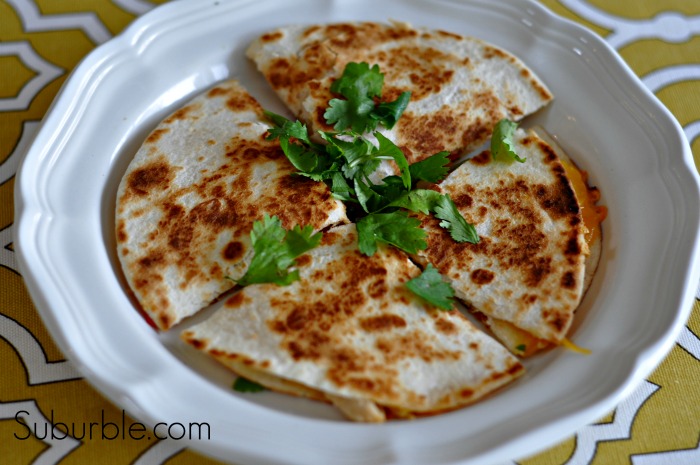 Remember when I talked about that dinner ditch? The one I drove my family right into over the summer?
It had a lot of pizza in it. And pasta.
But thanks to the good folks at Old El Paso, we've been given some inspiration (and a lift out of our dinner ditch). I was sent a Fajita Dinner kit, and so last night, I made fajitas. A huge batch of them.
Because I knew that tonight I would be making quesadillas with the leftovers. It's a simple, quick and oh-so-delicious meal.
And I know that this meal has chicken in it. Like I said, guys, old habits die hard. I like chicken. It's just so… good! But our next meal will be chicken-free. I promise (for Mr. Suburble's sake).
"Leftovers" Quesadillas With Cilantro and a side of Taco Dip
2013-09-17 01:51:16
Use your leftovers from Fajita Friday to create these delicious quesadillas with a taco dip on the side.
Ingredients
Chicken, onion and bell peppers, sauteed together with Old El Paso Fajita Seasoning (your leftovers from the night befrore) - chopped
Tortilla shells (from Fajita Dinner Kit)
1 tsp olive oil (or olive oil mister)
Shredded cheddar cheese
Chopped Cilantro
Fajita Sauce (from Fajita Dinner Kit)
1 pkg Taco Seasoning
1 cup sour cream
Instructions
Mix 2 tsps Taco seasoning with 1 cup sour cream - put aside
Heat up large skillet/fry pan
Lightly spray/coat one side of two tortillas with olive oil
Spoon "leftovers" onto tortilla and cover with shredded cheese and cilantro
Cover with other tortilla; oiled side facing out
Place in hot pan; flip tortilla once browned
When cheese is melted and tortilla is browned, plate quesadilla
Sprinkle chopped cilantro on quesadilla.
Serve with taco dip and fajita sauce.
Notes
If you didn't have fajitas the night before, you can either make the quesadilla filling with fresh chicken, or with precooked/rotisserie chicken quickly sauteed with fajita seasoning and a 1/4 cup of water! (The latter is a time-saver!)
Suburble https://www.suburble.com/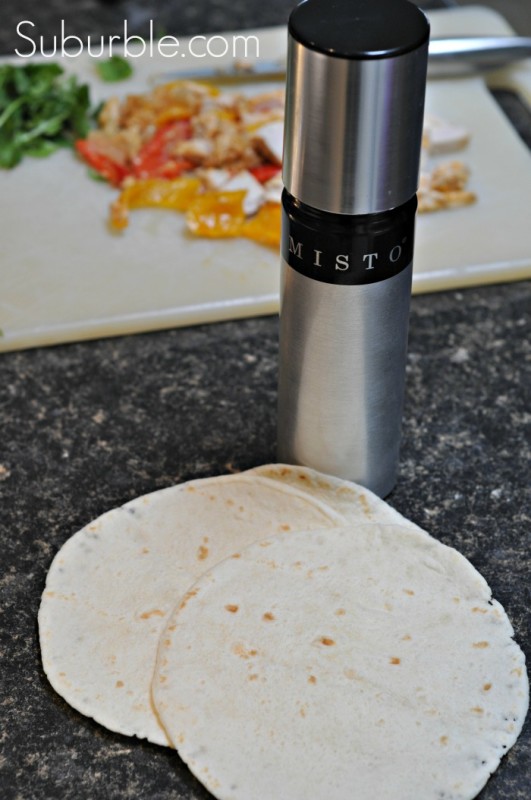 I use an olive oil mister (so awesome – definitely get one, if you don't have one already) to spray one side of the tortillas.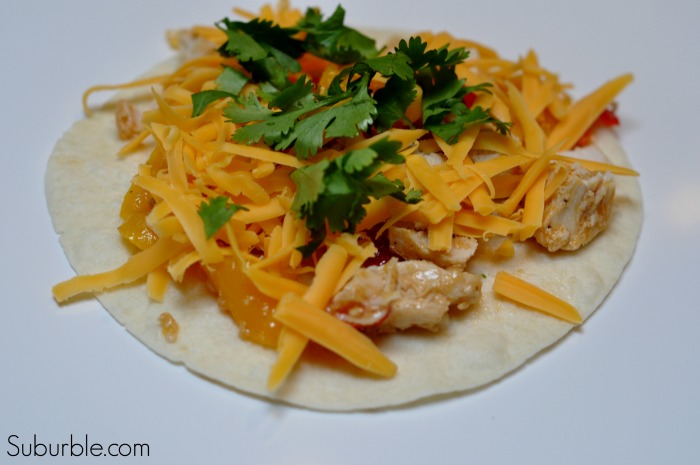 Pile the toppings onto one tortilla – don't forget the cilantro! – and then top with the other tortilla, oiled side facing out. Place the tortillas in a hot pan until they are lightly browned and the cheese has melted.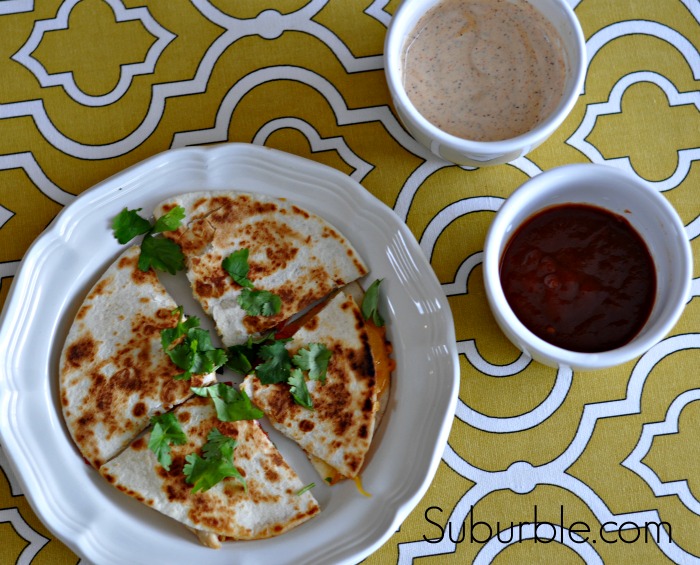 Plate the quesadilla, sprinkle it with chopped cilantro, and serve alongside your taco dip and fajita sauce (found in the Fajita Dinner kit). The taco dip is created by mixing 2 tablespoons of taco seasoning with a cup of sour cream. It is a delicious accompaniment to quesadillas (or tacos, fajitas, or anything for that matter).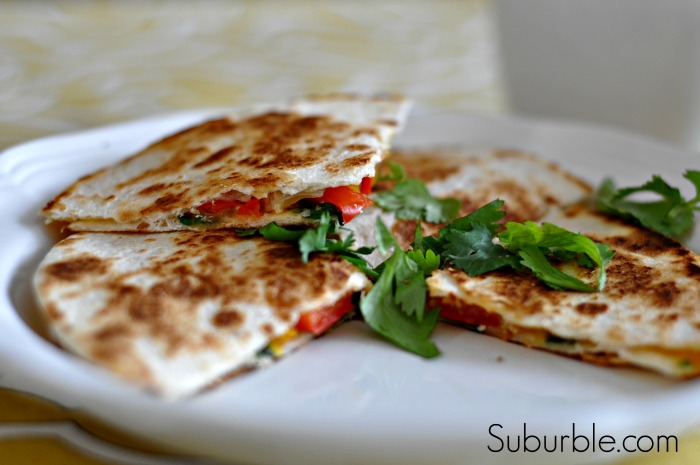 I am a huge fan of cilantro. It adds such a fresh flavour to everything. It completely changes the taste of the previous-night's fajita fillings. Trust me (and try it)!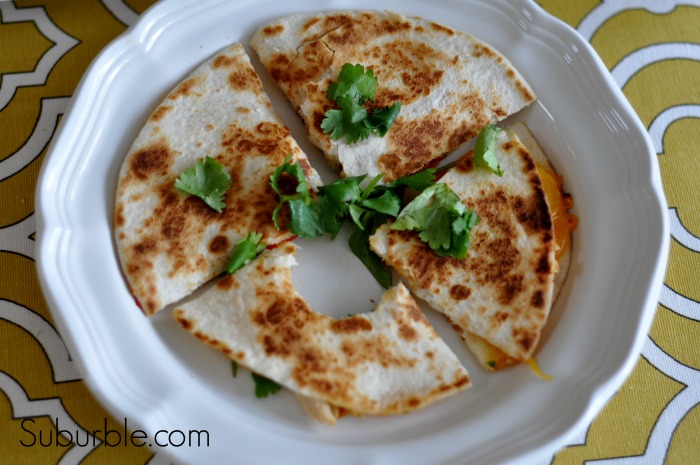 I may have gotten a bit impatient during the picture-taking part of this blog post. My willpower finally buckled and I wolfed this down so fast that I ended up getting a teensy little stomach ache. It's honestly THAT good.
And both Lila and Lucy looked at me as I groaned. "Mommy… you ate that TOO fast!"
And speaking of good things, I have something fantastic to offer you fabulous readers!
A GIVEAWAY!
(sorry friends, only Canadians are eligible for this one)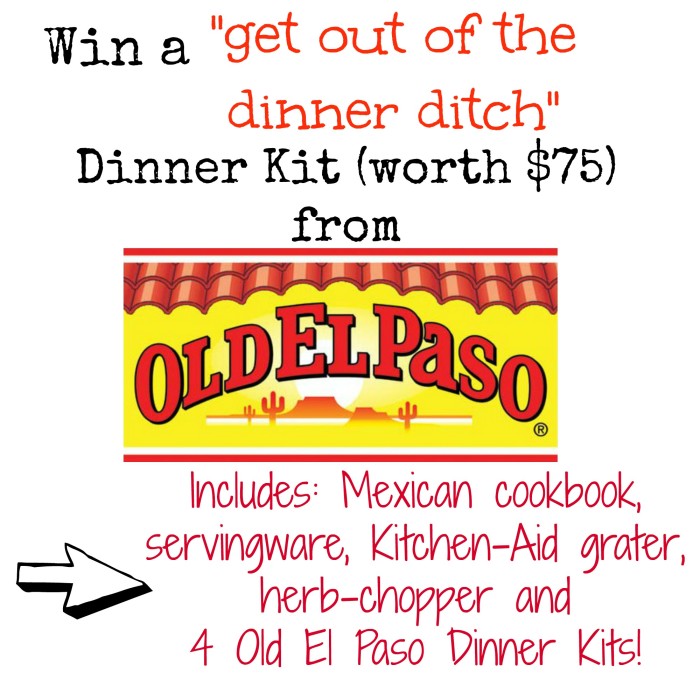 Enter using the Rafflecopter below! And good luck, gang!
Giveaway will run from September 20th until midnight on September 30th, 2013. Canadian residents only.
Entrants may enter the Old El Paso giveaway on multiple blogs, but can only win once. Void where prohibited.