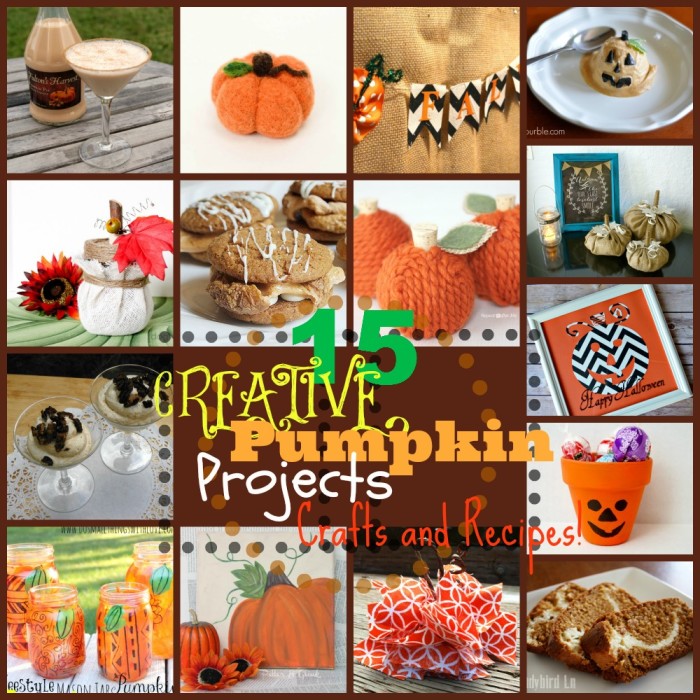 We're ba-aaacckkk…. The group of bloggers, the #myfavoritebloggers team, who previously brought you a huge round-up of awesome apple ideas in September, has now returned: with pumpkin projects! Hallowe'en is just around the corner and all-things-pumpkin are in vogue again.
But before I share my own pumpkin recipe, I'd like to introduce the group of fabulous ladies who have created these amazing projects: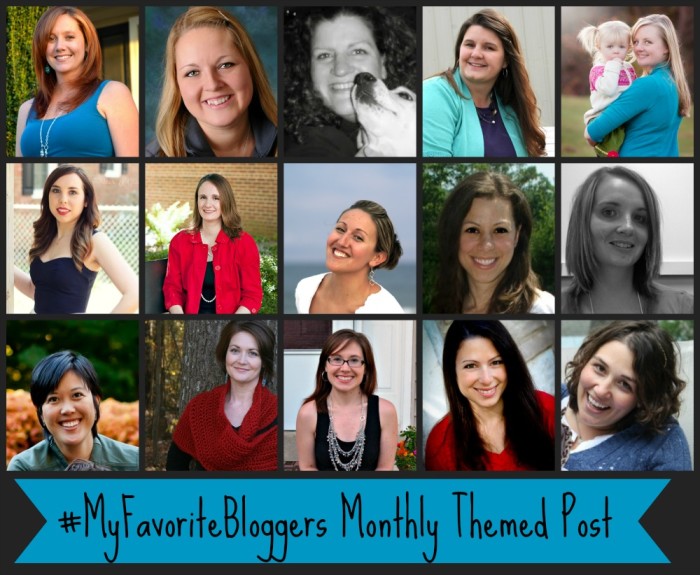 Kirsten from One Tough Mother, Adrianne from Happy Hour Projects, Marilyn from 4 You With Love, Sky from Capital B, Tara from Suburble, Bethany fromPitter and Glink, Melanie from It Happens in a Blink, Lauren from The Thinking Closet, Kara from Petals and Picots, Carlee from Ladybird Ln, ChiWei from 1 Dog Woof, Kadie from 7 Alive, Amy from One Artsy Mama, Sarah from Repeat Crafter Me and Nancy from Small Things with Love.
There are links at the bottom of this post that will take you to each of the projects that these 15 talented bloggeresses have created. Visit them and get inspired!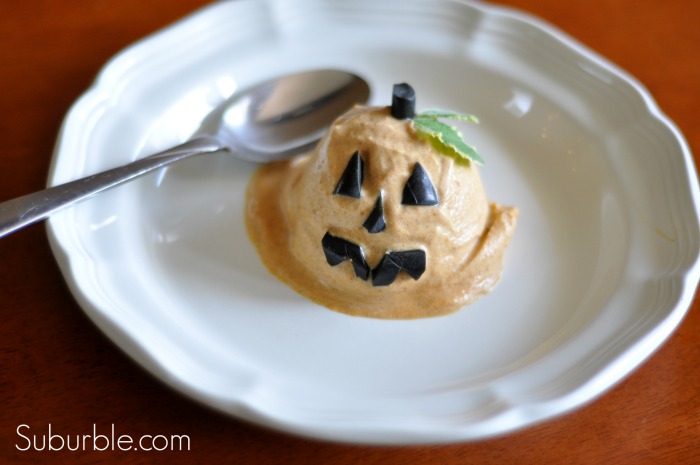 Now that Fall is here, people are starting to talk about warm sweaters, and warm soups, and wreaths made from bunches of fallen leaves.
It also means that people talk pumpkin. Carving pumpkins, pumpkin soup, pumpkin spice lattes (yum)…
But pumpkin ice cream?
Our house recently gained an ice cream maker, and because I get myself all worked up about new things, I decided to try Pumpkin Pie ice cream.
I know that not everyone loves pumpkin pie – it's a love it or hate it situation. But Pumpkin Pie Ice Cream is a crowd-pleaser! It's a dessert that my kids gobbled up happily (and even licked the bowl)!
Pumpkin Pie Ice Cream
2013-09-17 00:34:47
An alternative to the traditional pumpkin pie - this dessert is a crowd-pleasing treat, and is quick to make in the ice cream maker!
Ingredients
1 1/2 cups whole milk (2% can be substituted, but ice cream will be less creamy)
1 cup dark brown sugar
1 3/4 cups pumpkin puree (unsweetened; not pumpkin pie filling)
1 tsp cinnamon
1/4 tsp nutmeg
2 1/2 cups heavy cream (or whipping cream)
1 tsp vanilla
Instructions
Whisk together milk and sugar until dissolved
Add pumpkin and spices and stir
Add cream and vanilla and stir until smooth
Turn ice cream maker on; add mixture to bowl
Let mix until thickened (about 20 minutes)
Serve with gingersnaps, whipped cream, or with a fancy pumpkin decoration (see post)
Store remaining ice cream in an air tight container in the freezer
Notes
Every ice cream maker has a different capacity - do not overfill your maker. The mixture will expand as it freezes.
Adapted from Cusinart Recipes
Suburble https://www.suburble.com/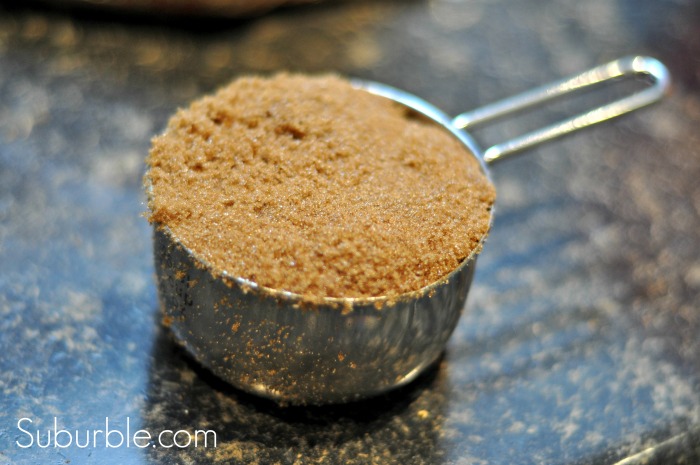 While I typically use golden sugar in recipes, I opted to use dark brown sugar in this recipe. I even love the look of it – so much more "autumn" than the yellow sugar we normally use.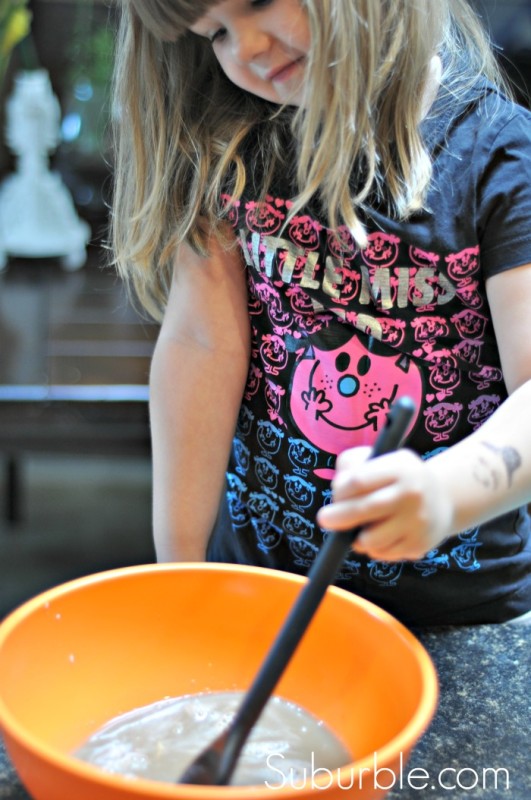 Do you think these girls could stay away from ice cream prep?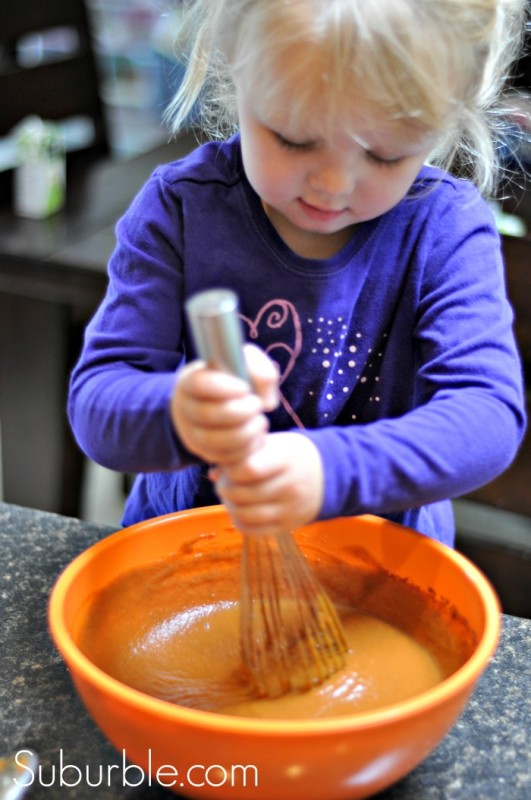 Not on your life – they were instrumental in the mixing of ingredients.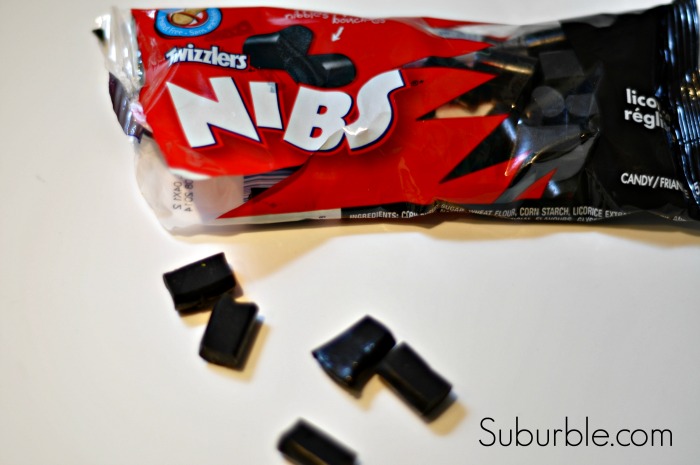 To make the "jack-o-lantern" pumpkin face, you need black Nibs and a pair of clean kitchen scissors.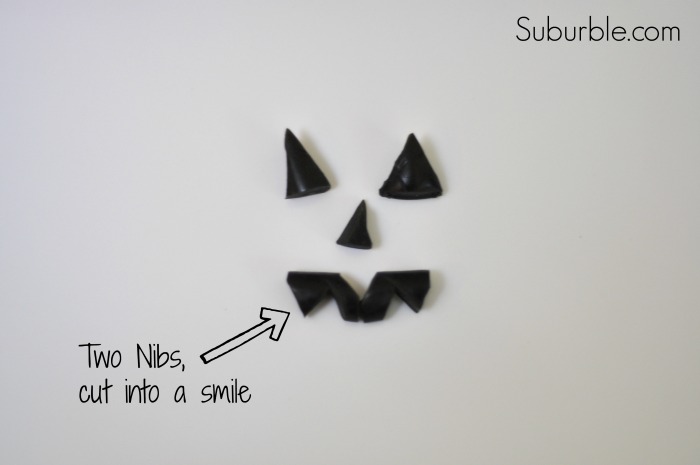 Cut little triangles out of the Nibs to make the eyes and the nose. It took me a little while to figure out how to make Jack's smile, but after I placed two Nibs next to each other, I realized that I could carefully cut out a happy little grin.
I loved eating the scraps. Black licorice is just so good… (Don't even get me started on Allsorts. Those are my weakness!)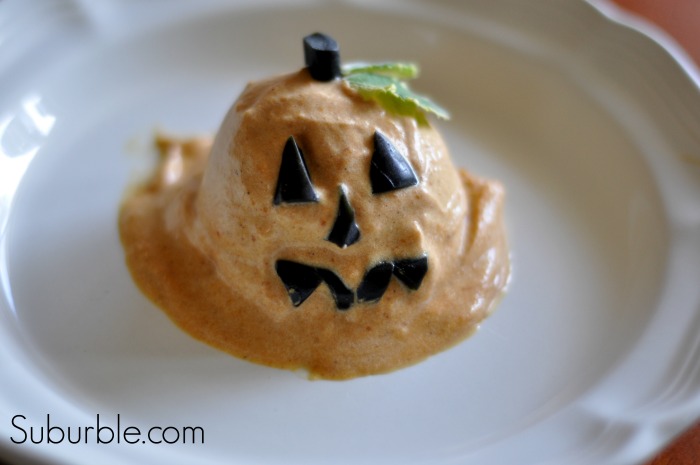 Scoop out a portion of your delicious Pumpkin Pie Ice Cream, and then quickly arrange your jack-o-lantern's face. Put a Nib in the top as your stem, and garnish with a mint leaf or two.
And you've got a festive little dessert that is entirely edible! Ain't he sweet!?!?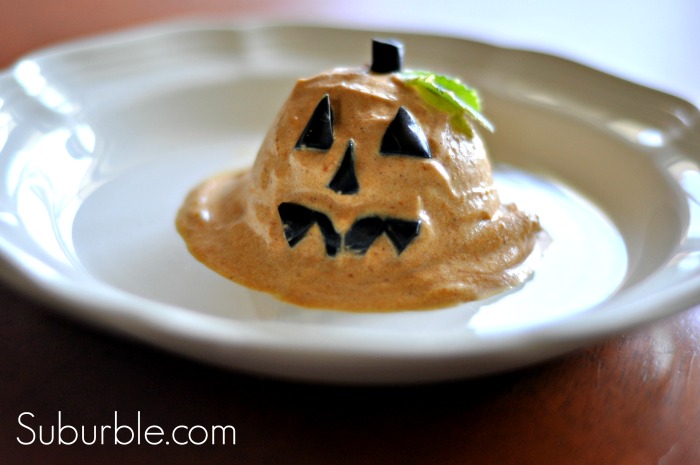 You'll have to work fast, though. Jack tends to get a bit melty if you ignore him.
Of course, this made the kids laugh even harder. "My pum'kin is melting, mommy!"
For the grown-ups who don't need their dessert to smile back at them, there is this garnish: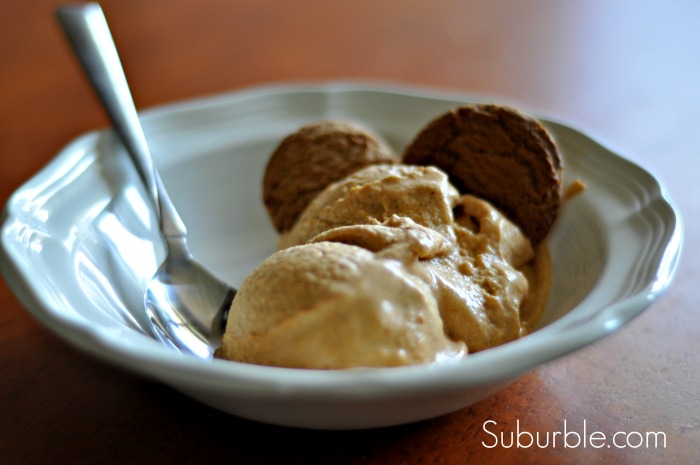 A couple of gingersnaps make for a delicious crunch alongside the sweet and spice of the ice cream.
This ice cream is a delicious way to bring in fall, without having to bring in the heavy pastries and cakes (not saying I don't love those desserts, but it's nice to have a change).
Try it and see. You know you love the Pumpkin Spice Latte – why not have it for dessert?
And don't forget! Visit the #myfavoritebloggers' collection of incredible pumpkin projects!
Don't Miss Another Suburble Culinary Experiment! Follow Along!