I imagine that craftiness is contagious.
Every time that I pick up a paint brush, or a glue gun, my little shadow pipes up, "Mooooom….. can I help?"
Unlike her younger sister, who is much more content to watch (or walk away, as is often the case), Lila is aching to do what I do. And so it was no surprise when she asked me for a sewing machine.
Not that she's watched me do many things with my sewing machine. Mostly, she's sat next to me at the kitchen table while I rip crooked seams or grit my teeth as my machine blatantly disobeys my commands and sews whatever the hell it feels like sewing.
But despite observing my wars with the machine… she wants one.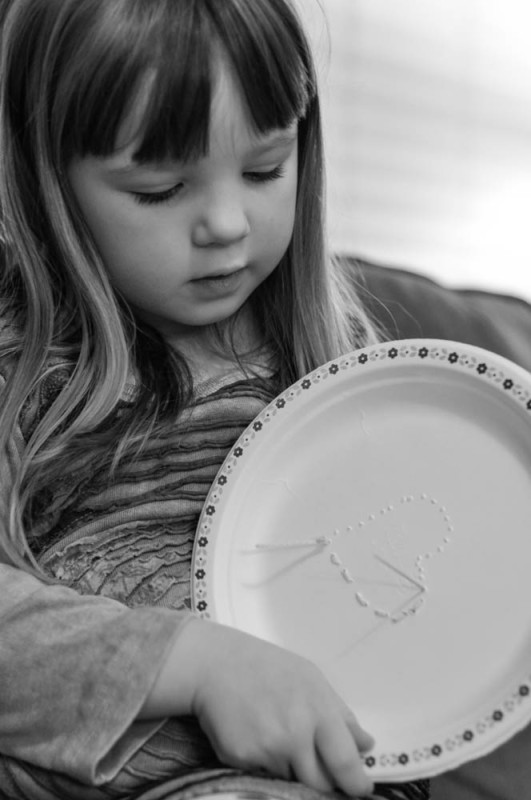 I did some research (well, I asked Facebook and my mother) about when she would be ready for her own little sewing machine, and the consensus was: not yet. But start her on hand-sewing.
So that's what we did.
Using inspiration from Ashley's Teaching Kids to Sew series on her blog, Make it and Love it, I grabbed a paper plate, some yarn and a darning needle. Ashley used foam plates with her kiddos and had them poke through the patterns on their own.
Because the paper plate is less forgiving, I poked little holes along my "pattern" using a thumb tack.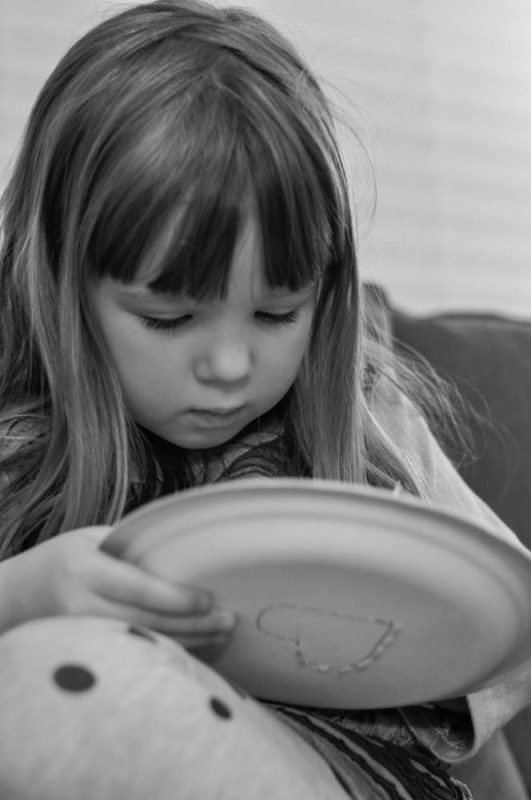 Lila was dedicated to her task.
She desperately wanted to be good at sewing. Every time she made a mistake she would immediately apologize. "I'm so sorry, mommy. I messed up."
In this house, craft fails are the norm. I regularly screw things up.
I reminded Lila that the only way we can get better is to practice.
Something tells me I need to tell myself this when I'm swearing over my glue gun – or more likely – that possessed sewing machine.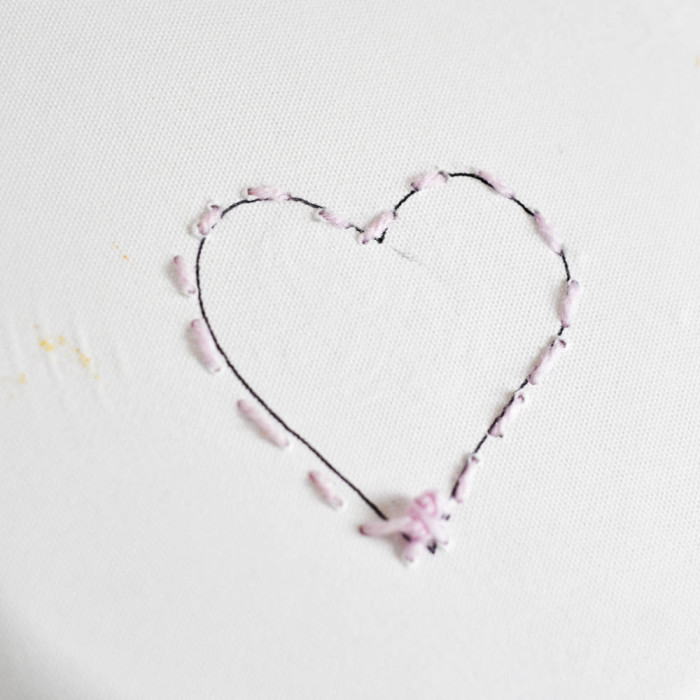 By the end of the night, she had sewn a little heart.
"Tomorrow you'll have to make me a harder sewing plate, Mom. I'm getting gooder at sewing already!"
This child will out-sew me one day. I just know it.
Do you sew? How old were you when you picked it up?
And if you also have a disobedient sewing machine – trust me, I feel your pain.