The Salad Love series marches on… being delicious and – hopefully – inspiring… and today I'm really excited to share the recipe for Heat's Beets. It's a beet, pecan and feta salad, created by my sister, Heather.
So no, it's not going to be a super hot, curried beet salad (though remind me to try that, okay?), it's the concoction of my sister, "Heat".
I don't call her that. I don't call her "Heat-Score" either. It's my two younger sisters who do that. They were thugs in another life. In this life, they're thin and wear statement necklaces and put chocolate milk in their teas. You're already feeling a bit frightened, aren't you?
Well, Heather whips up all sorts of creative awesomeness in the kitchen, and Heat's Beets is a dish that often graces the dinner table at my mom's house.
And why? Because look at it: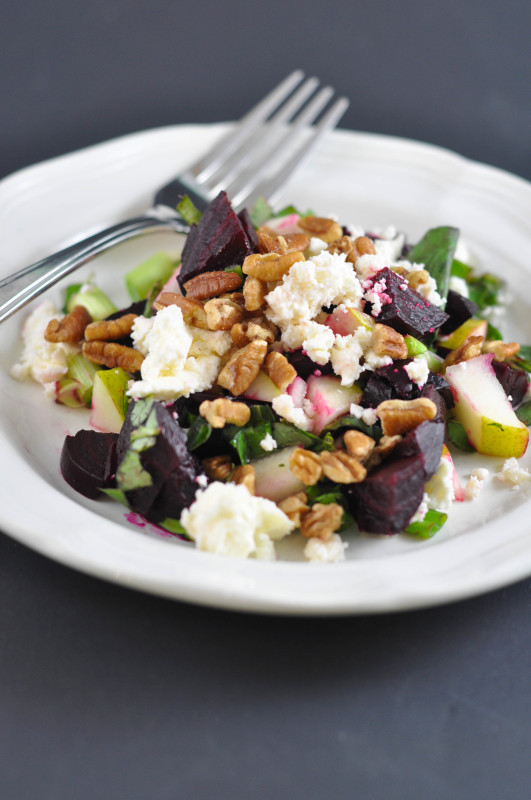 It's roasted beets, pear, pecans and feta in a vinaigrette.
Helloooooo…. I'm starving just looking at it.
And I'll tell you a secret: if you're feeling saucy, you can put bacon in it!
Yeah you can. You're a wild thing.
Heat's Beets (Beet, Pear and Feta Salad)
2014-01-13 01:16:32
Ingredients
4 or 5 beets, roasted
1 pear, chopped
1/4 cup diced green onions
1 cup basil leaves, torn into small piece
1 cup of crumbled feta (put on right before serving)
1 cup of pecan pieces
Dressing
3 tbsp olive oil
1 tbsp apple cider vinegar
2 tbsp honey
Instructions
Roast the quartered beets (wrap them in foil and put them in the oven at 400 degrees for approximately 45 minutes)
Let beets cool and then remove skins
Chop beets into bite-sized pieces and put in large salad bowl
Add other salad ingredients to bowl EXCEPT for feta
Mix dressing ingredients and add to bowl
Toss ingredients
When serving, sprinkle each plate with feta (the beets will dye the feta if you toss it together)
Enjoy!
Notes
To make this even tastier, fry up a package of bacon, and add crumbled bits of bacon to the salad.
Suburble https://www.suburble.com/
The roasting of the beets makes them a bit sweeter and removes some of that "earthy" taste that beets are notorious for. The honey in the dressing also sweetens the overall flavour of the dish.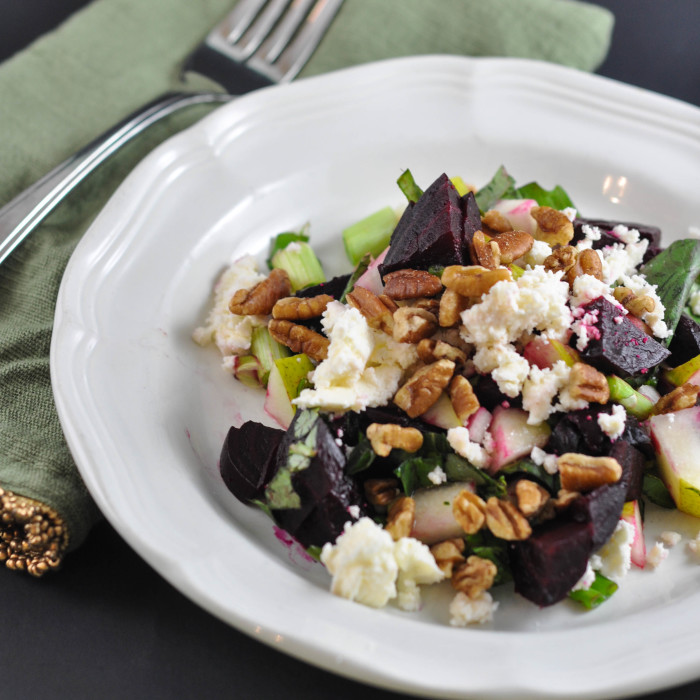 Trust me, it's delicious.
Make this dish for your next meal or gathering.
(And remember, beets are high in iron, folic acid, and have been considered a "superfood"! It's a great reason to get them into your family's meal repertoire!)
There are more fabulous Salad Love recipes to come!
Let's get some veggies in our belly, but not in a boring way.
In case you missed the last Salad Love post: