It wasn't until I started really exercising my creative muscle that I realized how badly I needed to carve out a little space in the house for myself. Not just to find some peace and quiet – mostly because that is a myth that the NyQuil marketing team has imagined and then taunted most mothers with – but also because I need a space to put all of my stuff. A space where I can spread out my ideas and my works-in-progress, and not worry about rogue spaghetti sauce or sticky fingers leaving their marks all over it.
My papers, my ribbons, my glue guns and the five bottles of Mod Podge that I've somehow acquired… the wood burning kit, sewing machine, and jar full of paintbrushes… not to mention the regular "office stuff": bills, papers… things that I'm afraid to shred, but I don't really know why I'm keeping…
All of that stuff needs a home. It needs a place to live where I can find it, and where it isn't a cluttered, distracting mess.
And this summer – the beginning of July to be exact – we will be moving into our new-to-us house. You're going to be hearing a LOT about this house… I can't help myself… I'm going to ask for your opinions. Frequently.

There are two potential spaces in our new house that I could claim as my own. Bedroom furniture and rivalling siblings will probably be the deciding factors in the Great Room Decision of 2014.
But until then, it's time to plan.
Staples Canada recently approached me and asked if I'd like to participate in their #MakeMoreMakeover contest. Participants design their dream office, share their wishlists, and then – if the Office Gods smile on you – could win one of 6 $1000 office makeovers.
Uhhhh… yeah. It's pretty rad. And this mama – a self-professed stationery junkie – would LOVE an office makeover.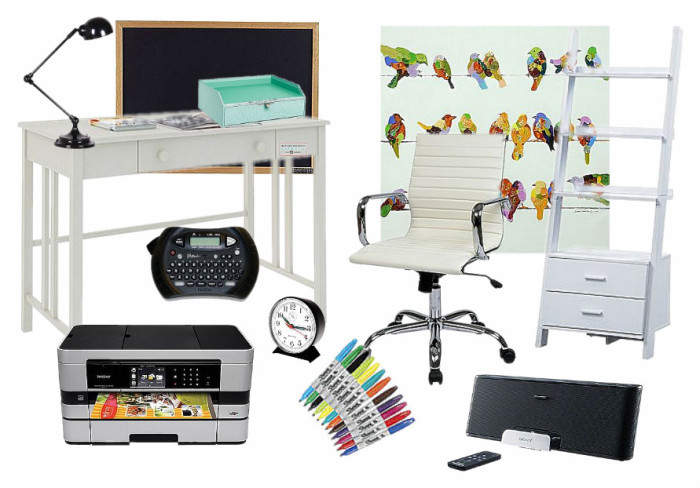 I whipped up a little mood board of the things I'd love to have in my dream office.
Clearly, Sharpies are there. Because hello…. Sharpies. There's a reason why children (and creative-types) are drawn to them. They have their own gravitational pull.
I would hang the chalkboard over my desk, as I love to jot down ideas and to-do lists (which are never-ending). Task lighting, a chic little alarm clock and some organizational boxes would sit on the desk – as well as huge piles of craftiness and paperwork. Such is the way of life.
I love the look of this chair – and the fact that I can spin around and move all over the room helps a fidgety soul like me. I wanted to keep everything bright – white accents and this shelf – so that the space was bright and clean. I want to be inspired by what I'm working on. I liked the idea of the work surfaces being a blank canvas that would allow little jewelry clasps to stand out and not be lost in the Vortex of the Craft Room.
An iPod/iPhone dock is crucial. I love music while I work. And if we're talking technology, I want a label-maker. I've never had one. And why!? Why not!?!? There are so many things to label, and I haven't labeled them yet!
Finally, I would put up some wall art. Here is where I'd love to put a few splashes of colour. I loved this bright bird-on-a-wire piece.
But… there was another piece that caught my eye. It was this Beagle.
But what do you think? Birds or the Beagle? Which one would you put in your craft/office space?
And stemming from that: what would you put in YOUR dream office? I've got a blank space awaiting me come July, and I want to make it count. Would you put a coffee maker or a kettle? More bookshelves? A bulletin board?
I'd love to hear your ideas. I've got some epic brainstorming happening over here!